2016 RCSX Race Results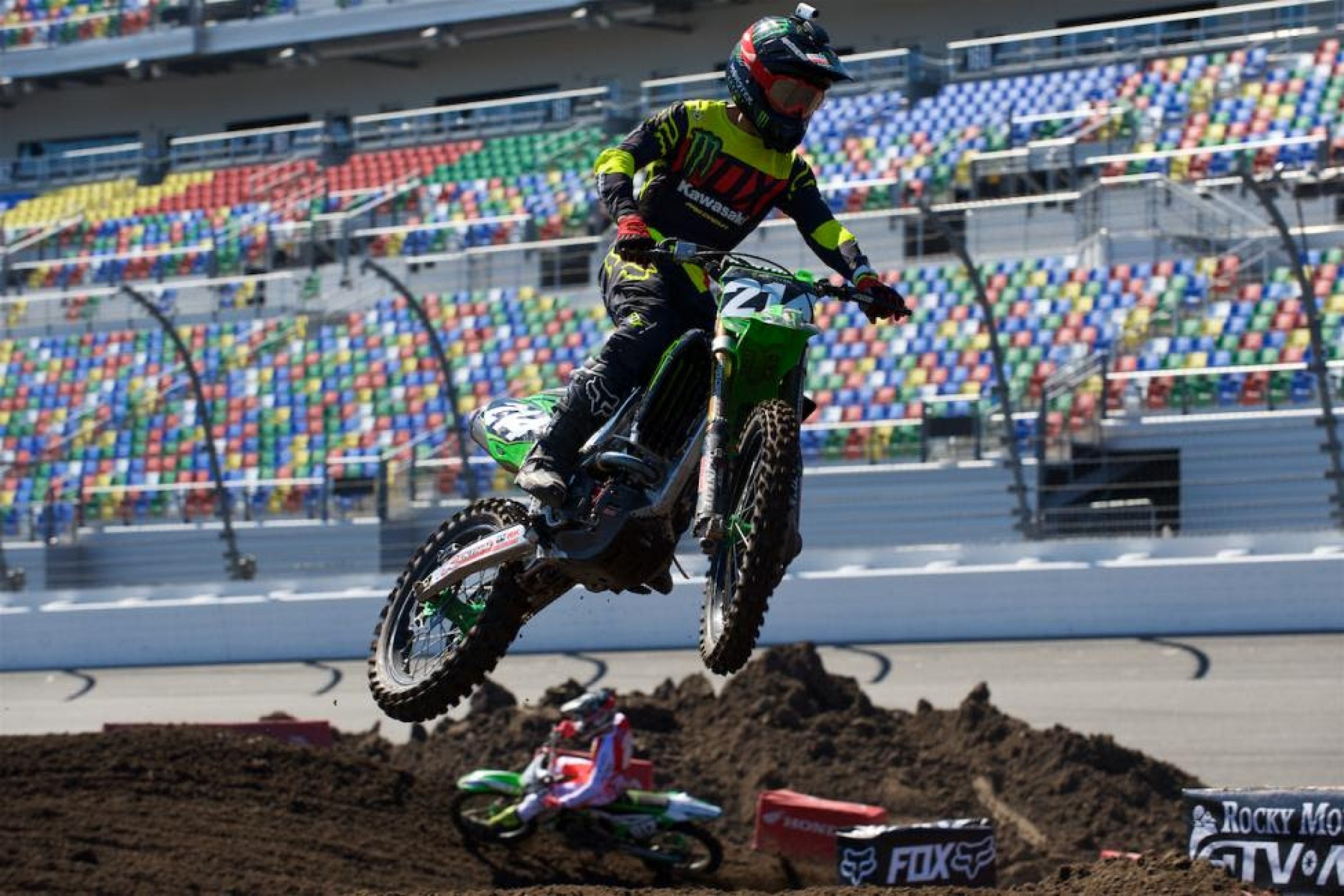 MORGANTOWN, W.Va. - The Seventh Annual Ricky Carmichael Daytona Amateur Supercross (RCSX) concluded two full days of racing today, Monday, March 7 at the historic Daytona International Speedway in Daytona Beach, Florida. This unique two-day event featured some of the biggest names in amateur motocross as they took to the track just one day after the Daytona Supercross by Honda.
The amateur racing schedule got underway on Sunday with timed practice sessions in the morning, followed immediately by the start of the heat races. Monday's racing action resumed with the remainder of heat races, followed by last chance qualifiers and main events.
The racing action kicked off on Sunday with heat races and the start of last chance qualifiers, with main events concluding throughout the day on Monday. Thirty-five major champions were crowned at the seventh-annual event, while one rider, Kylie Fasnacht, emerged victorious as the round one winner of the Women's Motocross Championship (WMX) with a 2-1 finish.
Monster Energy Team Green Kawasaki's Austin Forkner had a successful day taking both the Open Pro Sport and 250 A championships. Forkner fought hard against some of the fastest amateur racers including Bradley Taft, Sean Cantrell and Cameron McAdoo. Each racer put up a good fight, but in the end it was Forkner who stood atop of the podium.
Jett Renyolds, another Team Green Kawasaki rider, swept the podium in both his classes. Renyolds took home the number one plate in the 85 (9-11) and 85 (9-12) divisions.
North Carolina native Jordan Jarvis returned to her winning ways in the Girls Sr. (12-16) class. In addition, Jarvis was able to capture her very first Women Amateur (12+) RCSX championship.
In hopes of defending his 2015 RCSX championships, Matthew LeBlanc line up on the gate in both the 65 (10-11) and 65 (7-11) divisions where he ended up taking home the championships once again. In addition, LeBlanc also placed second in 85 (9-11).
Racer TV provided LIVE streaming of today's races and is archived online. Please click HERE to access the show.
For complete results from the Seventh Annual Ricky Carmichael Daytona Amateur Supercross, please click HERE.
2016 Ricky Carmichael Daytona Amateur Supercross Champions
Open Pro Sport Austin Forkner (KAW)
WMX Kylie Fasnacht (KAW)
450 B Wilson Fleming (YAM)
450 C (14-20) Justice Byrge (HON)
450 C (21+) Adam Rector (YAM)
250 A Austin Forkner (KAW)
250 B Max Markolf (KTM)
250 All Star A/B (14+) Bradley Taft (YAM)
250 B Limited Mitchell Falk (KTM)
250 C Jr. (12-16) Blaze Hazen (YAM)
250 C (17+) William Ballard (YAM)
250 C Limited Cole Harley (HON)
College (16-24) Egan Mastin (HON)
Schoolboy 1 (12-16) Jalek Swoll (HSQ)
Schoolboy 2 (13-16) Pierce Brown (KTM)
Junior (25+) Michael Byrne (YAM)
Vet B/C (30+) Diego Tavares (HON)
Vet (35+) Michael Byrne (YAM)
Senior (40+) John Grewe (KAW)
Senior B/C (40+) Lee Tatham (HON)
Senior (45+) Barry Carsten (SUZ)
Masters (50+) Barry McCarty (KTM)
Women Amateur (12+) Jodan Jarvis (YAM)
Girls Sr. (12-16) Jordan Jarvis (YAM)
Girls (9-13) Katie Benson (KTM)
Super Mini (12-15) Jo Shimoda (KTM)
Mini Sr. 1 (12-13) Stilez Robertson (KAW)
Mini Sr. 2 (12-14) Nathaniel Thrasher (KTM)
85 (9-11) Jett Renyolds (KAW)
85 (9-12) Jett Renyolds (KAW)
65 (10-11) Matthew LeBlanc (KTM)
65 (7-11) Matthew LeBlanc (KTM)
65 (7-9) Aidan Dickens (KTM)
51 (7-8) Luke Fauser (COB)
51 (4-8) Diesel Thomas (COB)
51 (4-6) Limited Seth Dennis (COB)