San Diego, CA
San Diego 2
Monster Energy AMA Supercross Championship
San Diego 2 Supercross! Round six of Monster Energy AMA Supercross sent us back to San Diego. This was the last west coast race for five weeks until the series heads back to Santa Clara in April, so we're heading toward different dirt and a lot of different stadiums. Ricky Carmichael always said that the series doesn't start until Daytona, but considering that RC only won one race after Daytona in his last four supercross seasons, I think that he should have said, "The series starts at Anaheim 1." It certainly did this year for Ryan Dungey, who already has a more than twenty-five point lead with 11 races to go. Yikes!
I wrote last week that I thought the attendance at San Diego 1 wasn't very good and that maybe the next race, which is in its more traditional date, would be better. Well, it appeared I was right because I thought that Petco Park was pretty packed this time around. I wouldn't be surprised if there was just one San Diego next year and perhaps the powers that be go with a second race in another market and I pray it's not just a third Anaheim.
I was surprised by the long lap times. Petco is a smaller facility and we've seen short tracks here before but this week, things got nutty. It was tight, twisty, had a lot of jumps and was definitely busy. And then there was a big set of whoops, which was awesome to see. I loved the double that became a triple into the sand and did I mention the big-ass whoops? The downside was the typical Southern California slickness, the many turns that made it hard to pass and, overall, we didn't see a lot of great racing. I still give the track a passing grade thanks to the sand jump and the big whoops.
Ryan Dungey got the holeshot, led every lap and won his fourth race in six tries this weekend. On a track like SD2, where technical expertise in terms of throttle control, hitting the downsides and sweeping your turns is rewarded, it's not surprising that Dungey and then Cole Seely went 1-2.
Seely kept Dungey pretty honest throughout the main event but I'm sure Ryan could've pushed it a little harder if he wanted to. Dungey was basically flawless and I was impressed with his line selection. There were a couple of turns that were basically flat and he just leaned that KTM over and flowed through it like he was on rails lap after lap. His entrance speed and lines were very precise.
One thing I've noticed about Dungey is he loves to get out front in every single practice and lay down some laps. This is something new for him and it is a bit of a strategy by Ryan and trainer Aldon Baker and it's working. So because of this fact and because I think someone may try and mess with Ryan, expect some dudes to try and get our first before Ryan and see if they can upset him. It won't work, but this is stuff that goes on from time to time.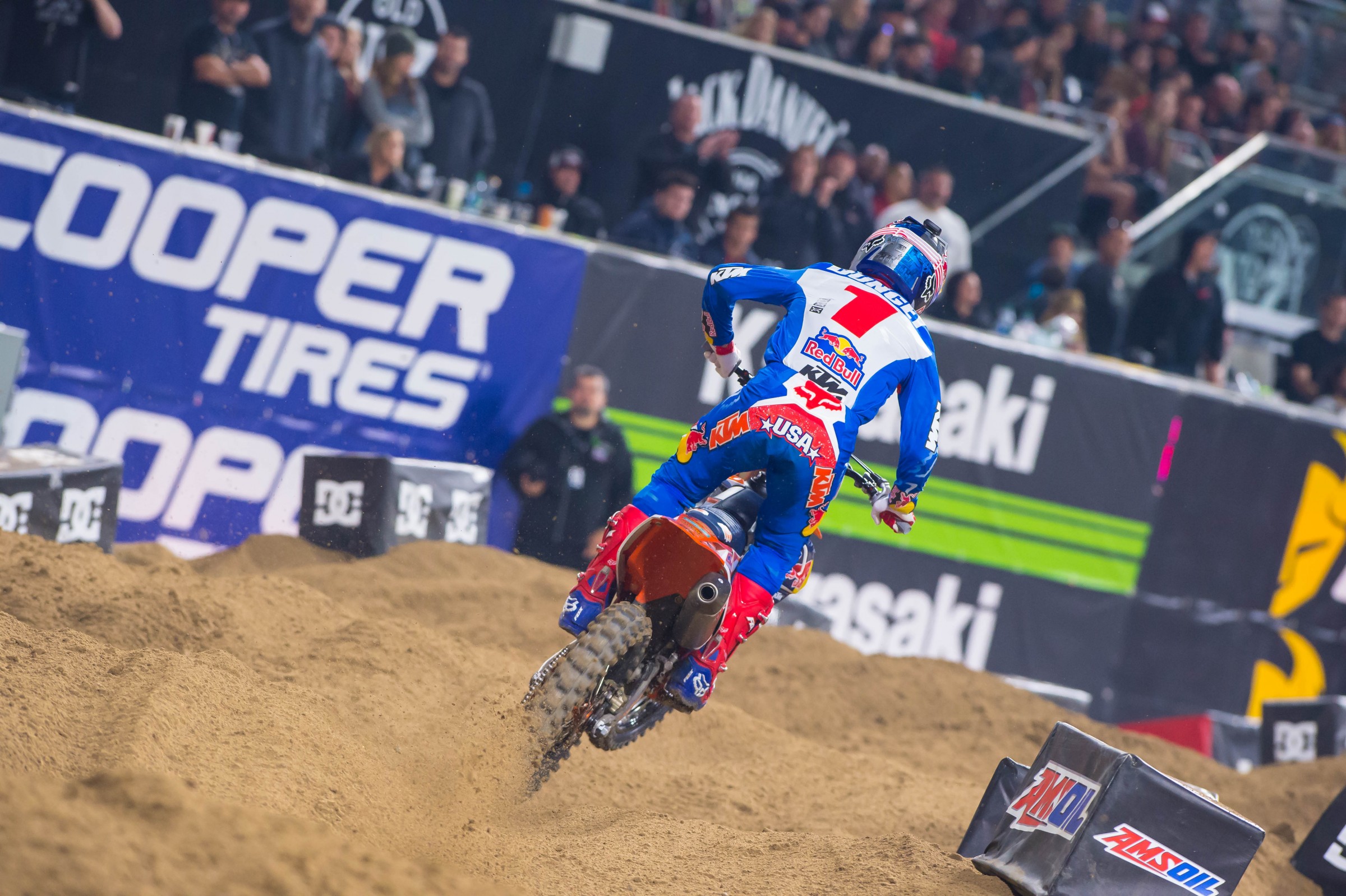 As I said, Seely ended up second in a great ride and he needed it. After a couple of podiums to start the year, he's just been so-so after that. Props to Cole for telling me after the race exactly what he did to his bike to help him out—add more low-end so he can chug it along and ride in a taller gear. Seely credited his team and this change for the improved result. Nice work by the #14.
This 250SX West Region just got more exciting didn't it? Joey Savatgy won his second main event of his career, and the season, with a great ride. He inherited the lead from teammate Chris Alldredge and held off Cooper Webb early before taking it home after Webb washed out. Savatgy was steady and although he had Webb all over him, he held his line and didn't get rattled. Webb pushed too hard and made the first big mistake in the battle for the lead, like last week in Glendale only instead of Savatgy, it was Christian Craig.
So Savatgy gains three points on Webb with three rounds remaining (more on that below). I still think Cooper is the fastest rider in this class but he's got to just get back to the way he was riding in the beginning of the series. The track was slick and you could see that Cooper picked a bad spot to try and push. He's got to be smarter, it was early in the race and he was probably going to get Savatgy. I understand that hindsight is 20/20 but I would've just ridden behind Joey and let him make the mistake. Last week the laps were winding down but this week, it was early. Webb's got a fight on his hands and who would've thought that after round three?
Besides signing with Factory Yamaha next year, I also heard that the big green claw locked Cooper up for next year and beyond. This kid's just printing money right now and methinks he's going to earn all of it. He's just got to focus on 2016 and bringing home two titles.
Remember the last couple of weeks when I've been talking about Eli Tomac being up and down? Well he was at it again in SD2SX. Fastest qualifier = good. Fastest time in heat = good. Finishing third in said heat = so-so. Riding around in fifth not able to make a pass on Trey Canard or Ken Roczen and then having Jason Anderson ride around you to take fourth = not good. JT, Weege and I had a spirited debate about Eli on our wrap up podcast. Those two saying everything is cool after six races, but in my opinion, Eli Tomac should have a couple of wins and more podiums by now even with the new bike and shoulder surgeries. He's that good. I think he'll be very fast in Daytona in three weeks, by the way.
Let's take a look at the results.
250SX Results
1 37 Joey Savatgy Thomasville, GA Kawasaki KX 250F- I asked Joey after the race if he thinks Webb's a bit frustrated or rattled after his bike blew up at Oakland. Here's his response: "I do think he's a little bit… I guess the word is flustered, rattled. I think he's upset. Truthfully I don't blame him. You have a 20 point lead and you lose it all in one night due to something out of your hands. That's unfortunate but we saw tonight it happened to Chris [Alldredge]. It can happen to anybody. That's part of racing. So like you said, I think he went from being untouchable, can start wherever he wanted to start, last place, middle of the pack, and come through and wear dudes down. I think as the races are going I think a lot of us are getting in a better race shape, too." Remember all of those off-season races Cooper did? Savatgy and some others think it gave him a head start to the season, but now they've closed the gap.
2 1 Cooper Webb Newport, NC Yamaha YZ250F- If you're Webb you have to just have faith in your bike/team/program and go into this weekend staying calm if things don't go your way and let your talent take over. If you're behind Savatgy, ride behind him with a bit of pressure to make him make a mistake instead of trying to force it.
3 38 Christian Craig Corona, CA Honda CRF 250- I thought Craig was rather passive in letting Cooper by but he explained that he was making a ton of mistakes the last five laps and wanted to chase someone instead of trying to hold Webb off and possibly allow [Colt] Nichols to catch both of them. He'll take the third for sure.
4 69 Colt Nichols Muskogee, OK Yamaha YZ250F- When do you just run out of things to say about this guy? If you paid attention to him last year you saw that he was fast on the Crossland Honda, but he blew out his knee before he could get any momentum. This year he's on another level with help from Robbie Reynard and Justin Bogle.
5 16 Zach Osborne LAKE ELSINORE, CA Husqvarna FC250- I'm friends with Zach so it was out of that friendship that I sent him a text stating how mad I was at this result. He was the fastest dude in both practices and his gap was .6 to the next guy. He was on it! He was fourth overall out of everyone including the 450s! He looked great to win! But then he didn't get a great start and not only that, Nichols rode by him in the main. He killed my fantasy team also. In short, I'm super pissed at Wacko but I'm sure not as mad as he was at himself.
6 42 Mitchell Oldenburg Alvord, TX KTM 250 SX-F- I bet the "Anaheim 1" Mitch gets frustrated at being in sixth and tries to turn the throttle more and ends up on the ground. The "San Diego 2" Mitch just takes a steady sixth and lives to fight another day.
7 58 James Decotis Peabody, MA Honda CRF 250- Jimmy D's been sick but says he's finally getting over it. He ran third for half the race before "tightening up" and winding up back here. And I just realized that The Rippah is not going to be able to ride Foxborough Supercross near Boston! How bummed must he and his fans be??? He's got to get on a 450 for that one, right???
8 40 Kyle Peters Greensboro, NC Honda CRF 250- All Kyle Peters does is log top ten finishes and then no one ever talks about him.
9 127 Cole Thompson Brigden, Canada KTM 250 SX-F- You'd like to see more aggression out of Cole but if you talk to him, you realize that he's not that type of guy. He's pretty soft spoken and rides that way. He's smooth, doesn't make a lot of mistakes and can put in laps. I'd like to see him try to go balls-out, but I just don't think he's got it in him.
10 68 Cole Martinez Rimrock, AZ Yamaha YZ250F- Martinez's best finish of the season and hard to believe this guy actually didn't qualify for Oakland.
11 45 Kyle Cunningham Willow Park, TX Suzuki RM-Z250- I've written and said many times that I think the Motorcycle Superstore bikes are some of the best looking in the pits, and I understand that it was military appreciation weekend, but what exactly happened to Cunningham's bike, which was a Navy-based theme? I appreciate the idea but it didn't look good to me.
12 76 Scott Champion Wildomar, CA Yamaha YZ250F- Champion's bike had an issue on the line and he wasn't able to make the start. Then he somehow ripped through the pack to get this great finish! Awesome ride by him.
13 72 Hayden Mellross Australia Yamaha YZ250F- Great ride for Mellross. He fell in the first turn and was way back. He did well to get this far up and it's funny, Hayden seems to be one of those dudes that rides better when there's nothing on the line than when he gets a good start and probably starts thinking too much.
14 289 Mitchell Harrison Murrieta, CA Yamaha YZ250F- Just stay up and do consistent laps. Just stay up and do consistent laps. Just stay up and do consistent laps. Just stay up and do consistent laps. Just stay up and do consistent laps. Just stay up and do consistent laps. I feel like Star Racing dumping ARod for Harrison was an absolute even trade across the board, right?
15 26 Alex Martin Millville, MN Yamaha YZ250F- It's official: Alex Martin, one year after winning fantasy SX teams everywhere, is now crushing fantasy SX teams weekly. Congrats, Alex!
16 222 Chris Howell Spokane Valley, WA Husqvarna FC250- I'm on the Chris Howell bandwagon, bro. Two years ago, coming off a good 250SX season I went to this rinky-dink Canadian AX series with a track that was as easy for Chris as waking up in the morning and he got kind of worked. I was shocked to be honest. Then he proceeded to have a terrible 2015 year. Now he's back and I hope he goes back to Beets Barn in Chiliwack and redeems himself.
17 733 Steven Mages Escondido, CA KTM 250 SX-F
18 85 Michael Leib Wildomar, CA Yamaha YZ250F
19 39 Jordon Smith Belmont, NC Honda CRF 250- Smith is really banged up right now with his shoulder and he's not helping himself by landing on it repeatedly. Jordan's 5-3-6 finishes to start the year are falling far into the rearview mirror and there probably isn't anyone in the class that needs a reset more than him.
20 87 Austin Politelli Menifee, CA Yamaha YZ250F
21 35 Chris Alldredge Powell Butte, OR Kawasaki KX 250F- Massive blow for Chris. His bike blew up (valve issue of some sort judging by the lack of compression) while he was up in front. He was solid last week and although I don't think he would've won (Hi, Blose!) he could've been set for another good finish.
22 902 Killian Auberson Switzerland Suzuki RM-Z250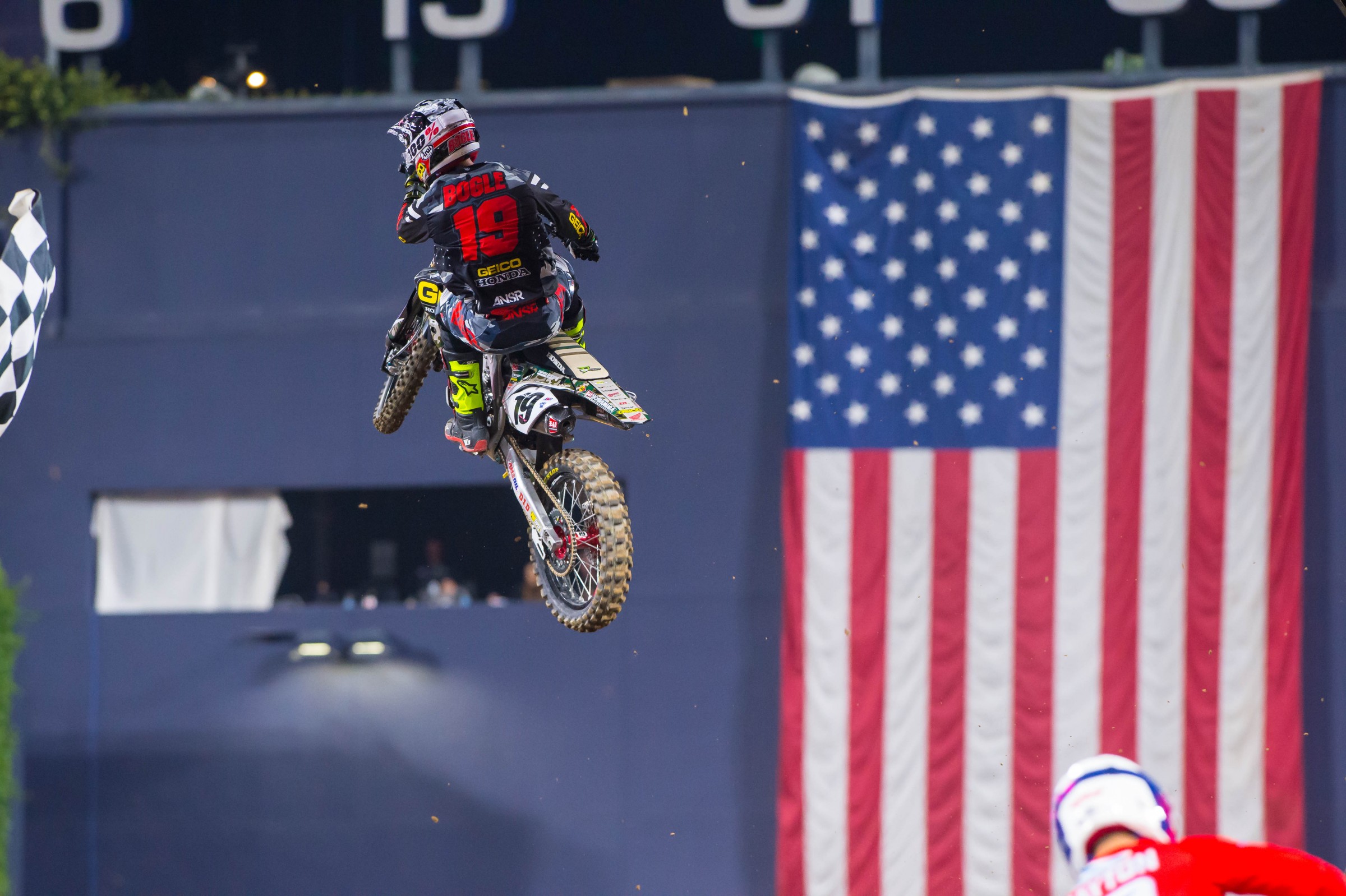 450SX Results
1 1 Ryan Dungey Clermont, FL KTM 450 SX-F- Ryan, no one believes you when you say you were "fortunate" to win this week. You need to go "Ricky Bobby" on everyone and say something like, "I'm the best there is, I piss excellence."
2 14 Cole Seely Sherman Oaks, CA Honda CRF 450- Last week I told you that Cole told me he tells all the media the exact same thing every week and so I better not feel special. This week I begged him to give me something he never told any other media guy. So he told me who was in the "WFC Crew" that he gave a shout out to on the podium and said he ate McDonalds and a diet Coke for lunch. So now he's lying to the media also.
3 94 Ken Roczen Clermont, FL Suzuki RM-Z450- Roczen and Canard were tripling into the rhythm after the whoops and although I don't think it was faster, I love that these dudes bust something out like that in the middle of the race.
4 21 Jason Anderson Rio Rancho, NM Husqvarna FC450- Let me just insert what I've been saying for weeks: Anderson's starts are killing him.
5 41 Trey Canard Edmond, OK Honda CRF 450- Trey needed this finish badly. He's gotten off to a rough start this year and although he ran third for a long time before being passed, I think a top five finish is more than respectable after three weeks of crashes and missing races.
6 3 Eli Tomac Cortez, CO Kawasaki KX 450F- Not a great track for Eli as it got slick and he's a bit of a throttle jockey so he had to be constantly telling himself to be smooth and easy with his right wrist.
7 25 Marvin Musquin Corona, CA KTM 450 SX-F- Everyone saw Musquin do a can-can off the bike at the end of the first rhythm, right? And jump back on and still be right there? Wow.
8 22 Chad Reed Dade City, FL Yamaha YZ450F- I don't know, man. He was better than he was last week even though he finished worse. Does that make sense? He told me on track walk that "no one cares about him" now that he got a couple of sixth's.
9 28 Weston Peick Menifee, CA Yamaha YZ450F- After a couple of rough weeks, Weston needed a quiet finish inside the top ten to get the ball rolling again. He hasn't shown the same flash as last year and you have to think the chaos at Anaheim 1 and then missing races was probably the absolute worst way to start the year. I know his riding coach Buddy Antunez agrees.
10 10 Justin Brayton Mint Hill, NC KTM 450 SX-F- Good night for Justin, right? Anyone have a problem with this? I'm sure he wasn't jumping up and down for joy, but still, a good showing.
11 18 David Millsaps Murrieta, CA KTM 450 SX-F- Another heat race win for the 18! Nice work by him and he told me after the race that he planned on going as hard as he can go for as long as he can go (unlike last week when he tried to pace himself) but then he fell (twice) and that was it. I don't think his results have been indicative of how good he's been so far.
12 12 Jacob Weimer Wildomar, CA Suzuki RM-Z450- Weimer had to go to the LCQ and that's always scary for any factory dude. And a couple of laps into that race, he was out of qualifying position! Anyways, he made it happen and was all over Brayton for tenth when he tipped over in a turn with two laps to go. He told me he wasn't going to jump into the sand and when I told him half the 250's were doing it, he just stared at me, which I think meant "next question".
13 54 William Hahn Menifee, CA Kawasaki KX 450F- I feel like the criticism of Wil that I was getting has significantly quieted and that's for good reason. Back off, you jackels!
14 29 Andrew Short Smithville, TX KTM 450 SX-F- Shorty's back! His final season of supercross started off with a bang when he went down hard in the first turn of the heat race. He told me after the race that he's too old to be hitting the ground like that. As far as his night, well… it will get better. It's his first race back so let's just give him a few weeks, yes?
15 19 Justin Bogle Cushing, OK Honda CRF 450- Bogle's back and like Short, let's give him some time to get into things before we start to wonder what's up. Besides, look at the names above him and even when Justin gets back up to speed, who can you actually say of the above riders that he's better than? I'd say Weimer and Hahn are his equal but not better than. This field is strong. Strangely enough, Bogle's won semi races at all three of the races he's raced this year.
16 55 Vince Friese Cape Girardeau, MO Honda CRF 450- A top level 250SX team is trying to get Vince to jump to East Coast for them. Not sure of his contract with SmarTop/MotoConcepts, but stay tuned people.
17 377 Christophe Pourcel San Antonio, FL Husqvarna FC450
18 34 Phillip Nicoletti Bethel, NY Yamaha YZ450F- Phil's not a fan of supercross ("Deathcross" as he calls it) but he's better than he's been showing lately for sure. I was pleased with how nice he was to dudes when he was getting lapped. Phil was very considerate of letting the leaders go by, and I'm sure that cost of a couple of spots for himself.
19 800 Mike Alessi Hilliard, FL Honda CRF 450- Did you know that according to Mike, this San Diego round was his 100th 450SX main event of his career? Yup, who could've believed that hype. The 800 trails only Reed in active career mains until Nick Wey comes back. Man, 2004 was a long time ago I guess.
20 79 Nicholas Schmidt Lake Elsinore, CA Suzuki RM-Z450- We probably don't talk about Schmidt enough as he's a solid main event guy most weekends. I guess you want to see him fighting up there a bit more but still, props to Nick for being solid.
21 801 Jeff Alessi Victorville, CA Suzuki RM-Z450- Jeff's had a lot of troubles in his life and it's impressive after so much time off that he can still get into these main events. It speaks to his talent but once he's in the main, he's got no desire to actually race. This week he was three laps down by the end.
22 47 Thomas Hahn Decatur, TX Yamaha YZ450F
More news and notes
- There has been some confusion over how the final round (Las Vegas) of the 250SX East and West Regions is going to be scored. I had heard that it was going to be a combined East/Westfinal, scored like a normal main, which has the potential to pretty cool with wild point swings. But the AMA points sheets haven't had Vegas listed as a points-paying race so some people weren't sure. I found out this weekend that indeed that is the way it's going to go. East/West, points on the line for both. Win the race and you get 25 points, second gets 22 points, doesn't matter what region you're in. So strap in and hold on, Las Vegas 250SX is going to be wacky!
- I can't stand the Arenacross Road to Supercross rule at all. To me, it's just a way to sell the Amsoil Arenacross show, and it has nothing to do with being ready for SX because trust me, Austin Forkner and these other kids are ready for SX. If they cared about the safety of riders, they would go through half of the 250SX LCQ this weekend and send them back to AX to get used to SX. Or maybe send Arnaud Tonus to AX first instead of granting him a pass because I guarantee you Forkner has spent a hell of a lot more time on a SX track than the Swiss Tonus.
On top of that, teams have to hold their riders out of the West Region because AX doesn't start until January. That makes no sense. Anyways, I bring this up because I heard from someone close to the situation that GEICO Honda's Chase Sexton, who was forced to go to AX to "get ready," was told to stay out of the way or else by a few AX title contenders and then also threatened with violence by another guy for something that happened on the track. So, yeah, that's not awesome and it's possible that Sexton will need some therapy after his Road to SX is completed. This rule never made sense to me and when I hear things like this, it makes even less.
- Chad Reed hasn't always been a fan of the FIM's John Gallagher, who is basically the head referee with the most power at the races. At least I think John is, but until someone can actually get me a flow chart of people in power from Feld Motor Sports, the AMA, the FIM and who knows who else, I can't be sure. John's the one who threw the premature black flag at Reed last year for the Canard incident and while I like John a lot, that was a bad decision. Anyways, Reed being Reed, he let his displeasure be known after the black flag heard around the world, but maybe there's a bit of truce, because at three rounds this year, I've seen Chad meet with John after riders meeting , and they discuss the track and possible changes/issues. How do I know? Well, at Glendale I walked up to both of them and listened in! I'm all for this. Reed's a smart guy and knows his stuff and it's good for the FIM/AMA to have some open ears to listen to a rider's thoughts. I hope this kind of open communication continues on whether it's Reed or Dungey or whomever. I hope it's helping.
Thanks for reading everyone, email me at matthes@racerxonline.com and we can chat about this race, this column or really anything at all.