Travis Sewell Takes First Career Win in Colorado Springs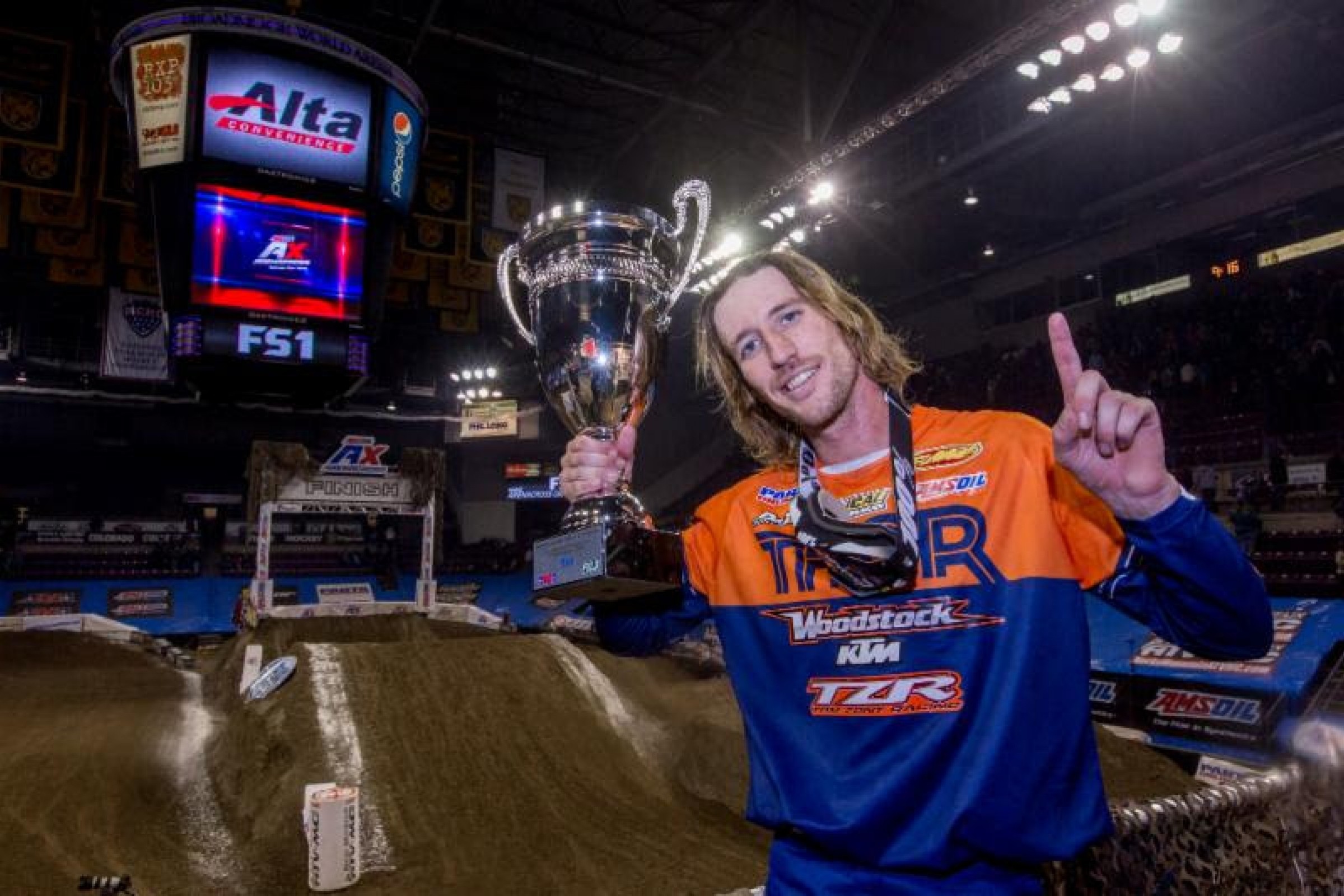 COLORADO SPRINGS, Colo. - AMSOIL Arenacross honored the men and women of our armed forces on Saturday for the second annual Military Appreciation Race inside Broadmoor World Arena. The third and final night of the first-ever triple header weekend saw the breakthrough of Woodstock/TZR KTM's Travis Sewell, who swept both Arenacross Class Main Events to earn his first career overall win and become the first non-Kawasaki rider to stand atop the podium this season. In the Western Regional Arenacross Lites Class, Race Tech KTM's Ben Nelko followed up his first career win last night with another dominant effort, leading every lap en route to his second consecutive victory, adding to his points lead.
Sewell began his journey to victory by winning the RMATV/MC Head 2 Head Challenge earlier in the evening, beating out Rockstar Energy Drink Husqvarna Factory Racing presented by FMC and OTSFF rider Gared Steinke in the final race and earning an additional championship bonus point.
Sewell kept his KTM out front to start the first Arenacross Class Main Event, with Team Babbitt's/Monster Energy/AMSOIL Kawasaki's Jacob Hayes and Steinke in tow. Team Babbitt's/Monster Energy/AMSOIL Kawasaki's Gavin Faith and Chris Blose started in fourth and fifth.
Sewell was able to open an early gap on Hayes, while Faith moved into podium position on Lap 1 by passing Steinke. Blose looked to follow his teammate past Steinke, but the Kawasaki rider went down and dropped outside the top 10. With his sights set on the front, Faith closed in on Hayes for second and made the pass on Lap 2. The teammates remained just a few bike lengths from one another over the ensuing laps, allowing Sewell to extend his lead. On Lap 9 Hayes returned the favor and reclaimed second from Faith. Sewell cruised to the win three seconds ahead of Hayes, with Faith in third. Steinke finished fourth with GEICO Honda's Chase Sexton in fifth.
Sewell's fourth Main Event win of the season gave him the chance to choose the inversion heading into the second Main Event, ultimately selecting the case with the number zero, meaning there would be no inversion.
The first gate pick proved to work into Sewell's favor to start the second Main Event as he once again put his KTM into the lead, once again ahead of Hayes and Faith. Steinke started fourth, with Sexton fifth. On Lap 2 Steinke encountered misfortune, allowing Sexton to move into fourth and Blose into fifth. From there the top five went unchanged until Hayes was able to make a pass on Sewell for the lead on Lap 12. However, Hayes' lead was short lived as Sewell bounced back to reclaim control of the race on the following lap. Sewell held on to win by just over a second of Hayes, with Faith third, Sexton fourth and Blose fifth.
Sewell's 1-1 effort, combined with his Head 2 Head Challenge win, easily gave him the overall win, three points ahead of Hayes in second (2-2). Faith rounded out the overall podium in third (3-3), with Sexton capping off his debut weekend of Ricky Carmichael's Road to Supercross in fourth (5-4). TiLUBE/Tuf Honda's Ben Lamay was fifth (6-6). Kawasaki had opened the season with seven consecutive victories, six by the Team Babbitt's squad, but Sewell ended that run and now has five Main Event wins this season, one shy of the class leader Hayes.
Hayes maintained control of the Arenacross Class points lead and now has a nine-point advantage over Faith. Blose sits third, 20 points behind Hayes, with Sewell fourth, just two points behind Blose, and Lamay fifth. Rockstar Energy Husqvarna Factory Racing's Kyle Regal, the defending AMSOIL Arenacross Champion, missed his second race with injury and dropped to sixth in the points.
Woodstock/TZR KTM's Scott Zont edged out Nelko for the holeshot to start the 15-lap Western Regional Arenacross Lites Class Main Event, but Nelko was able to apply pressure early and take over the lead coming to complete the opening lap. The front two then settled in, with Town & Country Cycle Center Husqvarna's Dave Ginolfi asserting himself in third. On Lap 3 Ginolfi made the move on Zont to take over second, putting Zont under fire from KTM rider Carlen Gardner. On Lap 6, Gardner's persistence paid off and he moved into third, followed by Woodstock/TZR KTM's Cody VanBuskirk moving into fourth one lap later. Ginolfi encountered some misfortune on Lap 8, dropping from second to fifth, giving the runner-up spot to Gardner and third to VanBuskirk. Gardner erased a deficit to Nelko that sat over four seconds in the closing laps and closed in heading to the finish, but Nelko held on for the win. VanBuskirk was third, with Shawnee Motors/Justified Cultures KTM's Cheyenne Harmon fourth and Lynwood Motoplex/RF Motorsports Kawasaki's Collin Jurin fifth.
One night after taking over the Western Regional Arenacross Class points lead, Nelko extended his advantage to four points over VanBuskirk. Gardner took sole possession of third, five points out of the lead.
The 2016 AMSOIL Arenacross season continues next weekend with the sixth round from Birmingham, Alabama, and Legacy Arena on Saturday, February 13. The action kicks off at 5 p.m. PT / 7 p.m. CT / 8 p.m. ET.
Arenacross Class Results - Main Event 1
1. Travis Sewell, Westville, Ind., KTM
2. Jacob Hayes, Liberty, N.C., Kawasaki
3. Gavin Faith, Duncombe, Iowa, Kawasaki
4. Gared Steinke, Woodland, Calif., Husqvarna
5. Chase Sexton, La Moille, Ill., Honda
6. Ben Lamay, Forney, Texas, Honda
7. Kyle Bitterman, West Pelzer, S.C., Husqvarna
8. Chris Blose, Phoenix, Kawasaki
9. Jace Owen, Matoon, Ill., Honda
10. Cody VanBuskirk, Harvard, Ill., KTM
Arenacross Class Results - Main Event 2
1. Travis Sewell, Westville, Ind., KTM
2. Jacob Hayes, Liberty, N.C., Kawasaki
3. Gavin Faith, Duncombe, Iowa, Kawasaki
4. Chase Sexton, La Moille, Ill., Honda
5. Chris Blose, Phoenix, Kawasaki
6. Ben Lamay, Forney, Texas, Honda
7. Daniel Herrlein, Bethesda, Ohio, Honda
8. Jace Owen, Matoon, Ill., Honda
9. Gared Steinke, Woodland, Calif., Husqvarna
10. Kyle Bitterman, West Pelzer, S.C., Husqvarna
Arenacross Class Overall Results (Main Event Results)
1. Travis Sewell, Westville, Ind., KTM (1-1)
2. Jacob Hayes, Liberty, N.C., Kawasaki (2-2)
3. Gavin Faith, Duncombe, Iowa, Kawasaki (3-3)
4. Chase Sexton, La Moille, Ill., Honda (5-4)
5. Ben Lamay, Forney, Texas, Honda (6-6)
6. Gared Steinke, Woodland, Calif., Husqvarna (4-9)
7. Chris Blose, Phoenix, Kawasaki (8-5)
8. Kyle Bitterman, West Pelzer, S.C., Husqvarna (7-10)
9. Jace Owen, Matoon, Ill., Honda (9-8)
10. Daniel Herrlein, Bethesda, Ohio, Honda (14-7)
RMATV/MC Head 2 Head Challenge Results (bonus points)
1. Travis Sewell, Westville, Ind., KTM (2 points)

2. Gared Steinke, Woodland, Calif., Husqvarna (1 point)
3. Chase Sexton, La Moille, Ill., Honda (1 point)
4. Jacob Hayes, Liberty, N.C., Kawasaki (1 point)
5. Kyle Bitterman, West Pelzer, S.C., Husqvarna (1 point)
6. Ben Lamay, Forney, Texas, Honda (1 point)
7. Gavin Faith, Duncombe, Iowa, Kawasaki (1 point)
8. Daniel Herrlein, Bethesda, Ohio, Honda (1 point)
Western Regional Arenacross Lites Class Results
1. Ben Nelko, Aliquippa, Pa., KTM
2. Carlen Gardner, Paso Robles, Calif., KTM
3. Cody VanBuskirk, Harvard, Ill., KTM
4. Cheyenne Harmon, Colleyville, Texas, KTM
5. Collin Jurin, Monroe, Wash., Kawasaki
6. Dave Ginolfi, Midvale, Utah, Husqvarna
7. Scott Zont, Algonquin, Ill., KTM
8. Tanner Sisson, Lemoore, Calif., KTM
9. Dylan Rouse, Florence, Ky., KTM
10. Brandon Marley, McEwen, Tenn., KTM
Arenacross Class Championship Standings
1. Jacob Hayes, Liberty, N.C., Kawasaki - 229 (6 Main Event Wins)

2. Gavin Faith, Duncombe, Iowa, Kawasaki - 220 (2 Main Event Wins)
3. Chris Blose, Phoenix, Kawasaki - 209 (1 Main Event Win)
4. Travis Sewell, Westville, Ind., KTM - 207 (5 Main Event Wins)
5. Ben Lamay, Forney, Texas, Honda - 148
6. Kyle Regal, Lake Elsinore, Calif., Husqvarna - 130
7. Gared Steinke, Woodland, Calif., Husqvarna - 121
8. Jace Owen, Matoon, Ill., Honda - 118
9. Daniel Herrlein, Bethesda, Ohio, Honda - 111
10. Kyle Bitterman, West Pelzer, S.C., Husqvarna - 103
Western Regional Arenacross Lites Class Standings
1. Ben Nelko, Aliquippa, Pa., KTM - 45 (2 Main Event Wins)

2. Cody VanBuskirk, Harvard, Ill., KTM - 41
3. Carlen Gardner, Paso Robles, Calif., KTM - 40
4. Dave Ginolfi, Midvale, Utah, Husqvarna - 36
5. Cheyenne Harmon, Colleyville, Texas, KTM - 33
6. Dylan Rouse, Florence, Ky., KTM - 30
7. Scott Zont, Algonquin, Ill., KTM - 28
8. Collin Jurin, Monroe, Wash., Kawasaki - 25
9. Jared Lesher, Ball Ground, Ga., KTM - 19
10. Brandon Marley, McEwen, Tenn., KTM - 17