Clean Sweep for Team Babbitt's in Colorado Springs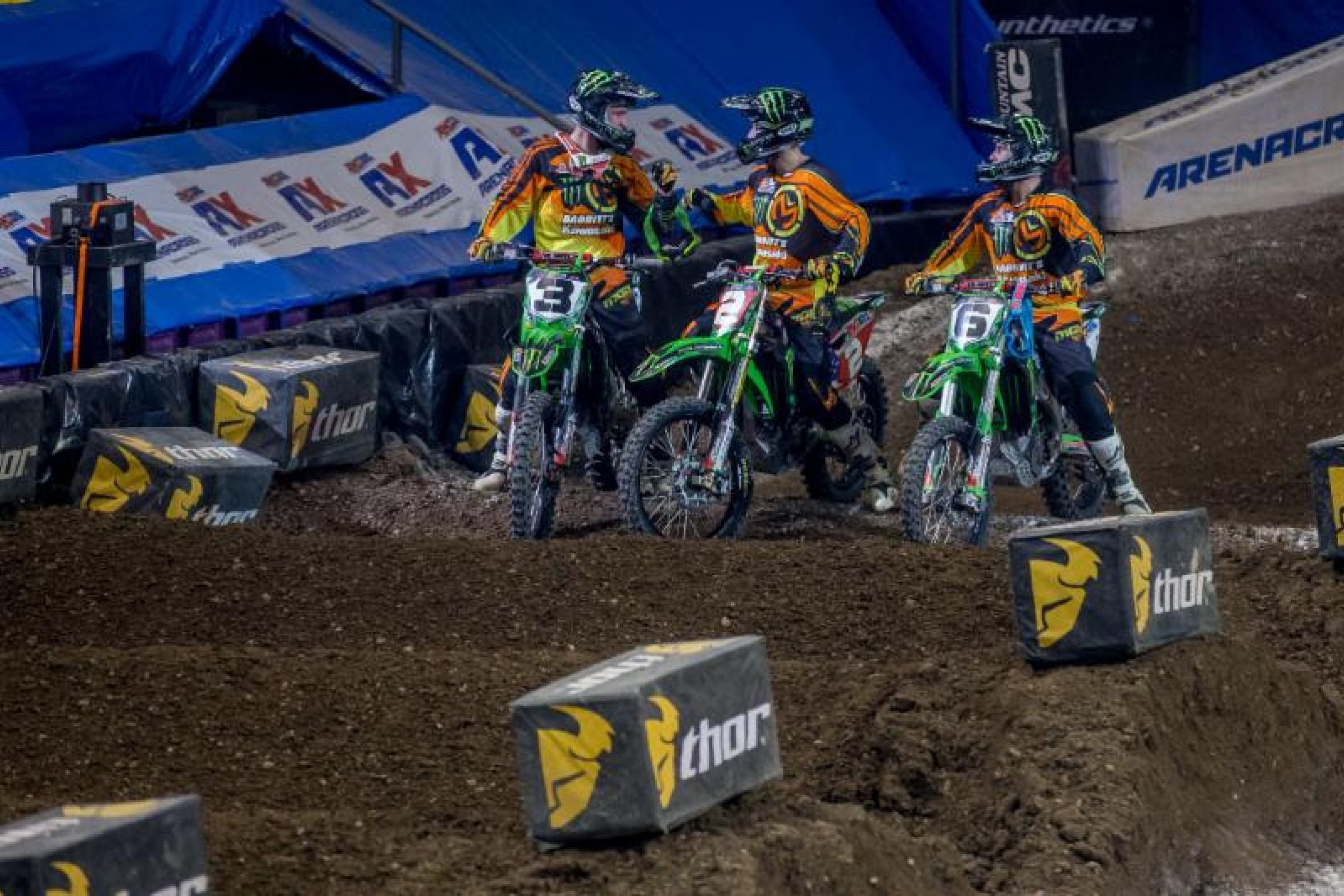 COLORADO SPRINGS, Colo. - AMSOIL Arenacross hosted the second night of its first-ever triple-header at Broadmoor World Arena on Friday. In his second race as the championship leader, Team Babbitt's/Monster Energy/AMSOIL Kawasaki's Jacob Hayes joined his teammates Chris Blose and Gavin Faith as the only multiple race winners this season, extending his points lead. In the Western Regional Arenacross Lites Class, Race Tech KTM's Ben Nelko broke through for the first win of his career, leading all 15 laps of the Main Event.
Before the night show got underway the Arenacross Class lost one of its major players after defending champion Kyle Regal crashed his Rockstar Energy Drink Husqvarna Factory Racing presented by FMC and OTSFF machine in practice, forcing him out of action for the evening.
When the battle for victory began it was Hayes who brought momentum into the pair of Arenacross Class Main Events by emerging triumphant in the RMATV/MC Head 2 Head Challenge for the second straight night, beating out Blose in an all Team Babbitt's final. That result proved to be the difference maker when all was said and done at the end of the night as the additional championship bonus point for Hayes would give him the edge he needed to overcome his teammate.
When the first Main Event got underway, Hayes put his Kawasaki at the front of the field ahead of Blose and Rockstar Energy Husqvarna Factory Racing's Gared Steinke. While the top three went unchanged for the first half of the Main Event, the battle for third heated up on Lap 8 after Steinke crashed out of the position, allowing TiLUBE/Tuf Racing Honda's Jace Owen to jump from fifth to third after Woodstock/TZR KTM's Travis Sewell was slowed up avoiding Steinke.
Sewell reclaimed the final spot on the podium on Lap 9, while Faith was making a hard-charge from a ninth-place start to contend for the podium. Hayes led all 15 laps and eventually took the checkered flag over five seconds ahead of Blose, while Sewell held on to finish third. Faith charged hard to a fourth-place finish, with Owen in fifth.
With his series-leading sixth Main Event win of the season, Hayes chose one of three cases to determine the inversion for the second Main Event, ultimately selecting the case with the number eighth, meaning half the field would be inverted.
Hayes still earned a strong start in the second Main Event, but he was forced to slot in behind Owen, who grabbed the holeshot, and Faith, who quickly moved into the lead on the opening lap. Blose started in fourth, followed by GEICO Honda's Chase Sexton and Sewell. Blose made an impressive jump to second on Lap 1, slipping by both Hayes and Owen as they fought for the position. On the next lap Hayes moved into podium position behind his Team Babbitt's teammates.
The top three remained the same through the remaining 12 laps, with Faith grabbing his second Main Event win in as many nights two seconds ahead of Blose, leading all 15 laps along the way. Hayes ensured the overall win with a third-place finish, followed by Sexton and Sewell to complete the top five.
Hayes' 1-3 effort combined with his bonus point from the Head 2 Head Challenge gave him a one-point advantage over Blose (2-2) in the final classification. Faith completed the second 1-2-3 sweep for Team Babbitt's this season in third (4-1), while Sewell was fourth (3-5) and Sexton fifth (6-4).
Hayes lead over Faith in the Arenacross Class standings grew to seven points, with Blose holding on to third, 10 points out of the lead. Sewell sits comfortably in fourth while Regal still sits fifth despite missing the race.
Nelko kicked off the Western Regional Arenacross Lites Class Main Event by racing to the holeshot ahead of Team DirtBikeMike KTM's Brandon Marley and Lynwood Motoplex/RF Motorsports Kawasaki's Collin Jurin. On Lap 2 Jurin crashed while chasing Marley for second, allowing Driven MX Racing KTM's Jared Lesher to assume control of third. The top three remained the same until Lap 8 when Marley encountered misfortune that also collected Lesher, effectively removing both riders from podium contention. Shawnee Motors/Justified Cultures KTM's Cheyenne Harmon then moved into second, with Woodstock/TZR KTM's Cody VanBuskirk, who started ninth, right behind him in third. As a result of the incidents that took place behind him, Nelko went unchallenged en route to the win by more than four seconds over VanBuskirk, who made a last-lap pass on Harmon to finish in the runner-up spot. Link MX KTM's Dylan Rouse was fourth, with Lesher in fifth.
Nelko's win vaulted him into the Western Regional Arenacross Class Championship lead, currently holding a two-point lead over VanBuskirk. Town & Country Cycle Center Husqvarna's Dave Ginolfi, who finished seventh, and KTM rider Carlen Gardner, who finished sixth, sit tied for third, four point behind.
The Colorado Springs triple-header continues tomorrow for the final night inside Broadmoor World Arena, celebrating the second annual Military Appreciation Race, featuring "Rivalry Night" between Army and Air Force. The action kicks off at 6 p.m. PT / 7 p.m. MT / 9 p.m. ET.
Arenacross Class Results - Main Event 1
1. Jacob Hayes, Liberty, N.C., Kawasaki
2. Chris Blose, Phoenix, Kawasaki
3. Travis Sewell, Westville, Ind., KTM
4. Gavin Faith, Duncombe, Iowa, Kawasaki
5. Jace Owen, Matoon, Ill., Honda
6. Chase Sexton, La Moille, Ill., Honda
7. Ben Lamay, Forney, Texas, Honda
8. Gared Steinke, Woodland, Calif., Husqvarna
9. Kyle Bitterman, West Pelzer, S.C., Husqvarna
10. Daniel Herrlein, Bethesda, Ohio, Honda
Arenacross Class Results - Main Event 2
1. Gavin Faith, Duncombe, Iowa, Kawasaki
2. Chris Blose, Phoenix, Kawasaki
3. Jacob Hayes, Liberty, N.C., Kawasaki
4. Chase Sexton, La Moille, Ill., Honda
5. Travis Sewell, Westville, Ind., KTM
6. Jace Owen, Matoon, Ill., Honda
7. Ben Lamay, Forney, Texas, Honda
8. Daniel Herrlein, Bethesda, Ohio, Honda
9. Gared Steinke, Woodland, Calif., Husqvarna
10. Jared Lesher, Ball Ground, Ga., KTM
Arenacross Class Overall Results (Main Event Results)
1. Jacob Hayes, Liberty, N.C., Kawasaki (1-3)
2. Chris Blose, Phoenix, Kawasaki (2-2)
3. Gavin Faith, Duncombe, Iowa, Kawasaki (4-1)
4. Travis Sewell, Westville, Ind., KTM (3-5)
5. Chase Sexton, La Moille, Ill., Honda (6-4)
6. Jace Owen, Matoon, Ill., Honda (5-6)
7. Ben Lamay, Forney, Texas, Honda (7-7)
8. Gared Steinke, Woodland, Calif., Husqvarna (8-9)
9. Daniel Herrlein, Bethesda, Ohio, Honda (10-8)
10. Jared Lesher, Ball Ground, Ga., KTM (12-10)
RMATV/MC Head 2 Head Challenge Results (bonus points)
1. Jacob Hayes, Liberty, N.C., Kawasaki (2 points)

2. Chris Blose, Phoenix, Kawasaki (1 point)
3. Chase Sexton, La Moille, Ill., Honda (1 point)
4. Daniel Herrlein, Bethesda, Ohio, Honda (1 point)
5. Cody VanBuskirk, Harvard, Ill., KTM (1 point)
6. Jace Owen, Matoon, Ill., Honda (1 point)
7. Ben Lamay, Forney, Texas, Honda (1 point)
8. Gared Steinke, Woodland, Calif., Husqvarna (1 point)
Western Regional Arenacross Lites Class Results
1. Ben Nelko, Aliquippa, Pa., KTM
2. Cody VanBuskirk, Harvard, Ill., KTM
3. Cheyenne Harmon, Colleyville, Texas, KTM
4. Dylan Rouse, Florence, Ky., KTM
5. Jared Lesher, Ball Ground, Ga., KTM
6. Carlen Gardner, Paso Robles, Calif., KTM
7. Dave Ginolfi, Midvale, Utah, Husqvarna
8. Tanner Berry, Washougal, Wash., Yamaha
9. Scott Zont, Algonquin, Ill., KTM
10. Chase Evans, Glenwood, Iowa, Yamaha
Arenacross Class Championship Standings
1. Jacob Hayes, Liberty, N.C., Kawasaki - 196 (6 Main Event Wins)

2. Gavin Faith, Duncombe, Iowa, Kawasaki - 191 (2 Main Event Wins)
3. Chris Blose, Phoenix, Kawasaki - 188 (1 Main Event Win)
4. Travis Sewell, Westville, Ind., KTM - 173 (3 Main Event Wins)
5. Kyle Regal, Lake Elsinore, Calif., Husqvarna - 130
6. Ben Lamay, Forney, Texas, Honda - 125
7. Jace Owen, Matoon, Ill., Honda - 101
8. Gared Steinke, Woodland, Calif., Husqvarna - 99
9. Daniel Herrlein, Bethesda, Ohio, Honda - 97
10. Kyle Bitterman, West Pelzer, S.C., Husqvarna - 85
Western Regional Arenacross Lites Class Standings
1. Ben Nelko, Aliquippa, Pa., KTM - 29
2. Cody VanBuskirk, Harvard, Ill., KTM - 27
3. Dave Ginolfi, Midvale, Utah, Husqvarna - 25
4. Carlen Gardner, Paso Robles, Calif., KTM - 25
5. Dylan Rouse, Florence, Ky., KTM - 22
6. Cheyenne Harmon, Colleyville, Texas, KTM - 20
7. Jared Lesher, Ball Ground, Ga., KTM - 19
8. Scott Zont, Algonquin, Ill., KTM - 18
9. Collin Jurin, Monroe, Wash., Kawasaki - 13
10. Brandon Marley, McEwen, Tenn., KTM - 10