O.co Coliseum
Oakland

,

CA
Oakland
Monster Energy AMA Supercross Championship
Not all stories take place at the front of the race, although this particular one got close last Saturday night when Cycle Trader.com/Rock River Yamaha's Colt Nichols recorded a career best second-place in Oakland. He looked great doing it too, carrying speed on a tricky track that yanked many of his competitors off their bikes. After watching his ride, you'd probably assume he'd had months of testing and was intimately familiar with his machine, but in reality, he didn't even ride his race bike until halfway through December.
The lack of preparation wasn't due to a lack of trying, Nichols just didn't have a ride lined up and his old team, Crossland Racing (now RIDE365.com Honda Racing), had picked up his bikes from last year. For a little while there was a chance he'd fill the final open spot at GEICO Honda, but the team ended up signing Jimmy Decotis, who, ironically, was poised to finalize a verbal deal he had in place with Cycle Trader.com/Rock River Yamaha. Even after Jimmy D ended up moving to GEICO, things didn't magically fall into place for Nichols. Only after his riding coach, Robbie Reynard, spoke with team manager Christina Denney did things start coming together.
"Robbie played a huge role in connecting us with Colt," confirmed Denney. "It's not like he begged us to put Colt on the team or anything like that, I was looking for 250 riders anyway. Robbie is just very familiar with our team dynamics and knew it would be good for both Colt and the team. I don't know if Colt would or wouldn't have been signed otherwise, but Robbie vouching for him definitely helped."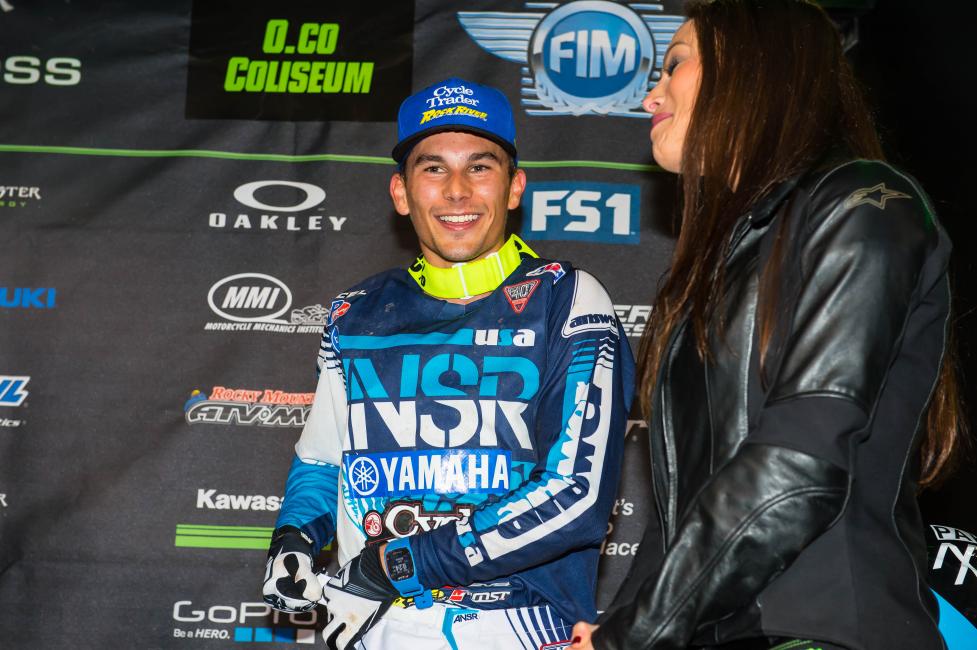 Just like that Nichols went from wondering if he'd even have a ride to signing with a solid team with factory motors in their 250s. A stock YZ250F was immediately delivered to Nichols, who had been practicing on a 450 just to get seat time. A few weeks later Nichols received motors from the team, and then a California trip followed so Nichols could do some suspension testing with Enzo. Finally in mid-December he was able to ride his race bike for the first time.
"He never complained there wasn't enough time, he simply put his head down and did the work," Denney told us. "Once he got out to California everything was going great for him, and when he rode his race bike he didn't want to get off the thing!"
Fast forward roughly a month. Nichols was already doing well, scoring seventh, fifth, and eighth-place finishes at the first three races, and he put himself in a position to capitalize at the fourth round in Oakland.
"I got around Jordon Smith, and I think I was reeling in Alex Martin a little bit and he crashed," Nichols told us that night in the pits. "I think the next lap I looked over at the leaderboard to see how many laps we had left and I saw 69 in third place. I was like, 'No way!' Then [Cooper] Webb's bike did whatever it did and I was sitting in second place. It was just a really surreal feeling for me and I didn't really ride well in the final laps. I told myself to calm down because we still had five or six laps to go. It was a solid finish for us and the team. I'm just really happy, it's been a long time coming and there's been a lot of hard work put into this. To see it come true like this is a big deal. I have a really good team around me and that's the whole reason I am where I am right now. I'm happy they took a chance on me. They didn't know what they were going to get out of me so to repay them with a podium is awesome."
The team was just as excited as Nichols. "We were so pumped! We have great equipment and a great team, but the rest is up to the rider," Denney said. "It couldn't have happened to a better guy and it gives me satisfaction knowing we helped Colt achieve his dream. We kept the pressure off, but we knew it was only a matter of time before he hit the box."
Interestingly enough, Alex Martin, who earned the team its first-ever podium last year in Oakland, was involved in this podium too, even though he now rides for Yamalube/Star Racing Yamaha. His crash handed third to Nichols, which became second when Webb's bike had problems. And when a concerned Denney texted Martin to make sure he was okay afterward, he first congratulated her and the team on Nichols' second place before commenting on his condition (he had the wind knocked out of him but is okay).
With 7-5-8-2 finishes this year, good enough for fourth overall in 250SX West Region points, Nichols has been the surprise of the class so far. Will Nichols' impressive results continue? Denney seems to think so.
"Now that he has the taste of success, I'm sure he won't be stopping anytime soon."