San Diego, CA
San Diego 1
Monster Energy AMA Supercross Championship
San Diego, bro! Last year Monster Energy AMA Supercross moved from Jack Murphy Stadium (now called Qualcomm Stadium) to the downtown, much-newer Petco Park. This year the folks at Feld loved it so much they decided to go for a double! Two races at Petco and for the first time in a long time, the second round of the series was not in Phoenix—it was at The Whale's Vagina. Second San Diego round is in two weeks.
I know that Pingree hates the move downtown and I have to admit that he might be onto something as I looked out at those empty seats during the night show. The San Diego SX has always been robust and the city itself loves motorsports of all kind. I lived there for two years and trust me, they're into racing of all types. Not sure what was up with the lack of people there (don't listen to the PR's with the attendance in them, those are just made up) but I fear for San Diego 2. Weird deal for sure.
Because of the lack of floor space, the track in Petco is smaller than the old football stadium. It's about 3,000 times nicer of a place than Qualcomm. The pits suck though. Nothing anyone can do about that, it's just the downtown space where the stadium is. It's weird though, we're moving from downtown Phoenix to Glendale because, I heard, the lack of pit space in Phoenix was a problem but in Diego, we're moving to a stadium that isn't very ideal for the pit set-up. Hey, man, I don't make the decisions, I just talk about them.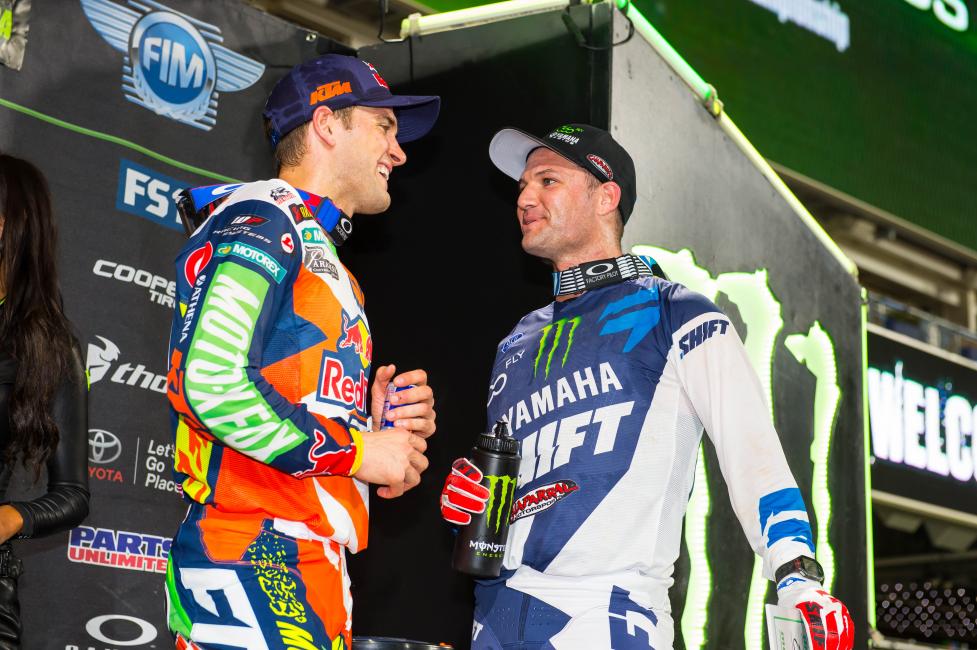 There was some new dirt brought into the track this year and when combined with some rain, it was perhaps the best-looking San Diego dirt ever. But in talking to the riders it seemed that it got pretty slippery, per usual. The track itself was pretty easy with just one rhythm lane that gave riders trouble. The whoops were really big in practice but wore down fast and were rolled much flatter for the night show. After last week's great track, this one was very basic. Again, some of that comes down to the lack of floor space.
Ryan Dungey is a machine. Someone stab him in the arm and see if there's some sort of eco-skeleton underneath there. I'm kidding, NO ONE STAB RYAN DUNGEY. I've quoted a Terminator reference in many an Observations columnm and it applies here again. To that end, Dungey just knocked off 20 perfect laps in San Diego to take the win and the red plate back.
With old man Chad Reed breathing down his neck, Dungey he just nailed that one difficult rhythm perfectly every lap, mastered the whoops, weaved through the lappers (by the way, have you noticed that at the first two races, the guys have barely been getting into lappers? Tells you what the level is at right now), dealt with the rough track and took a win that was way harder than it looked. When you're the leader and a dude is on you, he can pace himself off you, he's got an easier time with lappers and he can see your lines while you can't see his. Didn't matter. Dungey was the man in SD and he's already off to a better start this year than last when he dominated the series.
Reed's back and had a great ride. I knew he'd be good and maybe I was higher on his riding than anyone not named Jason Thomas but even knowing he would be good, I was very impressed with his fitness Saturday. We know Dungey is a machine (reminder: don't stab him to find out) and Reed was right there the entire way. Lap times were consistent, his riding was on point, his starts were better.
The last couple of weeks I've been going to interview Chad after the races and it's a reminder that factory Yamaha is back. Who would've thought that after Reed left Yamaha in 2007 for San Manual Yamaha he'd be back seven years later with the same crew of Jimmy Perry as manager, Bob Oliver as motor dude, and Mike Guerra and Keith McCarty as management-types? I'm pumped for those guys (I worked there for three years as Ferry's mechanic. Please tell me you knew that) and the sport needs factory Yamaha back. It's nice to see. Dust everything off boys, the 22 is back and he hasn't lost a step!
Speaking of Yamaha, one minute into the 250SX main event, I did not think Cooper Webb was going to win. His start was terrible and all of his main competitors were in front of him. Osborne, Craig, Decotis, Savatgy and Smith were all checking out while he was floundering around. But then something happened. And that something was Cooper Webb showing us that he's DABA (Stern Show reference). Webb ripped through his main competition rather easily and considering it was a track that was fairly tough to make up time on and considering that Webb wasn't even doing the 3-3-3-2 rhythm, well that's got to be pretty depressing for his competition.
His pass on leader Zach Osborne was amazing. I don't know how he made it stick. At the race I assumed that Osborne screwed up but he really didn't. He may have hesitated a split second and Webb dove to the inside. It was like someone hit the Ivan Stewart "nitro" button on Webb's bike. Great ride, amazing win and we have to start wondering if anyone can beat this kid.
Jason Anderson, last week's winner, rode pretty well to get third but after the race was docked two spots for doubling the triple when the red cross flags were out. The lights were also on the face of the triple for Justin Bogle, who crashed after the jump, but went out as Cole Seely and Anderson approached. The flags were still waving. So I understand if Anderson was a bit confused but Seely singled the triple while Jason doubled. This is a no-no and I get the penalty. It happens…the best thing Jason could've done was just triple the jump and say there were no lights on. Since he doubled the triple, he showed us that he knew that he couldn't triple because of flags, so he sort of looks guilty by his actions.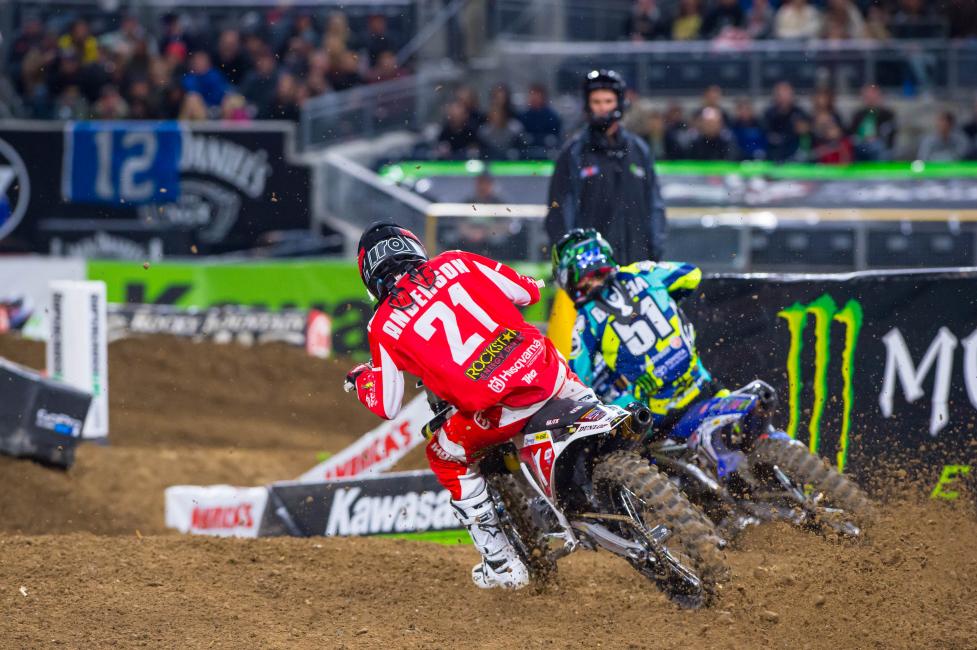 Anyhoo, the whole thing kind of sucks because these dudes try for five laps to make up one second on a rider, then the lights come on and your competitor singles the triple and then the flags are gone, lights are off and you triple. That's at least three seconds right there and it's totally random as to when the injured rider gets off the track. It can kill you or it can give you a massive advantage. I think the lights should be on for one full lap regardless of where the downed rider is. Why not? Make it fair for everyone, right? It can swing someone's night by a total happenstance.
I'm not going to hold my breath that something totally understandable, practical and easy to do will actually be installed. I'm still waiting on a revised race order, the Canadian flag over the starting gate to be made more normal, nets put on the corners so we can bring berms back and many other brilliant ideas I've had to be put into SX.
Let's take a look at the results:
250SX Results
1 1 Cooper Webb Newport, NC Yamaha YZ250F- After the race I spoke to Coop while he was on his hoverboard, (THEY DON'T ACTUALLY HOVER PEOPLE…THEY HAVE WHEELS ON THEM!), and I was very impressed with his hoverboard skills. I bet he has sweet ninja skills also.
2 37 Joey Savatgy Thomasville, GA Kawasaki KX 250F- Joey was the best in the main at the 3-3-3-2 rhythm section and it was faster but even that couldn't stop Webb from going around him and waving bye bye. A nice ride, but as you'll read below, he was still bummed.
3 39 Jordon Smith Belmont, NC Honda CRF 250- Jordon led laps and stood on the box, and that's a step you have to make before you can win races. Unfortunately for him, that last part may not happen this year with Hurricane Webb lurking in the class. Still, a nice job by the sophomore rider.
4 38 Christian Craig Corona, CA Honda CRF 250- Craig was winning the heat and fell. Craig was fast all day including the main event. He'll get up on the box real soon but for now, we have to remember that it's been a while since he raced supercross.
5 69 Colt Nichols Muskogee, OK Yamaha YZ250F- Very impressive start for Colt this season. We knew he was good last year on the Crossland Honda but he's raised his level this year on the Cycle Trader/Rock River Yamaha team. Chris and Christina Denney are turning Nichols into another A-Mart!
6 16 Zach Osborne LAKE ELSINORE, CA Husqvarna FC250- Wacko won his heat again (two in a row for him) and led the race for a long time before Hurricane Webb swept him up. Still, a runner-up spot was easily there for Ozzy when he went down all by himself. He was bummed when I spoke to him after the race but I think it was still a positive night for Zach. He's getting some confidence these first two weeks. Four laps away from winning…
7 40 Kyle Peters Greensboro, NC Honda CRF 250- Go around and ask your janky buddies who got seventh in the 250SX main in San Diego. I guarantee none of them will say Peters. He's the most non-descript good rider out there. I barely have heard him speak.
8 58 James Decotis Peabody, MA Honda CRF 250- Jimmy D has to be so bummed. He was right there in second and looking good before he went down in a turn. He was solid last week, had the fastest time in his heat this week and like Craig, has probably ridden better than his results have shown.
9 45 Kyle Cunningham Willow Park, TX Suzuki RM-Z250
10 35 Chris Alldredge Powell Butte, OR Kawasaki KX 250F- Just stay up and do consistent laps. Just stay up and do consistent laps. Just stay up and do consistent laps. Just stay up and do consistent laps. Just stay up and do consistent laps. Just stay up and do consistent laps.
11 26 Alex Martin Millville, MN Yamaha YZ250F- Rough night for Alex as he crashed his way to the LCQ and then had to ride his nuts off to get into the main. To get an eleventh with his predictable bad start from a bad gate isn't too bad.
12 127 Cole Thompson Brigden, Canada KTM 250 SX-F- Thompson got a new mechanic this week (Donk) which I'm ok with because anytime a Canadian can get some work down here, it means one more person I can talk hockey with.
13 85 Michael Leib Wildomar, CA Yamaha YZ250F- Leib's a good rider, a veteran in the class and I was surprised he didn't make the main last week in his debut for the Blue Buffalo/Slater Skins/Yamaha/Herrera Ranch team. Larry Brooks is managing this effort and I'm sure his glare after A1 probably got Leib to pick up the pace this week.
14 82 Trevor Reis Alpine, CA Yamaha YZ250F
15 42 Mitchell Oldenburg Alvord, TX KTM 250 SX-F- Mitchell's been very fast but he's been bitten by the bugaboo that got him last year when he rode for ARMA Yamaha. He crashes! This week he high-sided on the start straight and it looked ugly. I'm surprised the dude got up. Anyways, speed is there. We can work with speed…
16 68 Cole Martinez Rimrock, AZ Yamaha YZ250F- Martinez has some supercross skills for sure. As a privateer out there it's tough to compete on a 250F against these teams that have more budget and the purse money is also poor in 250's so it surprises me there are so many riders and teams in the small class.
17 222 Chris Howell Spokane Valley, WA Husqvarna FC250- The Barn Pros/Chris Howell rivalry simmered in San Diego with Howell finishing right behind the rider on the team that he left last year. Regardless, it's been a nice start for the Husky privateer kid that had a tough 2015.
18 203 Zachary Commans Seal Beach, CA KTM 250 SX-F- A real nice story brewing here for Commans in his first ever SX race. This kid was in a coma last year after a hard crash.
19 76 Scott Champion Wildomar, CA Yamaha YZ250F
20 792 Bracken Hall Rock Springs, WY Honda CRF 250
21 72 Hayden Mellross Australia Yamaha YZ250F- Mellross, an Aussie who's riding supercross for the first time, had a nice heat race, was second after the first two turns and was then pushed off the track. I thought I saw him crash again. So, yeah, crappy main for him but that heat race ride and that start in the main are all positives.
22 289 Mitchell Harrison Lansing MI Yamaha YZ250F- I think I saw Harrison tip over after the tabletop section, pick his bike up and then crash again in the whoops. Maybe I'm getting him mixed up with another tiny Star Yamaha dude in Martin but I'm not sure. Either way, tough night for the rookie after a good A1.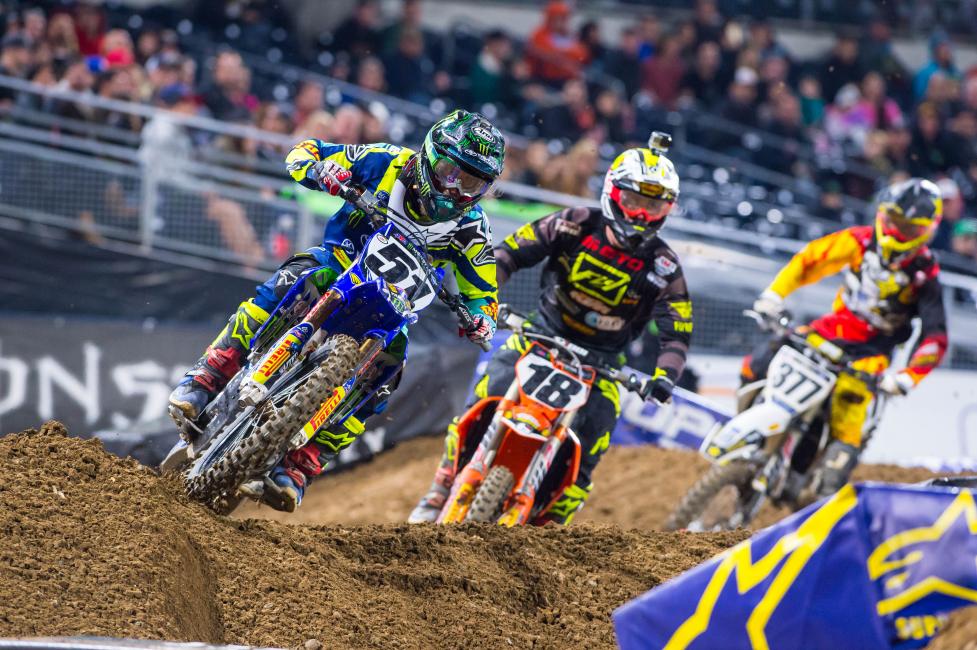 450SX Results
1 1 Ryan Dungey Clermont, FL KTM 450 SX-F- I'll just say it again. Dungey was phenomenal in the 3-3-3-2 rhythm section every single lap. Precision riding, perfect landings all encapsulated right there in one section.
2 22 Chad Reed Dade City, FL Yamaha YZ450F- Reed wanted to work on his starts after A1 and his buddy Michael Byrne (who's always been a good starter) joined him on the bike to help out. The problem, as Chad told me after the race, was Byrner worked him most of the time. They switched bikes and still, Byrner was better. That had to suck. Anyways, Reed clearly figured it out and stalked Dungey the entire main event in a great ride that stamped Reed's once again good. But we knew that, right?
3 14 Cole Seely Sherman Oaks, CA Honda CRF 450- A good start to the season for Seely and he told us on the Pulpmx Show that it's been a long recovery for him after shoulder surgery as he's never been off the bike for that long in his life.
4 3 Eli Tomac Cortez, CO Kawasaki KX 450F- A quiet couple of races for Tomac to start the year but he looked fine. Like Roczen, we'll see him up on top of the box soon but I'm scared for Eli and his team that by that point, Dungey will have 20 points on him. Tomac's speed after the finish on that sweeper was scary.
5 21 Jason Anderson Rio Rancho, NM Husqvarna FC450- Anderson was aggressive on Barcia in the heat and Seely in the main but I don't have a problem with that. It's supercross and it's tough to pass. Both times Anderson had set them up and had a nice drive into the turn and then made some contact. It was far from the Vince Friese move people, calm down.
6 94 Ken Roczen Clermont, FL Suzuki RM-Z450- Kenny's not been able to get off the line like he did last year and I think he'll be changing some things up with his clutch this week to get back to his old setting. We'll see from here. He was on it and riding to the front when he went off the track and lost some spots. A 5-6 to start the season isn't what he wanted to get but he insists there's no panic because he feels his speed is there.
7 41 Trey Canard Edmond, OK Honda CRF 450- All day long Trey didn't look like Trey. Not sure what was up as he wasn't the same dude as he was last week. Oh well, these things happen from time to time and I wouldn't be worried for the 41. I was one of the last ones left in the pits and Trey was just leaving, which meant there were some meetings going on in the Honda truck.
8 12 Jacob Weimer Wildomar, CA Kawasaki KX 450F- Weimer was really good. Like, maybe the surprise of the night even. Great ride by Jake as he fought back from twelfth to this position. Look at the dudes around him and their bikes/salaries. After a rough couple of years, we just might have something here. It's not that long ago that this guy was making some podiums in the 450 class.
9 25 Marvin Musquin Corona, CA KTM 450 SX-F- A nice ride by Marv after A1. He'll get better as the races go on and he gets more time to get used to the class. I spoke to Frankie his mechanic for a while before practice and he told me that Marv just needs more time after a shortened off-season.
10 10 Justin Brayton Mint Hill, NC KTM 450 SX-F- Brayton narrowly missed out on the holeshot and led some laps. That's already a million times better than he was last year. Unfortunately for him he had some rear brake problems develop that held him back.
11 51 Justin Barcia Greenville, FL Yamaha YZ450F- Bummer for Barcia as a crash on a mountain bike before A1 damaged some thumb ligaments and has now knocked him out for most of the SX season, if not all. How bad was it? He actually found me on track walk to explain that the beating he took for last week's results wasn't justified because he's actually hurt. After he explained his injury I gave him my opinion that it's pretty hard to race with his "skiers thumb" injury because all the guys I've known before with this just couldn't do it. It eventually catches up to you. After another so-so performance, it was announced that Barcia was going under the knife.
12 18 David Millsaps Murrieta, CA KTM 450 SX-F- Davi was around tenth, lost the front end and dropped to last or close to it. So this ride was pretty good because as he mentioned, he can't rip through the pack like he used to with all these fast dudes in the class right now. Last week Davi had spring forks on his bike with an air shock. This week he had the WP air forks on but he really didn't want to tell anyone that because then if he switches back, all the media dudes like me will go on and on about it. Yes, the suspension companies are noticing this stuff in the media and do care about it.
13 377 Christophe Pourcel San Antonio, FL Husqvarna FC450- We're going to be trying to figure this dude out all season long but this wasn't a good ride for him. I thought if he got a start he would fight a bit harder to run the pace, but not in San Diego. He rides like he doesn't want to be around anyone else out there. Still, there's always hope when you're that damm good on a dirt bike.
14 20 Broc Tickle Holly, MI Suzuki RM-Z450- Tough night for Tickle as he crashed on starts in, I think, two of his three qualifying races. He had to win the LCQ to get in and on a fairly easy track, his predictably bad start from the outside didn't do him any favors.
15 15 Dean Wilson Wesley Chapel, FL KTM 450 SX-F- The good news: Dean won the heat race, which is awesome for a dude that has been hurt and needs a good season this year. He even said on the podium that "its only six laps but it means more than that to me" and I think we all knew that. The bad news: Dean got a bad start in the main and in his words "sucked." He didn't get a great start and mentioned that it was hard to get into a rhythm when everyone was tying to saw his front wheel off. Then we started texting about Stewart and that's all I have. Wilson had some super weird Scottish pants on earlier in the day by the way.
16 54 William Hahn Menifee, CA Kawasaki KX 450F- Hahn had to make it through the LCQ along with his brother which might get weirder down the road if they both need the last spot. Anyways, in other Wil Hahn news he made a Bitmoji of himself that doesn't look anything like him.
17 55 Vince Friese Cape Girardeau, MO Honda CRF 450- Friese passed Brayton and led for a short while. After last week, not even Weege and his wrestling cronies could write a better script than that. Unfortunately for Vince, that pace and everything way up front probably caused him some issues and he dropped back to this spot. He's better than this and I'm sure if he had just been able to get into his normal pace, he would've done better.
18 800 Mike Alessi Hilliard, FL Honda CRF 450
19 47 Thomas Hahn Decatur, TX Yamaha YZ450F
20 79 Nicholas Schmidt Lake Elsinore, CA Suzuki RM-Z450- Schmidt's first main of the year. He rode well all day long and got good starts.
21 34 Phillip Nicoletti Bethel, NY Yamaha YZ450F- Filthy was in for the suspended Peick and now he'll be in for the injured Barcia. Phil wasn't happy with the 800 in the main for what he felt was a dirty move (I didn't see it) and I hope we don't see more beef between the MCR and JGR guys. Wait, what do I care? Yeah, more beef!!! By the way, I think Phil needs to stop calling "supercross" "deathcross" and his results might get better, but that's just me.
22 19 Justin Bogle Cushing, OK Honda CRF 450- Bogle won the semi which is cool for him and his sponsors. He went down early in the main and called it a night. I think he's ok though because he tweeted some stuff about "yung" and "no quit" so that's great.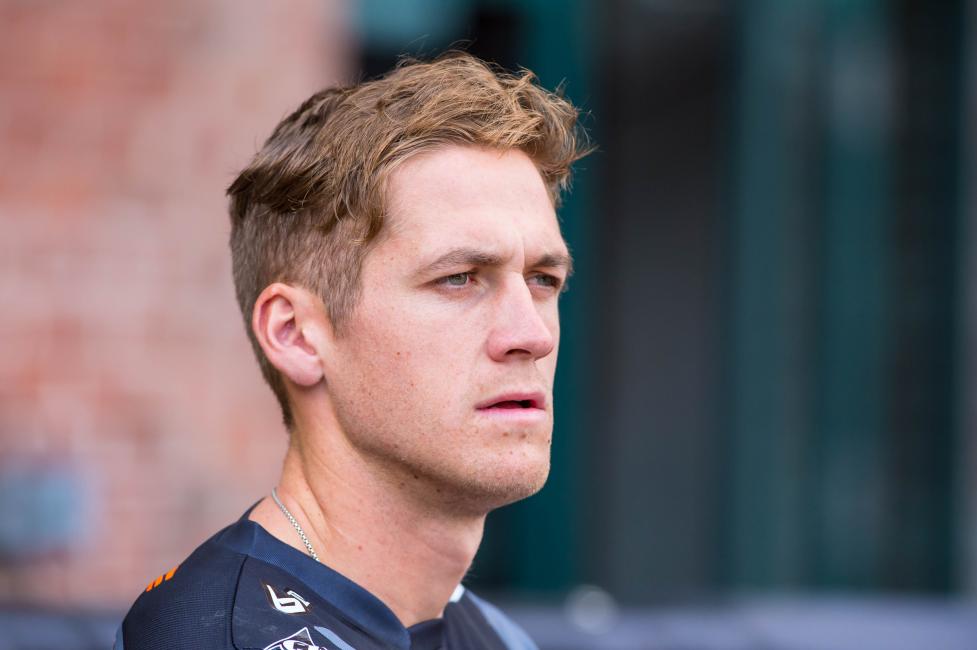 Some more news and notes:
- My mom's in town and she's a big supercross fan. Like everyone else not named James Stewart, she's a big Chad Reed fan. Mom had some of her own "Observations" from the couch here in Vegas while I was at the race:
"That guy that got second in the 250 class (Joey Savatgy) needs to be much happier than he was. It was the worst podium speech ever because he just talked about how he let his team down. He got second! That was too much negative energy and he needs to think more positive and be happy for what he did. If he wants to say that negative shit, he can do it back in the pits."
"Chad is riding with much more confidence than in the past few years. I don't know if it's because he doesn't have his own team or he's not injured anymore but he looked confident out there.
"Ricky (Carmichael) never has anything to say in the TV booth."
- The suspended Weston Peick was down hanging out at the supercross and even dropped the gate for the Weinerschitnzel weiner dog race. I'm not making this up. I spoke with Weston a bit at the JGR truck and unsurprisingly I didn't detect a lot of remorse over his attempted beat-down on Vince Friese.
- In more JGR Yamaha news I was on track walk talking to Filthy (I know, I know, I talk too much about him but he's just hilarious on so many levels. I can't get enough) and asking him where I should slot him in for fantasy supercross. He said he didn't know, and then Buddy Antunez came up and said he looked great this week. Then Barcia rolled up and said that Phil was "super sketchy". Honestly, between Phil, Coy Gibbs, Peick, J Bone, Johnny the suspension guy and Barcia there needs to be a reality show around these guys.
- Ran into the great David Bailey upon entering the stadium and it was good to see him. Hadn't seen the "Little Professor" for a while. He told me that he was looking at an old Cycle News from 1983 and amazed at the number of great riders in the main event that could win and told me that it's the same way right now. And as usual, he's right. Seven guys could win a main event right now and you'd shrug your shoulders and go "Yeah, I can see that…".
- Then I ran into former super agent Scott Sepkovic who was upset at me for apparently not having my facts right about him. When I asked him what I said, he replied, "I don't know, my friends told me" to which I replied "Oh, ok, good talk, Scott." I didn't even know I talked about Sepkovic anymore but maybe I did. Glad he clarified it though. If you're going to confront someone on something they said/wrote it's usually a great idea to actually have a specific example to give, but that's just me.
Thanks for reading, good times down in San Diego. Email me at matthes@racerxonline.com if you want to chat about this or whatever. See ya at Anaheim 2 where if Dungey wins again, I think we can start to warm up the fat lady.