Angel Stadium
Anaheim

,

CA
Anaheim 2 (A2)
Monster Energy AMA Supercross Championship
Ricky Carmichael coined the expression: "The series doesn't begin until after Daytona." If he wanted to be more accurate, RC should have said: "The series is typically over after Daytona."
Over the last five years, only once has the margin between first and second been under 20 points after Daytona (2013 when Ryan Villopoto held a two point lead over Davi Millsaps—and once RV wrestled that points lead away it pretty much was over at that point, anyway.) Last year, Ryan Dungey held a commanding 40-point lead over Trey Canard. In 2014, Villopoto was 28 points clear of Dungey. In 2012, Villopoto led Dungey by 29 points. You get the picture.
Over the last five years the average margin between first and second has been 24 points after the Florida visit, and in those five years, the points leader after Daytona has gone on to win the championship.
So it's clear the first half of the season is massively critical, and that makes it tempting to draw massive conclusions after just a few rounds. But there's a sweet spot in there to decide if what you're seeing is real or temporary. That time probably isn't now.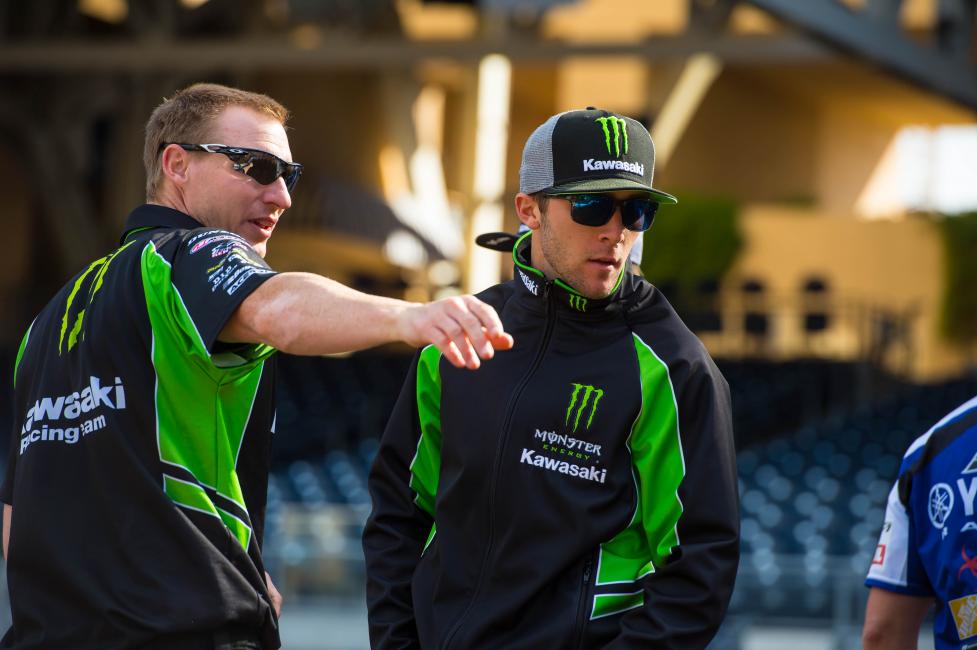 After two rounds last year, the hype surrounding the "New World Order" of Ken Roczen and Eli Tomac was at a fever pitch. Roczen went 1-2 at the opening two rounds and was leading the points, while Tomac had won convincingly at Round 2. They had topped the qualifying sessions, and with #whosenext line hanging above the series, it sure looked like these two were the next two.
Jason Weigandt wrote a column on how we could be ushering in a new rivalry.
Admittedly, it's very early. There are fans, relatives, and employers of other riders that won't believe that the Tomac/Roczen rivalry is about to be the next great thing, the next Stewart/Reed, Emig/McGrath, Johnson/Ward, or Stanton/Bayle. Yes, there are others that can get in on this, but this sport has a strange way of funneling down to just a few. We've seen lots of great races and moments from a lot of different people over the last few years. But it was always Villopoto or Dungey holding the #1 plate in the end. Is it really going to be someone other than Tomac or Roczen this year? It seems premature to ask such a thing, but trends are usually underway long before we notice. Someday we might look back at Phoenix 2015 as the start of it all, even though this rivalry has been building for years.
Weigandt suggested adding #KenEli to #whosenext tag after two rounds. But that turned out to be premature, as Ryan Dungey hadn't gotten up to full speed yet. Therein lies the problem—we tend to fall in the love with the hype that surrounds the West Coast swing. We're so desperate for answers, so focused on analyzing every rider and every practice, heat and main event that we sometimes go too far down the rabbit hole, and too soon. Have a look at the standings after round two for the past few years.
2015 | After 2 Rounds
1. Ken Roczen 47pts (1-2)
2. Ryan Dungey 38pts (4-3)
3. Jason Anderson 37pts (2-6)
2015 | End of Season
1. Ryan Dungey 390pts
2. Eli Tomac 305pts (7th, 26pts after 2 rounds)
3. Cole Seely 277pts (16th, 14pts after 2 rounds)
---
2014 | After 2 Rounds
1. Ryan Villopoto 43pts (4-1)
2. Ryan Dungey 42pts (2-3)
3. Ken Roczen 40pts (1-6)
2014 | end of season
1. Ryan Villopoto 368pts
2. Ryan Dungey 306pts
3. Ken Roczen 286pts
---
2013 | After 2 Rounds
1. Davi Millsaps 45pts (1-3)
2. Justin Barcia 39pts (7-1)
3. Trey Canard 38pts (2-5)
2013 | end of season
1. Ryan Villopoto 371pts (7th, 27pts after 2 rounds)
2. Davi Millsaps 338pts
3. Ryan Dungey 337pts (5th, 33pts after 2 rounds)
---
2012 | After 2 ROunds
1. Ryan Dungey 45pts (3-1)
2. Ryan Villopoto 45pts (1-3)
3. Jake Weimer 38pts (5-2)
2012 | End of year
1. Ryan Villopoto 323pts
2. Davi Millsaps 266pts (15th, 13pts after 2 rounds)
3. Ryan Dungey 257pts
---
2011 | After 2 Rounds
1. Ryan Villopoto 46pts (1-2)
2. James Stewart 45pts (3-1)
3. Ryan Dungey 38pts (2-5)
2011 | end of year
1. Ryan Villopoto 338pts
2. Chad Reed 334pts (5th, 34pts after 2 rounds)
3, Ryan Dungey 328pts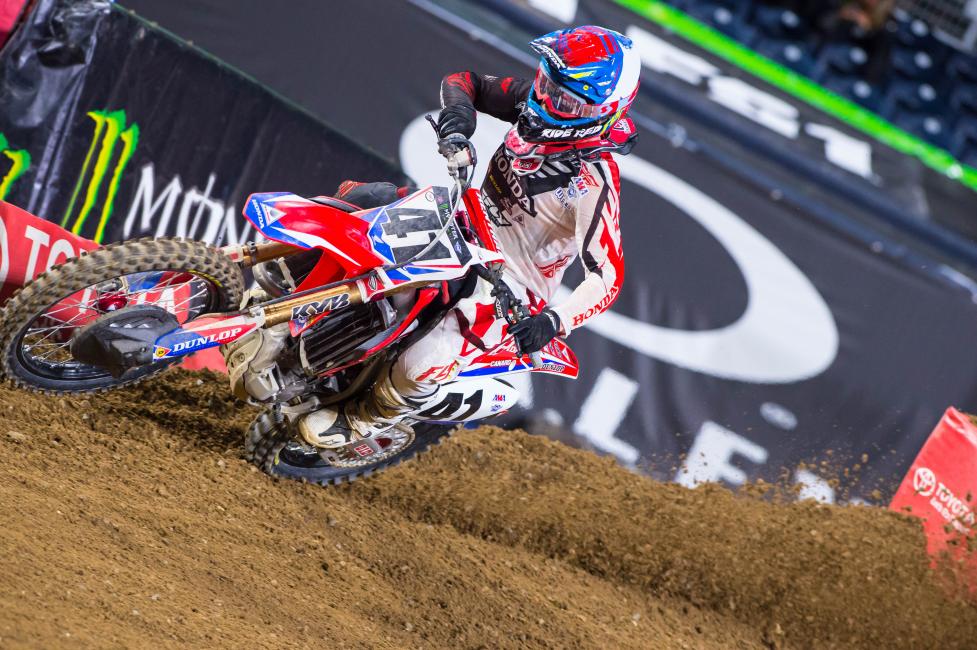 Only twice in the last five years has the eventual champion held the points lead after two rounds (Ryan Villopoto in 2011 and 2014). RV started behind the eight ball in two of his four title seasons. Ryan Dungey began last year with 4-3 performances, admitting later he was sick coming into the season, and his new bike needed some fine-tuning. He didn't look anywhere near what we saw later in the year.
Or take Villopoto in 2013. After two rounds he was seventh in points—eighteen back of Davi Millsaps—and looked like a long shot to capture a third straight title. Spoiler alert: he did.
So now Dungey has gotten the drop on the field, but let's not write off the likes of Ken Roczen, Eli Tomac, Trey Canard and Chad Reed. The next few rounds will prove the most pivotal of all, because soon the riders will have their bikes dialed in, the pre-season nerves will go away, and yet the points will be close enough for everyone to have confidence. By Daytona it could be over, but the two months between now and then will be massively important. As Ken Roczen can attest to, sometimes it's better to start slow and finish strong.