Angel Stadium
Anaheim

,

CA
Anaheim 1 (A1)
Monster Energy AMA Supercross Championship
We're back! If the kickoff to the 2016 Monster Energy AMA Supercross Championship is any indication, we're going to have lots to talk about this year. The depth of the field is incredible, a superstar is being born in the 250's, there's drama out on the track and heroes and villains everywhere you look (depending on who you ask and what rider they represent/train/have riding for them).
Usually the Feld track crew builds a pretty tame Anaheim 1 to get the guys into the flow of things. I get it—but it doesn't make for great racing. This year, though, the track was tough! It had good rhythms and tricky obstacles, with stiff penalties for under-jumping or over-jumping. Rain hit SoCal all week before the race and everyone was expecting it to be a mudder. The guys covered it early on, worked it with some dozers, added some lime and the track turned out amazingly well, all things considered. Full props for making the track 100 percent better than everyone thought it would be. We're hard on these guys sometimes for not using more dirt or imagination in the layouts, so let's make sure they get some congrats when they kill it. The Dig-Dug's must have been busy with their shovels!
Speaking of digging, Rockstar Energy Husqvarna's Jason Anderson dug deep to win his first ever 450SX main event. He rode awesome. Before the season I heard from people who had visited the Baker's Factory in Florida (as well as from a rider that was riding there, rides a green bike, and recently left the Baker's Factory) and they all said that Anderson had been hauling ass in the off-season. Those people were right (I wish "those" people had advised me to buy Monster Energy stock back in 2003, but whatever) as Jason won A1 rather easily. He ripped through the pack passing some big names, while his trademark untucked jersey was flying, and his body was hanging off the bike. It was a tour de force for the #21 and an amazing ride.
I don't know if he's going to win this title, but there was a sense this could be a "trouble for the other dudes" moment to me. We could be seeing something here like Jeremy McGrath in 1993. I don't mean it like Jason is going to come anywhere near the type of career of MC produces, but I mean a "past 250SX champion who we knew is fast and up and coming finally figuring it out and winning the title" moment. I know, I know, it's early but it has that feel. I guess we'll see. Last year Anderson finished second at the opener then went up and down the rest of the season, including getting into more beefs than the "Where's the beef?" lady.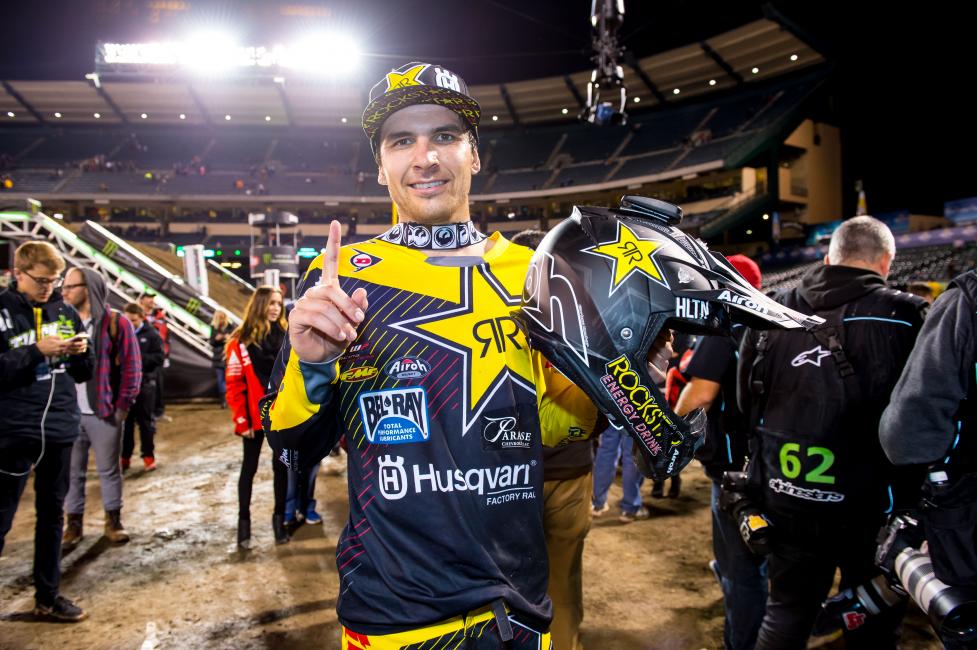 I hate to be Johnny Rainontheparade here but I can't really take the "First time a Husky has won a 450SX" thing seriously. KTM bought Husqvarna a few years back and Anderson's bike is a KTM 450SX-F, which is based on the Factory Edition bike that Ryan Dungey won on last year. The fabled Husqvarna machines from Sweden that were founded in 1903 and ridden by Brad Lackey, Torsten Hallman and Racer X publisher Scott Wallenburg for all those years aren't out there anymore. Props to KTM for buying a brand and doing well with it, but let's just hold back on getting misty-eyed for a Husqvarna win, right? Or did anyone else not see the KTM North America president Jon-Erik Burleson on the podium with the team wearing a Husqvarna shirt? Jon-Erik must be like Clark Kent and have both shirts on. Let's see if we can get a shot of him ripping one off one shirt for another.
I also do not accept SmarTop MotoConcepts' claim that they're riding an MCR 450 seriously, either. That's a Honda, people.
Speaking of those crazy hot tub guys from the Pacific Northwest, they were once again the news of the day, and not for a good result. Yet again, one of the SmarTop MotoConcepts riders did something dumb to put the team into the news, as Vince Friese cleaned out Weston Peick in the semi race and Peick got up and started raining down blows on Friese like something out of the WWE. I've weighed in on it HERE so I won't get into it again but it's amazing to me that this team keeps creating news that isn't good. Vince is a great rider and does not need to do stuff like this.
I don't see anything wrong with Friese and Peick's get together in the heat race (and a lot of riders I talked to felt the same way) but I'm sure there was no convincing Peick of that. So when Friese cleaned Weston out in the semi, I'm sure this was like waving a red flag in front of a bull. Still, Peick cannot react the way he did. The JGR guys were not happy; Weston loses two races and money, which is a bad deal for the team. However, I would've liked to have seen Friese fined or put on probation for his move. He's got a past—he's actually been suspended for dirty riding before.
We all thought Cooper Webb would win the 250SX class and we were all right. He's a monster, seemingly able to put the bike wherever he wants and take any line and make it work. If he can keep calm and carry on, he'll defend. No freaking out, just take a second or third if that's all that is there and he'll win the other ones. I was very impressed with his composure as Jessy Nelson was pretty far out front. Cooper kept his cool, charged hard and looked to be in complete control.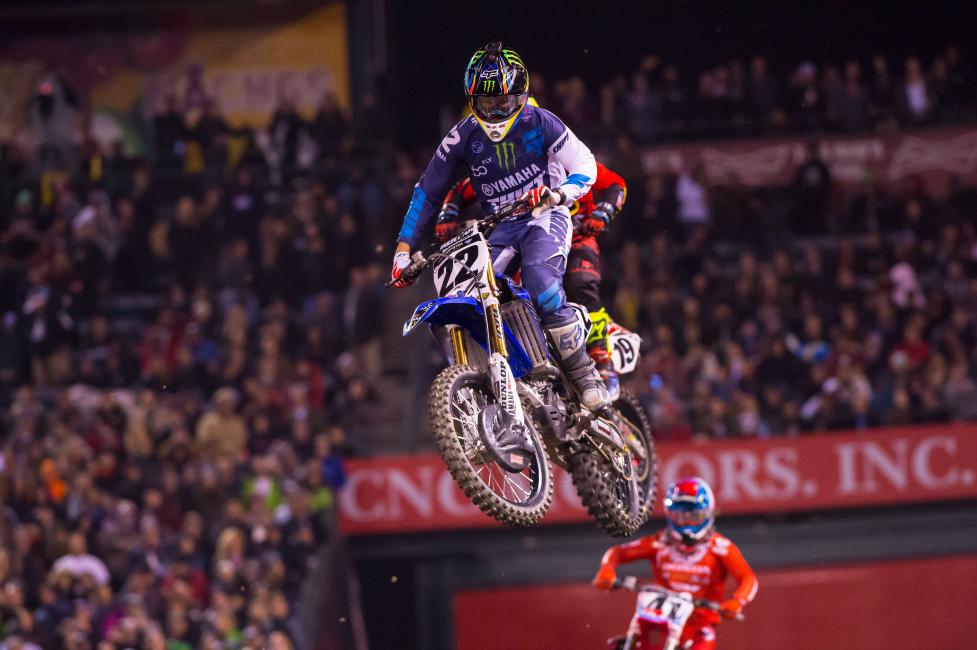 Chad Reed was back on a Yamaha! The Two-Two secured his deal the week before the race as Yamaha, Monster Energy, Chaparral, 360fly and the old standby for Yamaha, Valli Motorsports, came together to field a team of Reed, his mechanic Mike Gosselaar, Shane Drew, Bob Oliver and team manager Jimmy Perry. Cue up 38, Special's "The boys are back in town".
Reed took a sixth in the main event, which was pretty decent for him. He's been riding the Yamaha a whole bunch but hasn't done much testing. He's been happy with the spring forks and the horsepower of the new bike but mentioned he wants to work on his starts this week. JGR Yamaha uses not only the regular holeshot device on the forks, but a lock-down rear suspension device. That's something Chad can also use but he stated he's not a fan of the way it feels. We know the Yamaha is balls-out fast so we'll be wondering what is going wrong if the so-so starts continue.
Let's take a look at the results shall we?
250SX Results
1 1 Cooper Webb Newport, NC Yamaha YZ250F- I think the worst kept secret in the pits is that Webb's re-upped with Yamaha for next year and beyond. And word is he'll be in the Yamaha truck as they come back full-time (this is the team Reed is on right now, but ramped up for 2017). This has to make JGR, who worked with Cooper way back in his amateur days, and whose deal with Yamaha is up at the end of this year, super pumped, I'm sure.
2 13 Jessy Nelson Paso Robles, CA KTM 250 SX-F- If you're Nelson are you okay with the second or bummed because you're a past winner at this race and had a nice lead before you were caught and passed? I guess I'm a sunny-side up guy. Be happy to take the second place and try to figure out how to beat this Webb kid. [ Ed Note: Nelson is questionable for the weekend after a bad practice crash testing yesterday.]
3 16 Zach Osborne LAKE ELSINORE, CA Husqvarna FC250- Wacko Zacko was great, won a heat race and although he was pretty far back from the top two, he'll take a third. Why is Zach's home city all caps in the AMA forms? Who knows, it's the mystery of the AMA results sheets, man. #Doris
4 58 James Decotis Peabody, MA Honda CRF 250- Sneakiest good ride of the night belongs to Jimmy DDDDDDDDDDDDD, who rode well to beat both of his more highly-touted teammates. This was a career-best result.
5 39 Jordon Smith Belmont, NC Honda CRF 250- I didn't see anything amazing out of Jordon but usually when you see something amazing out of him it's because he's flying around and in danger of crashing. A steady race is okay for the kid.
6 26 Alex Martin Millville, MN Yamaha YZ250F- A-Mart wasn't happy with this finish because he was higher early on, but it's an okay result to take to Round 2. The Star Yamaha guys aren't always easy on their riders and I think Alex felt some heat afterwards.
7 69 Colt Nichols Muskogee, OK Yamaha YZ250F- Surprise of the night was the new Rock River kid. He rode for Crossland Honda last year and was fast until getting hurt. Nice ride by him.
8 37 Joey Savatgy Thomasville, GA Kawasaki KX 250F- Others didn't agree with me but I thought in practice that Joe Dog looked great. He figured out sections right away and was strong. Unfortunately the main event didn't go great, as he got tangled with Christian Craig while trying to overcome a bad start.
9 42 Mitchell Oldenburg Alvord, TX KTM 250 SX-F
10 40 Kyle Peters Greensboro, NC Honda CRF 250- All Peters does is put in good results on equipment and support that isn't equal to the riders around him. But you won't hear him talk all that much about it.
11 72 Hayden Mellross Australia Yamaha YZ250F- This was the Australians first supercross and a nice result at that. He's working with the great Tim Ferry, so I expect amazing things real soon.
12 68 Cole Martinez Rimrock, AZ Yamaha YZ250F
13 289 Mitchell Harrison Lansing MI Yamaha YZ250F- I spoke with someone in the pits who said Harrison will never be a top rider and made a huge mistake in turning pro so soon. I talked to someone else that said he's a very good rider and will be in the top five soon. Shocking that the pits can't come to a consensus here.
14 43 Fredrik Noren Menifee, CA Honda CRF 250- I thought last year Fast Freddie was out of his element (Donnie!) in the 450SX class because he doesn't have a lot of SX experience and isn't a big guy. The bike looked like it was pulling him around out there. He's back in 250SX class and looked better. He's a racer—he'll figure it out and make it work.
15 65 Zachary Bell Cairo, GA Yamaha YZ250F- Just stay up and do consistent laps. Just stay up and do consistent laps. Just stay up and do consistent laps. Just stay up and do consistent laps. Just stay up and do consistent laps. Just stay up and do consistent laps.
16 82 Trevor Reis Alpine, CA Yamaha YZ250F- One of Trevor's sponsors is Motoworld, which you may remember fielded a team for many years and even won some races. Ping even raced for them! Good to see they're still involved.
17 38 Christian Craig Corona, CA Honda CRF 250- Craig looked great. Unfortunately he was on the ground a couple of times and started his return to supercross near the back. He'll get some podiums and maybe a win before it's all over.
18 127 Cole Thompson Brigden, Canada KTM 250 SX-F- Oh Canada! Thompson is back in SX after a year away with an ACL injury. He and the team are getting some help from KTM Canada and I'm sure this isn't where Cole wanted to be, but it's his first SX in a while and he crashed.
19 45 Kyle Cunningham Willow Park, TX Suzuki RM-Z250- Strong look for the Motorcycle Superstore team out there. Seven gear and some blue in the bikes. All Suzuki bikes should have blue in them, right?
20 941 Maxime Desprey France Kawasaki KX 250F- I saw Maxime all winter long on my tour of Europe. He's a good rider, a typical Frenchman in that he's technically good at supercross. He's working with David Vuillemin on the Bud Racing/Monster Energy Kawasaki team. Here's DV's thoughts on Max's day.
21 35 Chris Alldredge Powell Butte, OR Kawasaki KX 250F- I see the Chris Alldredge Band is out there touring again in 2016 and still featuring their #1 single "Boom or Bust".
22 222 Chris Howell Spokane Valley, WA Husqvarna FC250- I like a nice social media dig as much as the next guy but I can't figure out Howell RT'ing something saying that it's nice when a team drops you and you make the main and their riders don't. What Howell is alluding to is Barn Pros/Home Depot Yamaha (his ride last year), but what I don't get is that Cole Martinez rides for Barn Pros and he made the main. Stay tuned next week for the "Yamaha teams fight it out" update.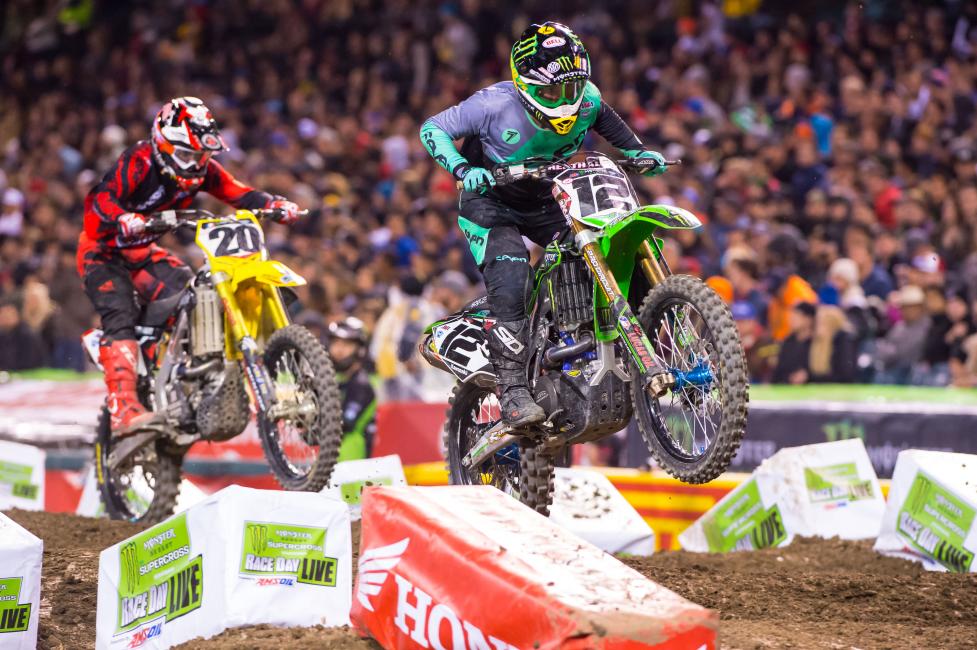 450SX Results
1 21 Jason Anderson Rio Rancho, NM Husqvarna FC450- Anderson shaved that creeper mustache off and to me, that's a good thing. Police everywhere won't have to follow him anymore.
2 1 Ryan Dungey Clermont, FL KTM 450 SX-F- The biggest non-controversy/controversy of 2016 is Dungey's collision with Stewart. Nothing malicious by Ryan there, it's racing and it happens. Later on Dungey got knocked down by Trey and I'm sure he wasn't pumped, but man was his comeback to second pretty stellar. The Dunge was fourth last year in the opener and ripped off the title, so he's got to be happy with this.
3 14 Cole Seely Sherman Oaks, CA Honda CRF 450- I went to go talk to Cole after the race. I wasn't sure how he would be because, like his buddy Nelson, he had a nice lead and lost it. When you're one of "these" guys, losing leads is not what you're paid to do. I think it's fine to end up on the podium but "these" guys don't always feel that way. I've got to be honest, I thought it was Seely's to lose and then to see him go to third is a bit of a shock, but overall, not too bad. I never actually found him after the race but Weege did and said Cole didn't seem bummed.
4 3 Eli Tomac Cortez, CO Kawasaki KX 450F- Tomac's debut on the green machine went well. Not great, not bad. He admitted after the race that he thought about how he's ended up on the ground and way back at past Anaheim's and didn't want to go down that road again. Imagine if you told Adam Enticknap that he would be "not great" and still get a fourth?
5 94 Ken Roczen Clermont, FL Suzuki RM-Z450- Roczen was awesome. After Anderson, I think he was the most impressive rider of the night. JT thinks it was Dungey and if you want to say that, I'm ok with it. I just think Roczen's ride from twenty-first to fifth was a bit better than Dungey's seventh to second, so sue me. I had lots of questions about Kenny (none about his talent) but he answered them for me. New mechanic for him in Oscar Wirdeman and it's so nice to see Germany and Sweden mesh so well. Haven't seen this since ABBA sold out those Berlin shows years ago.
6 22 Chad Reed Dade City, FL Yamaha YZ450F
7 41 Trey Canard Edmond, OK Honda CRF 450- Canard was fast, man. He was very fast in winning his heat and moved into second early in the race. Then Anderson got him. He set his fourth and fifth fastest laps of the night on lap 11 before he went down. Seventh sucks on paper, but he was very quick. I didn't like his boots, by the way. They didn't go with the rest of his look.
8 18 David Millsaps Murrieta, CA KTM 450 SX-F- Quiet night for the #18 with his new team. He stayed away from the fray and really when you look at the guys that beat him, they've all been discussed as being potential race winners and champions. So Davi was the next guy after the "guys we all talk about," which is not so bad. He's on a WP Air Shock and spring forks up front, which is a super weird combo but seems to be working.
9 15 Dean Wilson Wesley Chapel, FL KTM 450 SX-F- I thought this was pretty good. Wilson's lap times were pretty consistent throughout the main and he looked good. Yeah, maybe you think a ninth isn't that good but have you seen this field?
10 10 Justin Brayton Mint Hill, NC KTM 450 SX-F- I spoke with Brayton after the race and he was happy with his ride. I don't think we all realize how bad his 2015 was and for Brayton it's just about getting better each week.
11 20 Broc Tickle Holly, MI Suzuki RM-Z450- The Tick started eleventh, was tenth at one point, fell back to twelfth before getting eleventh. Seems about right. There are so many guys you look at that can potentially beat Broc but he's one of those dudes that can do 20 laps at the same speed and he'll beat you by consistency.
12 12 Jacob Weimer Wildomar, CA Kawasaki KX 450F- Solid ride for Pulpmx.com's number one rider. Jake's been off the bike for a long time now and this is a nice start for him.
13 19 Justin Bogle Cushing, OK Honda CRF 450- Bogle, a past 250SX champion, was out there without a ton of time on the bike due to an injury and was dicing with Musquin most of the way. He was probably wondering what in the hell was going on out there and how could that blue flag possibly be for him?
14 25 Marvin Musquin Corona, CA KTM 450 SX-F- Musquin, a past 250SX champion, was out there without a ton of time on the bike due to an injury and was dicing with Bogle most of the way. He was probably wondering what in the hell was going on out there and how could that blue flag possibly be for him?
15 51 Justin Barcia Greenville, FL Yamaha YZ450F- Uhhhh, I'm not saying we need to sound the panic button but I just dusted it off and checked the batteries. This result was not good as Justin went backwards from arm pump early into the main. Barcia needs to have a good San Diego before he starts trying too hard like he's done before and things go south.
16 800 Mike Alessi Hilliard, FL Honda CRF 450- Quiet night for Mike and he's probably very happy to let the other guy on the team take some heat for once. I look forward to the MCR team manager getting in front of this Friese controversy and steering it to a peaceful solution.
17 54 William Hahn Menifee, CA Kawasaki KX 450F- Wilbur won the LCQ and has to be relieved to just have made it through the first round healthy and ready to go.
18 377 Christophe Pourcel San Antonio, FL Husqvarna FC450- Pourcel was at his "Pourcel-elist" at A1. After the first two practices, he told his mechanic, "You will see what I have in practice number three." Then he qualifies fastest in that session and second overall behind Canard! He followed it by doing absolutely nothing in the main event, his first ever 450SX one at that. Years from now, historians will devote entire chapters to the #377.
19 11 Kyle Chisholm Valrico, FL Honda CRF 450- Chisholm's not happy with his suspension on the new Honda and I predict he'll be testing a ton more real soon to dial his bike in.
20 47 Thomas Hahn Decatur, TX Yamaha YZ450F
21 778 Lawson Bopping Australia Yamaha YZ450F- Who had Lawson Bopping in the main event at Anaheim 1? The privateer Aussie rode great in the semi to make it in. Nice job by him and he wins the "Tevin Tapia" award for "Shocking dude in the A1 450SX main event".
22 7 James Stewart Haines City, FL Suzuki RM-Z450- Oh, man, this is not good for JS7. Another hit to the head, another DNF for him and we're into the "What's next?" phase for Stew. This comeback has not gone well. The sport is better with a bad-ass James Stewart there at the races quadding stuff and being JS7. Each time it gets tougher and tougher to get back to the top of the mountain.
Some other news and notes:
- I probably need to keep looking some more but to me, the best looking bikes in the pits are the 2016 Hondas. The red riders needed to add some blue to the mix to blow me away. Suzukis should have some blue on them, and so should Hondas, in my opinion. I love the look they have going on right now. A close second is the Monster Energy Kawasakis because I love how the stock bike looks and the green sprocket and hubs is a nice touch.
- The new fad in 2016 is switching trainers! No wait, that's every year's top fad (example this year is Reed dumped his guy and Roczen picked him up). So, excluding trainers, it's crossbar-less bars. Stewart and both Kawasaki guys have gone to that design and I'm guessing it's just a flex thing. In my last couple of years as a mechanic everyone was going to bigger bars, shock shafts and fork sizes. I think everyone has learned that with the aluminum chassis, stiffer is not always better. So bye-bye crossbars!
- Tough debut for Motorcycle Superstore rider Mark Worth who was racing his first ever supercross and didn't even make it a lap before going down hard on the dragon's back. Worth dislocated and fractured his elbow and a dislocated his hip. Imagine that…your first-ever pro race and you make it half a lap before weeding yourself. Ouch, bro.
Thanks for reading, I'll be here all year. Tip your waiters. Email me at matthes@racerxonline.com if you want to chat.