Anaheim, CA
Anaheim 1 (A1)
Monster Energy AMA Supercross Championship
Late on Thursday afternoon, nearly four hours after the 2016 Monster Energy AMA Supercross press conference had wrapped up, and with his follow-up press and sponsorship responsibilities completed, Chad Reed came walking through the somewhat desolate pit area of Angel Stadium. Still dressed in his new Monster Energy/360fly/Chaparral/Yamaha Factory Racing race clothing, Reed, who we all know stared his racing career in the United States of America with Yamaha all the way back in 2002—and for whom he won both the 2004 and 2008 Supercross Championship—headed for the team transporter which housed the entirely new start-up Yamaha 450F factory effort he was now a part of.
Seeing me snapping photos of his brilliant-looking race bike, the 33-year-old waved me over and said, "Hey, you want to knock this interview out now?" I gave him my obvious answer and less than five minutes later, we were seated in chairs, my recorder running and Reed telling the story of how his fourteenth consecutive season in U.S. supercross—a season that, at times, looked like it might not even happen—took shape.
Visibly happy and proud of the new race team that was, for all intents and purposes, created around and for him, Reed let us in on just what it took to get him and the No. 22 Yamaha here to the opening race of 2016.
Racer X: Okay, Chad, the first day on the new job?
Chad Reed: Yeah. Officially, I guess. Yeah, today is more of the job stuff. You have to come here and do the high five Anaheim 1 normal thing. You know, the press conference is normally pretty predictable. There were a lot of guys up there today. Nothing new. Everybody said what we'd normally expect them to say. We didn't learn anything today.
Well, you have a good feel for these sorts of things as you've been coming to this Anaheim 1 press conference every year since 2002.
Yeah. This was my fourteenth year at the conference. It's funny because the same people that were around then are around now. Same people. I've got a couple dudes added to it all, but for the most part, it's all the same people. Man, if I was to remember the feelings and the things I was thinking back then, it's all the same. It really is. I'm excited to go. I love to see my race bike, I love to see the semi, I love to see the people and all those things are really why I'm still here. I'm here because it's fun. The passion is there and it's brighter than ever. That's what people don't understand, you know? Like when they question, "Why do you still do it?" It's the love of it; it's the passion. I get it that nobody prior to me has gone the distance, but I don't feel that anyone prior to me has had the commitment or the passion for what they do that I have. I feel that I'm ready to try to set a new age barrier up into the 30s, rather than the late 20s. I feel like the bikes, the schedule, the training and all those things are so much more advanced these days. I think the bikes play a big role. You look at RJ (Rick Johnson) and a lot of that era and I don't necessarily think that they retired because they wanted to; it was because they could no longer go. The pain was too much in the wrist or the pain was too much in ankles or whatever it was. Now, Aleve is a damn good product! [Laughs] The bikes don't beat you up as bad as they once did. I think that many, many things have changed.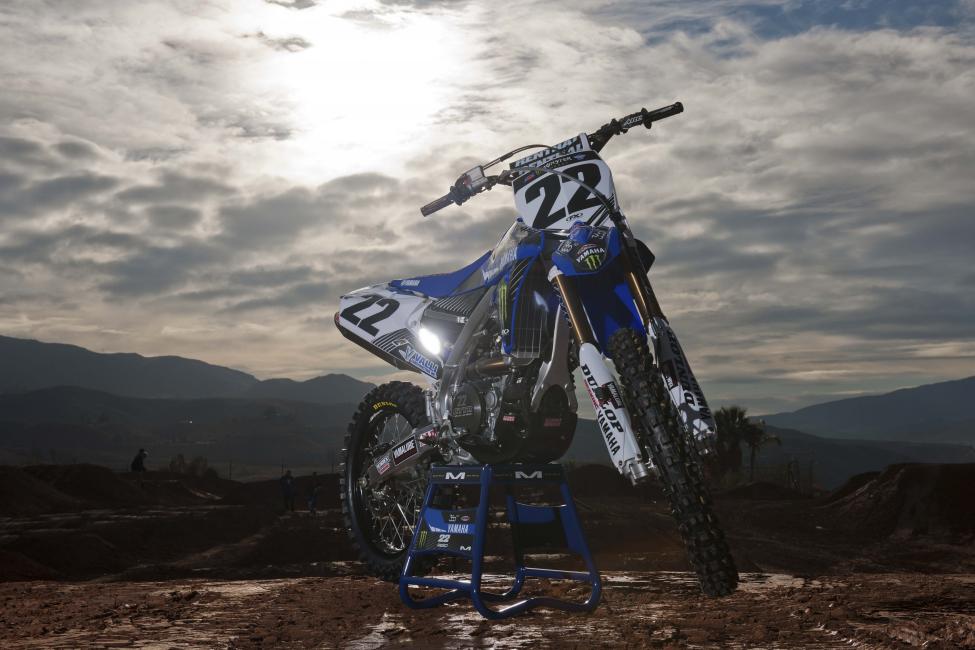 I was around you a little bit when you decided to shut down the TwoTwo Motorsports team. When you did close the doors on your team, your stance was, more or less, "I'm super-bummed to shut the team down, but it might recharge my batteries. It might allow me to keep racing." Do you want to talk about that?
Yeah, I mean I did the rounds. I started in Phoenix (Note: home of Discount Tire). I went and told the crew there what was happening. Then I got a plane to California to see Monster. You go to your biggest supporters. And Monster being a huge supporter for many years now, I wanted to first give them the opportunity and let them know, personally, what I was doing. But more than anything, I wanted to tell them what my plans were. I told them, "We're shutting the team down because I want to race." If I didn't want to race and that was the end of it, then I could have made some big changes and kept TwoTwo going; I could have kept the team and made huge adjustments and cut the budget here and cut the budget there, but I didn't want to do that; I wanted to race and I wanted to be the best that I could be at my last chance. I had also heard that there was a Yamaha global, Monster Energy thing in the works, so that at the time really excited me because I really felt like it was time to go home to Yamaha; it was time to go back where it began; and I wanted to be a part of that global recognition of Yamaha and Monster Energy. So yeah, fast forward to now and here we are. Those were the early talks, though. I was trying to be a part of all of that.
When did you begin to push real hard for the Yamaha deal?
To rewind it, I talked to Keith [McCarty] before the Vegas supercross in May. The feeling and the thought began around then. Then I got a heads-up from an individual that's high up the food chain at Yamaha in a global aspect and I kind of took his lead. At that point the struggle was real already at TwoTwo Motorsports. I was already beginning to think that if I was to continue doing the team, a lot of things had to change. I felt I had a team and a group of people in staffing that was the equivalent of any factory team here in the pits. I felt as a team and as a group, we were a factory team. We just needed a manufacturer that was going to treat us and allow us to be the factory team. The fact that Yamaha was considering coming back to racing, but didn't yet have a team, I felt that we could be a good fit. We could bridge the gap. We had a very good sponsor at the time and they [Yamaha] had the company that we wanted and then they had the race shop and the contact with Japan. I felt that we could, hand-in-hand, build something. Long story short, that didn't work out, but that's kind of where it all started. Then I got hurt and shut the team down and Keith sent me a bike. I really liked the bike! When you look at it and you think about it, it's so different. The bike is literally nothing like what I raced when I was here, but I can tell you that the design team that worked on it is very much at the core of Yamaha because all the things that I enjoy about the bike and the things that bring back some of those memories and some of those things that I learned as a young pro, I can feel them on this motorcycle. A lot of people questioned things and said, "Oh, the bike is very different from when you were at Yamaha", but I can tell you the hard core of this motorcycle is Yamaha through-and-through and all the things I enjoyed when I raced for Yamaha are in this motorcycle. From there, I pursued it all. Monster was really excited and it was aligning at the same time that the global Yamaha and Monster thing was working out. Everybody got together and everybody was agreeing that it was a good idea, and one thing led to another, and it seemed like it was going in a positive direction, but then it all just kind of grenaded. Sponsors went away, Monster was working on some different things, and at one point it seemed like it wasn't going to work out. And at that point, Keith was really up front. I would never have went through this with anybody else. Keith, I have so much respect for. He's always going to promise you what he can promise you and nothing more. He was always up front and he told me that 2016 was going to be difficult. I don't know, nor do I know if he knew that it was going to be this difficult. Along the way it was extremely exhausting in some ways, but Keith stayed true to the plan and stayed true to the goal. Nothing wavered. What I was hearing from my inside people at Monster was the same thing that Keith was telling me and my agent [Steve Astephen] was telling me. It wasn't like I was getting three different stories. I was very confident that what I was getting told was the truth and was real and I just put my full trust in Keith McCarty and I can honestly tell you that I would never have put that into anyone else in the industry. Just my history and my knowing and everything like that, I trusted him. Also, Ellie and I had the tough discussion—the discussion that I never really wanted to have—of, "Is it time? Is this it? Is this the sign?" I think that from the very beginning, the thought of going racing under factory Yamaha was exciting. Anywhere else, it didn't make sense to me.
Yes, going all the way back to June and July, when you were trying to see if something was available with Yamaha, you were very declarative that Yamaha was, basically, the one and only option you were taking a long, hard look at.
Eric, you were around during that phase of things and I think that even at points you could read between the lines that I was pretty motivated and convinced that was my next step. I worked my damn ass off and put all my faith and all my eggs in one basket and trusted Keith McCarty. I really wanted to race and I wanted to race with Yamaha. I couldn't bear the thought of sitting on the sidelines and retiring and no longer playing a part in the racing-side of it. I have a lot of history and a lot of great memories with Yamaha and something just drew back to them. So when we were trying to put the factory team together, I was trying to bring sponsors and trying to play as big a role as I could in helping. As far as bringing it all together, it was a much, much tougher hill to climb than I ever imagined, but I think at the end of the day, it's been all worth it.
Like the old expression, "nothing worth having comes easy"?
It really is, you know? I think that all good things are worth fighting for, and all good things take time and take fighting for. This wasn't the sort of deal that just fell into my lap. Right up until the week before the first race, I was kind of unsure where and how it was all going to work. A lot of things were just uncertain. More than anything, it was on and off and we were going racing, or we weren't going racing, or maybe we were going racing. Through it all, Keith was solid. I think a lot of people fought for this to happen and now it's just really on me to go out and race a dirt bike and have some fun and deliver some good results.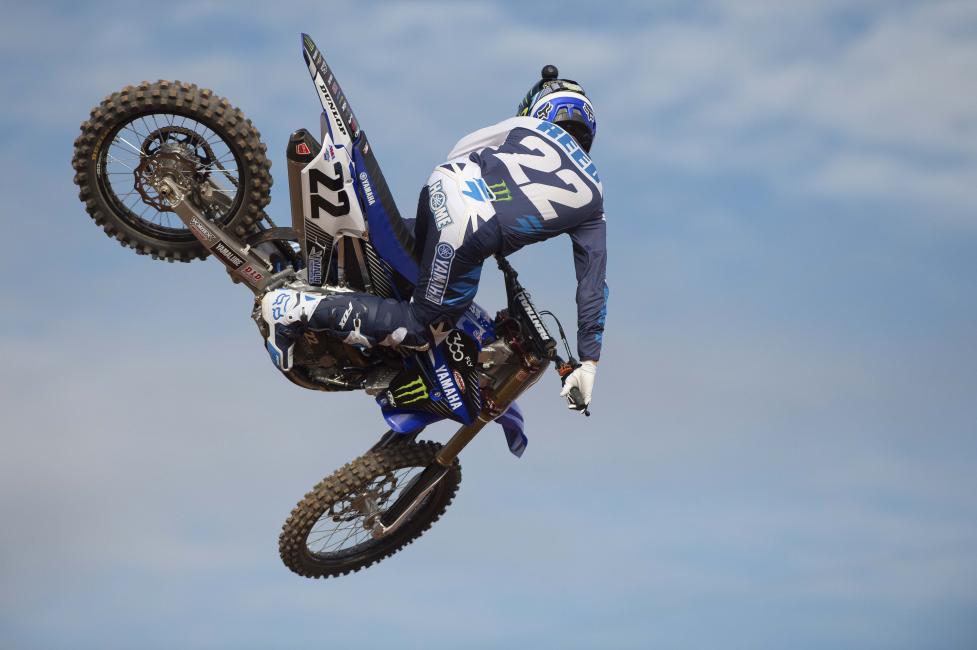 Can you win in 2016?
This season means a lot. I feel like I've had a lot of realization over the last six months and the age thing in this sport is just a number. I respect the fact that nobody prior has been able to go really into their 30s and be successful and win on a regular basis and win a championship. No previous supercross champion has been above the age of 30. I'm obviously aware of the history and what I'm up against, but I think that more than anything, I want to change those numbers. I think for generations behind me, I want to be the guy that changed it and showed that you can be competitive in your 30s. Age is just a number. If you can be able to roll with the punches and make good changes, and you're able to adjust your training schedules and training needs and all the other things that make you the best that you can possibly be in your 30s, then I'm hoping to be that guy. I don't have one doubt in my mind that I can still win races and I can contend for the championship if I got out there and ride the way I know how. So that's really it. It's about going to the races and doing what I've worked so hard to do and I think that we'll surprise some people again.
What do you want to say to all your fans? I'm sure you were able to recognize that a significant number of fans were wondering what was going on with you and were hoping you were coming back to racing in 2016.
Yeah, it was hard. I mean I would see on my social media outlets that a lot of people were like, "Hey, let the cat out of the bag! What's going on for 2016?" Unfortunately, there was no cat to let out of the bag. There was really a lot of things happening behind closed doors. I can tell you that basically the two or three weeks over Christmas and into the New Year, my phone didn't ring a lot. It almost didn't ring at all. I was kind of on a day-to-day conversation and in the loop, and then suddenly it was radio silence and I just put faith in that no news was good news and that I had good people fighting for me. Basically, I just went to work. I did my thing. I did my motos and my training and did all those things. I'm happy. I get the sense, at least from my side and watching and reading things, that people are excited that I'm back, and think that more than anything, they're happy that I'm back on a Yamaha and happy about the whole factory Yamaha team being reborn again. I think everybody is genuinely excited to see that Yamaha is back to racing and I feel that I played a pretty big role in that in trying to help get that team going. For me, it's a single rider team for supercross only this year, and then we'll build on it for 2017 and 2018. That process is already in place. I feel like this is a long-term deal for me. I want to be a part of the bLU cRU for many, many years and I want to bring my years of experience and my years and experience as a racer and an athlete and my years and experience as a team owner and just really try to be a big part of this Yamaha race team.