Alexander Nagy to Fill-In for Ronnie Stewart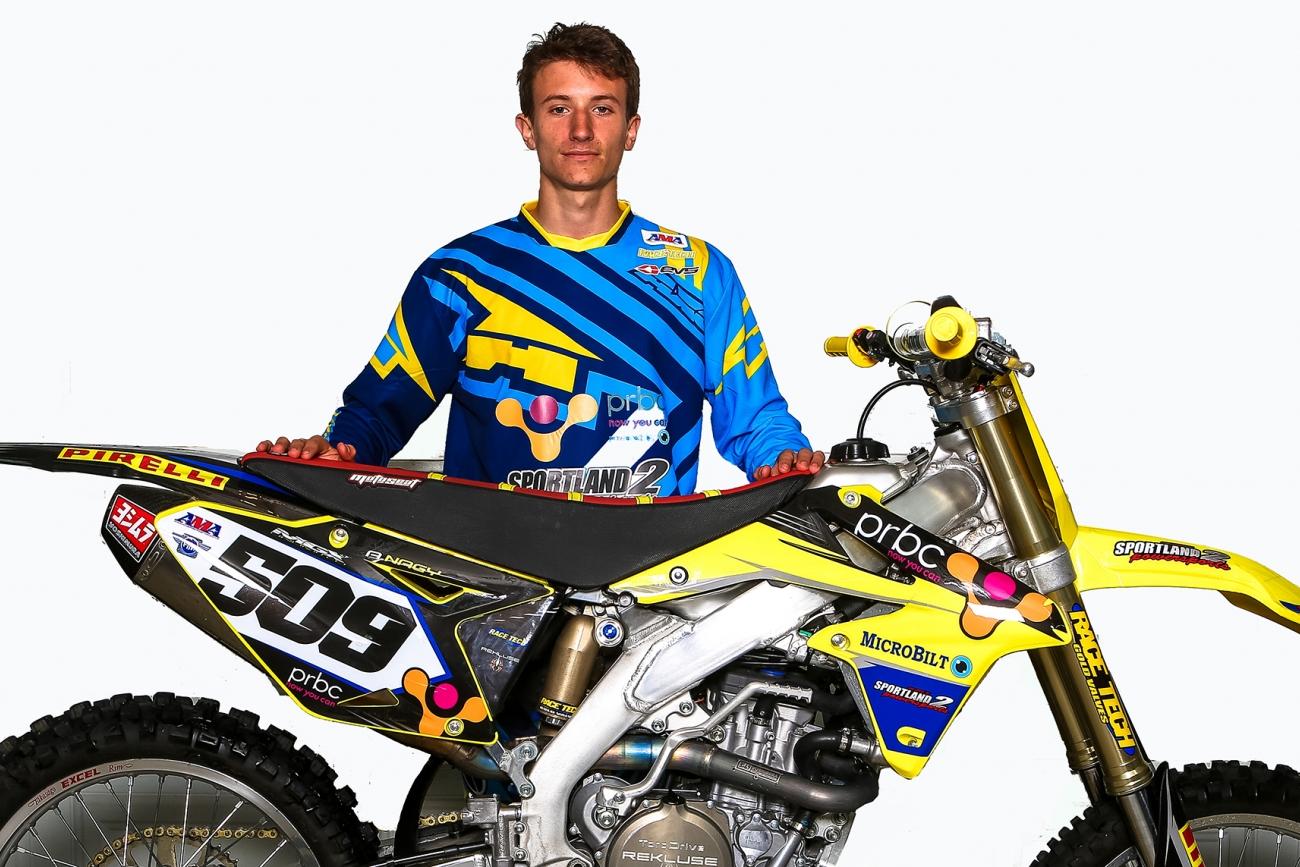 KENNESAW, GA. -- Team MicroBilt/PRBC Suzuki welcomes Alexander Nagy to the team. Nagy will race for at least the first six rounds of the Monster Energy/AMA Supercross Series as a fill-in rider for the injured Ronnie Stewart, who is recovering from a broken wrist suffered in a practice crash.
"I'm happy to have the opportunity to ride for Team MicroBilt/PRBC Suzuki," said Nagy, a 19-year-old third-year pro from Richmond, Illinois. "My best wishes go out to Ronnie for a quick recovery and I want to thank him for letting me fill in for him while he recovers. I'm going to do my best to get some good results for the team."
Throughout his young career Nagy has been the very definition of a privateer, driving to the races in his well-worn van with his bike in the back and often doing the wrenching on his machines himself. Nagy will ride the premier 450 class, and team with Vicki Golden, who will be contesting the 250 East Region races and attended all events on behalf of the team.
"We're happy to have Alex as part of the team," MicroBilt/PRBC Suzuki owner/rider Ronnie Stewart said. "He's a hard-working athlete who's been out there doing it mostly on his own and we're happy to give him the chance to have a team backing him. My recovery is coming along, but we knew realistically it was going to be awhile before I could be 100 percent. With Alex joining Vicki, MicroBilt/PRBC Suzuki will be well represented at the Supercross events."
The 2016 Monster Energy/AMA Supercross season kicks off this Saturday, January 9 at Angel Stadium in Anaheim, California.
About MicroBilt: MicroBilt is the single source and preferred provider of decision critical information for over 35 years that responsibly assists businesses in reducing risk and managing their business. MicroBilt offers the business owner simple, cost-effective solutions and a wide selection of data products for fraud prevention, consumer financing, debt collection and background screening.
About PRBC: PRBC is the world's largest non-traditional credit bureau and allows users to prove their financial responsibility and gives members credit for their utilities, phone/cable, rent, insurance and other bills. The payment histories for these are utilized to create a free PRBC Score.
Thanks to Our Sponsors: MicroBilt, PRBC (Payment Reporting Builds Credit), Liberty Elevator Corporation, H & S Enterprises, INC., ISC Racers Tape, Hellbound Racing, Factory Connection, Novik Gloves, Rekluse, Bel-Ray, Pirelli, Strikt Gear, Vortex, FMF, MGX Unlimited, Works Connection, Metal Mulisha, Talking Frog, Fitz Army, Neversummer, Rad Manufacturing, Just 1 Helmets, EKS Brand, SDG Seats, Deft Family, Dunlop, Wiseco, Webcams, Bills Pipes, Asterisk, Protaper, Motostuff.com, Mandingo Pickles and K&N.