Angel Stadium
Anaheim

,

CA
Anaheim 1 (A1)
Monster Energy AMA Supercross Championship
Soft-spoken by nature, Team Monster Energy/Pro Circuit/Kawasaki's Chris Alldredge lets his riding and racing do the majority of the talking for him. The 20-year-old from Powell Butte, Oregon, is both aggressive and determined (at times, to a fault). He was also inconsistent in the 2015 Monster Energy Supercross 250SX West Region.
With a solid year of SX experience behind him, Alldredge will enter his sophomore season this Saturday night at Angel Stadium with bolstered confidence. He may very well be a sleeper in a series where defending champ Cooper Webb is the overwhelming favorite.
Racer X: Chris, it's the calm before the storm. What are you up to this weekend?
Chris Alldredge: I'm doing nothing but watching Friends, the TV show. I've been watching it on Netflix and I'm addicted to the show now.
I swung by the Pro Circuit race shop on New Year's Eve and Sean Bell was working away at piecing your bike together. I guess it's no big mystery that you'll be racing 250SX West.
Yeah, I am, and I'm definitely ready to go racing. The bike is great and I'm feeling great, and hopefully things go better than last year's opener.
Yes, that was a bit of a rough outing for you in which you didn't score points. How did that day play out?
It was an all right day. I had a pretty bad wreck in practice where I kind of knocked myself a little silly. I ended up doing the race and wrecked in the heat race and got, like, tenth and just barely missed qualifying. Then I wrecked in the LCQ and finished fifth. So I barely just missed it both times. It was just rookie mistakes and I'm not going to make those mistakes again.
Lining up and racing as a rookie at Anaheim is certainly being thrown into the deep end, isn't it?
Yeah, I totally agree with you, but there were no excuses. I mean, Aaron Plessinger did just fine that night and he was a rookie too.
How would you describe your 2015 SX season? You wound up eighteenth in points and were inside the top ten twice.
It was definitely a learning curve last year. I had the speed at times, but I struggled with having the confidence and just my ability on the bike—there were some things I struggled with. My speed was there in a few races and my starts were there, I just never really put it all the way together. I don't know…. I was just fighting something last year that was I was able to fix this year, that's for sure. I have confidence on the bike. Last season was just a learning curve—me and the team did the best we could. I got to know the team better and the track schedule and the layout of everything. That was all a big change for me. Hopefully this year is a lot better.
You bring up a good point. When a rider comes straight out of the amateur ranks and is forced to learn the race-day schedule and program at a supercross, it can be very frantic and even intimidating, can't it?
It's a really, really long day. You see it on TV and go, "Oh, it's like they just go racing!" But the fact of the matter is that you're there at nine o'clock in the morning. You have to do track walk, you have riders' meeting, you have to do practice all day, which is the gnarliest part of the day because the track is tore up and super-rutted and there are tons of people on the track. And it can be the fastest we go all day just because we're going all-out to get a good gate pick. Then you get a full hour break where you get to relax and you cool down, but then all your nerves builds up because of all the fans and the hype and by the show that's put on by the whole supercross crew and the next thing you know you're on the gate and the lights are flashing and the fire is going off and it's time to go racing. It's something you have to go and experience to really get the feeling and get used to. You can't just watch it on TV. You have to be at the stadium and see it. You don't get the same feeling when you're sitting on the gate and all those bikes are revved.
You had some very good finishes in the outdoor series. It appeared that you were sort of getting in a rhythm with it all and collecting experience as you went.
The first race started off so amazing, you know, going 5-3. I kind of considered Hangtown my second hometown track because I had been going there for so many years. I knew the track very well and I just had all this confidence. I knew that I had been riding well and I was just excited to see where I was at against the best guys in the world and everything worked out great. The following week would have been great, too, except I had a big get-off in the first moto when I was passing for fourth or fifth. From there it just kind of went crashing downhill for a while. I had some bike troubles happen at one race and then I had a whole bunch of my own mistakes where I made a lot of bad decisions and making it hard on myself and not making it easy by any means.
It didn't really turn around until Unadilla. I got third in that first moto and that was amazing; it was a dream come true, you know? It was awesome for me to actually be able to run with those guys for that long. That kind of made me believe that I could do it. The rest of the season I still had a lot of wrecks, but my speed was always there. I just couldn't really put it together last year. It was such a learning curve of a year and I definitely got the learning part of it down.
While I was in the Pro Circuit shop all the guys told me you were really focused and really ready for the new season and have been working with a new riding coach named Jay Whipple. What can you tell us about him?
Yeah, I've worked with him a long time. I think this will be year ten that we've been together. He's a guy from Washington who worked with Ryan Villopoto as an amateur. He worked with Josh Hill as an amateur. He helped some other guys like Mike Alessi. He's just so good at knowing what I do and don't do. He knows what I like and don't like. We work so well together. We got away from that last year and I worked with Randy Lawrence. I love that guy and it was amazing working with him, but I need to learn the pro side of it and having that trust was what I really needed, so I went back to working with some other people that I've worked with my entire career which are Jay Whipple and Charles Dao. I started training with Charles again to get my physical side up.
To say that they've made a big impact is an understatement. I feel a million times better this year. My confidence is there and I haven't had any big wrecks—knock on wood—and we're hoping to carry all this into the season. We want to get some wins and that's what Mitch wants.
Do you have everything you need around you for a breakout season in '16?
Yeah, I have absolutely everything I need around me right now. Mitch, with his drive and his work ethic and how he's willing to do anything he can give us the best bike so we can get the best results, is amazing. I wouldn't work with any other team. They all work so hard, the entire team. There's definitely going to be some big things happening for us this year. We've all put in the work. Me, Joey, Adam, Arnaud, Tyler, Sean, Mitch, Bones, Zach—everyone has put in the work and we're definitely going to be on top this year.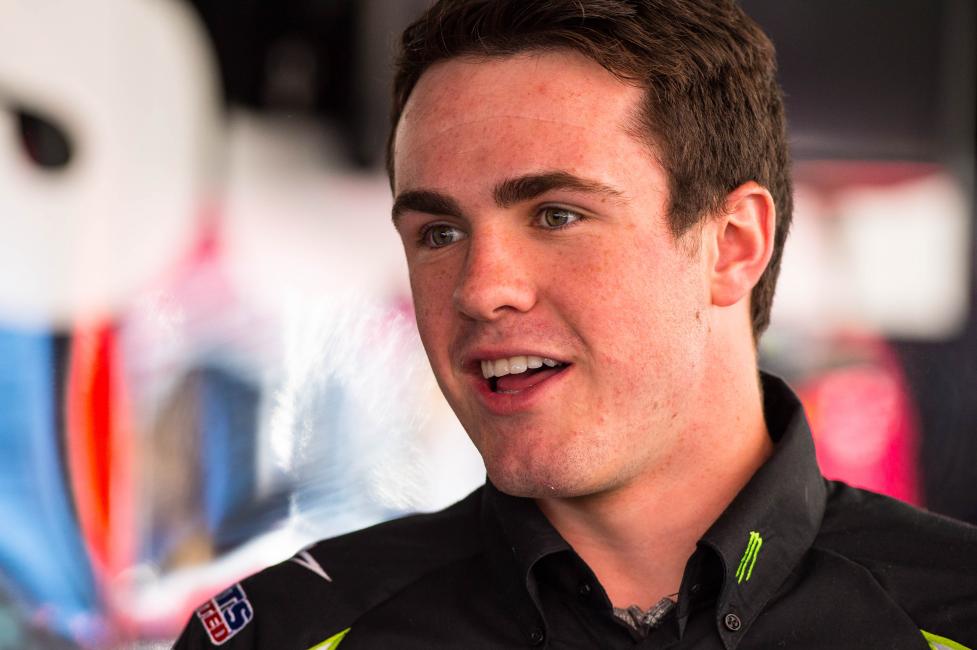 Who do you see as your primary competition come Saturday night?
To be honest, I haven't even looked to see who is racing the West. I don't even pay attention that much, just for the fact that, yes, I'm racing those guys. But at the same time, I'm also racing the track. If I ride the track to the best of my ability, then everything is going to go the way it needs to go. The competition is stacked, obviously. I raced Cooper [Webb] and Malcolm [Stewart] last year and I'm sure it's just as stacked as last year, if not even more stacked. Like I said, I need to ride the track like I know how to ride the track. If I ride like I do on a regular practice day, there is no doubt in my mind that I can win. But I have to ride like myself and to my ability. If I go out there and try and race people, or think about how many laps we need to do, or the lap times and everything, then that's when things go bad. You have to go out there and do what you know how to do and hopefully everything goes your way.
I'm on the best team, I believe, and if anybody is going to help me get there, it's the team. Yeah, hopefully I am a sleeper and I go out there and show some people that I am good at this and I can do this.
Finally, have you been keeping an eye on the ever-diligent Los Angeles weather people and their forecasts? Looks like we've got some rain coming.
[Laughs] Yeah, actually, Bones literally just called me and told me, "Hey, you might not be riding at all this week because it's going to be raining so much." I just looked and it says it's supposed to rain Monday through Friday and Saturday is supposed to be clean. I don't know how that's going to make the track look, but it's going to be interesting, for sure. No matter what, my bike is all broke in. I've already done that. We're ready to go racing.