Entering his second 450 class season in Monster Energy Supercross, and his second season as a member of the Red Bull KTM team, Dean Wilson is almost like a 450cc rookie. He hasn't raced a whole heck of a lot, thanks in large part to a knee injury suffered early in the 2015 season. But all reports are that he's going really fast right now at the test tracks. We caught up with the former 250cc National Champion to find out how things are looking for 2016.
Racer X: Can you take the readers through what you've gone through in the last year? We saw you show up at the first few supercrosses and you didn't look like you should have looked.
Dean Wilson: Just the first few rounds I was a bit nervous and tight. I had top-three speed at a few of them in qualifying but I just blew my knee out after the third round. So I really didn't get to get comfortable, and then I struggled with arm-pump. So, I just really didn't get to fix the bugs out for myself. So, anyway, I blew my knee out and got surgery on that and was out for six months. While I was out with that I checked out what was wrong with my arms because I kept getting pumped up and I had a little bit of Carpal-Tunnel [Syndrome]. So I flew to Belgium and got my arms fixed.
A doctor you already knew about?
A doctor that I got recommended. So I just wanted to do everything I possibly could so when I came back I'm ready to go.
I think most people know you've got speed. You have the ability to go very fast. What is the next step to actually turning that into results in the 450 class?
A lot of things. I think I just need a good off-season. This off-season I only got to start riding supercross in December, which isn't awesome, but I've been training really hard for the past two months with Tyla Rattray. I'm feeling really comfortable on my bike. We got my bike really dialed. So I think things are really starting to come together and I'm feeling really strong on the bike, so I'm looking forward to it.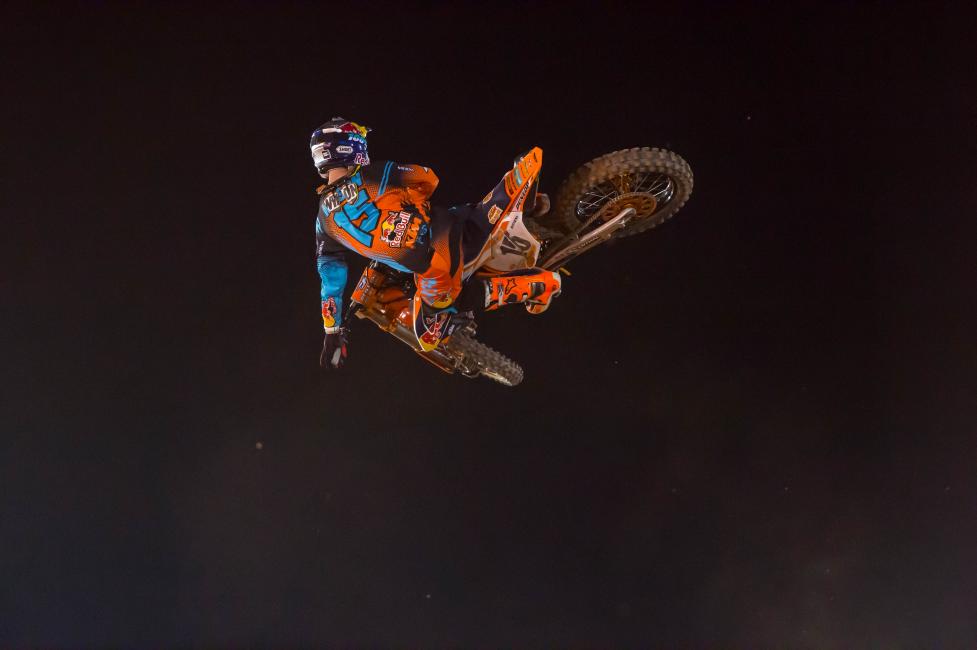 Earlier, I heard you talking about Ryan Dungey's corner speed, and you said you have a little hesitation. Can you explain what that means to you? Can you tell us what that is in a difference in a lap time?
He's just very good in his corners. He rolls his corners really good and keeps his momentum going all the way through the corner. I do as well but not as consistently as he does. He just has this roll. He just doesn't touch his brakes. It's pretty amazing to watch. But it's good for me because obviously I try hitting the corners as good as him and push and try to be faster than him. Obviously, that's no easy task, but it's good obviously to have him as a teammate and someone to be faster than you so you always keep pushing.
Talk about how your team has been with you through this process.
Since I've been here the team's been awesome. They've done everything for me that I've asked. I think it's just time for me to do something for them and try and get on the box.
When you're out on the track actually racing against Ryan Dungey, since he's a teammate who one would assume is going to be in championship contention, do you think that might change how you go about racing against him?
I don't think it should. I think you should just go out there and, as my dad says, "When the gate drops, the bullshit stops." You just go out there, put in as fast laps as you can, pass the guys that you can pass and get to the finish line flag as fast as you can. It all sounds so simple, but it really is the way you've got to break it down. You can't build it up to something so massive that it makes you crumble. You want to just simplify it and make it happen.