Jimmy Decotis Wraps Up Australian Supercross Championship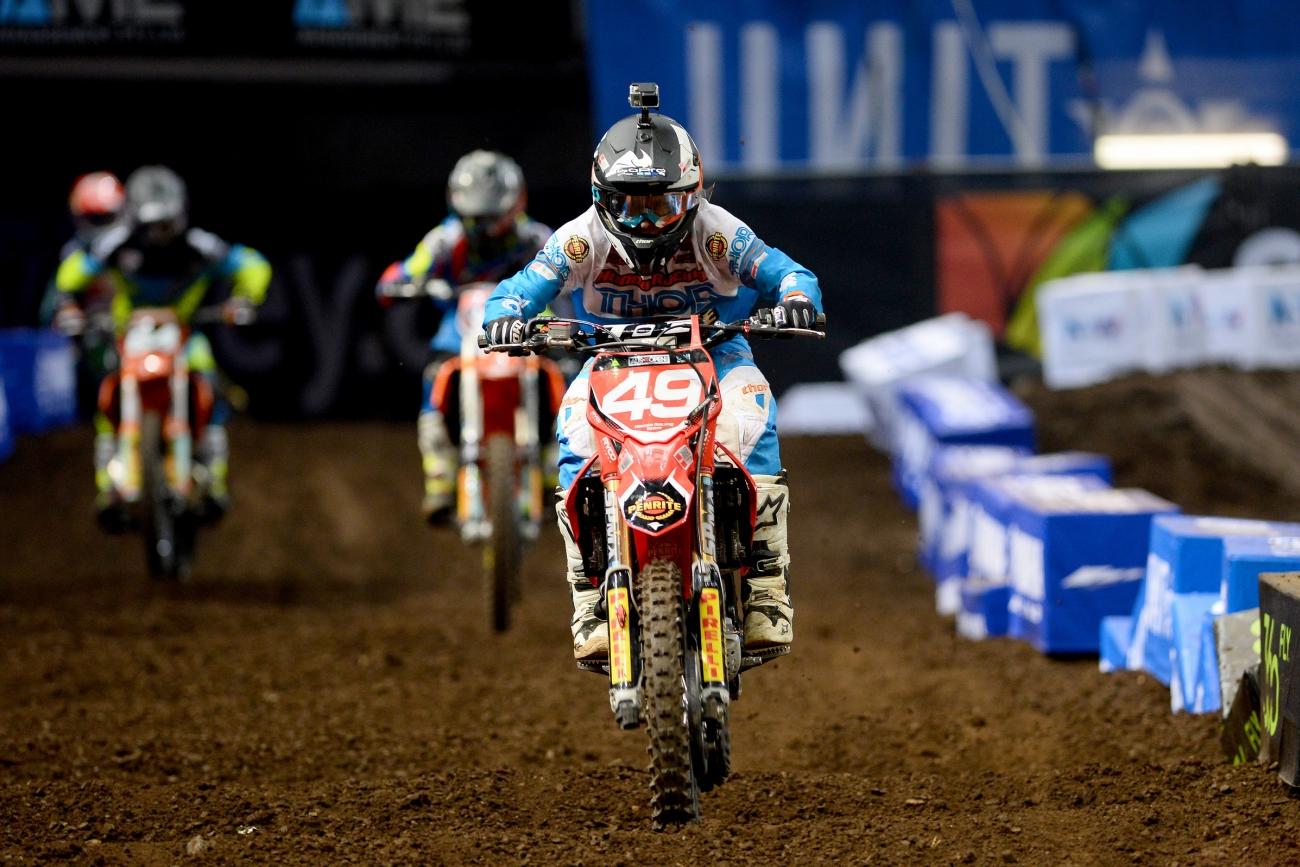 Jimmy Decotis wrapped up his first SX2 Australian Supercross championship on Saturday at the final round of the series at Knights Stadium in Victoria.
Decotis, who won four of the six main events, finished the season finale seventh, which was good enough to claim the championship. American-based Jackson Richardson won his first SX2 race of the season in his home country. Wade Hunter and Lewis Woods would round out the podium.
Dan Reardon's comeback story is complete, as he wrapped up the SX1 title last night with a seventh place finish. Lawson Bopping won his first main of the season over Daniel McCoy and Taylor Potter.
SX2 final results:
1. Jackson RICHARDSON
2. Wade HUNTER
3. Lewis WOODS
4. Joel WIGHTMAN
5. Jack SIMPSON
6. Jesse MADDEN
7. Jimmy DECOTIS
8. Geran STAPLETON
9. Jamie HARVEY
10. Boyd HOCKING
11. Dylan GOSLING
12. Allister KENT
13. Jake WILLIAMS
14. Dylan WILLS
15. James BROWN
SX1 final results:
1. Lawson BOPPING
2. Daniel McCOY
3. Taylor POTTER
4. Cheyne BOYD
5. Kade MOSIG
6. Danny HAM
7. Daniel REARDON
8. Aaron TANTI
9. Matt VAN SLOOTEN
10. Joel NEWTON
11. Joshua SPANOS
12. Jono KRUSIC
13. James LAMBIE
14. Thomas HILL
15. Jack ZAHRA
Below is a full report courtesy Clubby - TrailZone Media:
In what can only be described as a truly dramatic grand final, Daniel Reardon, Jimmy Decotis and Mitch Evans have been crowned Australia's new SX1, SX2 and SXD champions respectively following tonight's sixth and final round of the 2015 Penrite Oils Australian Supercross Championships presented by Ryco Filters at Knights Stadium in Melbourne, Victoria.
All three premier Senior Championships hung in the balance to the bitter end during an action-packed night of racing that saw crashes (SX1), a first turn pile-up (SX2) and a tied-points count back (SXD) all come into play in a nail biting turn of events that ultimately proved a fitting conclusion to the excitement that has been the hallmark of this year's new-look Australian Supercross Championships which featured six rounds, in four states, staged by four promoters and co-ordinated by Motorcycling Australia.
In the SX1 class, CDR Yamaha team mates Dan Reardon and Kade Mosig had a lock on a comfortable one-two finish in the Championship after defending two-time champion Matt Moss (Motul Suzuki) was a late non-starter in the final round due to injuries suffered the week before at round five at the AUS-X Open event in Sydney.
But in the SX1 Heat race tonight, a stunning turn of events saw Mosig crash heavily and suffer a wrist injury, while just moments later, Reardon also hit the dirt and suffered a dislocated shoulder, which was hurriedly popped back in place by the Racesafe medical crew.
Suddenly the CDR Yamaha team's hopes of clinching the Championship in fine style were thrown out the door, and it was only thanks to the ongoing treatment of the Racesafe medics that both Reardon and Mosig could line up in the all-important Final.
Remarkably Mosig holeshot the SX1 Final and lead early, despite his injury, but before long succumbed to the pain and was hauled in by Lawson Bopping (DPH Motorsports Peter Stevens Yamaha), Heat race winner Daniel McCoy (SFC Racing Yamaha) and SX1 class wildcard entry Taylor Potter (Penrite Honda Racing), the trio ultimately going on to finish in that order and complete their Championships with the podium placings for the night.
Behind them, former national MX pro Cheyne Boyd (DPH Motorsports Peter Stevens Yamaha) posted an impressive fourth place finish, with Mosig holding on for fifth, followed by another former MX pro, Danny Ham (Maitland Motorcycles Suzuki) in sixth.
Then came Reardon in seventh, who gamely rode the Final with his injured shoulder to clinch the SX1 Championship and complete his impressive comeback to racing this season after retiring back at the end of 2012.
"What a way to win a championship—with a dislocated shoulder," said Reardon from atop the championship podium.
"First and foremost I just have to say thanks to Racesafe. I dislocated my shoulder in the Heat race and then we popped it back in 30 seconds later on the side of the track, and then they've worked on me all night to get me ready to get through the Final, and I just can't thank them enough.
"I was in so much pain out there, and even on the sighting lap I didn't know if I would even be able to jump the jumps, but we did it and got through and got a seventh place finish, but most important of all, we got the Championship and that was the really big prize tonight.
"This year has been awesome and to win the Supercross Championship, that's just the best, so I have to say thanks to the CDR Yamaha team and all the sponsors and supporters who have helped make this possible. I'm rapt."
With his fifth place finish, Mosig held on to the runner-up spot in the championship to give the CDR Yamaha team a one-two in the standings, while Bopping's impressive victory tonight cemented his third overall in the championship, to complete the Yamaha sweep of the SX1 Championship podium.
"That's the best I've felt on the bike in months," enthused Bopping after tonight's race. "My plan was to put in 20 solid laps in the Final and that's exactly what I was able to do, so I am stoked to get the win tonight and get third in the Championship, it feels great."
In the SX2 Championship, Lewis Woods (Davey Motorsports KTM) won the early Heat race ahead of Decotis (Penrite Honda Racing) and Jackson Richardson (Penrite Honda Wilson MX) in a thrilling confrontation that set the stage for the Final.
But in turn one of the SX2 main event, a big tangle of riders saw Richardson scrambling to get into the action mid-pack, while Decotis was barged over the berm along with Geran Stapleton (Penrite Honda Wilson MX), the pair left dead-last by the time they eventually untangled and got back into the race.
Up front young gun Dylan Wills (Newcastle KTM) made the early front running before a rear suspension issue derailed his hopes and saw Woods take the lead, until Wade Hunter (DPH Motorsports Peter Stevens Yamaha) motored through to the front running position, with a charging Richardson by now hot on his tail.
After a thrilling battle, Richardson eventually took over first place and held it all the way to the chequered flag, with Hunter second and Woods third, followed by Joel Wightman (CRF Honda Racing) and Jack Simpson (Davey Motorsport KTM) who rounded out the top five.
"I felt fast all day and really liked the track," said a delighted Richardson after the event. "But then when I was mid-pack out of the start in the Final, I just had to concentrate on putting down fast laps and getting through to the front, which is what I was able to do. Then when I got the lead, I just kept clicking off the laps to the finish, and to get the win is just the best way possible to wind out the championship."
As for Decotis, despite the huge start he gave the field after his first turn tangle, he put the bit between his teeth and charged hard, moving inside the top ten in rapid fashion and then ultimately getting to seventh before motoring home to the flag, confident in the knowledge the SX2 Australian Championship was all his.
"Man, what a night!" exclaimed Decotis after the Final, as he celebrated the Penrite Honda team's third SX2 Championship in the past five years. "That first turn was just crazy and after I finally got back on the bike and got going, I knew I would have to charge hard and fight to win this championship. But I knew what I had to do and once I came through and got to seventh, I knew that would be enough to get the job done. I'm just rapt for the whole Penrite Honda team, and everyone at Honda, and all the sponsors that made this championship possible.
"I've had the best time here in Australia, the fans are awesome, and to be taking home the championship, I couldn't have asked for more."
Behind Decotis, Richardson completed the championship standings in second place, with Woods third.
In the SXD Championship for riders under 19 years of age, GYTR Yamaha rider Mitch Evans went all out to haul in the points lead of Raceline Pirelli Suzuki rider Brock McLeary, the Yamaha gun winning both of tonight's SXD Finals.
McLeary meantime posted 4-2 results, which, remarkably, left the pair tied on points at the end of the series, with the championship ultimately awarded to Evans on a count back, while Toby Stevens (PSC Yamaha) was third.
"They don't get any closer than that," said Evans after the event. "But I did everything I could by taking two wins tonight, and fortunately it came together for me and the title went my way. I'm so happy and just have to say thanks to all the team at GYTR Yamaha."