With a pall over the pits this morning due to the Paris terrorist attacks, the Lille Supercross—just 120 miles away from the horrific violence—got underway with a bit of a delayed practice due to the fact that no one knew if the race was even going to go on. The government officials held the final say on the event and in talking to one of the organizers this morning his point to me was, "What's the benefit to the race being run and what's the downside if something happens?" With this question in mind, I really thought we weren't going to see any dirt bike racing. And in a way, that was okay with many racers I spoke to.
In the end, the people of Lille decided they wanted the race to go on and cancelling it would be another win for the bad guys. The opening ceremonies were a bit subdued, there was a moment of silence for the victims and then we all got back to loving what we were seeing/doing in life with the drop of the gate.
The crowd was loud, the racers were into it and soon everything that happened within the building made it feel like another race. The thoughts from last night where never far away, though, and no one will ever forget where they were when they heard the news last night.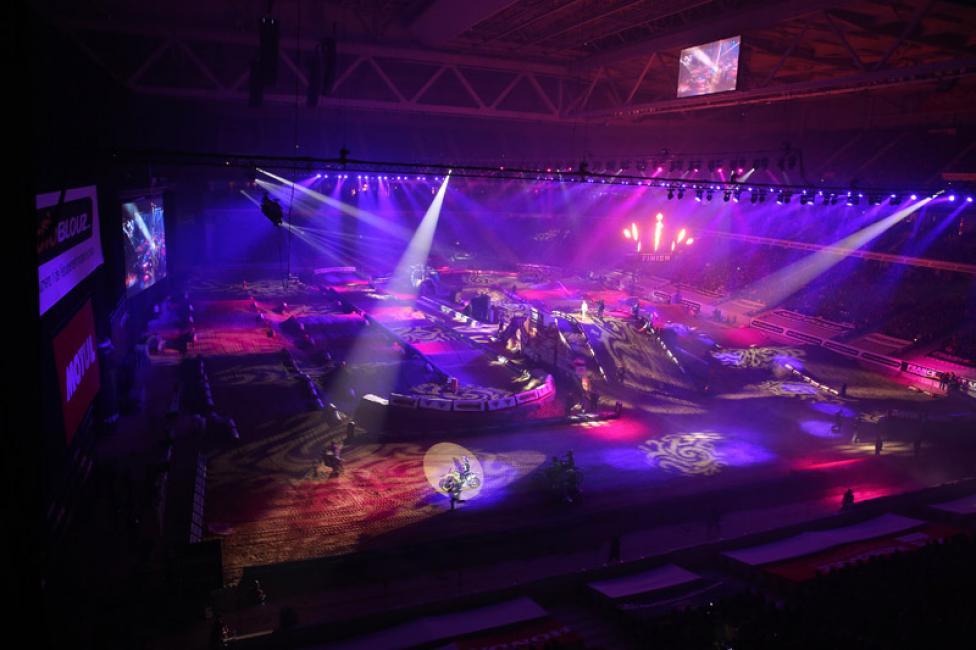 And when it was all said and done, Auto Trader/Toyota/JGR Yamaha's Weston Peick took the win, but it wasn't easy as him. Yamalube/Star Racing Yamaha's Cooper Webb swapped positions with Peick for last three laps or so. Webb got a poor start, went off the track and had to work hard to catch Peick, who said his arms got pumped up.
The two Yamaha riders had a pretty good battle with Webb slipping by a couple of times and Peick squaring the kid back up and retaliating right away. There was even some contact between them at one point.
"Getting off the start was hectic. Malcolm [Stewart] sent it in to [Dylan] Ferrandis, T-boned him hard as hell and almost cleaned me out," said Peick about the start of the race. "Other than that, I led the entire race and then Cooper came on strong. I saw him coming, he was riding well. I had some arm pump also. We almost crashed a few times. I had some good block passes and held him up quite a bit. But a win's a win and you have to do what you have to do to take the win.
"I do sketchy shit all the time so if you get [by] me I'm going to go and get whiskey throttle and get right back by you. The track was pretty bad, the ruts were horrible and that caused the arm pump."
As Peick alluded to, the start of the race was indeed pretty gnarly. KRT Kawasaki rider Dylan Ferrandis passed holeshot winner Christophe Pourcel on the first straight and went into the second turn on the outside. From there, GEICO Honda's Malcolm Stewart drove into the side of Ferrandis and hit him hard enough to rebound back the other way and cause a crash that collected many riders. This gave the lead to KTM's Shaun Simpson for a lap before Peick got by and starting pulling away.
Three turns after the Stewart/Ferrandis collision, it appeared the Yoshimura Suzuki's James Stewart came in hot into the turn before the whoops and went down, which also took down his brother Malcolm and many others. It was a chaotic beginning and also the end of the race for James Stewart. After getting up Stewart was unable to put much weight on one leg, and he was eventually carried off by track workers with a bad knee or ankle, depending on who you talk to.
It didn't look good and one would think that he would definitely be out for tomorrow afternoon's event, but let's wait and see. This crash followed an earlier one where James was leading his heat race and washed out his front end in the sand, leaving him last. He was only able to finish third. The good news for James was he did win the Super Pole contest, although that's an award we're sure he would trade for the ability to finish the main tonight.
[Update: James Stewart will not race tonight. We will have more information as it becomes available.]
More bad news for the Stewart camp followed when Malcolm later pulled out of the main for unknown reasons.
As far as Webb, he was the man on the move after the halfway mark. He made a nifty pass on Pourcel for second and then charged up to Peick.
"It was a good race, I had a good start but ran off the track. I made some passes, got around Pourcel. I felt like I had good speed and good fitness but I ran out of time," said Webb after the race. "I was probably a little too patient and it's tough with no real mechanic's area to see how many laps were left. Then I got the white flag and was like 'Oh boy'.
"I was going to try to make a move in the sand and square him [Peick] up in there. There was a lapper there and I couldn't make it stick. I got by him one time and should've pulled away. But he was good at blocking my lines and credit to him. It was a little tricky, tight track and I felt good."
Cooper seemed to know what he was in for if he tried to get more physical with Peick on that last lap. "We got close at different points, we actually hit in the whoops and I shot left. I'm sure I could've forced the issue but he's not an easy guy to move!"
Pourcel rounded out the podium and rode well all day. There's was difficult triple-quad rhythm section and to my eye, the #377 Rockstar Husqvarna rider had it down the best out of the four or five riders that tried it. Pourcel was far, far ahead of Valentin Guillod and Cedric Soubeyras, who finished fourth and fifth. In sixth came current MXGP World Champion Romain Febvre, who one can tell hasn't had a ton of time on a supercross track, but was a gamer out there, getting better almost every time out.
Tomorrow's races will be much earlier and all done by 7 p.m. Lille time. King of Bercy is on the line for Peick, Webb, Pourcel and others. It remains to be seen if James Stewart will line up but we would put it at doubtful as of right now.
Saturday Results
1 28 PEICK Weston Yamaha USA
2 17 WEBB Cooper Yamaha USA
3 377 POURCEL Christophe Husqvarna FRA
4 92 GUILLOD Valentin Yamaha CHE
5 120 SOUBEYRAS Cédric Yamaha FRA
6 461 FEBVRE Romain Yamaha FRA
7 871 IZOIRD Fabien Honda FRA
8 48 MARTIN Christophe Kawasaki FRA
9 24 SIMPSON Shaun KTM GBR
10 19 ROMBAUT Loic KTM FRA
11 737 TEILLET Valentin Honda FRA
12 50 STEWART Malcom Honda USA
13 4 FERRANDIS Dylan Kawasaki FRA
14 7 STEWART James Suzuki USA