By Alex Gobert/MotoOnline.com.au
American Jimmy Decotis made his Australian Supercross debut in SX2 last weekend at the 2015 season opener at Bathurst with powerhouse Penrite Honda Racing. Our friends at MotoOnline.com.au caught up with Decotis after an opening round win. Check out what Jimmy D has to say below.
When Penrite Honda Racing signed American Jimmy Decotis late in the pre-season, we knew he would be a title threat in the SX2 ranks aboard the factory-supported CRF250R. The 23-year-old won his debut last weekend at Bathurst, taking over for countryman Gavin Faith on the defending champion's team, following a scrap that lasted almost the duration of the SX2 main event with 2014 Australian Motocross Champion Luke Clout.
MotoOnline.com.au spoke to Decotis afterward about his success so far in Australia.
MotoOnline.com.au: Congratulations on the SX2 win at Bathurst. It was an entertaining race and obviously a good way to start the season for you.
Jimmy Decotis: Yeah, it really was. I mean, I kind of made it easy for myself in the heat race. Got a good start, and that helped me out a lot on that track because it was so technical and rutted, so it was really important to get out front. And then, in the main, I was just kind of sleeping on the gate and had to put in a lot more work than I did in the heat race. Luke [Clout] was riding really good, but I came up to him with five laps to go and made a little pass after the triple. Then, actually on the last lap, he caught back up to me when I got into some lappers—it was definitely close. Clout kept it really close, and [Luke] Arbon was going good too. The talent pool is really deep in that class right now, so it was good to get out there for the first round. Following all the traveling and testing we did, it felt good to get that win at the first round.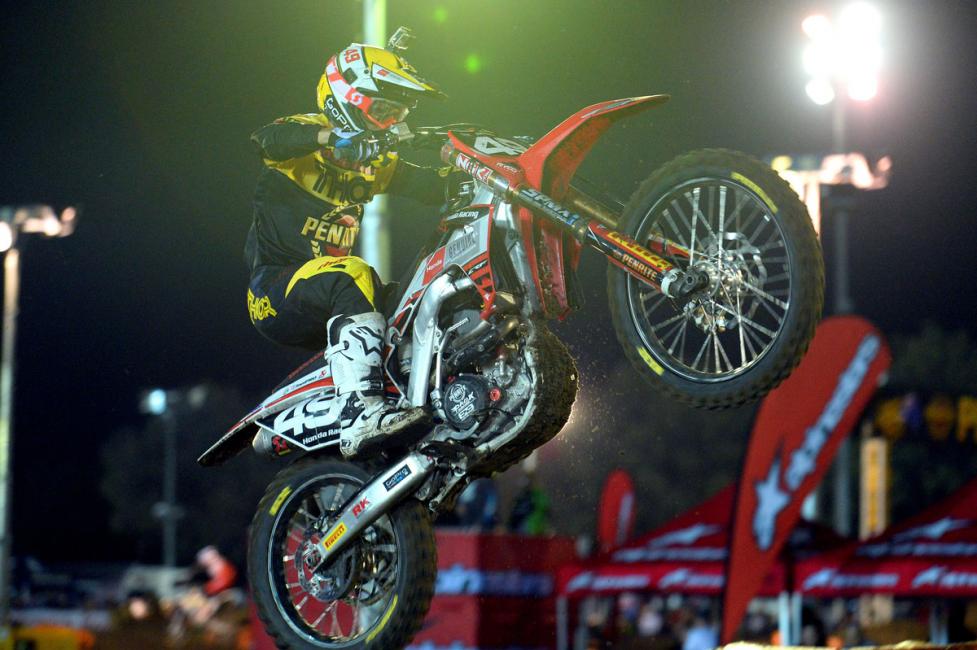 What were your expectations coming into the opening round, with everything all new to you—bike, team, series, etc.?
At this point in my career, even in the States, everyone wants to win, and that's the goal for sure, over here too. Coming in I didn't have any expectations, and then I rode the bike; Steve [Powell] from SPMX set me up with a really good package, and once I rode Steve's engine and suspension, I knew I could get the job done on that bike. I had a really good week riding with Gavin [Faith] and it just went really well. During practice, when it was raining and those whoops were a little sketchy, I just told myself that a podium at the first round is okay—I didn't want to go crazy at the first round and crash out. I rode to the best of my ability and it ended up being the win, so I was happy with it. There was no expectations of thinking I'm going to come in here and win everything easily—it's never like that—and I learned that going to Canada last year, no matter where you are, there's going to be fast guys and they're going to challenge you for the win. It was just to come in here, do my job to the best of my ability, and see where I end up.
The weather made for a tricky track, and it seemed pretty dark in places. What was it like on the bike?
It wasn't bad. I mean, even when I got out front, I ended up pulling all my tear-offs, just because, in supercross with the lights, it's hard to see when you have them on. There were some dark spots; it wasn't too bad. You know, if you were in a pack and roosted, it was a little hard to see, but I think that also goes with the dirt being so black and tacky the way it was, rutted up—that was what made it hard to see. There was a little bit of me getting used to the 450s going first in the heat races and stuff like that, then after my heat race I only had like forty minutes until the main event. It's usually like an hour and a half in the States, so that was a little different. Other than that, the whole day ran smoothly apart from a couple of issues in practice with the rain and getting the bike dialed. It was fine. When it was race time I just kind of put all that stuff behind me and focused on riding my dirt bike the best I could.
Gavin won the 250 championship last year, and you've been riding with him while you're down here. Did you get any advice off of him about Australian Supercross going in?
For sure. He let me know what I was in for—the type of tracks and competition, stuff like that. I rode with him this week and he's on a 450, so he's got a little bit more speed than me, and that's good for me to have these guys to chase on the 450s. It works out really well. I think we're all going to excel riding together during the week and we'll get even better from here.
How are you enjoying Australia? It seems like you have a pretty big fan base down here, judging by the reaction on social media and at the races.
I like it a lot here, and I didn't think I'd be treated so well here, honestly. You never know, going to an unknown place, somewhere halfway across the world, so there's always the what-ifs. Everyone's been taking good care of me. I had a lot of fans at the race, which was really cool. It's just like home: everyone speaks English, there's no language barrier, and everyone's super-friendly. Even Clout and the guys I'm racing, we're all friends, and it's really cool over here. We all do our job and race, but at the end of the day everyone's friends. That's where it's a little different from the States, where some of the teams don't talk to each other and some people are kind of cocky, where here it seems a little bit more mellow and laid back. Everyone's really respectful of each other, so I like the Aussie life for sure.