This weekend's FIM Motocross of Nations is almost here, and we have been counting down the days with our Monster Energy Team USA Countdown, which chronicles each American victory at the event. Today we reach 2011. If you missed any of the previous years, you can view them all here.
Having won the event at Villars-sous-Ecot in 1988, Saint Jean D'Angely in 2000, and Ernee in 2005, the nation of France was, to a very small extent, something of a home field for Team USA. Going all the way back to the beginning of it all—Bielstein, West Germany, in 1981—each and every time the American riders had put down knobby marks into French soil, the team had managed to win the Motocross of Nations.
For 2011, the American Motorcyclist Association was hoping for very much of the same when it announced that Ryan Dungey, Ryan Villopoto, and Blake Baggett would represent the United States of America at Le Circuit du Puy de Poursay in Saint Jean D'Angely on Sunday, September 18. Baggett would enter the sixty-fifth annual running of the Motocross of Nations as a rookie, while Villopoto and Dungey, who were locked up in a titanic battle for the 2011 AMA 450 National Motocross Championship, were multifold MXoN winners. Hoping they would be able to put national pride before individualism, the French race would mark the first time since 1996 that two riders fighting for the same American title would have to put everything aside in an effort to keep Team USA's six-year streak alive.
"Ryan Dungey talked to me about it recently," Baggett said a few weeks prior to leaving for France. "He said, 'No worries—just ride like you do here. Do the best you can and it will be ours.' Dungey said he can't stress the 'all or nothing' strategy of winning this event. You can never give up."
Little did anyone know at the time, these words would ring so very prophetic come race day in France.
The rains started lacquering up Le Circuit du Puy de Poursay on Saturday night, turning the place snotty and slippery. With opening ceremonies complete, the time came for Roger DeCoster to send his two riders, Blake Baggett and Ryan Dungey, to the starting gate for the first moto (comprised of the MX1 and MX2 classes). Interestingly, and unlike Team Australia and Team France, Team USA chose to put Baggett and his Kawasaki KX250F on the inside gate, thus sending Dungey further on down the line. The strategy went sideways (literally) when Baggett got out of shape bigtime and came out of the first corner buried in twenty-fourth. Fortuitously, Dungey managed a great jump out of the hole and came from way outside to start the race up near the front. Australia's Chad Reed was very much on form out front and would hold the lead to the end. When the rains came at mid-moto, Dungey would get passed by brilliantly quick MX2 rider Ken Roczen for second and would finish the race in third. Baggett came home in seventeenth. Not good.
"The moto was super muddy, and up one of the hills I lost all of my momentum and front-flipped up a hill. Then I lost my goggles," said Baggett, who had crashed twice in the race.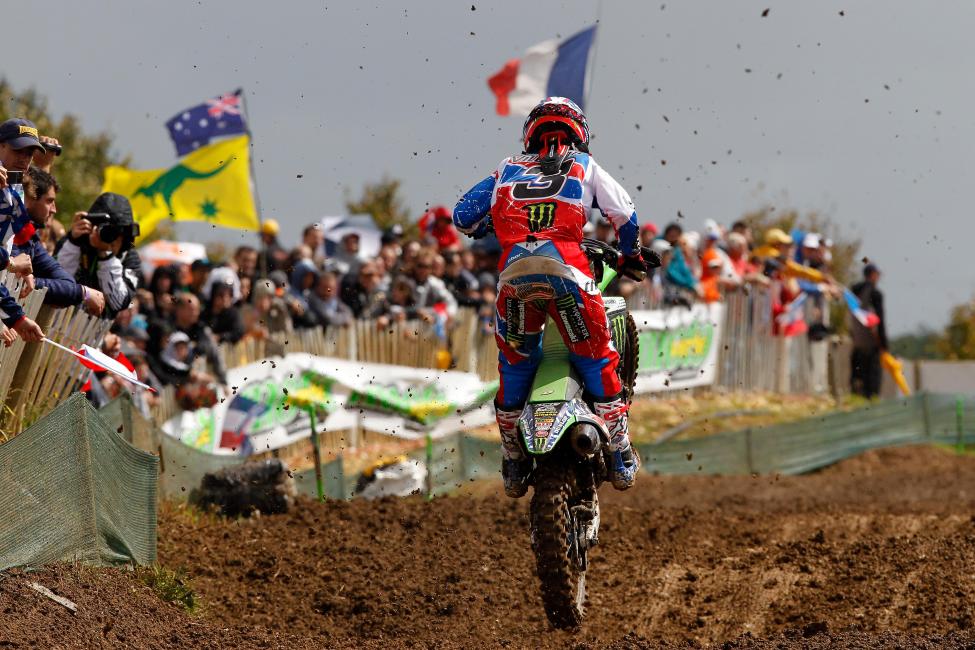 By the start of the MX2/Open moto, the intermittent rain showers—along with the help of the swarm of motocross bikes—had turned the track into a slippery, rutted, and treacherous affair that wanted nothing more than to reach up and grab the riders and yank them downward. Once the gate thumped into the mud and the pack slithered toward the first turn, the French faithful let up a collective roar when Gautier Paulin aced the holeshot and led the opening lap before being passed by the young Dutch racer Jeffrey Herlings on his KTM 350. Ryan Villopoto was in ninth, two positions ahead of a better-starting Baggett.
Ultimately, Paulin would get Herlings for the lead and the moto win, while Villopoto and Ken Roczen would battle right up to the end, with RV getting the nod. Baggett suffered yet another awful moto, making mistakes and dropping all the way down to thirty-sixth at one point before fighting his way back up to seventeenth.
The mood in the American camp was bleak. For the third straight year, Team USA would enter the third and final moto (comprised of the MX1 and Open classes) trailing in points. Home team France had the upper hand, and for the Americans to win it, Dungey and Villopoto would have to place first and second. Certainly a tall order considering the day, at least up to that point, had not really gone well at all. So hopes were high for the French when the final moto took off.
Up on the hillsides there was something of a gasp when Russian Evgeny Bobryshev escaped the first corner with the lead, the two Americans—Villopoto and Dungey—immediately behind in second and third. Villopoto would lead the second lap before experiencing a small tip-over in a slow-speed corner. RV got right to his feet and got going almost immediately, Dungey running interference just behind. Back in fourth was the Frenchman Christophe Pourcel, who was on the gas trying to get the two Americans and save the day for the home crowd. At one point, he passed Dungey, but at the halfway mark of the moto, and with the rain coming down once again, the French crowd went absolutely silent when Pourcel's rear tire separated itself from the rim, ending his and Team France's run.
Villopoto and Dungey would cross the finish line together, winning the Motocross of Nations yet again. France would be forced to settle for second. South Africa wound up third.
"It's amazing," Ryan Dungey exclaimed after the race. "It came down to the last race. In 2009 and 2010, it came down to the last races. I remembered what I had said at the beginning of the day to Blake and Ryan, and that's to never give up. It will go down to the wire, and it will always has. That never-say-die mentality was there the whole day."
Added Roger DeCoster, "The guys worked together really well. We finally had good starts in that last race. The main thing is never give up. It worked out again."
Back in the muddy parc ferme, journalist Steve Matthes pointed out to Ryan Villopoto that he was now 4-0 in Motocross of Nations competition. "You're 4-0 so far in MXoNs, and Jeff Ward's record is in sight for you," offered Matthes.
"What's that?" replied Villopoto.
"Jeff Ward is 7-0 in the Motocross of Nations," said Matthes.
"Whoa, man, I didn't know about that," said an impressed RV.
If the collective American Motocross of Nations effort has ever put forth a "Captain America" type figure, it would undoubtedly be Jeff Ward. On seven different occasions (1983, 1984, 1985, 1987, 1988, 1989, and 1990) Ward was a key member of victorious U.S. Motocross of Nations teams (actually, that number is nine if you count the winning American 1983 and '84 Trophee des Nations teams). If anyone has the right to weigh in on America's contemporary status at the MXoN, it's Ward.
On the Friday morning before the 2015 Motocross of Nations in Ernee, France, while he was preparing to head out to Glen Helen Raceway to work with supermini rider Stilez Robertson, Racer X spoke with America's greatest American MXoN hero.
"It's crazy how much different it all is now," offered Ward, taking a moment to mull over the fact that Team USA has not won the event since 2011. "Look at this past weekend at Glen Helen. Josh Grant won a moto, and he wasn't even a top-ten guy in the Nationals this summer. And Jessy Nelson won both MX2 motos. Nobody was in the same league with him. People don't realize how hard it is to go to a track where the guys ride all the time and have to race against them. It was like that here for the GP guys, and it's that way when our guys go over to Europe to ride the Motocross des Nations. I remember back when I rode the Motocross des Nations with guys like Johnny O'Mara. We'd go over there cocky and confident, and come out of practice outside the top ten and wondering who some of the riders even were. But we had the confidence when we went over, and we'd always manage to figure it out. I think now our guys go over and are shocked when they see how far off they are, and maybe they don't have the confidence."
When we asked Ward if Team USA has been missing a standout rider, such as a Danny "Magoo" Chandler, a Jeff Stanton, a Ricky Carmichael, or a Ryan Villopoto, in recent years, he was quick to reply.
"This past weekend, Cooper Webb did well and shocked the GP guys," Ward said. "He's won a championship and all that, but he hasn't been in the trenches over there. Guys like Ryan Villopoto had won all kinds of championships when he went over for the des Nations, and he'd always pull through because he'd been through it all. We haven't had a guy during the past few years that has been able to do that. At Glen Helen I told Cooper, 'Have fun. Don't let the pressure get to you. Listen to what Roger DeCoster says. He knows everything. And you don't need to win a moto. Just do what you need to do to get the win.' The new guy on the team always feels the most pressure. You don't have to win it for yourself—just try and win it for the team.
"We're individuals here during the season, and to go over there to race as a team and try and win is a big-pressure deal. When we first won the thing and had a streak going for two or three races, we didn't feel the pressure. About nine years in we started to feel the pressure. Nobody wanted to be the guy to lose. I know I didn't. There's a lot of pressure on our guys now because everyone in America is saying, 'When are we going to win this thing again?'"
And how will Team USA do in France come twenty-four hours?
"The team is good," Ward asserted. "Justin Barcia will be solid. He has been around long enough and knows how to do it. Jeremy Martin has two championships and knows how to deal with adversity—as he has in having to come from behind a lot this year—and he has the O'Show [Johnny O'Mara] over there with him. You know, I was looking at Johnny O'Mara's Instagram posts this morning and saw the track over there in France and everything, and was like, 'Man, I want to be there!' I almost feel like getting on a plane and flying over there! It's going to be awesome."