Cooper Webb led the first MXGP moto until just a few laps from the end. Josh Grant won the second moto but was edged out of the overall. Frenchman Romain Febvre got them both. Still, the top Americans seemed happy with their efforts. They talked about it in the post-race press conference.
Josh Grant
Local boy makes good at home track with a 3-1 for second overall in a swansong appearance for Monster Energy Kawasaki. Now looking for a saddle.
Racer X: On what happened with his foot…
Josh Grant: Unfortunately, on the sixth or seventh lap I ended up running over my own [right] foot, twisted it, and made it a little difficult to go through the pain and lack of stability in my foot. I had to take it easy and take some pressure off. It screwed me up. The Asterisk crew really helped me out with getting taped and ready for the next race. I then put my head down. I've put in a lot of time at this track, and I wanted to do well. In that second moto I put it all on the table.
The right or left? Right must have been hard for braking.
It was the right foot. And it was probably a good thing!
On the experience of MXGP…
Honestly, I think it was really cool. It was new for me, and to be part of that experience was awesome. It was cool to race with these guys. I didn't have the right preparation for the end of the year [at the Lucas Oil Pro Motocross Championship]. I was sitting on the couch a few months ago and wasn't ready. Fortunately, I have been able to come out here on Thursdays and practice to get ready for this event. I hope it shows and somebody can help me out for next year.
On 2016…
I'm done after this race. Hopefully things change and I can really move forward and focus on what I want to do which is ride dirt bikes and race.
On a move to MXGP…
If it was on the table, then most definitely. Like I said I love motorcycles and love motocross. I'd love to.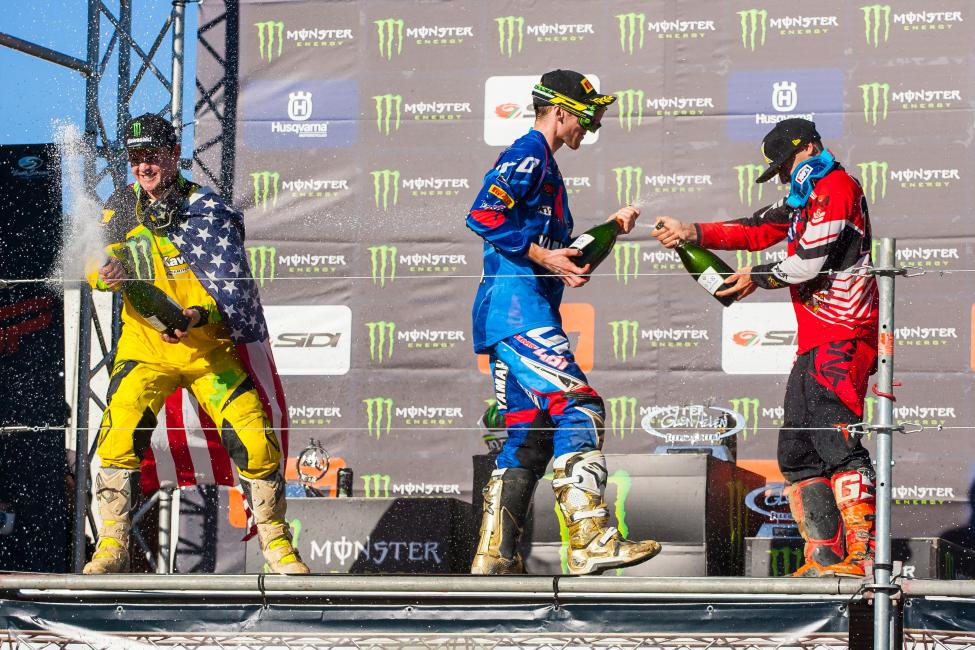 Cooper Webb
The 450 rookie goes well with a 2-3 and lands on the bottom step of the box, allegedly riding a bike based on Justin Barcia's 450MX model. Now onto Ernee for a maiden Team USA appearance with the YZ450F
Racer X: On the weekend…
Cooper Webb: Overall I'm really happy. It was a whole new experience and format on a machine that I only climbed on not too long ago. It was a nice warm-up, and I got to see how these guys race.
On being the sole Team USA MXoN member at Glen Helen…
I feel that I have benefitted hugely from doing this event. I cannot speak for the other guys, but I definitely feel it was the right move as a warm-up. Obviously we didn't want to go crazy and put ourselves out for the Nations, but we got a lot of good information and stuff we can use for next weekend. The important thing was the fact that this was my first race on a 450. We'd been doing a lot of practice, but through racing you push that much harder and see how the bike reacts. I also liked seeing how these guys race because I had heard all kinds of stuff! Seeing who is who and watching on TV is very different. I think I'll be more relaxed and more confident next weekend because we didn't know where I would sit. I had no expectations coming into this race, so to be on the podium is awesome.
On the close race with Febvre in the first moto…
It was awesome and I really enjoyed battling. The same with JG [Josh Grant]. I love racing; it is way better than the practice days. I knew Josh would be fast from seeing him at practice days, but I had no idea about the Europeans. Romain was very fast, and a couple of other guys were coming back from injury. It's late in the season, and I knew a lot of them would be on the gas. I just wanted to be in the battle.
On more work with the 450…
I think Glen Helen will be nothing like what will we find at Ernee. We have to take some things from here and try and apply them for next weekend. The one good thing this weekend was my starts. I usually struggle with those, but I nailed two holeshots so I was excited about that.