Pro Circuit Introduces Ti-2 Shorty SIlencer Models and Applications
CORONA, CA - The skilled craftsmen at Pro Circuit have been quite busy lately building products our customers have been asking for. Which is why we're proud to introduce our expanded line of Ti-2 Carbon Kevlar/Titanium silencers to fit minis and full size bikes. Now, racers with older model CRs, KXs, RMs and KTMs 2-stroke motorcycles can have the latest Pro Circuit technology on their own bikes. Manufactured using only top quality carbon fiber/Kevlar shells and high grade titanium tubing, 2-stroke racers can experience the same championship winning performance from the Ti-2 Carbon Kevlar/Titanium silencer they've come to expect from Pro Circuit.
Now available for KX85/100s, the Ti-2 Carbon Kevlar/Titanium silencer now comes with a flat style end-cap (K) for racers in the USA and a new, rounded design end-cap (EU) made exclusively for our European racers. Both silencers offer the utmost in performance, durability and style.
Pro Circuit. We Race.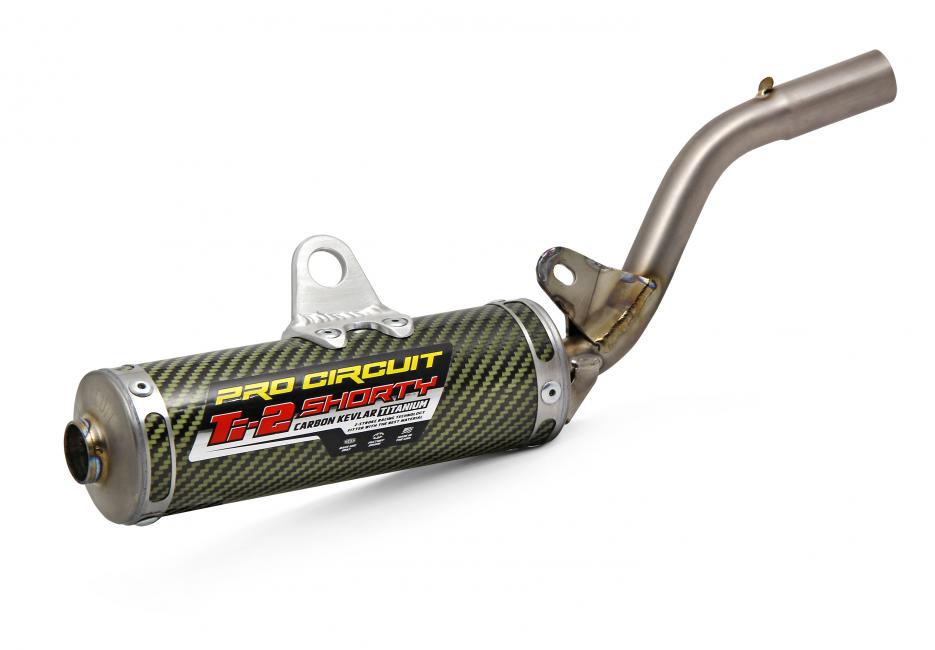 Ti-2 Features Include:
Optimum performance gains
Carbon Kevlar silencer body
Titanium tubing and end-cap
CNC machined aluminum mounting bracket(s)
Closed-course racing only
Made in the USA
Please visit www.procircuit.com for more information on this and other Pro Circuit products.