The 2015 Monster Energy FIM Motocross of Nations will take place on September 27 in Ernee, France. As a preview for the big race Racer X Online is counting down the days by looking back at every winning version of Team USA at MXoN (and, until 1984, the Trophee des Nations). Today, it's 1982—the year of Magoo!
The world-shaking victories of Team USA at the 1981 Trophee (250cc) and Motocross (500cc) des Nations gave American motocross a huge shot in the arm, and that was only the beginning of the revolution. By the end of summer in 1982, Brad Lackey was the first American to win an FIM 500cc World Champion, and three weeks later Danny LaPorte, one of the previous year's Team USA riders, would clinch the 250cc crown after switching to Yamaha and moving to Europe. And even though other riders now wanted to go, the AMA decided to allow American Honda to once again field a team of red riders.
This time they chose 1981 holdovers Donnie Hansen and Johnny O'Mara, as well as journeymen pros Jim Gibson and Danny "Magoo" Chandler. All four hailed from California.
There would be ambush in regards to the European teams. The Belgians were still livid over their defeat on home soil the previous year, as were the British, who narrowly lost the Motocross des Nations when Graham Noyce's bike broke.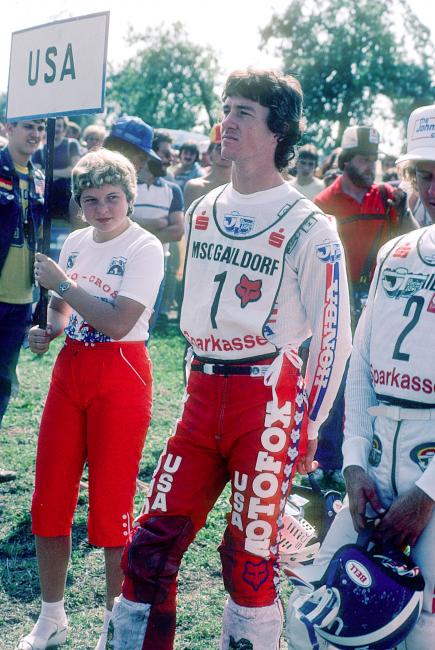 Then something went terribly wrong. On the Thursday before the Trophee des Nations, Hansen had crashed in West Germany at fellow Honda rider Rolf Dieffenbach's practice track. Hansen was knocked unconscious and suffered such a severe concussion that he could not even fly home for a couple of weeks. The lingering effects ultimately forced the AMA Supercross and AMA 250 Motocross Champion into retirement, and he never got the chance to defend his #1 plates.
With Hansen out, Honda's Roger DeCoster reached out to David Bailey, a rookie on the team, and told him to get a plane ticket and head straight to Gaildorf, Germany.
"At nine o'clock I got a call for an 11:30 flight from Virginia to New York to Frankfurt," said Bailey of his emergency trip. Riding Hansen's bike in practice the next day, he set the unofficial fastest time on the #1 Honda!
With Hansen out, that meant that only O'Mara had any experience in this race, and he immediately put the knowledge to good use by holeshotting the first moto. Chandler, Gibson, and Bailey were all up there too. It was unseasonably hot that day in Germany, but it did not seem to affect the Americans.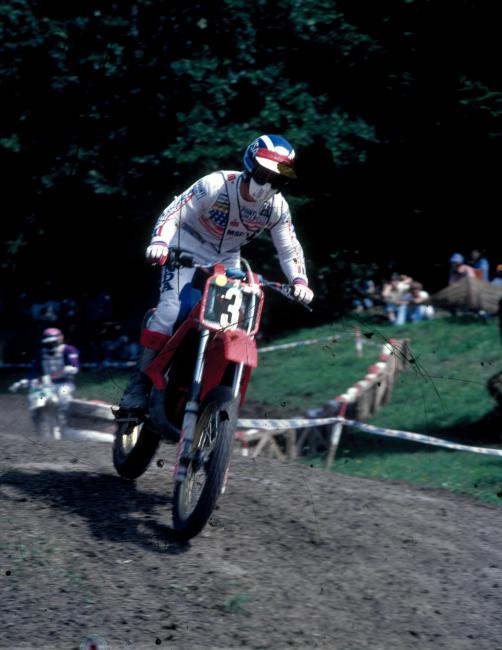 About one third of the way into the race, Chandler, riding the #3 Honda, passed O'Mara's #2 and took off with the lead. Having ridden a CR125 all summer as he battled Jeff Ward and Mark Barnett for the 125cc AMA Motocross title, O'Mara did struggle with his grip, as blisters started forming.
"Riding a 250 is a lot different than riding my 125," O'Mara said after surrendering second to British rider David Thorpe and then slipping back to fifth. "It's good to get it over with. I couldn't wait for the last lap." Bailey was eighth, Gibson tenth. Bailey put his so-so ride down to the long trip he had made forty-eight hours earlier. Said Bailey, "This is the first time I've even been to Europe and I never experienced jet lag before."
The Americans had solid scores, as expected, but Magoo's dominance caught everyone odd guard. When he did it again in the second moto, it practically blew their minds. That's because Chandler was notoriously allergic to bees, and in the middle of the moto, while way out front, he got stung. Magoo immediately started to feel lethargic and sluggish.
"The bee went right underneath the [face mask] shield and hit me on the cheek. I didn't think I was going to make it," he explained later, having pulled off his Scott goggles and facemask to get more air. "I thought, Maybe I can do it. But then after three or four laps from the end I felt myself getting over it. It was a honeybee that got me today, so it wasn't so bad."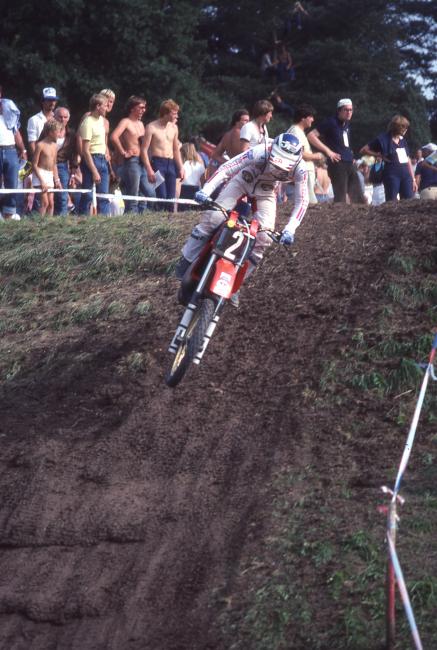 Chandler would win, becoming the first American to ever win outright overall honors at the Trophee des Nations. A revitalized O'Mara was third behind Belgium's Andre Vromans, with Bailey sixth and Gibson eighth. Six of eight moto scores would count toward the final team tally, and the Americans won easily.
One week later, the racing nations all got together again, this time in Switzerland, and on 500cc machinery for the Motocross des Nations. The fast, slick Wohlen course may have seemed European in design and setting, but it was very similar to Carlsbad, with lots of rocks added. O'Mara, having blistered his hands the previous week, was developing an infection under the blisters. He raced with hand guards to protect himself from rocks. But nothing could protect the Europeans or anyone else from Danny "Magoo" Chandler, who despite his short stature was actually much better on a 500 than 250s. In Switzerland he would just keep on trucking, dominating both motos with ease unlike anything anyone has seen at an event of this magnitude. His 1-1 (Trophee) and 1-1 (Motocross) scores were unprecedented, and it would never happen again in the history. It was without question the best two weekends any motocross rider has ever had on the world stage.
In the first moto, the first nine spots were taken up by three Americans, three Belgian, and three British riders—and the British only had three riders in the race after Noyce was injured practicing back home before the race and failed to make the trip. As for Belgium, their 250cc World Champion, Georges Jobe, was forced to race with a broken foot from the previous day's qualifying race, and had to be carried to the starting gate. Then he got caught up in a pileup.
Chandler would win; Andre Vromans was second, David Thorpe third, with Bailey fourth. The lowest American score was twelfth by O'Mara.
In the second moto, Chandler once again broke out with the early lead, but then he seemed to slow somewhat and allowed the Belgian Vromans past him. Chandler seemed to be toying with the Suzuki rider, and he later explained it was his strategy all along, telling Cycle News' Henny Ray Abrams, "I was wearing him out for David." He did, and Bailey would pass for second with three laps to go.
Gibson suffered a flat tire, but his efforts were enough to earn him a ride on the 125cc Grand Prix tour the following year, the brand hoping that he would repeat in Danny LaPorte's footsteps and earn a world title.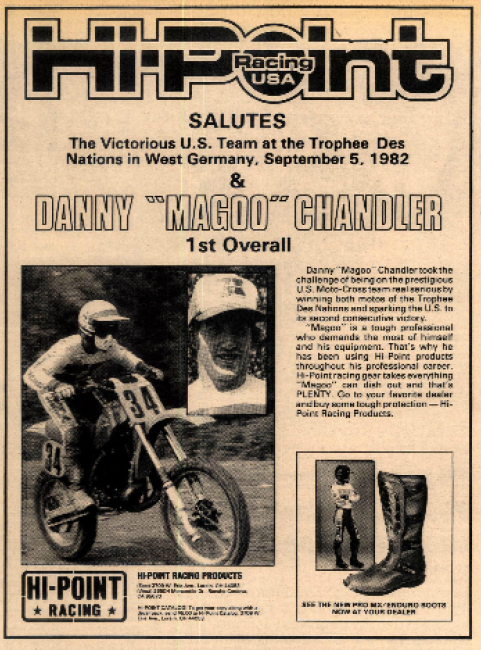 "The rear tire went flat and I just started dropping back," said Gibson afterward. "We would have been 1-2-3 if I didn't have that flat."
Bailey ended up going 4-2 while the top Belgian, Andre Vromans, scored second overall with 2-3 scores, with Bailey third at 4-2. O'Mara finished 12-7, despite breaking his toe on the last lap. He had to be carried from the podium back to the Honda pits on Magoo's back—a metaphor for the whole trip. Afterward, all four riders would express that while they were happy to win, they were still very upset for Hansen, who was sill in the hospital in Heidelberg.
For their efforts, Team USA's Chandler, Bailey, O'Mara, and Gibson would all be named Cycle News' Riders of the Year, along with 500cc World Champ Lackey and 250cc World Champ LaPorte, plus World Speedway Champion Bruce Penhall. Photographer Yoshi Ohara was the shooter of what became an iconic cover.
One year later, Team USA would be open all to four OEMs, and each would send a rider. But Honda forever stamped itself as a special partner, given the presence of Roger DeCoster as team advisor on domestic series and Team USA manager for these events. Magoo, however, was not selected for the team, and he would never ride for Team USA again.
Three years later, after moving to Europe to race for KTM, Chandler crashed over the finish line at an international supercross and suffered a broken neck. He was confined to a wheelchair for the rest of his life. Chandler died on May 5, 2010. He was fifty years old.
Here is a tribute video of his life in racing: