Team Babbitt's/Monster Energy/Amsoil Kawasaki's Jacob Hayes has been off the radar since the May Amsoil Arenacross finale in Las Vegas. That night didn't go to plan and Hayes ended up second in the series to champion Kyle Regal. It was a night full of emotion and racing that would forever go down in history.
This past weekend, Hayes drove from North Carolina to Michigan to race the Soaring Eagle Casino Edge of Summer Motocross and came away with quite a bit of cash after a third-place finish behind Broc Tickle and Mike Alessi.
We called Jacob up to get his thoughts on the event and what exactly he has been up to this summer.
Racer X: What's up, Jacob?
Jacob Hayes: Oh, you know, I've just been riding here and there all summer. Babbitt's hooked me up with a 450, which is really nice of them. They've put a great bike under me all through Amsoil Arenacross and this summer that I can ride and train on. I've just been doing some local races. I went and raced the Muddy Creek Top Gun Showdown and had a really good race there. I won some motos and had some good battles with people. I heard about the Michigan race when my team manager Denny Bartz gave me a call and said that the Edge of Summer race was going down and that it had a big pro purse. I drove up there and had a great time. I haven't been racing for a while, so it was nice getting back on the gate and in race mode. I was more than happy with third. I'm not sure of anyone else that would be, but I'll take it off of the couch.
Yeah, I was going to touch on the fact that you did some local racing. Have you been enjoying your summer off?
I would rather not take the summer off. It makes getting back into training a little harder because you lose all that you gain when you train in the winter. It's been fun though. I maybe took about a month off from training, but I've been riding all summer. I haven't taken time off of the bike. I'm getting back into training and riding now. I'm actually going to do the Canadian Arenacross series for the Leading Edge Kawasaki team. That will be something new and fun for me. I just talked to those guys yesterday, and I'm really excited about that. I'm going to try and win the championship for them.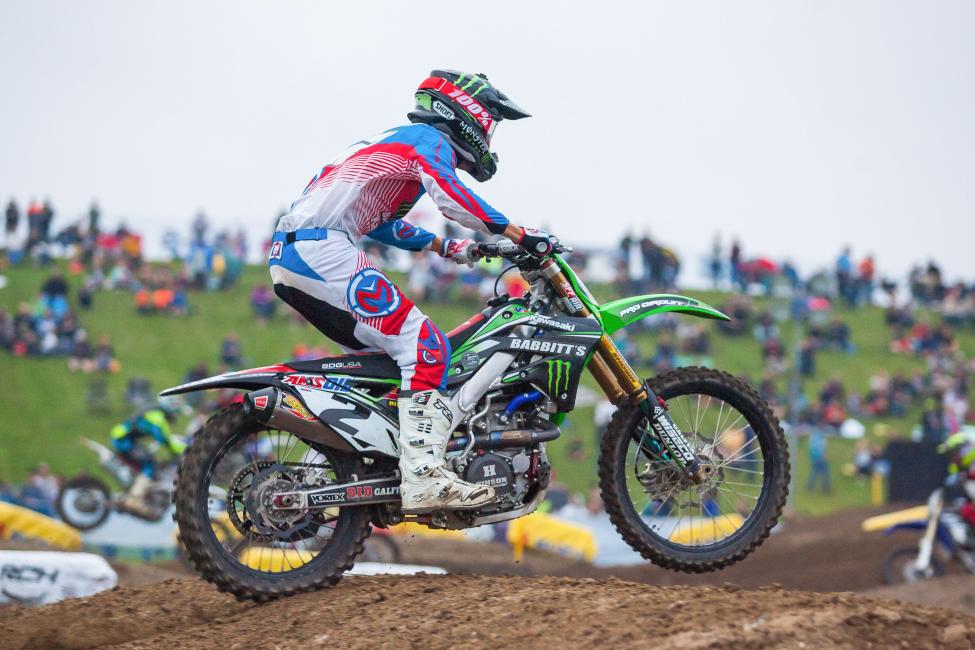 What have you heard about the series up there? I've noticed that every weekend they get a lot of big names to show up.
I haven't really looked into it too much, but I heard the series is really nice. They have nice tracks and there will be a lot of good guys there. It will be a good warm-up coming into Amsoil Arenacross. I've never raced in Canada before, or anywhere else but here, so I'm excited.
Let's switch gears here and talk about the race this past weekend. You made some serious cash!
I've tried to hit up as many money races as I could around the house. They put up about $1,000-$1,500 purses. I'm not saying that is bad money at all. To go to one weekend of racing and make $7,000 for third place, that's some serious cash to put up. They put up $12,000 for first, $9,000 for second to go and race a twelve lap main event. I think it evened out to being around fifteen to eighteen minutes of racing. That is some very good money for that little bit of time.
Talk about the event a little bit. I know your team is based out of Michigan, so that had to be cool. How did you feel out there? How was the atmosphere, track, and all-around experience like for you?
It was my first time being there. The atmosphere at the [Soaring Eagle] Casino was actually really cool. The day was misty and rainy, but the track was phenomenal. I'm not exactly sure who built it, but they did a great job. The layout was amazing and it flowed really well. It had some great rhythm sections and a really big jump that was a lot of fun. The racing was awesome. I got the holeshot in my heat race and I got out to an early lead. I ended up tipping over and went back to third. Austin Forkner and I battled a little bit, and I tried getting around him. I just couldn't seal the deal in the six-lap heat race. In the main event, I got a terrible start. I came around the first turn around twelfth, and I had worked my way to third by the second lap. I tried to chip away at the gap that Tickle and Alessi had put on me. I made a little dent in it, but nothing big. I just raced smart for third. Just getting back on the gate was fun and racing a big race like that in front of a lot of fans was very cool.
"I hate the fact that I had to be the loser, but I learned a lot from my mistakes. I know what I have to work on going into next year. I guess that is taking the positive out of it."
It seemed like you had such a mix of talent to race with, too. You had veterans like Nick Wey, factory riders like Broc Tickle, all the way to the new up-and-comer Austin Forkner.
Yeah, you had Broc, Mike, and myself. Then you have the young phenom Forkner, Jesse Wentland, Marshall Weltin, Wey, and Gavin Faith. It was all over the board as far as competition. Going there, I really didn't know how I was going to do. When I got out there my speed was actually pretty good. I was the top qualifier in timed practice. In the main event, I just didn't get the start that I needed to put myself in the position to battle for the lead. Broc and Mike did really well, and I can't take anything away from those guys. Third was good for me.
You didn't end up blowing all of your money at the casinos afterwards, did you?
No, no, I didn't want to lose all of that money that I had just made [laughs]. I went in there and gambled a little bit. I'm not a big gambler, but I made sure I made all of my money back. We got out of there quick though.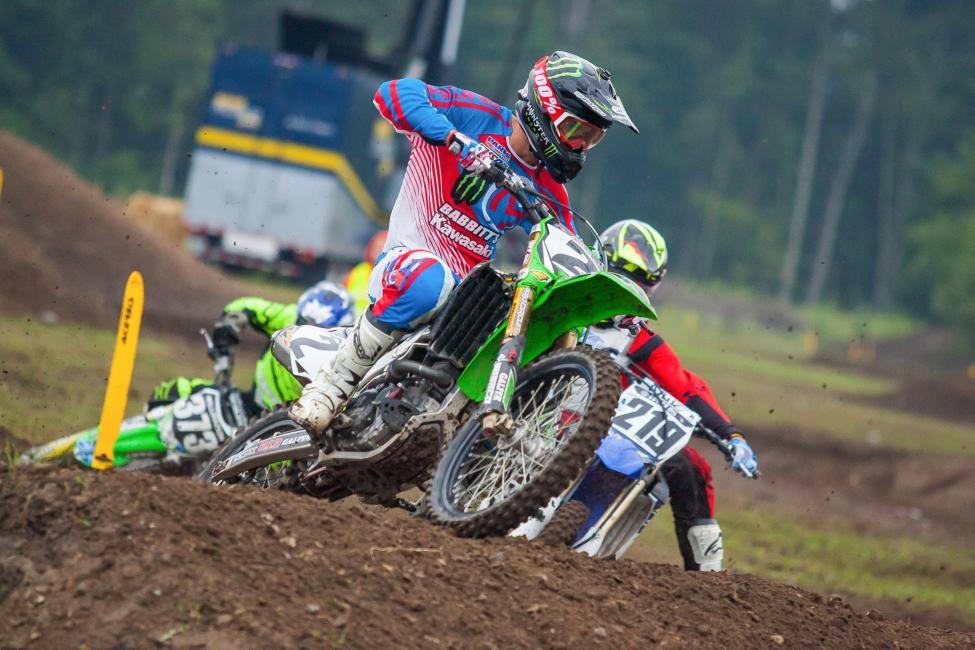 So going forward here: you're racing in Canada, and we aren't far from that series kicking off. Before you know it Amsoil Arenacross will be here. What's your schedule looking like for the next few months?
The racing in Canada does start a lot sooner, which is good. Last year I trained really hard in California and did a lot of testing. Once we got to the races everything felt different. I feel like going to race in Canada will help me work the bugs out with the suspension and myself race-wise. Everyone always makes race mistakes when they haven't been racing a lot. I think that will be a good series to get me back into the swing of things once racing begins for me in January.
You've finished as the bridesmaid for two straight seasons. You have the consistency part of arenacross down, but what is it going to take to reach your goal of the championship?
It's tough to be consistent in Amsoil Arenacross. There is a lot happening and sixteen riders with a tight track. You're looking at maybe twenty-second lap times, and there's a lot going on. They build really good tracks. We have big whoops and great rhythm sections to work with. Every race is a battle, even in the heat race and the head-to-head races. You've got to be prepared to go out there and give it your best and fight for each position. Riders are fighting you just as hard for eighth place as they are for first. It just comes down to getting a good start and riding great laps.
Toward the middle of the season last year, I was having a little bit of a bumpy time. I pulled it back together when the race to the championship started. I had an okay night in New Orleans. I was up and down a little bit. I finally got all of the kinks worked out and pulled myself back into the battle for the championship. It came down to Kyle [Regal] and I at the last race. One of us had to be the winner and one of us had to be the loser. I hate the fact that I had to be the loser, but I learned a lot from my mistakes. I know what I have to work on going into next year. I guess that is taking the positive out of it.
You probably don't want to disclose too much information about what you learned. Can you enlighten us on what you are going to be working on exactly?
Finishing bridesmaid two years in a row is not good. I'm not going to lie. I'm going for my first professional championship. Coming into the 2016, I think racing in Canada will help me suspension-wise and body-wise. I'll just do a lot of testing. I really want to make sure my bike is 100 percent going into the series. Last year, we made a lot of different changes to the suspension. We ended up going in the right direction at some races and in the wrong direction at others. I finally got it figured out at the end of the season, but I want to make sure I get all of that figured out before the season even starts. We can make minor tweaks but not big ones, you know? I'm just focusing on testing and getting myself prepared as much as possible.
What exactly were the "bumpy times" last season that you mentioned earlier?
It's tough to go through a fifteen-round season. You are there week in and week out. As for your body, it can feel great one night and not so great another night. Every night you want to give it 100 percent, but some nights that 100 percent may be a fifth. As racers, that's never okay. We are going out there to win the race every time. You have to salvage your bad nights. Next year, I just need to make sure that I have more good nights.
Are you the only holdout on Team Babbitt's from last season? Rumor has it that Matt Goerke is going to race supercross again.
I'm actually not sure. I haven't talked to Chris [Blose]. I'm not sure who is going to be on the team yet. It's the silly season and there is a lot of stuff going on. There are a lot of rumors.
Away from racing, do you have anything cool going on? What have you been up to this summer away from the track?
I grew up on the lake as a kid, just water-skiing, and going out on the boat. I have some buddies up in Roanoke, Virginia, that have a boat. I've been driving up there and spending a couple weekends of the month with them. I've really just taken up wake-boarding. It's fun and it's an adrenaline rush. Going from lake to lake behind a big G23 Air Natiques is no joke, especially when you slap the water. Everyone thinks water would be soft, but I've come to learn that it isn't soft at all. I've got my own wakeboard, so that's been my side hobby other than riding.
That sounds like a lot of fun, man. How's the home life in North Carolina?
Yeah, I'm still here. I'm actually going to build my own arenacross track in a week or two. It will get me ready for Canada and allow me to test what I'm racing on. I feel like that will help me out a lot.
Thanks for taking the time to talk with us today, Jacob. Who do you want to thank for allowing you to race this season?
I can't thank Team Babbitt's Monster Energy Amsoil Kawasaki, Eddie Babbitt, and Denny Bartz enough for all that they do for me. It's just been an amazing journey. To be given the opportunity to ride for such an incredible team is amazing. I want to thank all of the sponsors that we have as well, such as Moose, 100 Percent, Shoei Helmets, AP Designs, and Dunlop. Everyone who is involved and behind the Babbitt's team is such a pleasure to work with. I can't wait for the 2016 season to get kicked off. I'll make sure to get that #2 green machine up front.