Miller Motorsports Park
Tooele

,

UT
Utah
Lucas Oil AMA Pro Motocross Championship
Broc Tickle doesn't draw much attention to himself. He just goes about his business on the track, producing solid finishes instead of highlight reel crashes. Entering the weekend, Tickle had racked up fourteen top-eight finishes in twenty motos, putting him fifth behind only Dungey, Barcia, Roczen, Blake Baggett, and Jason Anderson in the category. Despite his consistency, Tickle had also only grabbed just one fourth-place moto finish this season, until Utah, when he broke through with his first moto podium since a 3-3 day at Lake Elsinore in 2012. "Obviously, I've been working on that all year, so it was good for the team and for me," he said in a RCH/Soaring Eagle/Jimmy John's Suzuki team statement. "It's nice to get that podium before the end of the season. I just need to put both motos together." Tickle rode well in the second moto but finished seventh, missing out on the overall podium by 2 points to Barcia and Baggett.
There were no parachutes coming out for Red Bull KTM's Dean Wilson in Utah. Wilson, who jokingly told Racer X's Steve Matthes that "the parachute came out pretty heavy" in both motos in his first race back since January at Unadilla, was solid down the stretch in the second moto to claim fifth—a career best on a 450 outdoors. "That's what I needed," he told Jason Weigandt following Utah. "I had that fight at the end that I haven't had in awhile. I'm quite happy with myself, to be honest [laughs]."
In the past few seasons, Wilson has struggled with arm pump late in races, which made this performance that much more important. What is the source of the arm pump? "I don't know," said Wilson. "It's hard to say. I think it's partially my riding style, like when I get all amped up and nervous and override the bike. I went to Europe and got carpal tunnel surgery; that probably helped a little bit. That's not classified as arm pump surgery, but it helped a little bit. I don't know. I just need to get some races under my belt and I think I'll be good." Wilson will return to Red Bull KTM in 2016 after signing a two-year deal with the team last off-season.
Justin Bogle's second race aboard a 450 was quite similar to his first—his results on paper didn't tell the entire story. In the first moto, the GEICO Honda rider worked his way into the top five by lap six before Jason Anderson swooped in a few laps later and took away Bogle's line and his position. Bogle wasn't able to stay on the bike, and finished fourteenth. "Today's finishes were not the finishes I was hoping for," Bogle said in a team statement. "I know that I have the speed after having two good starts today." The heat and humidity got the better of Bogle in moto two, as he slid back to twelfth after a top-ten start. "The second moto, I got another great start, but I was feeling the effects of last weekend and the heat today," he said. "No excuses, but I just wasn't ready this weekend."
Honda HRC's Trey Canard wasn't able to follow up on a podium performance last weekend at Unadilla, never getting comfortable in Utah en route to sixth overall. "Today didn't go well at all, but I'm walking away healthy, which is something positive to take away from it," he said in a team statement. "The track was really tough; I struggled all day and never was able to really get comfortable. My starts were bad in both motos, which is extremely frustrating. I know it's only my third race back, but I shouldn't be back there like that."
We reported yesterday that Honda HRC's Fredrik Noren would miss this weekend's Indiana National after fracturing the knuckle in his right index finger in the first moto at Utah. Despite not scoring any points over the last four motos, Noren is locked into the tenth spot in 450MX, matching a career-high finish from a season ago. Noren filled in for Trey Canard and Cole Seely the entire Lucas Oil Pro Motocross Championship with Honda HRC, but has not officially announced a deal for the 2016 season. Most think a return to MotoSport.com/GPI Honda is a possibility. "I'm really bummed, but I'm happy I'll at least finish the season in the top ten in points, even without getting points today or at Indiana," he said in a statement. "I'm grateful for everything that Team Honda has done for me."
Road racer Jake Gagne, who we profiled last week, was impressive in his first career Lucas Oil Pro Motocross race. After qualifying twenty-third in practice, Gagne finished a respectable twenty-second in moto one. Unfortunately, Gagne aggravated a bruised hip flexor he sustained in Indianapolis the week prior in the moto, and with the end of the season approaching, the MotoAmerica Superstock 1000 points leader decided to sit out the second moto. "This was perhaps one of the greatest experiences in my life," he said in a press release. "I grew up riding motocross and riding with a lot of the guys that are regulars in the pro motocross series. I've always wanted to race in a pro outdoor, and I can't believe that I actually got the chance."
No matter what happens in the 250 Class championship battle this weekend, Yamalube/Star Racing Yamaha is loaded for 2016, as they return Cooper Webb, Jeremy Martin, and Aaron Plessinger, and add Alex Martin, Jeremy's older brother. In Utah, the Star squad finished 1-3-4 overall, including moto scores of 3-1-2-2-4-4. The rookie Plessinger has really turned it on down the stretch. Over the last three races, he has secured his first career overall podium (Washougal), first moto podium (Unadilla), and finished a consistent fourth overall (Utah). In the last six motos, the rookie has averaged a sixth place finish, even with a sixteenth in moto one at Unadilla. Once the most overlooked team in the pits, Star Racing has the most promising future full of young stars.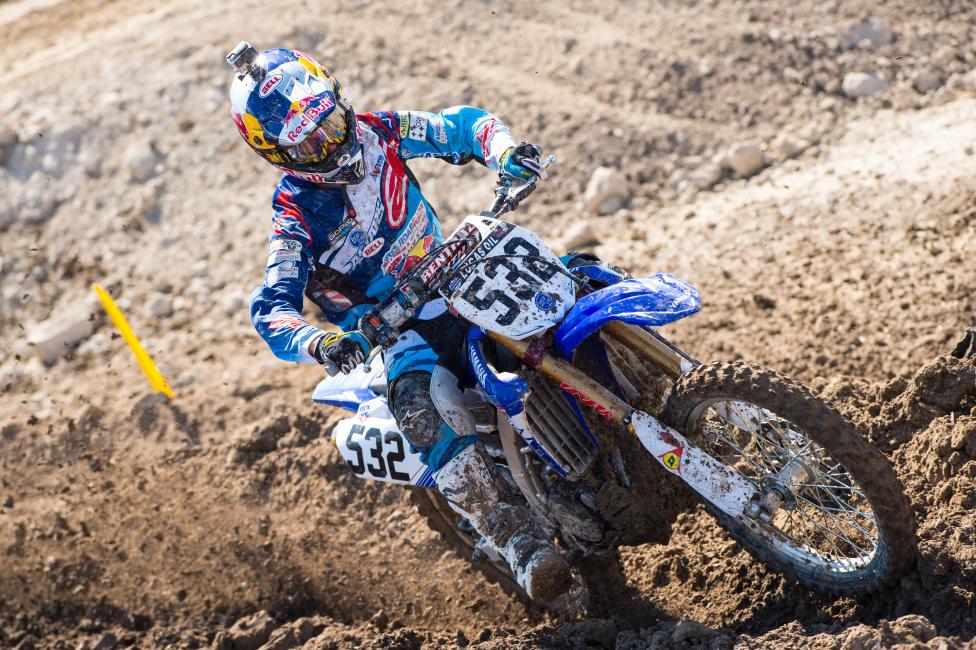 Speaking of teammates, Marvin Musquin may not have any direct protection (though the TLD team is also KTM supported) at Ironman, as his Red Bull KTM teammate, Justin Hill, who has struggled since his return from a concussion suffered in qualifying at Thunder Valley, missed the second moto in Utah after sustaining a compound fracture to a finger in the first moto. Hill received treatment from the Asterisk Medical Unit at the track and was then taken to a local hospital to be treated. While the team hasn't officially announced Hill's status for the weekend, it's likely he will miss the final round in Indiana on Saturday.
GEICO Honda's Matt Bisceglia, who's had a very up and down second professional season, rode to consistent 6-6 motos for a career-high fifth overall Saturday. Utah was the first time this season that Bisceglia has finished inside the top ten in both motos. "That's my best finish this year and my best finish in motocross, so I can't complain," Bisceglia said in a team statement. "The heat definitely started getting to me; twenty minutes into the moto you start getting overheated. I'm in good physical shape and rode consistent overall."
RJ Hampshire was this close to earning his first career podium in Utah, before falling some thirty odd feet before the finish line. "I don't think I've ever felt so bad in my life. But it's hard to stay down when I had the best moto all year going," he wrote on Instagram after the race. Hampshire told Racer X's Steve Matthes that he thought a lapper late in the race was Jeremy Martin, so he pushed it way too hard at the end. "I probably had an eight-second gap back to Martin and didn't know," he said. "[I] sent it into the last turn and went down. Honestly, I thought the lapper was Martin coming to pass me, so I sent it a little too hard. I picked up, was still in third, and I stalled it." He would go on to finish the moto seventh and went seventh in the second moto, good for seventh overall on the day. The good news for Hampshire is he led four laps in the first moto, one more than he had in the first ten rounds combined. He coulda, shoulda, woulda collected his first career podium.
The battle for third in points between Zach Osborne and Joey Savatgy tightened up Saturday, as Osborne, who has struggled since a 3-2 day at RedBud, finished sixth overall to close the gap to just 5 points with one round remaining. "Today was a step in the right direction," he said in a team statement. "After struggling the last couple of rounds, I feel like I made some progress today. To be able to push the way I did all the way through the motos in the heat and altitude helped my confidence."
As for Savatgy, last week's overall winner, he was in the first-turn pileup that also hampered Jeremy Martin, and charged back to an impressive fifth in the first moto. Savatgy also got caught in the back on the restart in moto two and had to come from outside the top twenty to eleventh. If you take where Savatgy finished the first lap in both motos, he passed an incredible thirty-eight riders on Saturday. "I had a lot of confidence coming into the weekend," said Savatgy in a team statement. "I felt like I rode really well, but with every step forward I took, it seemed like I was still fighting. My results don't show how well I rode this weekend, but looking ahead to the final race, I have a lot of good memories from the Indiana National, even if they came during the mud race last season." Savatgy scored his first career podium with second overall last year in Indiana.
Christian Craig tweaked his back in practice and was forced to pull out of the second moto after running just six laps. "Pretty much every bump, I hit I was gritting my teeth in my helmet," Craig said in a team statement. "Hopefully it is something minor, so I should be good for next week."
Toshiki Tomita, the 2013 IA2 (250 Class) All-Japan Motocross Champion and current IA2 points leader (with four rounds remaining), ended his impressive three-race run with a twelfth=place overall finish at Utah. He's been riding for factory Honda HRC. In three races, Tomita went 17-12-40-40-15-13 and collected 27 championship points, currently good enough for twenty-sixth in the 250 Class.
Chase Marquier and Marshal Weltin weren't on many people's radar following the Loretta Lynn Amateur National Championship. Marquier, who is riding for MotoSport.com/GPI Honda, finished an impressive sixteenth overall in 250MX, while Weltin, who Justin Barcia is helping, finished seventeenth despite a huge crash in the second moto (his moto scores were 13-35). Cody Chisholm, younger brother of Kyle, made his first career national race, finishing twenty-seventh in Utah. Cody is pitting with his big brother under the #TeamChiz tent.
450 Class Moto 1
| | | | | | |
| --- | --- | --- | --- | --- | --- |
| Lap Rank | Finish | Best Lap | In Lap | Avg Lap Time | Rider |
| 1 | 2 | 1:52.181 | 4 | 1:55.326 | Ken Roczen |
| 2 | 1 | 1:52.336 | 5 | 1:54.902 | Ryan Dungey |
| 3 | 5 | 1:52.704 | 5 | 1:56.747 | Justin Barcia |
| 4 | 4 | 1:53.888 | 5 | 1:55.969 | Blake Baggett |
| 5 | 7 | 1:54.499 | 6 | 1:57.452 | Trey Canard |
| 6 | 3 | 1:54.656 | 4 | 1:55.999 | Broc Tickle |
| 7 | 6 | 1:55.049 | 4 | 1:57.022 | Jason Anderson |
| 8 | 14 | 1:55.065 | 3 | 2:00.247 | Justin Bogle |
| 9 | 34 | 1:55.522 | 8 | 1:57.408 | Fredrik Noren |
| 10 | 9 | 1:55.925 | 2 | 1:59.042 | Christophe Pourcel |
Last week we thought Ken Roczen might be back. We know for sure now, because the speed he showed last year, and part of this year, but then didn't show since winning High Point, was on display in Utah.
450 Class Moto 2
| | | | | | |
| --- | --- | --- | --- | --- | --- |
| Lap Rank | Finish | Best Lap | In Lap | Avg Lap Time | Rider |
| 1 | 1 | 1:54.563 | 9 | 1:56.265 | Ryan Dungey |
| 2 | 3 | 1:54.799 | 4 | 1:58.221 | Justin Barcia |
| 3 | 2 | 1:54.992 | 6 | 1:56.929 | Ken Roczen |
| 4 | 4 | 1:56.648 | 6 | 1:58.549 | Blake Baggett |
| 5 | 7 | 1:57.232 | 8 | 1:59.663 | Broc Tickle |
| 6 | 6 | 1:57.430 | 6 | 1:59.070 | Trey Canard |
| 7 | 5 | 1:57.432 | 18 | 1:59.291 | Dean Wilson |
| 8 | 16 | 1:58.133 | 3 | 2:04.349 | Jason Anderson |
| 9 | 8 | 1:58.288 | 4 | 2:01.051 | Josh Grant |
| 10 | 9 | 1:59.917 | 13 | 2:02.115 | Christophe Pourcel |
Dean Wilson told us how happy he was to finally be able to push to the end of a moto without arm pump. This chart is proof, as he logged his fast time on lap eighteen while working on Canard to steal fifth.
By the way, Blake Baggett joked after the race that he went 4-4 for fourth overall to match the numbers on his bike. Take a look at where his lap time ranked in each moto.
250 Class Moto 1
| | | | | | |
| --- | --- | --- | --- | --- | --- |
| Lap Rank | Finish | Best Lap | In Lap | Avg Lap Time | Rider |
| 1 | 2 | 1:55.082 | 9 | 1:58.662 | Cooper Webb |
| 2 | 3 | 1:56.439 | 11 | 1:59.271 | Jeremy Martin |
| 3 | 1 | 1:55.082 | 9 | 1:58.662 | Marvin Musquin |
| 4 | 5 | 1:57.447 | 10 | 1:59.948 | Joey Savatgy |
| 5 | 7 | 1:57.671 | 6 | 1:59.862 | RJ Hampshire |
| 6 | 11 | 1:58.036 | 11 | 2:02.760 | Jessy Nelson |
| 7 | 4 | 1:58.394 | 9 | 2:00.502 | Aaron Plessinger |
| 8 | 8 | 1:58.732 | 11 | 2:01.338 | Alex Martin |
| 9 | 34 | 1:58.914 | 4 | 2:01.135 | Jordon Smith |
| 10 | 6 | 1:59.045 | 11 | 2:01.058 | Matt Bisceglia |
Jeremy Martin's charge from outside the top thirty in this moto, complete with the second-fastest lap, must have taken some energy out of him. That makes his dominant second-moto run even more impressive.
250 Class Moto 2
| | | | | | |
| --- | --- | --- | --- | --- | --- |
| Lap Rank | Finish | Best Lap | In Lap | Avg Lap Time | Rider |
| 1 | 1 | 1:54.259 | 10 | 1:57.410 | Jeremy Martin |
| 2 | 3 | 1:55.816 | 4 | 1:58.610 | Marvin Musquin |
| 3 | 2 | 1:56.001​ | 5 | 1:58.077​​ | Cooper Webb |
| 4 | 4 | 1:56.757 | 6 | 1:59.006 | Aaron Plessinger |
| 5 | 7 | 1:57.385 | 5 | 2:00.182 | RJ Hampshire |
| 6 | 6 | 1:58.233 | 4 | 2:00.302 | Matt Bisceglia |
| 7 | 11 | 1:58.369 | 5 | 2:00.706 | Joey Savatgy |
| 8 | 32 | 1:58.420 | 4 | 1:59.342 | Christian Craig |
| 9 | 8 | 1:58.512 | 7 | 2:00.706 | Alex Martin |
| 10 | 9 | 1:58.810​ | 8 | 2:00.367 | Jessy Nelson |
No one could stop J-Mart in this one, and even if Cooper Webb hadn't slowed down for him, he likely would have made a pass and taken the win anyway.
Injury News
CycleTrader.com/Rock River Yamaha rookie Luke Renzland was a scratch for the second moto after dislocating his shoulder in moto one. He wrote on Twitter: "Best start of the year, rounded the first turn in 3rd and got nabbed by a couple guys right away. Running 6th on the first lap.... Came into a rhythm section that was freshly watered, spun, cased it sideways, and high sided. Dislocated shoulder will end the day for me." No official word if Renzland will be able to race the final at Ironman. Renzland has had a solid, consistent rookie season, scoring points in every moto but one coming into Utah.
Lucas Oil/Troy Lee Designs KTM's Mitchell Oldenburg dislocated and broke his thumb in a first-turn pileup in the first moto on Saturday. The team hasn't released an official update on Oldenburg, but making the season-finale will be a stretch. "I'm bummed to have my day end so early like this," said Oldenburg in a team statement. "I was feeling good throughout the morning and was hoping to crack the top ten after having just missed last weekend."
Jordon Smith got "banged up," according to the team, after a crash in the first moto and was a DNS for moto two. His status for Ironman is uncertain. "First moto, I had the best start I've had all season, taking the holeshot, so I was very happy about that," Smith said in a statement. "After leading the pack for a few laps I came off my bike, but I was still holding onto the handlebars and basically running beside my bike. I got back on my bike but also got passed for the lead. I then rode pretty well for a while but then got passed by a few more riders. I took a breath and relaxed and made my way back up the pack until I fell. I got pretty banged up on the fall, so I was unable to race moto two."