Washougal MX Park
Washougal

,

WA
Washougal
Lucas Oil AMA Pro Motocross Championship
Justin Barcia made it difficult, but Red Bull KTM's Ryan Dungey went 2-1 on Saturday at the Washougal National to capture his seventh overall win at the track—the most in history. Dungey now has a holds a 69-point lead in the championship heading into another bye week. Dungey talked about his win in the post-race press conference.
Racer X: Give us the broad strokes of the overall day.
Ryan Dungey: The first practice, I kind of missed my little window there. Everybody kind of took off on that second lap. I was a little confused on whether this was the green flag, if the times were starting and then the rain started coming down. So we ended up fifteenth that practice, and it didn't get much better track-wise, the track times in the second practice, so we were like thirteenth going to the gate. But we made a decent start—not the best start—in the first moto. I had to come through the pack. Came out fifth, I think I was. Made some passes pretty quick. [Christophe] Pourcel took a lot out of me to get around. He was riding good. There weren't many lines. Even when I got outside, there were two good lines, inside and out. Once you ventured off those two, it wasn't the greatest. By the time I got into second, [Justin] Barcia had a nice sized gap. Obviously, if you made a mistake that was going to be the only way I could kind of catch him. But I was trying to be smart and put the laps together.
In the second moto, we got a good start. Was behind Barcia and couldn't get inside him. He was riding really good, and his bike setup was looking better. You can tell he's comfortable on the bike—he's going good. So it's very hard to make a pass, and at the same time, about halfway through, he started hitting lappers and then I lost him. I was able to kind of regroup and get back on him. The whole goal was trying to pressure him. Run him down. He ended up making a mistake, and I was able to capitalize on that and come out with the win.
If memory serves, it was somewhere around lap seven, just before the halfway point, where you actually put in a heck of a push. That was the outright fastest time. And Barcia actually answered as well, but you were still about half a second quicker. Was it just the track coming in, or did you say, "Okay, look, this is going to be push number one and we're going to go get him"? Or was it just getting better?
Yeah, right away I felt faster. I was catching him real easy. I was finding areas, I just found myself right up on him. Then we'd come into a line, I'd try this line, and he'd have the upper on it. And I tried over here. So, for me it was good. I got to try a bunch of different lines, but they really didn't add up to be any faster. I lost a lot of time in a few areas. So then I was just trying to play catch-up again. But it was tough because of the roost. And then it's kind of funny; about five laps in he picked up on the lines I was taking. So I was like, Oh, man, now I'm really going to have a hard time getting around him, so I was eating a lot of roost. That's never ideal.
With this overall win, you actually move into first place all by yourself. Seven overall wins at Washougal, ahead of Ricky Carmichael and Jeff Ward. Are these some things you're thinking about even now, like that's kind of cool?
It's definitely amazing to be in the list with those guys, and to be the winningest guy at Washougal. I got my first win here in 2008; my first motocross win. It's amazing that eight years have gone by, and seven of those eight we've won. It's amazing how fast the years are flying by. I guess I work hard and try to be in that position to win all the time, each and every weekend. It's good to see all that hard work and all that effort and dedication we put in—not just me, but the crew around me—pay off. We work hard to be in that position. But it doesn't stop there either. We need to keep finding higher goals to set and achieve. But definitely, as a little kid, it's good to see things paying off and starting to climb in the books, but that's not what's important either.
There's something special about this place for you. Does the track suit you?
I like it. There's a certain thing about it; you got to set yourself up corner after corner. Meaning, two corners before you get to the next one you're already inside, outside. You're kind of setting yourself up a lot on this track and I like that. I feel like I'm really good with throttle control. That's something I really worked hard on growing up, and there's a lot of that here. I don't know why this track is one of those tracks. I like it definitely. It's good to have success here. I personally like to be great in all conditions, whether they're tacky, muddy, hard, soft, choppy. I want to shine in all areas. This one just seems to suit me well.
In the second moto, I saw your mechanic, Carlos, had put "Relax/Flow," on your pit board early on. You don't really come across as a kind of rider who needs to be told to relax, but are we wrong? Do you need to be told to relax sometimes
Yeah, especially when you're behind somebody and you try really hard, you tend to over-try. That's when you rush things, and you over-commit coming into corners versus just giving up a little bit to make more. There's a lot of areas, especially this track. That's one thing I knew early in the day—you could see the harder you tried, the worse it was. I think even like you said, Barcia, after he went down he got back up and he tried to ride wild, and he almost went into the fence. That's a prime example of just over-riding the track. You're only going to get so much grip out of the tires. You can only handle the gas so hard until… with how slippery it is, the rear end comes out and takes you left or right. So you got to ride the track to maximum of what you're capable of without overstepping it with that intensity.
So you do read what's on the pit board?
Yeah, absolutely. Lap times. I can see it every lap. It's important I look at that. It's my only communication in a race.
Talk about the differences in conditions between the first and second motos.
A little greasier—definitely very slippery. There was more of the track that wasn't as shiny, but it dried out pretty nice. The second moto, it was a little drier. After the 250 moto there were more shiny spots, so a lot of swapping and losing the rear. Very tricky conditions. One of the toughest I've raced on yet.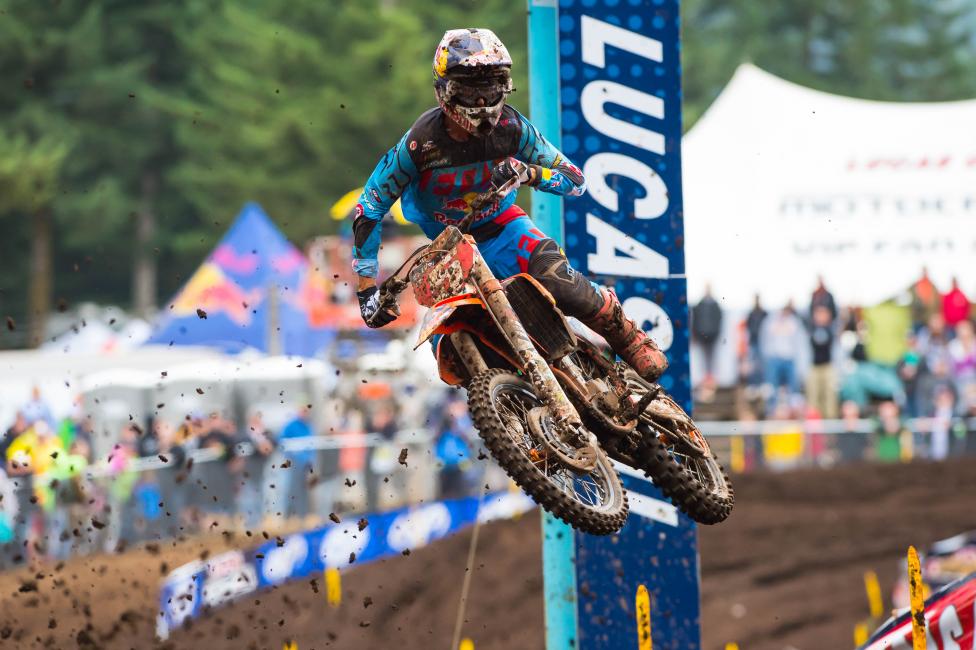 How did the fundraising event go on Sunday last week?
Very good. We had a great turnout. I think close to five hundred people showed up. Very cool. We raised $133,000 for St. Jude, and 100 percent of that went to them. It was a great turnout, and we're already talking for next year. It's good to have St. Jude's support and all the sponsors and everybody who showed up. It was amazing. I say that humbly. It was an amazing event and a very powerful day, just the feelings. It's cool to see everybody get together like that.
Thirteen days until Unadilla. Anything training-wise or testing-wise coming up that you can let us know?
Not so much testing, but with Aldon we'll get right back to it Monday, so we'll have Monday, Tuesday, Thursday. Take a little weekend off and get ready for Unadilla for the next week. Excited.