Buchanan, MI
RedBud
Lucas Oil AMA Pro Motocross Championship
Dirty Little Secrets
RedBud is the cornerstone event on the schedule. Scheduled on America's holiday, Fourth of July, the race is really just one big celebration from start to finish. People roll in from far and wide to watch a great motocross race, drink all kinds of different things, and mostly just have a great time. The Lot B experience is certainly an adult-only attraction, but it's also must-see entertainment. Early in the evening, many of the factory racers will be cruising around in their pit vehicles hoping to see some of the night's festivities. They will be safely in bed before things really escalate, but it's still a nice reminder that the fans come to these events to enjoy the weekend. Racing is high stress and many racers get tunnel vision as to the overall scope of the sport, but one trip to Lot B can open up perspective as to how the other side lives.
The track itself has undergone a fairly significant change since my first visit in 1997. Back then it had a very hard clay base. The track would always begin the day fairly muddy, as the tractors would disk the dirt knee deep. It would slowly dry and harden as the event rolled on, and by the second moto it was even dusty at times. Over the years, there has been copious amounts of sand trucked in, changing the soil composition entirely. Gone are the hard-packed days of yesteryear.
RedBud is almost a sand track these days. Sure, there are still wood chips and leaves brought in to add some depth, but the sand is far more noticeable. I do feel the change has been for the better, though, as those second motos were treacherous to say the least. For evidence of this, search for an early 1990s RedBud event and look how slippery the track is when watered for the second motos. The ruts have standing water and the riders resemble ice skaters more than motocross racers. The sand has added great traction and allows the track an ability to soak in water instead of puddling into concrete-like ruts.
Every event has its signature obstacles, and none more so than Red Bud. LaRocco's Leap may be the most famous jump in all of motocross. The jump changes a bit from year to year and ranges from fairly routine to very challenging. The turn before the Leap often dictates how tough it will be to execute, but it can also be affected by how steep the takeoff is built. There have been years, like 2002, where the jump was very easy to clear, and often times we would actually jump too far. In contrast, the following year, it was incredibly difficult and I remember being one of the only riders able to make it on my CRF450. It really depends on how they want to play it.
Nowadays, though, the bikes are so fast that almost all of the 450 riders can make it, and even a few 250s ante up as well. There's always that moment of truth on Saturday morning, though, when each rider has to blindly leave the throttle hung and blast off into the southern Michigan skies. Every rider who has ever jumped it knows that feeling. The corner is a bit different, the takeoff is a bit different, the dirt is either softer or harder than the previous year etc., but one thing remains—rolling your right wrist to the stops and leaving it there. There's no other word that better describes that jump than commitment.
Over the past few years, the Ritchie family has added a few other big jumps for excitement and a nasty sand roller section. The fast ninety-degree left-hand first turn remains unchanged and has seen its share of spectacular crashes, as everyone leaves the throttle on and simply turns left in unison. The infamous ski jump follows shortly after the start and leads into the RedBud infield sections. It winds in and out of the trees before climbing the long gradual uphill into the bowl turn by the grandstands. There's the step-down tabletop that connects the "two sides" of RedBud and is easily distinguished by the legions of grandstand fans that all turn their backs to watch the riders as they head towards LaRocco's Leap. It's a track chock-full of notorious obstacles and signature sections.
Who's Hot
Justin Barcia won his first-ever 450 outdoor overall last weekend in Budds Creek. Sure, it was muddy and adverse conditions arose, but that matters little in the results column. Barcia was a different rider in that second moto. Confident, aggressive—and it showed. It will be interesting to see if he can use that momentum to propel him forward this weekend and beyond.
Christophe Pourcel is coming off of back-to-back podium performances in the motos. He started a bit slowly this summer but has picked up the pace significantly as of late. His starts have been spot on, and that has to be an important part of his success recipe. He's a rider that shines when in "clean air," and if he can continue his good starts, he should be a podium threat from here on out.
Blake Baggett rebounded nicely in Budds Creek. He grabbed a top-five start in that muddy second moto and used it to battle Pourcel all the way to the checkers. I'm still waiting for Baggett to battle for a moto win though. It will come at some point—I believe that to be a certainty.
Alex Martin won the first moto of his career last weekend. It was a wild battle with his brother for that honor, and after losing his rear brakes and goggles mid moto, he needed a last lap stall by Jeremy to secure that victory. In the second moto, he was once again battling with his brother, but it was for sixth and seventh instead of the lead. He needed to pass his brother in the waning laps for the overall victory but came up just short. Still, it was a great performance from the CycleTrader.com/Rock River Yamaha pilot.
Marvin Musquin had a rough first moto but still walked out of Budds Creek with another overall victory. He has a 10-point lead over reigning champion Jeremy Martin and is showing his consistency week in and week out. It will go down to the wire for this title.
Adam Cianciarulo led laps at Budds Creek before suffering a small tip over. Adam can sprint with anyone's pace but has to remove the little mistakes if he wants to win against veterans like Musquin.
Zach Osborne has been all over the podium in his past two races and has looked great doing it. He's been working with the Tomac family this season, and it seems to be paying off. I am happy for Zach; he is one of the good guys in this sport.
Who's Not
Jessy Nelson has had a challenging couple of weeks. After becoming a podium mainstay, his recent results have been a bit off. He seems to need a good start to run up front, so look for that to be a big factor this weekend as well.
Chris Alldredge, much like Jessy Nelson, has been in a bit of a slump compared to his early season results. Alldredge landed on the podium in the opening round and was inside the top ten in other rounds as well. He's had a few setbacks lately, but he has the ability to rebound this Saturday.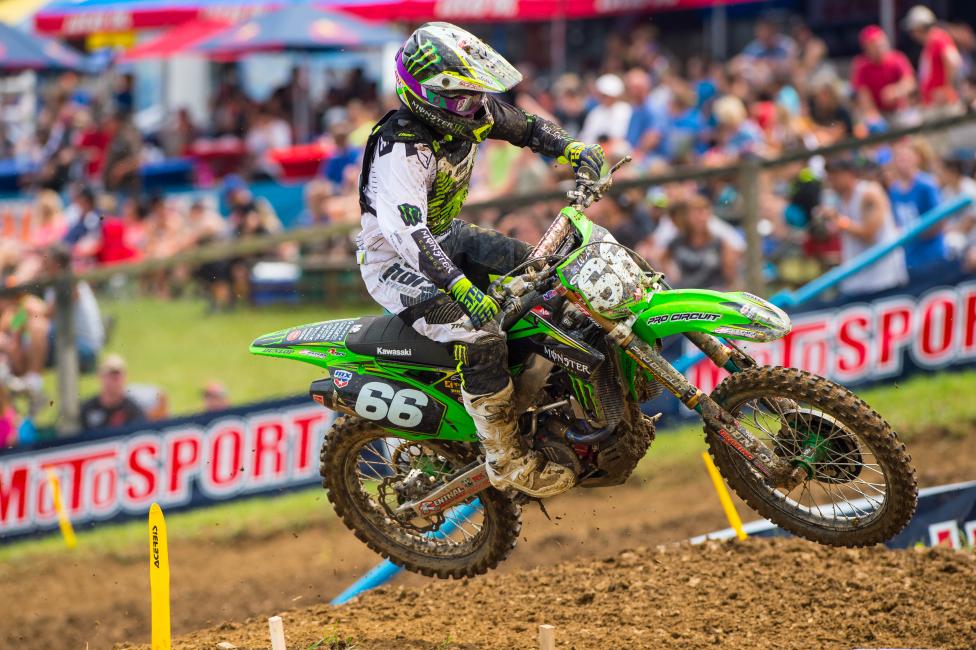 Bold Predictions
Grant Langston once again heads down to Lot B on Friday night before RedBud. That's the most dangerous combination of people, beverage, and circumstance that NBC Sports could ever imagine.
Jeremy Martin goes 1-1 to close down the points lead.
Justin Barcia flies his personal plane to the local airport, hops in a helicopter to the hotel, and then has his Audi R8 shipped in to drive around South Bend for the weekend. He's basically one more win away from Dan Bilzerian status, beard included.
Ryan Dungey wins the overall at Red Bud, extending the points lead yet again.
My Picks
450
Ryan Dungey
Ken Roczen
Justin Barcia
250
Jeremy Martin
Marvin Musquin
Adam Cianciarulo