It's that time again. Let's take a look at some photos from the past couple of weekends and see what makes these guys so fast.
This is Blake Baggett in timed qualifying at Muddy Creek. He's jumping onto the uphill that ends in the first turn. This jump was out of a right-hand turn, but there was plenty of room to accelerate before actually hitting the jump. It was perfect for jumping as high and far as possible, and while that's fun, it's also very slow. Instead of jumping high and far, landing out on the uphill, rebounding back off the ground, and then trying to accelerate, Blake is scrubbing his speed at the peak and getting his wheels back on the ground immediately. He then begins his drive up the hill from a flat surface and won't have any hesitation from bouncing (rebounding) back from the landing, nor will he have to absorb the impact of another hard landing. He has his left leg out for two reasons: He can use it as a rudder in case the front tire slides too much, and his leg being off will help him put more weight on that side of the bike, increasing his lean angle.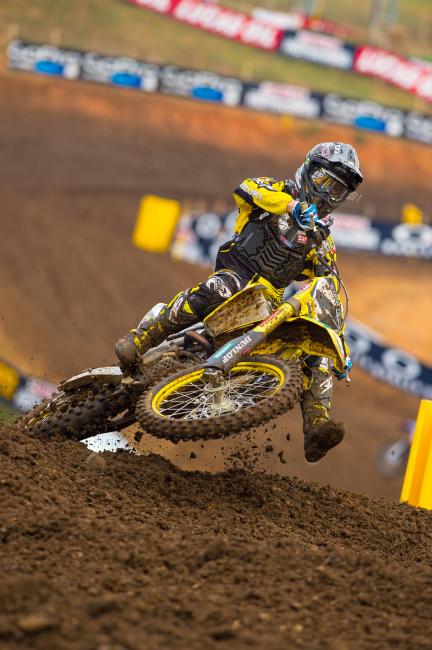 Blake Baggett is shown here in full attack position, coming down a hill in the heart of the Thunder Valley circuit. He's applying both brakes as you can see from his index finger and the angle of his right foot. Maintaining neutral body position and braking evenly between front and rear are key components of successfully navigating a rough downhill.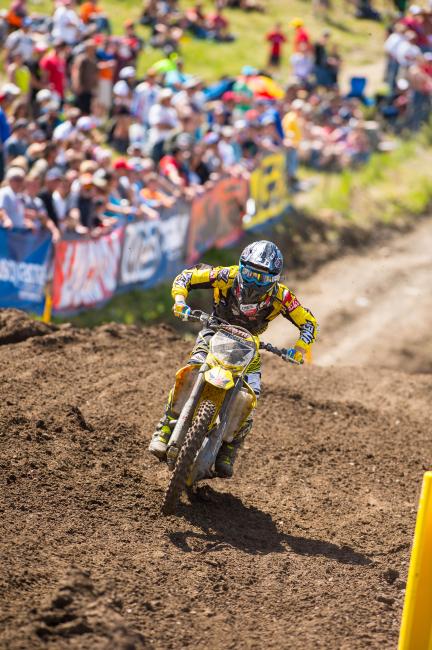 Ryan Dungey chases Ken Roczen around Thunder Valley here. This is the same downhill that claimed James Stewart in 2012 and ended Eli Tomac's 2015 season. It's interesting to see Roczen aiming toward the outside while Ryan Dungey is headed to the extreme inside. Roczen is opting for the smoother line, but he also must cover more distance. Dungey is taking the shortest line but also the roughest. Most importantly, Dungey is not following Roczen. It's impossible to make a pass when following, and Dungey knows this all too well. For any youngsters reading this, watch your favorite riders closely when they are behind a competitor. Even if the line they choose isn't ideal, if it allows them to get out from directly behind the rider in front, they will opt for it. Ricky Carmichael was the absolute master of this on outdoor tracks.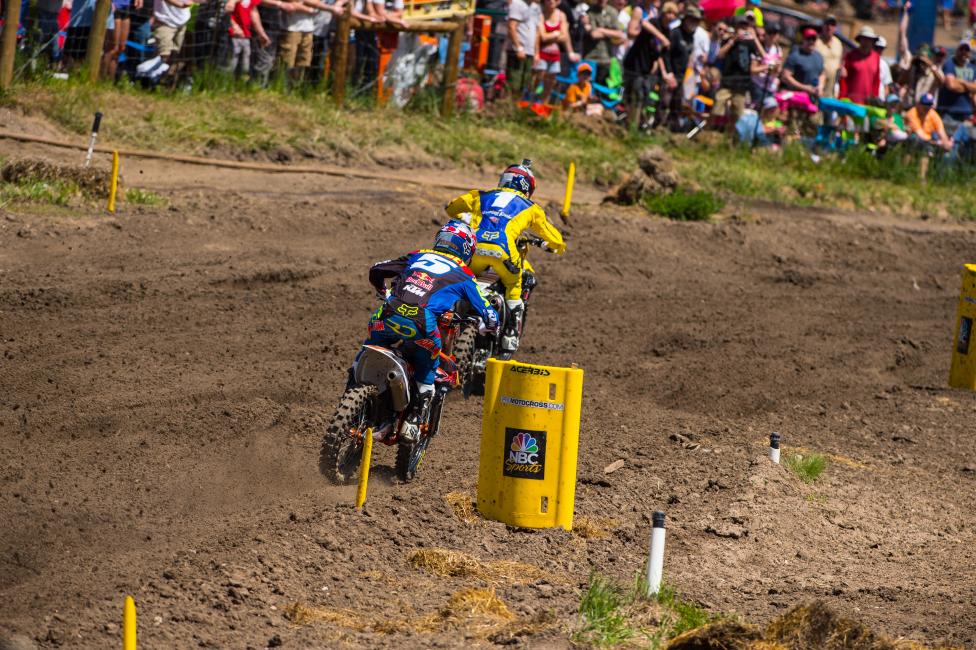 This is a pretty basic picture of Dungey, but there are two things to note. His eyes are focused far down the racetrack, which is a great lesson for younger riders to practice. Also, his left knee is firmly planted into the chassis, giving him stability and control over where the bike is going. I harp on this quite a bit, but most riders never realize how much manipulation on the motorcycle that your legs can provide.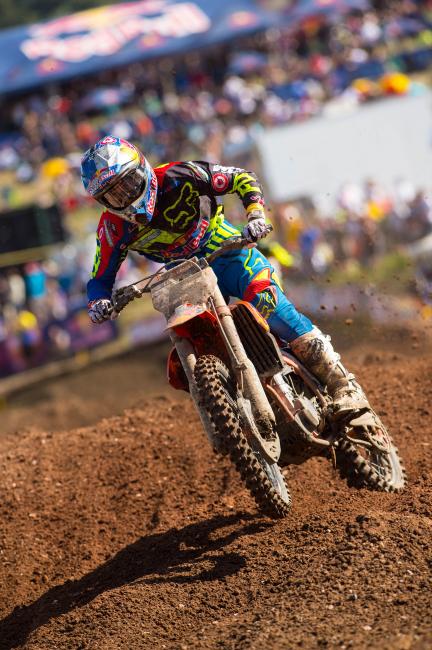 Jeremy Martin is shown here exiting a Tennessee turn, trying to keep the bike from climbing out of the rut. Ideally, his body would be positioned more in the center of the seat. The bike started to stand up in the rut, though he would ideally lean into the low side of the turn. He is counter-balancing that by putting his body weight on the outside of the bike, in essence forcing the motorcycle back inside. All of these adjustments are made instinctively and in a split second's notice. He's doing everything he possibly can to avoid loss of acceleration.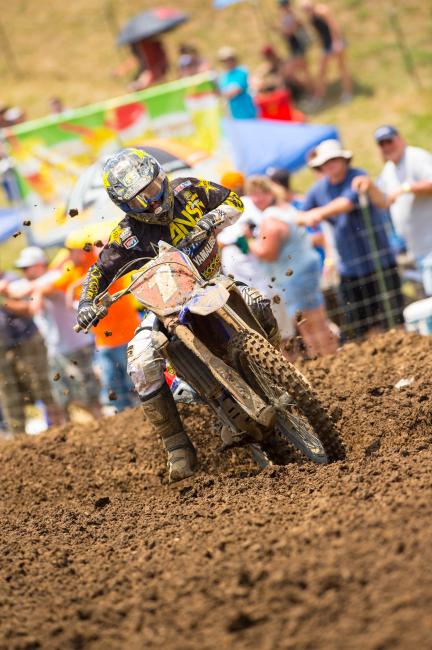 J-Mart takes flight. There isn't a lot of technical analysis needed here, but it is noteworthy how far forward he is on the bike. That allows him full control over the bike's pitch. Many amateurs would be much further back on the bike, making them a passenger for whatever the bike wants to do.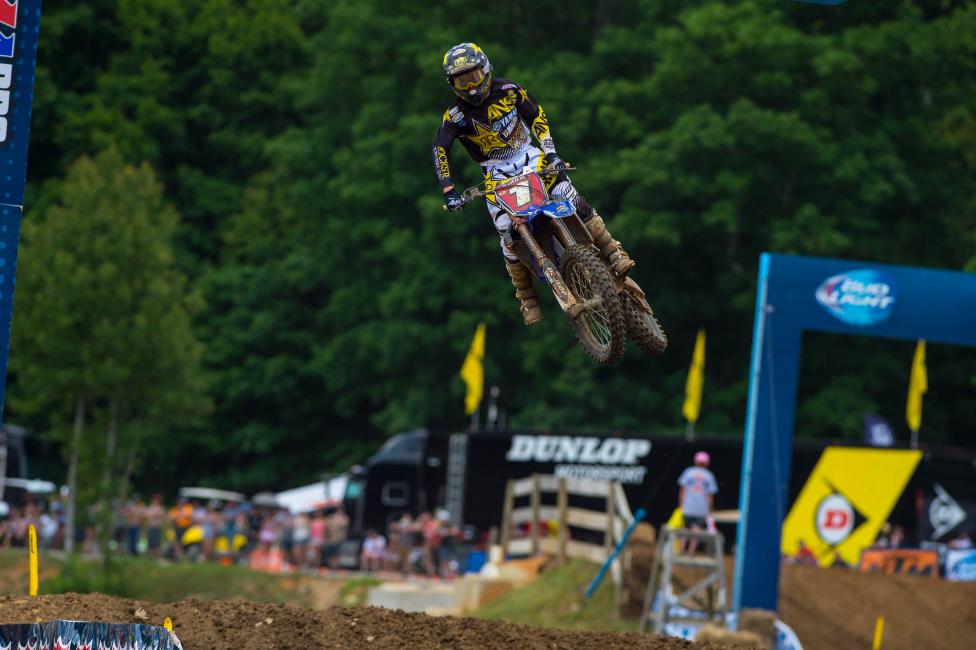 Marvin Musquin is one of the most technical riders today. He hops, skips, and, most importantly, avoids many of the bumps on a racetrack. Here he is leaning extremely far forward while accelerating down a hill in timed qualifying. The track was a bit muddy still, and he was surely worried about losing front-tire grip.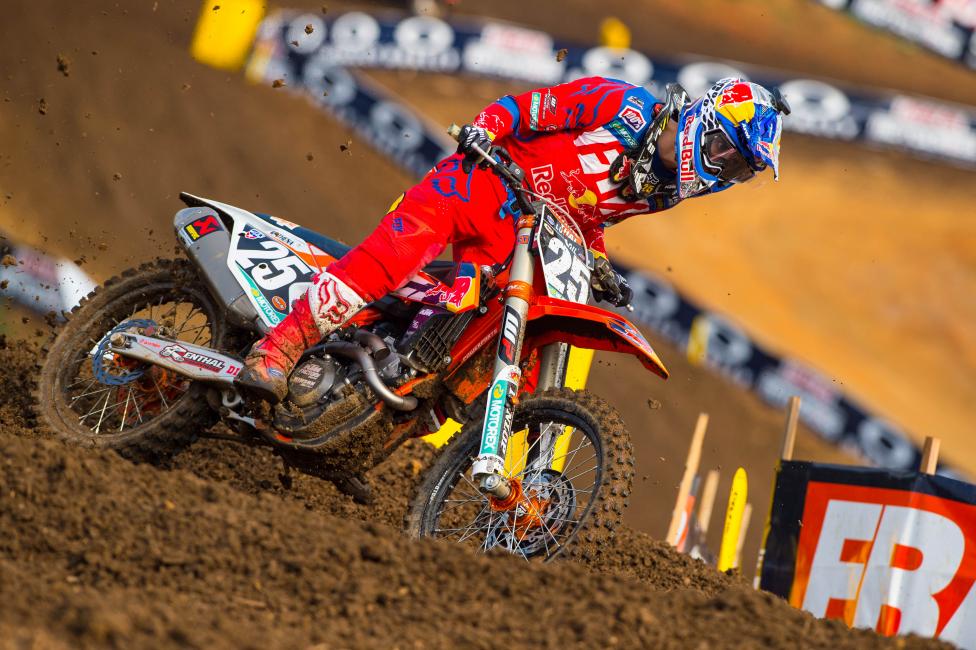 Zach Osborne is exploding through a rut on a jump face in this photo. This happens when the rut becomes too deep and the bike compresses into the outer edges of the rut. This can also happen when hitting the jump too fast, and the same result occurs—the bike compresses into the rut too deeply. The bike most likely suffered what is known as a "G-out," where the suspension compresses fully and then rebounds a bit unpredictably. His jump angle is a bit off-kilter, as the rut gave way under his machine's pressure. In fact, you can see most of the rut's remnants soaring alongside Osborne in the Tennessee skyline.
Here's Dungey making a move on Roczen. Dungey forced the issue up the inside at the bottom of this downhill, and Roczen had no choice but to concede, at least for the moment. If Roczen tried to fight Dungey off from this position, he would end up on the ground. Dungey is locked into his rut and leaned over, while Kenny is unsettled and still trying to pivot.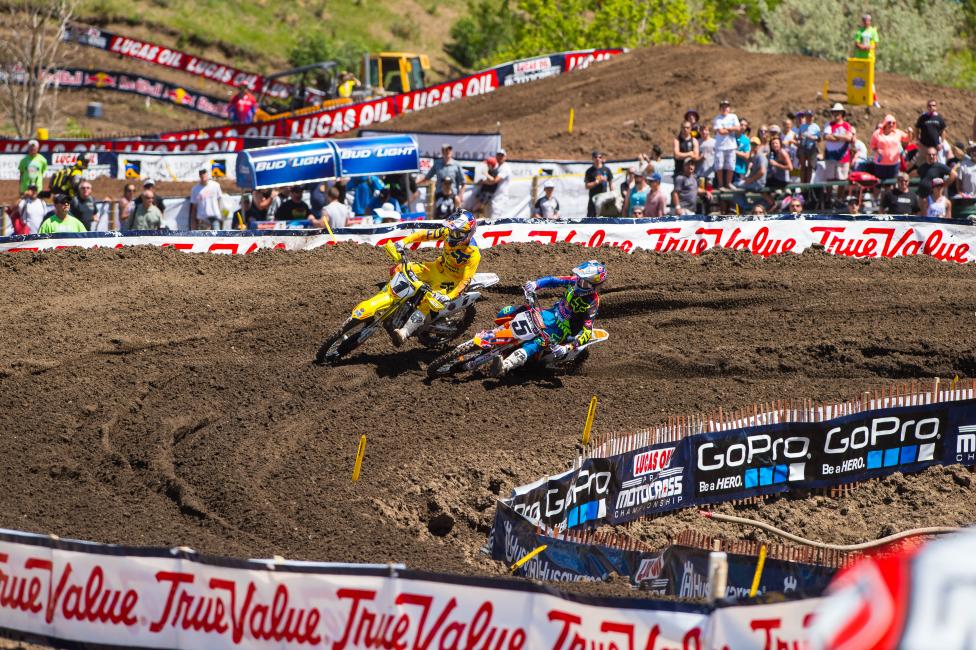 The next few photos show Roczen having to adjust his line and give Dungey the inside. In the first photo, Roczen attempted to hold the inside even though he was out of position, but he thought better of it once he realized where Dungey was in relation. He knew his only recourse was to accelerate hard around the middle line and hope to beat Dungey to the next jump. Unfortunately, Dungey was locked into that inside line and already poised to make his move.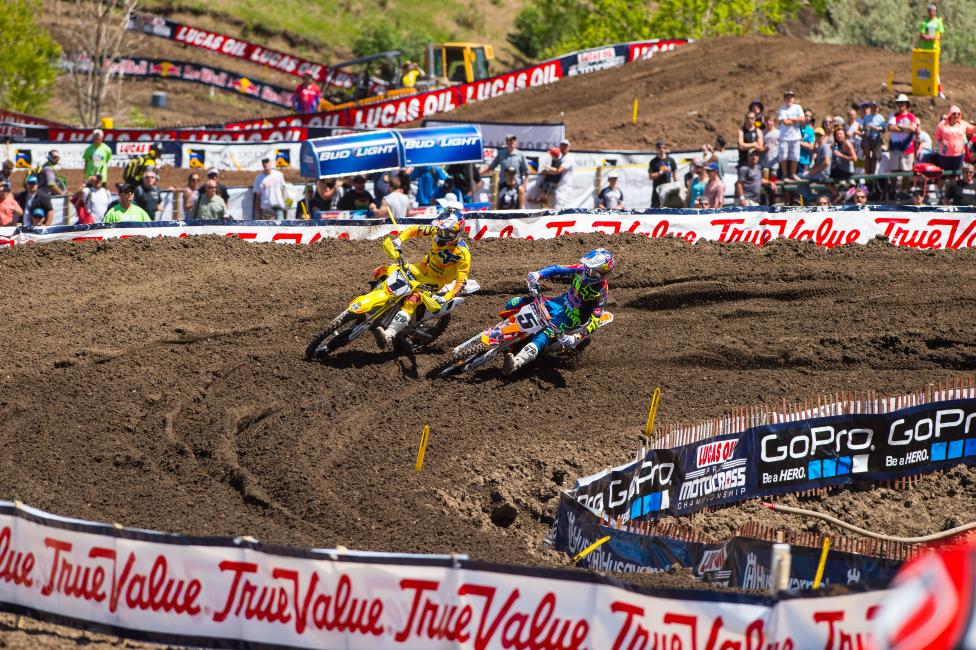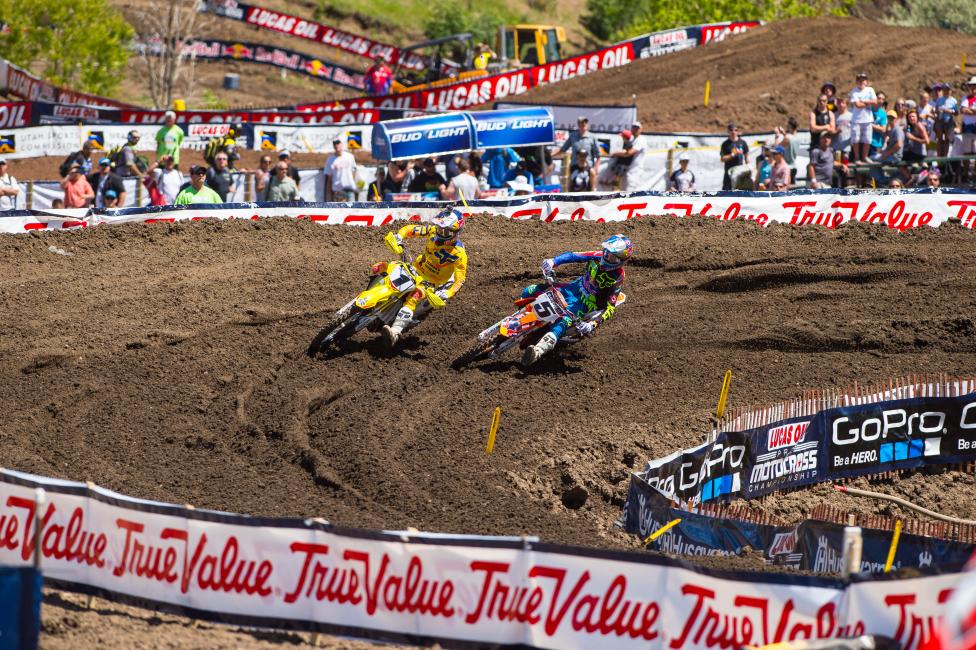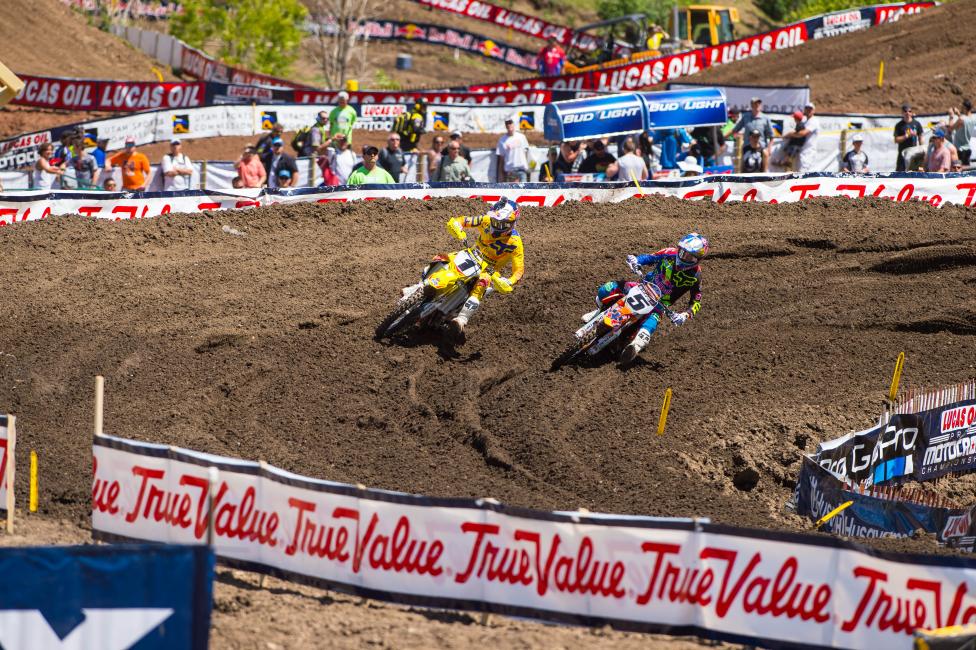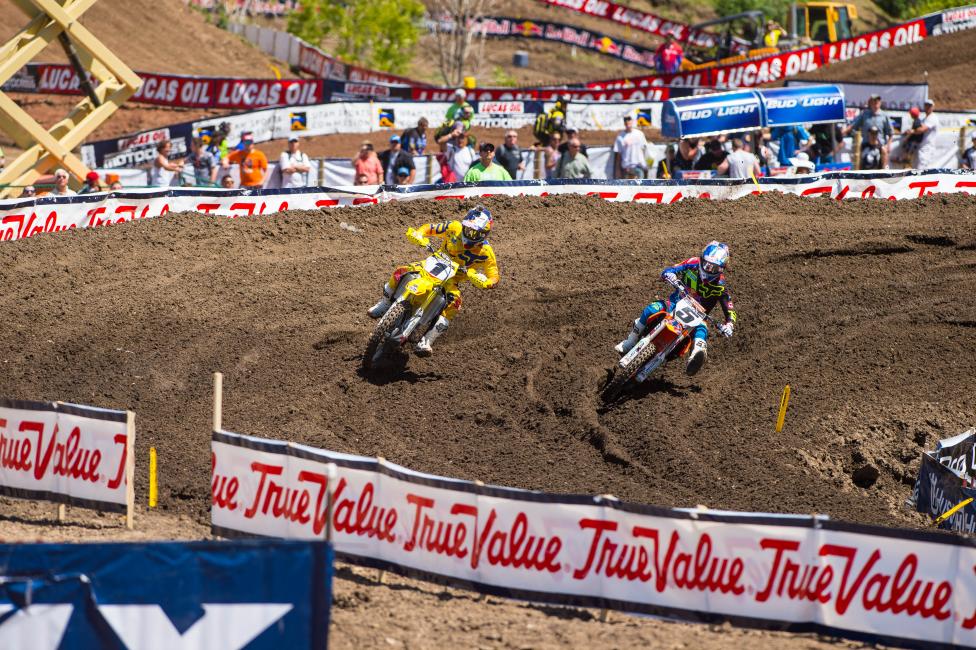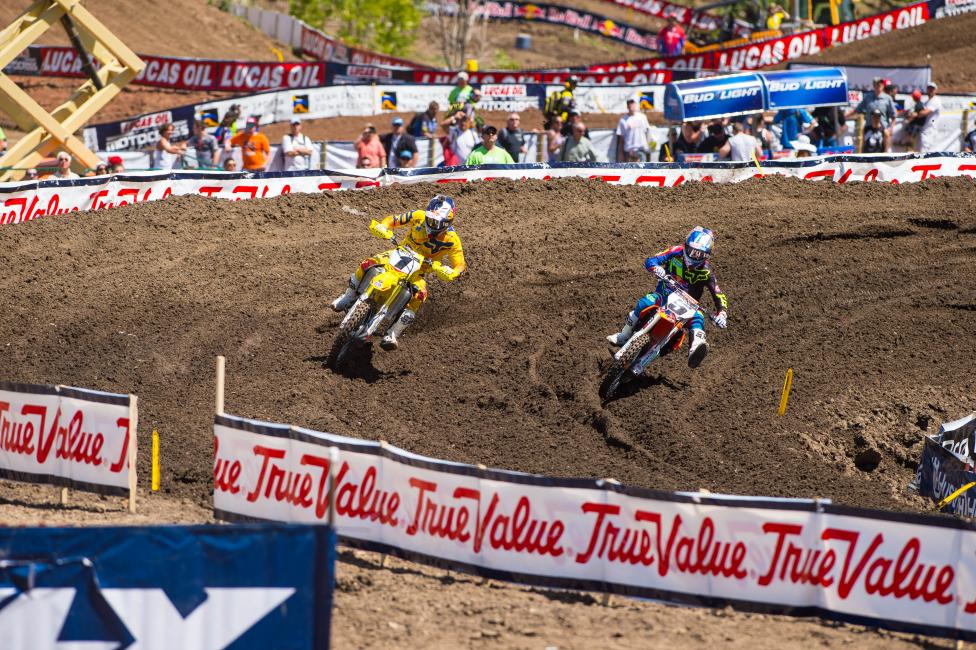 This photo of Ken Roczen is what every rider on the starting line is hoping for. Roczen is leading the race, perfectly clean, and riding on fresh dozer tracks. I used to love when the dozer had just been on the course, as I felt it added traction and, of course smoothed out the nasty second moto bumps. With no one in front of him and no direct pressure from behind to cause line alteration, he's free to carve up the track however he sees fit. This is about as good as it gets.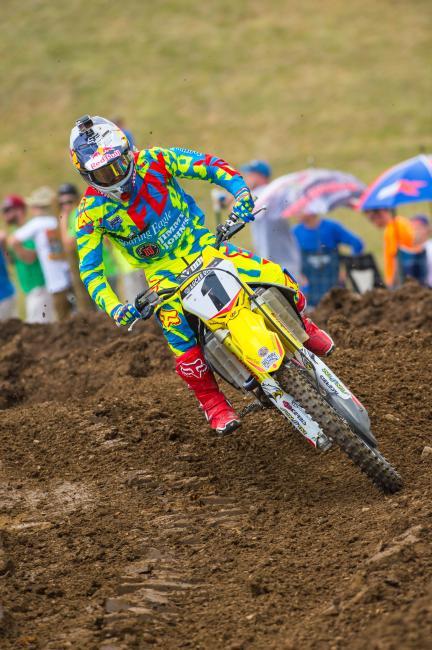 Here we see a young Adam Cianciarulo swinging for the fences. His effort to keep eye contact is on a herculean scale. His untucked jersey and bottle of Nestle's finest H2O says he is hot, sweaty, and thirsty, but that he's also come to party. Flirtatious post-race podium performances are nothing new to this sport, as legends like Jeff Stanton used to kiss trophy girls, and Jim Holley, well, we will just leave Jim Holley out of this. For the newer generation, however, blatant courting is an awkward spectacle; the KTM-affiliated gentleman to the left can do nothing but stare at the ground and hope for the moment to pass.