Kailub Russell Wins Wiseco John Penton GNCC
MORGANTOWN, W. Va. – On Sunday, the eighth round of the 2015 AMSOIL Grand National Cross Country Series presented by Maxxis, an AMA National Championship, embarked upon Sunday Creek Raceway in Millfield, Ohio for the 26th annual running of the Wiseco John Penton GNCC. Reigning XC1 Pro Class Champion Kailub Russell led the three-hour race from start to finish en route to his seventh win of the season.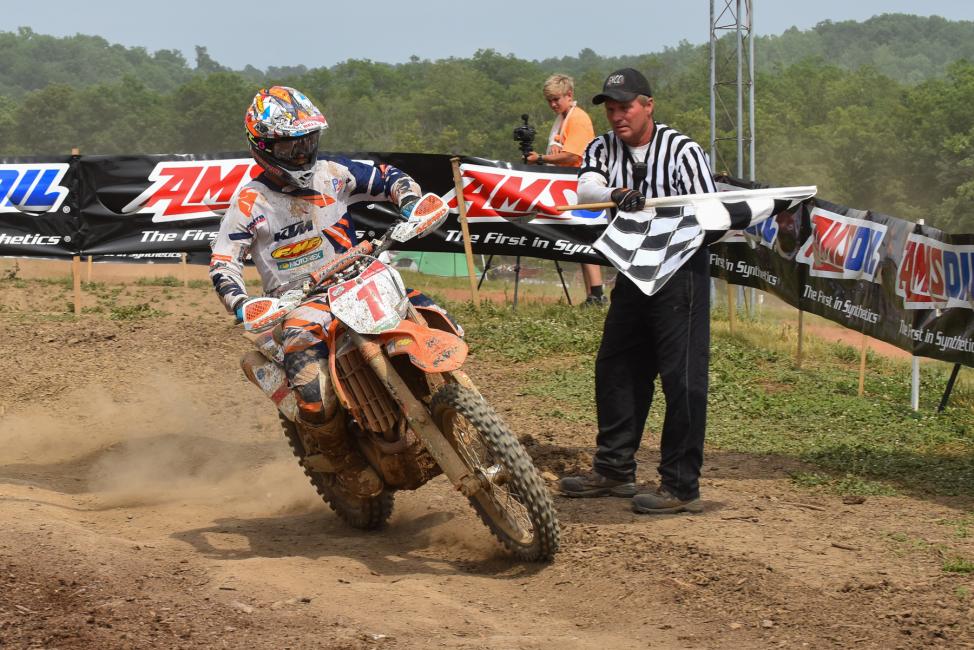 Kailub Russell dominated the 2015 Wiseco John Penton GNCC, finishing one minute and 37 seconds ahead of second.

Photo: Ken Hill
Rockstar Energy Husqvarna's Josh Strang was on the gas as the green flag flew, grabbing the $250 All Balls Racing XC1 Holeshot Award. Factory FMF/KTM's Kailub Russell was close in tow coming into the second corner, and would make the move into the lead during the opening lap.
AirGroup/Rockstar Energy/Husqvarna's Ryan Sipes, who had raced the Lucas Oil Pro Motocross Championship on Saturday in Blountville, Tennessee, would follow the FMF/KTM rider on lap one along with Rockstar Energy Husqvarna's Andrew DeLong and N-Fab AmPro Yamaha's Grant Baylor.
Russell's gap steadily increased on Sipes throughout the six-lap event; he would end up finishing one minute and thirty-seven seconds ahead of Sipes.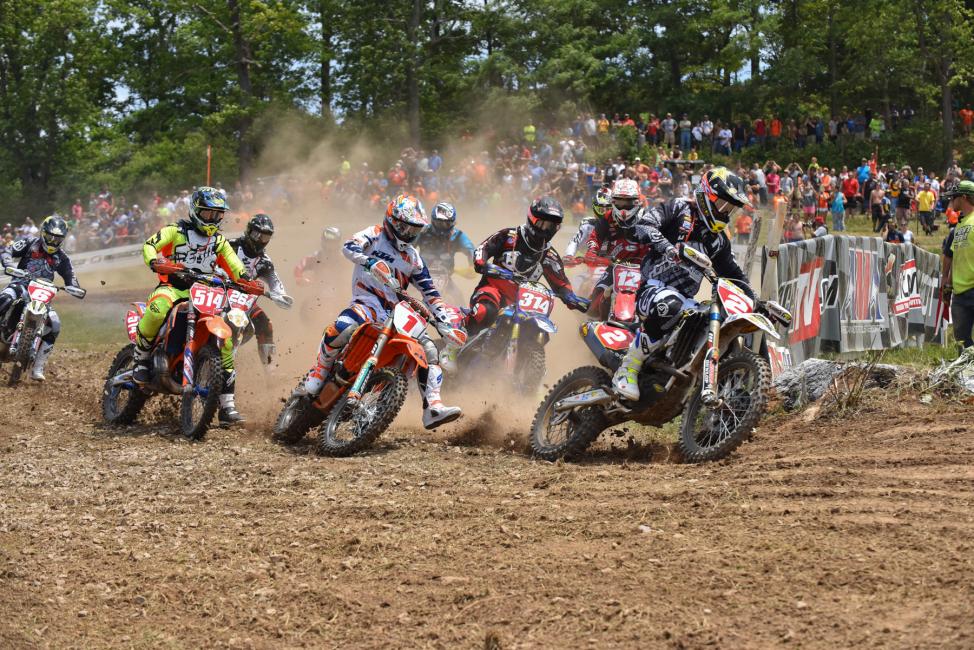 Josh Strang returned to GNCC this weekend, and grabbed the $250 All Balls Racing Holeshot Award.

Photo: Ken Hill
The exciting battle came just behind Russell and Sipes as Grant Baylor and Rocky Mountain ATV*MC/KR4/FAR's Thad DuVall made a charge through the pack. DuVall had battled with DeLong on laps two through four before making the pass stick during lap five. DuVall would set his sights on Baylor during the last two laps, pressuring him all the way to the checkers. As they headed towards the checkers through the motocross track, Baylor would cover his lines and cross the finish one second ahead of DuVall.
As Baylor and DuVall pulled away on the final lap, DeLong would cross the finish line and take fifth for the day. Not far behind DeLong, N-Fab AmPro Yamaha's Jordan Ashburn would capture the sixth place position, followed by Moto-Tech KTM's Steward Baylor in seventh. JCR Honda's Chris Bach came in eighth while HR Motorsports/Honda's Takeshi Koikeda came in ninth. Maxxis/Fly/Factory Connection's Chris Douglas would round out the top 10 in XC1, while Funmart Cycle/FLY/RidePG.com's Adam Bonneur would just miss the top 10 coming through in the 11th place position.
Strang had grabbed the holeshot and ran towards the front of the pack early in the race, but his shoulder would not hold up for the entire six laps. Crossing the line eighth on lap four would be his last lap of the day. Ultimately, Strang would finish 12th in XC1 and 140th overall.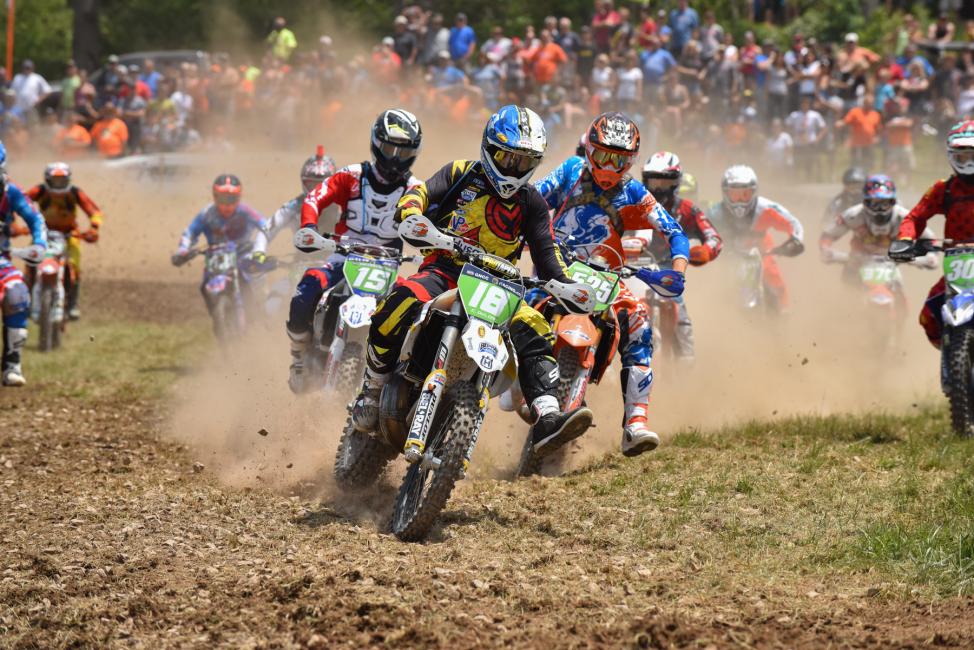 Craig DeLong captured the $100 Hot Cams Holeshot Award.

Photo: Ken Hill
In XC2 Pro Lites, Husqvarna Support Rider Craig DeLong would grab the $100 Hot Cams Holeshot Award and head into the woods first. As the XC2 riders came through the motocross track and towards the finish on lap one it would be Lojak Cycle's Ryan Lojak leading the way followed by Raines Riding University/Atlas Yamaha/OffRoadViking.com's Ricky Russell and Rocky Mountain ATV*MC/KR4/FAR's Nick Davis. Russell would grab the lead on lap two and run up front until pressure came from Davis and DirtWise/Maxxis/KLIM's Jason Thomas.
Davis would take the lead during lap four and hold on to capture his third victory of the season. Thomas would finish the race 21 seconds behind Davis earning second place followed by Russell in third. XC2 rookie, DeLong would cross the line in fourth followed by MCS Racing Callan May who would earn his best finish of the season with a fifth place.
Lojak would suffer a mechanical issue, and lose valuable time as he pitted to try and fix his brakes for nearly five minutes. Lojak would be unsuccessful in fixing the problem, which caused him to ride very cautious for the next three laps and fall back to 14th in XC2.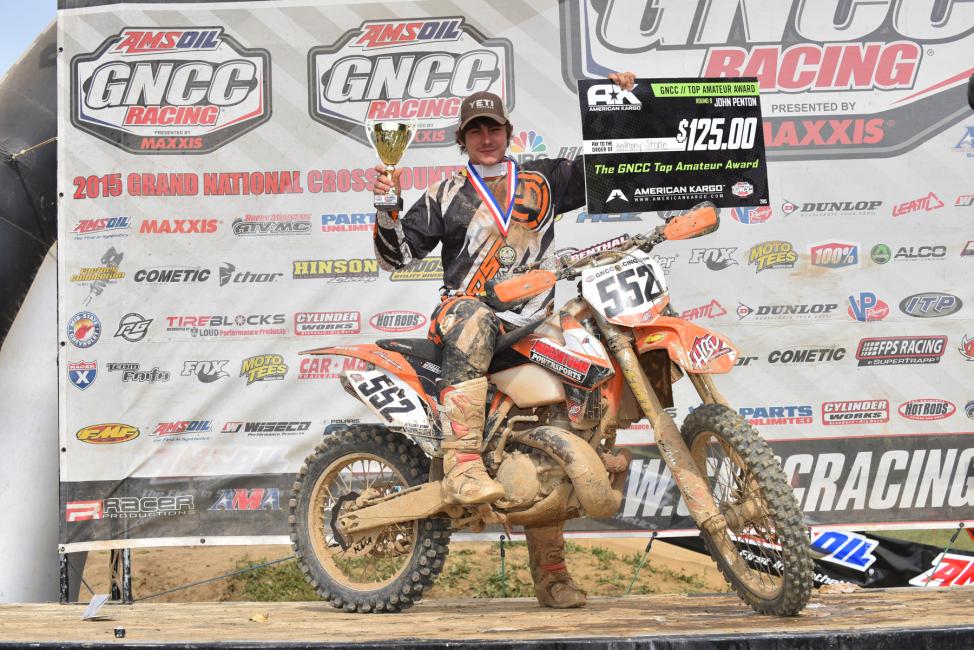 Anthony Stone earned his third win in the 250 A class, and the $125 American Kargo Top Amateur Award.

Photo: Ken Hill
West Virginia's Anthony Stone captured his third consecutive win in the 250 A class. Stone also earned 18th overall, which is he best overall finish this season, and the $125 American Kargo Top Amateur Award.
Factory FMF/KTM's Kacy Martinez grabbed another win in the WXC Class, followed by the N-Fab AmPro Yamaha duo of Becca Sheets finishing second and Jessica Patterson rounding out the podium in third. These girls also grabbed the top three overall positions in the morning bike race.
In the 8 a.m. Youth race, North Carolina's Conner Smith captured his third victory of the season in the Super Mini (14-15) class, followed by Chase Hayes in second and current points leader Jesse Ansley in third.
Also in the 8 a.m. Youth race, Rocky Mountain ATV*MC/KR4/FAR's Korie Steede became the first girl in GNCC Racing history to win the Super Mini (12-13) class.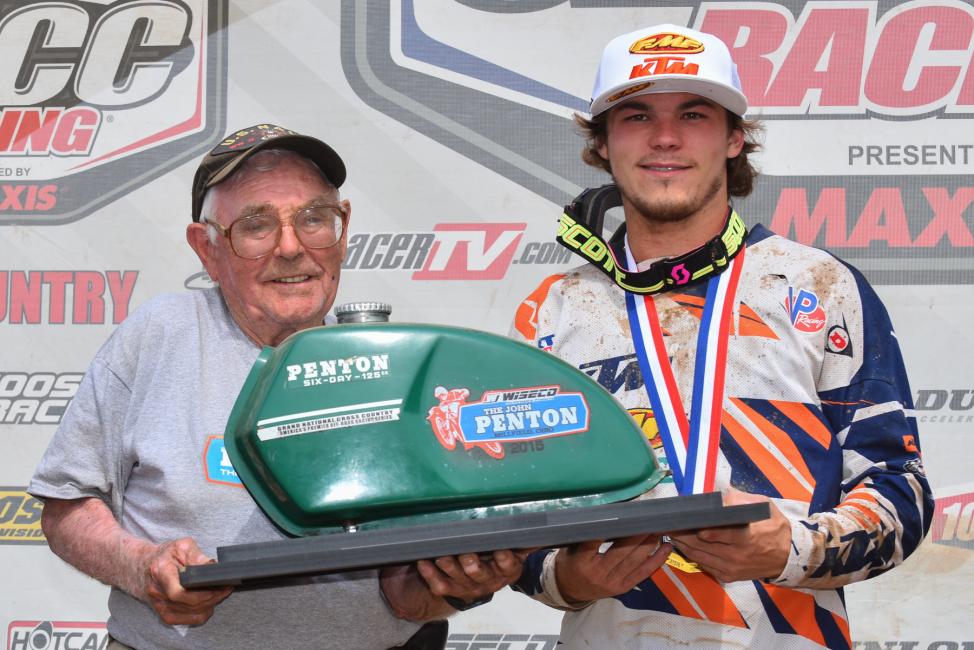 John Penton was on-site to personally present one of the best trophies ever, an original Penton Motorcycle gas tank, to Russell after his win.

Photo: Ken Hill
The 1 p.m. race was broadcast LIVE in its entirety on RacerTV.com and can be viewed as an archived video now online by visiting the GNCC LIVE page on RacerTV.com.
The 2015 AMSOIL Grand National Cross Country Series resumes June 20 and 21 with the AMSOIL Snowshoe in Snowshoe, WV. For more information on the series, visit www.gnccracing.com.
Stay up-to-date with exclusive content from the AMSOIL GNCC Series by following the series Facebook, Twitter and Instagram.
Wiseco John Penton GNCC
XC1 Event Results:
Kailub Russell (KTM)
Ryan Sipes (HSQ)
Grant Baylor (YAM)
Thad DuVall (HSQ)
Andrew DeLong (HSQ)
Jordan Ashburn (YAM)
Steward Baylor (KTM)
Chris Bach (HON)
Takeshi Koikeda (HON)
Chris Douglas (KTM)
*Overall National Championship Standings:
Kailub Russell (235)
Grant Baylor (147)
Chris Bach (126)
Ryan Sipes (122)
Thad DuVall (120)
Josh Strang (118)
Jordan Ashburn (89)
Jason Thomas (87)
Ricky Russell (70)
Craig DeLong (67)
*Indicates that the Overall National Championship Standings will determine the 2015 National Champion.
XC2 Event Results:
Nick Davis (HSQ)
Jason Thomas (KTM)
Ricky Russell (YAM)
Craig DeLong (HSQ)
Callan May (YAM)
Cory Buttrick (BET)
Ian Blythe (KTM)
Jesse Groemm (BET)
Michael Witkowski (KTM)
Austin Lee (YAM)
XC2 Series Standings:
Jason Thomas (192)
Ricky Russell (140)
Craig DeLong (139)
Layne Michael (127)
Trevor Bollinger (118)
Nick Davis (117)
Cory Buttrick (109)
Tegan Temple (99)
Austin Lee (88)
Callan May (81)