Lakewood, CO
Thunder Valley
Lucas Oil AMA Pro Motocross Championship
Eli Tomac had the drop on everyone in the 450 Class of Lucas Oil Pro Motocross Championship, and even champions like Ryan Dungey and Ken Roczen weren't keeping pace. Then, while building another huge lead at the True Value Thunder Valley National, Tomac crashed hard, didn't finish, and might have ruined his title chances all at once. Roczen appeared headed to the overall win until a flat tire led to two late crashes, and Dungey went past to take the win—and the points lead.
Here's Red Bull KTM's Dungey and Soaring Eagle Jimmy John's RCH Suzuki's Roczen at the post-race press conference.
Racer X: You got the win. What have you been doing to work on your speed?
Ryan Dungey: Well, it's no mystery that Eli [Tomac] has been going really fast. He's strong and fit, and always has been. His bike is dialed in, and in the beginning of the year we had some things to work on and we still do. We've made progress with the bike, but there's still room for improvement. With him going so fast so early on, it makes us have to play catchup quicker. You can't wait until halfway through the season then try to dig yourself out of that points hole like I did last year. I try to be consistent and put the pressure on as much as I can, but I've been a little bit off Eli's pace. But we we've been making progress every weekend. We were close to matching his times in that second moto, I believe, but he went down so early that I didn't really have time to gauge him.
How hard were you pushing to catch Ken Roczen in that first moto?
Yeah, he's been really good here for a long time. He's really good with picking good lines and in the ruts and stuff. As the laps were winding down, I really wanted those points, and I was taking bits and pieces out. Then he made a mistake, which made it easier to catch him, but we were inching up on him.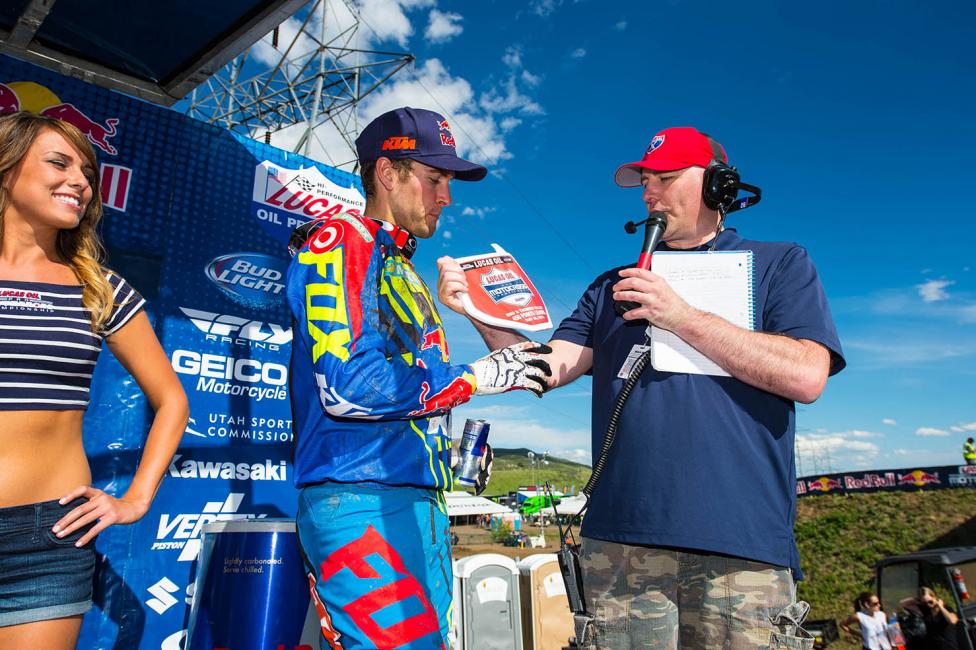 How do you find that balance between pushing and being conservative?
Today we were pushing the pace a little extra in a few areas, and we had a few close calls. If you don't have any close calls, you aren't pushing very hard. The guys did a good job getting the bike dialed in for me, and we made a few adjustments. It felt better, and good bike setup helps with line choice. These conditions, the ruts, have never been the best for me, but I haven't been bad in them either.
In our sport, the faster you go, things start coming at you really quick. In the second moto the track dried out a lot. There was a lot of water on it and it was very slippery those first few laps. It really changed a lot. The faster you go the more chance you have of making a mistake. As a rider you have to find that balance and know when to push it. You have to read the track.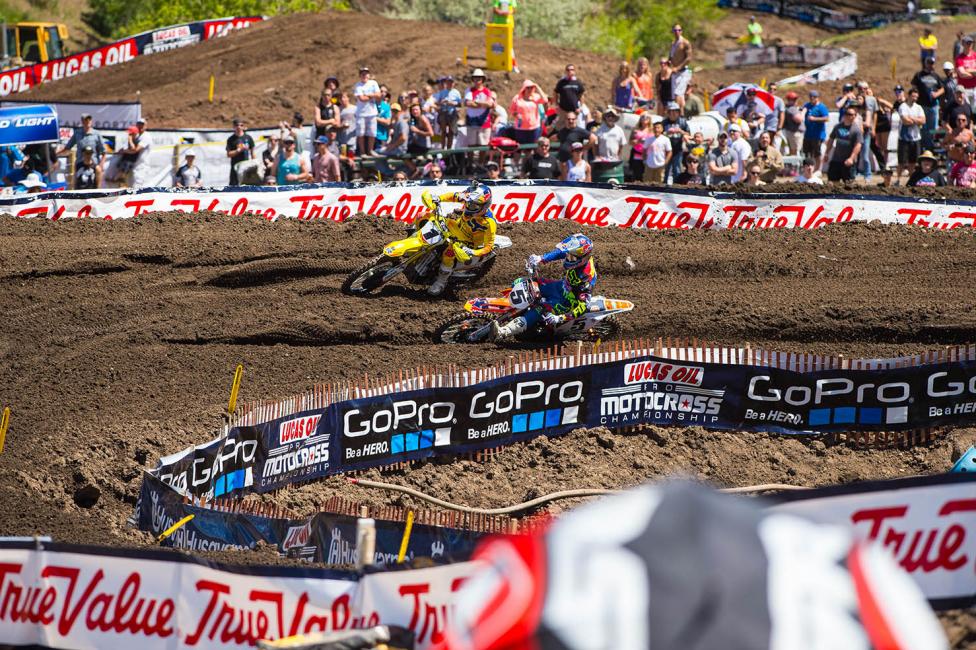 You've got the points lead now. Does that change your strategy at all from here on out?
No, we'll have the same game plan and the same approach. We're getting better each weekend, we're pushing it more, I'm feeling better, and the bike is getting better. I need to work on me, and what I can do on the bike, and the guys will work on the bike and see what they can do to make it better for me. It's a team effort and we're all in it together. We're going to keep building and work on getting stronger race by race.
Ken Roczen
Racer X: Quite the performance today. Take us through it.
Ken Roczen: We've been doing a lot of things with suspension and trying to figure things out. It didn't work too great in the first moto. I kind of struggled a little bit, but it got much better in the second moto and I flowed a lot better—I could ride much more like myself. I felt good in the second one, and I was trying to push to stay ahead of Ryan, but I got a flat and went down in that turn. I got up, jumped that triple, and crashed again, and I was like, "What's wrong?" I didn't know what was going on. It started turning really weird, then I realized I had a flat. So I took it easy those last few laps.
You were running second when Eli crashed. Did you see it happen?
No, I just saw yellow flags. I wasn't even sure if it was Eli at first; I just kind of saw him out of the corner of my eye. The track had gnarly ruts, so I just had to focus on where I was going. He's going really good right now, and I hope he's okay and healthy soon.
Talk about that first moto.
Everything was just a little off, and you try a lot harder at the beginning of the moto, and toward the end I didn't have anything anymore. Made a big mistake over a triple and almost endo'd. We made some changes and it worked a lot better in the second moto.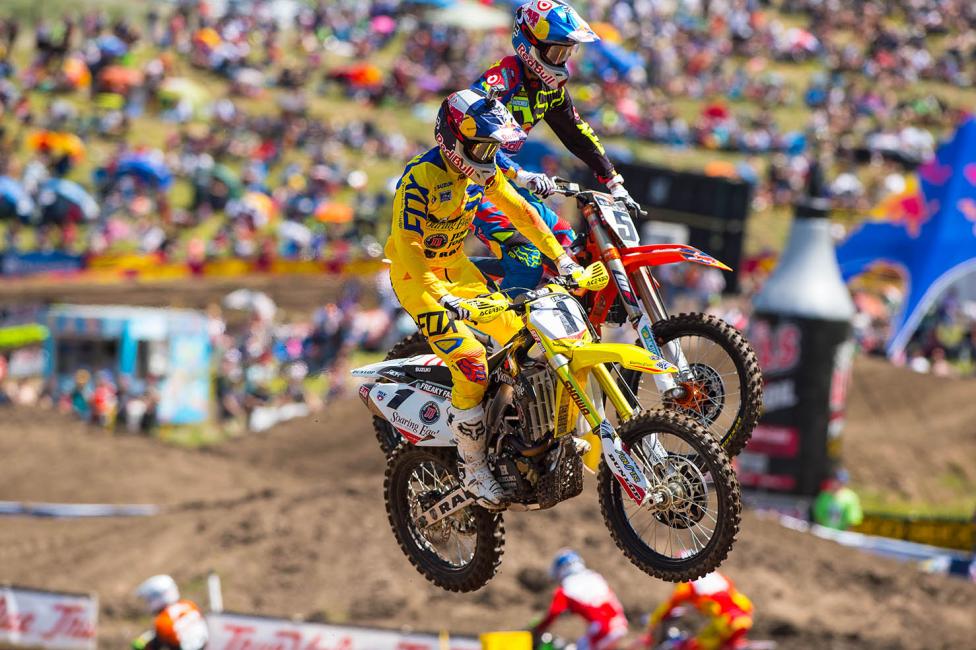 How's it feel to lead a race again? It's been a while.
Yeah, it has been a while. It feels good, but obviously it's not the way you want to lead, with Eli going down. But it is what it is and I'm looking forward to getting back out there and doing some more of it in the next few weekends. My last three or four weeks have been really rough, but I'm just trying to keep a positive mind.
How's the back?
The injury is still there. I can't really do a lot of things I would normally do to stay in shape. For example, I can't row, I can't run, I'm really limited in what I can do.
You made some ground in points today. Does that inspire you and the team? Are you back in it?
The first weekend is what basically messed everything up. There's a saying—you can't win the championship at the first round, but you can lose it. We definitely struggled there, and that's what hurts the most right now. But I'm doing everything I can to score as many points as I can because it's not over until it's over, as you can see from today. We'll do our best.
Is it really you laying down those fast times in Mad Skills Motocross?
[Laughs] Yeah, it's me.