Thunder Valley Motocross Park
Lakewood

,

CO
Thunder Valley
Lucas Oil AMA Pro Motocross Championship
Jason Weigandt also contributed to this article.
Sometimes a day of racing in Lucas Oil Pro Motocross can be extremely exciting, complete with great battles all over the track in every moto, without having much of an effect on the point standings. And sometimes it's just the opposite—the guys can get spread out and not have any huge battles, yet still cause a shakeup in the points. It was the latter today at the True Value Thunder Valley National.
The biggest shakeup in the points took place when Eli Tomac crashed hard in the second moto after completely dominating the first. Tomac was once again all by himself up front when he went down in a fast, sweeping right hander. He dislocated his shoulder in the crash and had to leave the track sitting in the back of the Asterisk Medical Mule. They were able to get his shoulder back in place at the track, and the initial word is that there no broken bones. The situation wasn't enough of an emergency to send Tomac to the local hospital, and he'll get himself checked out on Monday. He could be out for a while, and he could be back next week. There's just not enough information to know for sure quite yet. What we do know is that the DNF handed the red plate over to Ryan Dungey, who went 2-1 for the overall.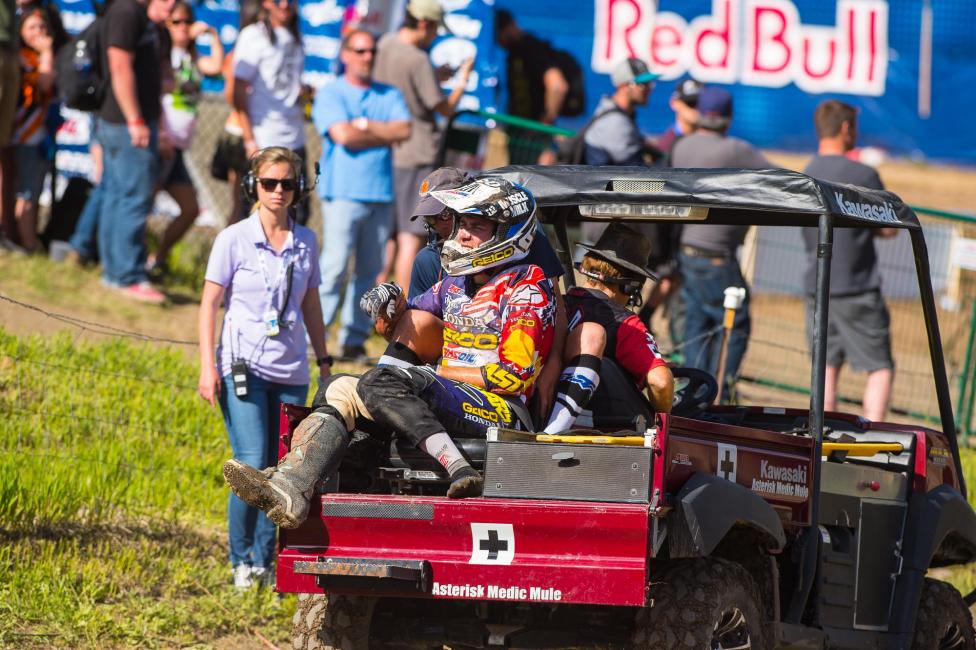 Ryan Dungey now has a three-point lead on Eli Tomac, but afterward he said it doesn't change his strategy at all. In typical Dungey fashion, he said "We'll have the same game plan and the same approach. We're getting better each weekend, we're pushing it more, I'm feeling better, and the bike is getting better. I need to work on me, and what I can do on the bike, and the guys will work on the bike and see what they can do to make it better for me. It's a team effort and we're all in it together. We're going to keep building and work on getting stronger race by race."
We mentioned Dungey now has a three-point lead, but he almost left Thunder Valley tied with Eli Tomac. Ken Roczen was leading deep into the second moto when he had a weird crash in a turn all by himself that allowed Dungey to catch him and go by. Roczen didn't know what had caused the crash at first, but when he felt the bike turning funny he realized he had a flat tire. He put it in cruise control and nursed it in for second.
The starts today were especially important—there was a steep uphill immediately following the gate, and because of the elevation the bikes were down on power. The 450s were even starting in first gear! Because of the different starting procedure, a lot of the riders made multiple runs up and down the start stretch during qualifying.
Broc Tickle nabbed fourth overall today with a 5-5 finishes, but that doesn't fully explain just how good his rides were. In the first moto he got a terrible start and was in seventeenth place after one lap. The second moto was better, but it wasn't great—Tickle had to come from outside the top ten to get fifth, and he had to go through riders like Jason Anderson, Christophe Pourcel, Phil Nicoletti, and Justin Barcia to do it.
Cole Seely is only three races into his 450 National career (two, if you don't count Hangtown where he crashed out in the first turn of the first moto), but things look like they're starting to come together. He holeshot the second moto and took fourth to go 8-4 for fifth overall, a result Seely said "wasn't bad for a supercross guy." Seely went on to say that his setup was especially good today, something he credited the team for, not himself. "I'm pretty good with getting set up for supercross, but outdoors I'm kind of lost with setup. I just listen to my suspension guy, the chassis guy, I listen to all these guys. They are so knowledgeable, they're the best in the business," Seely said.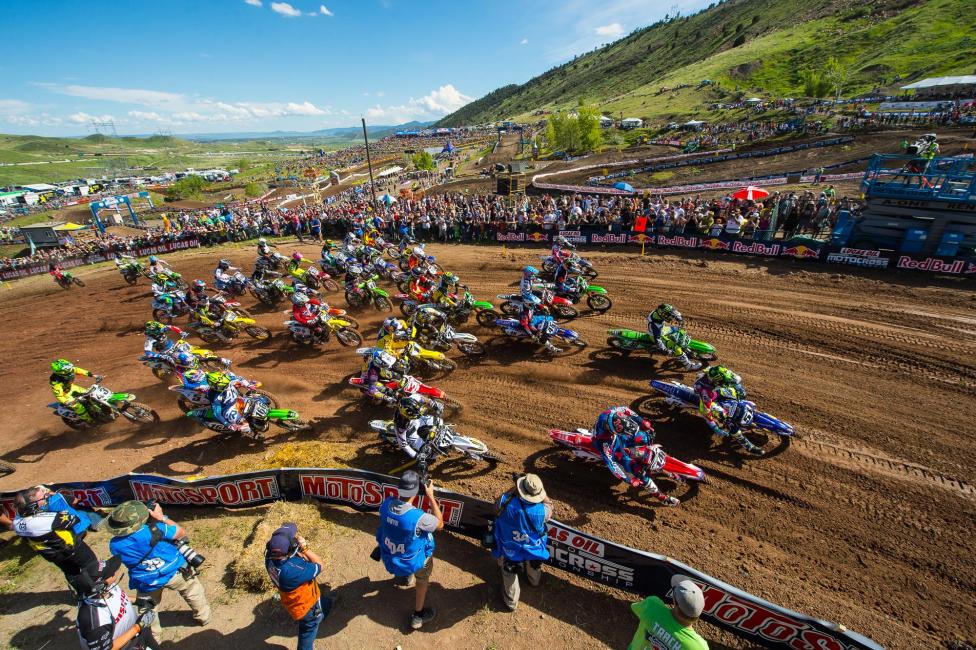 You don't normally hear about riders switching brands mid-season, but that's what Kyle Cunningham, who went from Kawasaki to Suzuki, did this weekend. Cunningham said he only had time to put about forty minutes on the bike before going out for qualifying! When the day was over he'd gone 17-15 for sixteenth overall.
Not the best day for the Cycle Trader.com Rock River Yamaha team. Killy Rusk had some electrical problems in his first moto, and Alex Martin had troubles in both of his motos. He went over the bars early in the first moto due to a stuck holeshot device and had to head into the mechanics area for repairs. After running fourth early in the second moto he found himself back in the mechanics area with a locked up rear brake. The solution? Disabling of the brake altogether for the rest of the moto. "To go 18-21 is really about as bad as I could do without getting hurt," Martin said. "I'm walking away healthy and looking forward to redeeming myself at Muddy Creek."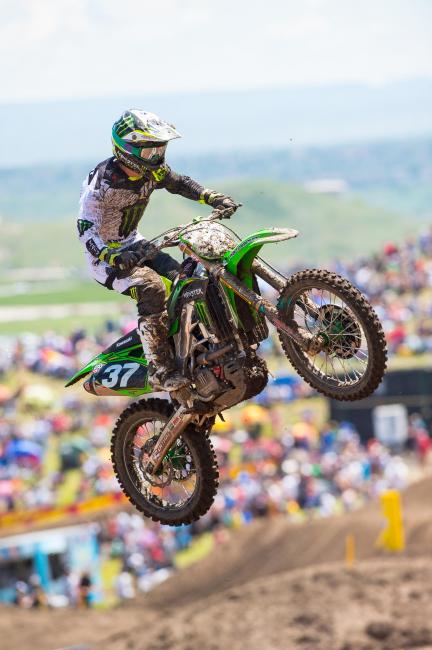 On the complete other end of the spectrum was Christian Craig, who was filling in for the injured Justin Bogle at GEICO Honda. In his first ever 250 National Craig surprised himself by laying down the fastest 250 qualifying time (Amazingly, Tomac and Roczen were the only 450 guys who were faster in practice) and going 4-6 for fifth overall. Not bad, especially for a fill-in guy who hasn't raced since last year, and whose main goal was to get inside the top ten!
We mentioned the shakeup in points due to Tomac's DNF, but 250 points leader Marvin Musquin also had a costly crash today. Musquin went down hard in the first moto while chasing Jeremy Martin and took a ton of time to get remounted. It was obvious he was in pain too as he stayed on the dirt shaking his head. Credit to Musquin for picking up the bike and finishing the moto in fourteenth place. He took second in moto two for seventh overall and now trails Martin by two points.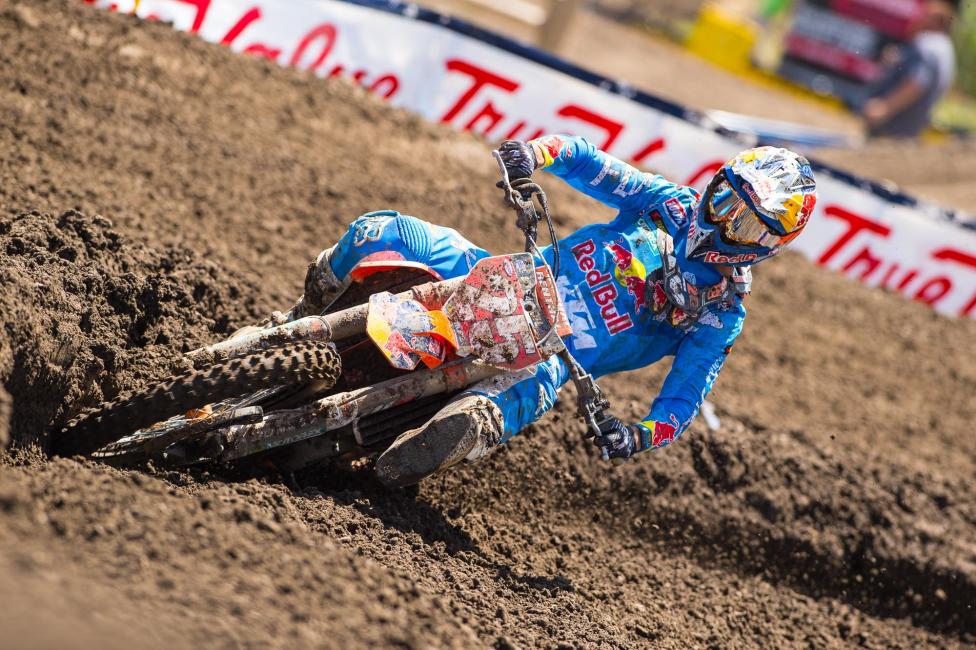 Jeremy Martin absolutely dominated the 250 class with 1-1 scores, but the bad news for everyone else is that he still feels like he has some things to improve with his bike and himself. He could get even better! Last weekend was chock full of bad luck at Glen Helen, but the defending champion never wavered in his confidence in himself. He started both motos up front and checked out both times. "It was good to get out front both times and not have to rip tear offs," he said.
For every action there's an equal and opposite reaction, and while some riders like Eli Tomac and Marvin Musquin lost their points leads with rough days, others experienced huge bounce backs. Chief among that group is Zach Osborne, who said his season was going so badly he had a mental breakdown on Tuesday, and his wife had to talk him out of it. Zach was hurting after a crash at Glen Helen and wasn't sure he'd be okay for the race, but on Wednesday he was finally able to go and started feeling better. "We came up here early for press day and shot some bow and arrows on Friday just to change it up and have some fun," he said. Zach says his team totally changed the suspension setup for the race and things worked much better.
It's taken much longer than predicted for Monster Energy/Pro Circuit Kawasaki's Adam Cianciarulo to finally make a podium outdoors, but he made the grade here at Lakewood. He still admits he's short of fitness for two motos and not even close to the level of the likes of Jeremy Martin or Marvin Musquin, but inconsistency from others opened the door for a podium late in the second moto. He had to battle GEICO Honda's Jordon Smith the whole way to get it. "I had nothing left late in the moto, but I knew looking at the scores before the race that a top five might give me a shot at the podium. Then I saw it on the board and I just said I was going to get the podium or go down trying."