Welcome to Racerhead, coming to you for once from the mother ship back in West Virginia. After two solid weeks on the road helping to get the Lucas Oil Pro Motocross Championship up and running, this weekend will be spent at home watching the True Value Thunder Valley National in Lakewood, Colorado. That's where thirty-nine 450s will be trying to stop the #3 freight train of Eli Tomac, and where defending champ Yamalube/Star Racing's Jeremy Martin is going to try to make it through the first two turns without incident and then set sail against Red Bull KTM's Marvin Musquin, winner of three of four motos so far and the 250 points leader.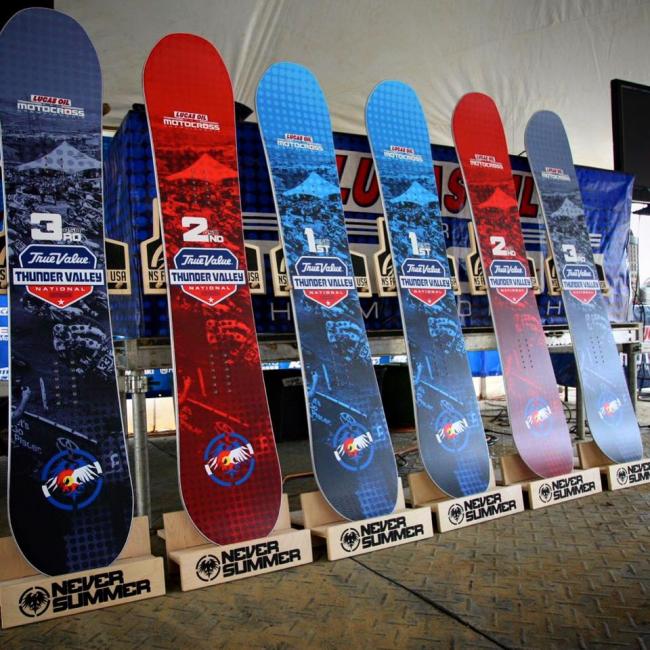 You can watch the True Value Thunder Valley National live on MAVTV or streaming right here online beginning around 2 p.m. ET, with the Jimmy Albertson-hosted pre-show, then the actual motos at 3 p.m. ET with Jason Weigandt, Grant Langston, and Georgia Albertson.
Unfortunately, there will be a slight delay on the airing of the second motos on NBC Sports Network due to a big weekend for hockey, as the NHL's Conference Finals are going down to Game 7. So instead of the second motos coming on live, they got kicked back a couple of hours to 8 p.m. ET, but the live stream online should continue. Sorry for the delays; that's the sporting world for you.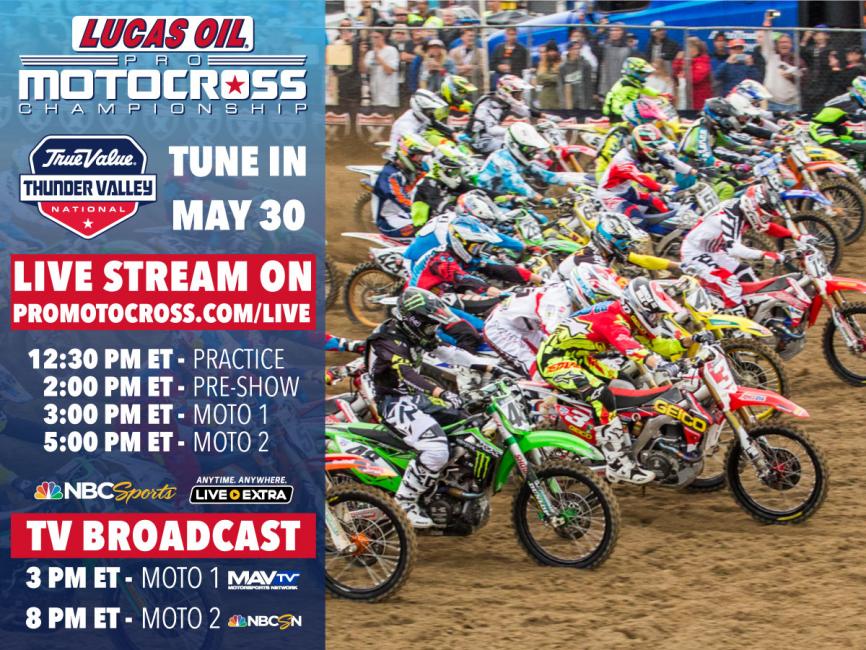 So last weekend ended the California portion of the summer of 2015, and it was another fantastic race. The weather cooperated, the Jody Weisel-designed track was spectacular and rough, and the fastest guys won (and anyone who argues that it was one-lined may want to check out Jeremy Martin's 5-6 moto finishes after starting behind the entire pack in both motos!). There were a few folks saying they weren't into the steep, tight Yamaha 1 and 2 hills, but if you saw Eli Tomac hit the sheer face and whip his bike over into the berm, you loved them—I know Eli did! It was a very good event, and while it's always challenging at Glen Helen due to so many folks in the industry being nearby and the need access to work the event, everyone pulled together and made it happen. I also think there was a deep drive to make the event go as well as possible for track manager Lori Bryant, who had suffered a personal tragedy a couple of weeks before the race. Despite the early-morning storm warnings, lots of folks showed up and they saw a great track and some good racing.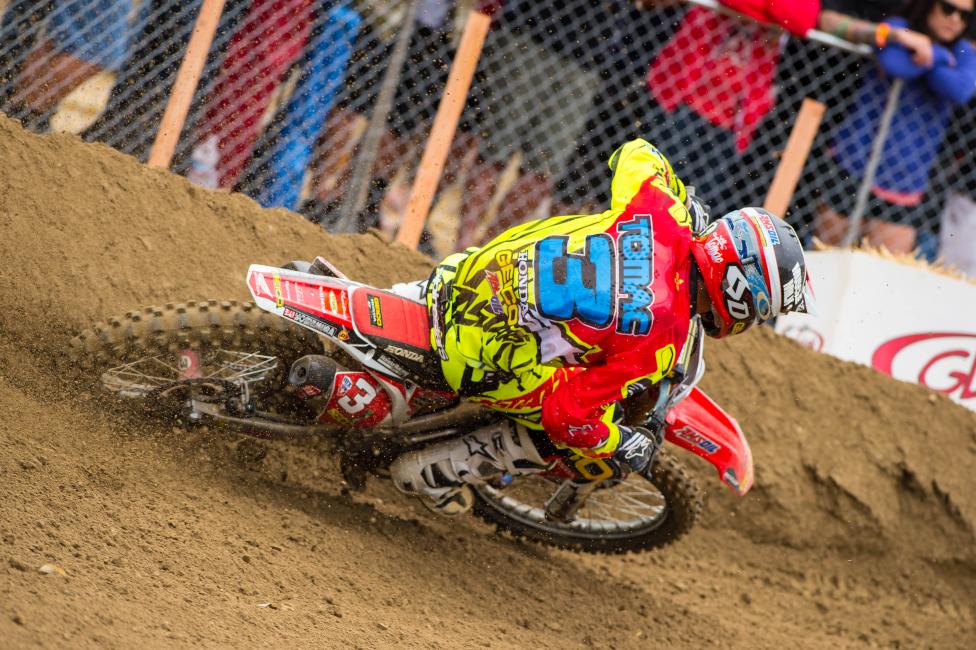 Now the series moves east to David Clabaugh's Thunder Valley, which rests at the foot of the Rockies in Lakewood, just outside of Denver. Here's a cool preview video that Eli Tomac did with GuyB and Vital MX where he shows you the track (a work in progress during yesterday's press day activities) and also talks about his KYB suspension and his strategy of just keeping the red plate, and even acknowledges that very distant whisper of "24-0," which he doesn't even want to think about—at least not until he's, like, 20-0!
With that, let's get into the week it's been, and a little on what to expect tomorrow.
KTM 1-2-3 (DC)
The firsts keep coming from KTM in 2015. The Austrian brand won its first Monster Energy AMA Supercross Championship in 450SX with Ryan Dungey, as well as its first East Region SX title via Marvin Musquin. They also won more races than ever before in the 450 Class, and now they have another first: 1-2-3 in an outdoor national, via Musquin, his Red Bull KTM teammate Justin Hill, and Troy Lee Designs KTM rider Jessy Nelson. We couldn't find a 1-2-3 by another European brand all by itself, but we did find this: In 1972, at that first official AMA Motocross race at Road Atlanta, European brands CZ (Czechoslovakia), Husqvarna (then Sweden), Maico (West Germany), and Bultaco (Spain) occupied the first seven spots and nine of the first ten in the old 500cc Class. Of course the Japanese brands would not join the nascent series in full force until the following year, so just one Yamaha rider from Jacksonville, Florida, named Gerald Hastings cracked the top ten at Road Atlanta. It's his one and only finish listed in The Vault, not to mention his one and only claim to fame that we know of in motocross!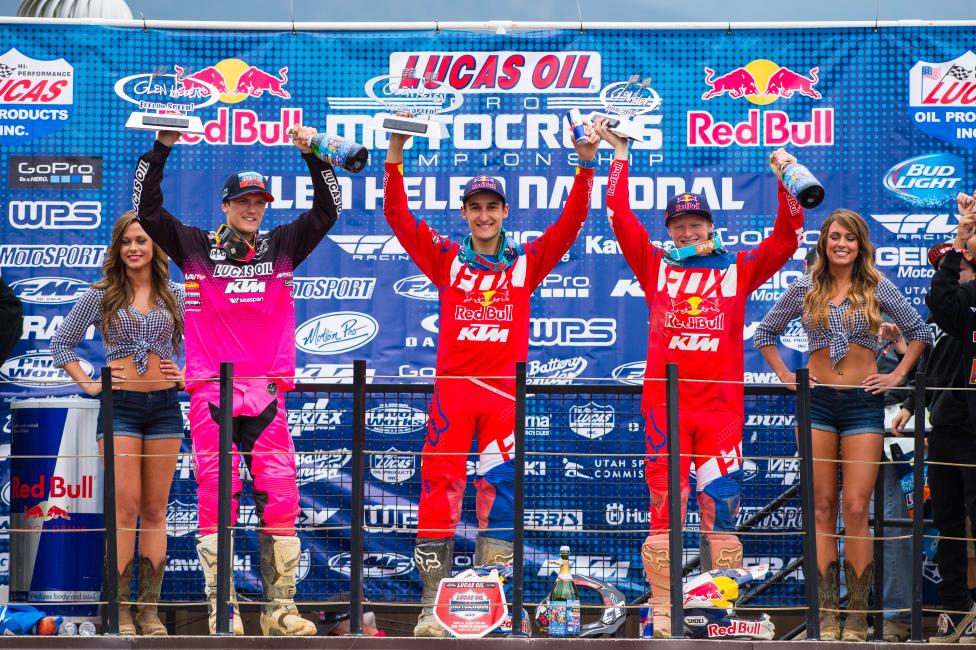 WEATHER UPDATE (Aaron Hansel)
According to Wunderground.com, Lakewood, CO, has received rain almost every single day this month. The good news is you'd never know it by looking at the Thunder Valley track right now. The track hasn't received any substantial precipitation since Wednesday evening, and the dirt looks fantastic—even a little dusty in some areas! In fact, even as this sentence is being typed there are minis (the amateur program is taking place at the moment) circulating the track with no problem. Props to the Thunder Valley track crew for getting the racing surface in great condition, and thanks to Mother Nature, who apparently is a fan of the Nationals, for letting up just in time. Unless the weather report, which is calling for clear skies and a high of 74 degrees tomorrow, is wrong, it looks like we're in for another great day of racing!

THE NUMBER: 21 (Andras Hegyi)
This is the 21st premier-class National season when a rider was able to start by winning the first two rounds. GEICO Honda rider Eli Tomac is the 13th rider to win the first two races. Prior to ET3, the list begins way back in 1972 with Sonny DeFeo, a CZ rider from New York. Next was Bob Hannah, then (in order) Kent Howerton, Jeff Ward, Ricky Johnson, Jeff Stanton, Mike Kiedrowski, Jeremy McGrath, Ricky Carmichael, James Stewart, Chad Reed, and Ryan Villopoto. There have been 14 seasons where the rider who started with two wins also became champion: Hannah in 1978 and '79, Howerton in '80, Ward in '85, Johnson in '86 and '87, Stanton in '92, Kiedrowski in '93, and Carmichael in 2002, '03, '04 and '05, Stewart in '08, and Villopoto in '13.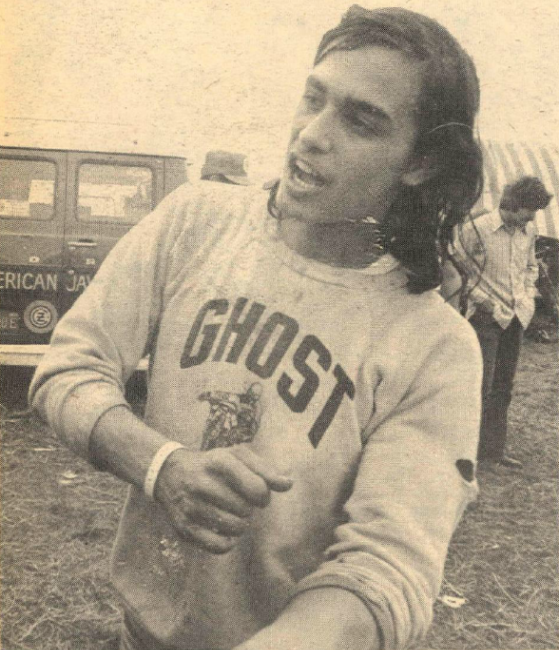 But there are six other seasons where two wins in the first two rounds didn't lead to the title. It started with DeFeo, who didn't ride all of the races that first year and finished ninth overall. In 1983, Honda rider Hannah finished third, having been hobbled by a broken wrist in supercross. In 1996 McGrath, another Honda man, finished second after losing a big lead with a mistake at Spring Creek, then losing the final-round showdown to Jeff Emig. In 2007 Suzuki rider Carmichael rode part-time, and while he won all six rounds he rode, he finished sixth in the final standings. And in 2011 Honda rider Reed finished third. Finally, in 2012, Suzuki man Stewart finished 12th after getting hurt at the third round of the series at Thunder Valley in Colorado after a photographer inadvertently crossed the track in front of him.
KTM didn't only get its first sweep in AMA Motocross history at Glen Helen, but the first non-Japanese brand to sweep the overall podium in any categories or championships. Here's the other races with podium sweeps (or better) as calculated by our master bench-racing statistician, Andras Hegyi:
1977 Hangtown: Suzuki 1-2-3
1987 Lakewood: Honda 1-2-3-4
1987 Spring Creek: Suzuki 1-2-3
1989 Hangtown: Honda 1-2-3-4
1989 Southwick: Honda 1-2-3-4
1990 Washougal: Suzuki 1-2-3
1997 Budds Creek: Kawasaki 1-2-3
2007 Spring Creek: Kawasaki 1-2-3
2007 Steel City: Kawasaki 1-2-3-4
2007 Glen Helen: Kawasaki 1-2-3
2010 Freestone: Kawasaki 1-2-3
2011 Hangtown: Kawasaki 1-2-3
2011 Red Bud: Kawasaki 1-2-3
2011 Spring Creek: Kawasaki 1-2-3
2011 Washougal: Kawasaki 1-2-3
2014 Hangtown: Yamaha 1-2-3
2015 Glen Helen: KTM 1-2-3
WELCOME BACK, CC (DC)
By now you probably know that GEICO Honda rider Justin Bogle is out with an injury, and the team has called on former rider Christian Craig to strap the boots back on and fill in for a while. In a complete coincidence, we happened to be looking at photos from Glen Helen '96 for a magazine feature when we found a half-dozen photos of a little kid playing around on Michael Craig's bike. We immediately recognized that it was Christian as a little boy and sent the photos to his father-in-law Jeff Myczak of the GEICO Honda team so that he would have a month of funny photos to post of his son-in-law on #TBT!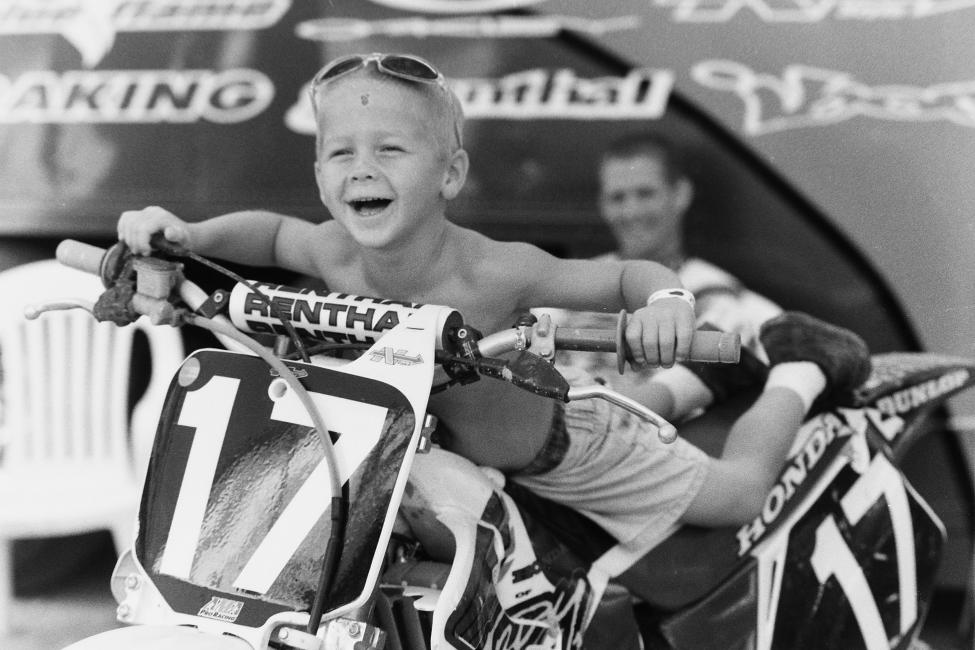 MARVIN'S MARKS (Andras Hegyi)
Marvin Musquin became the first foreign rider in 125/250 national history to win in four different seasons. Since 2012, "Marv Attack" has been able to win in every season. And among non-American riders, only South African Grant Langston and Frenchman Christophe Pourcel were able to get more wins than Musquin. Langston has a career total of nine; Pourcel has seven wins.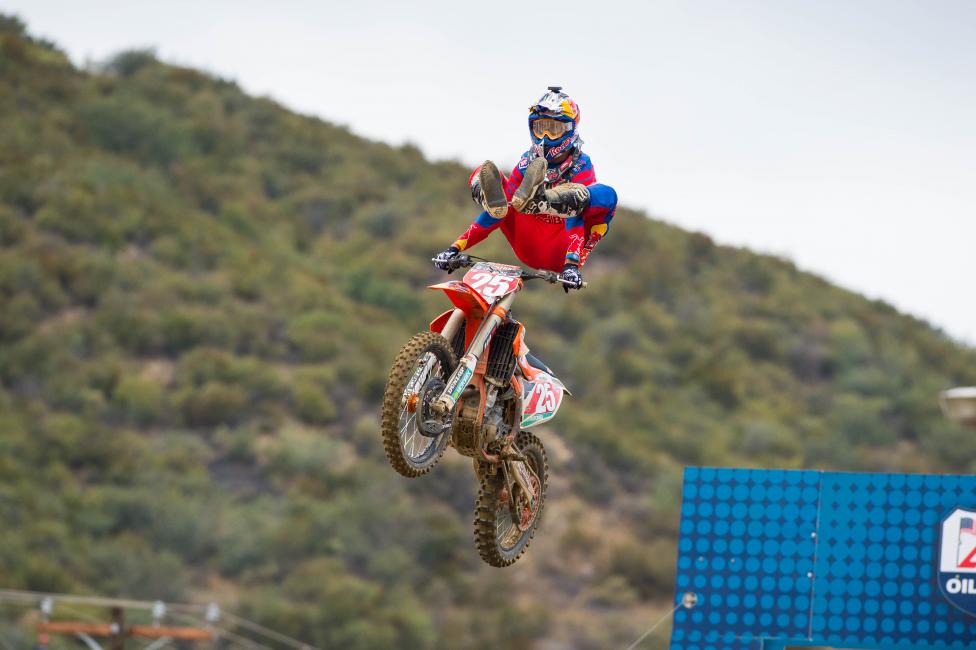 Here are the riders with wins in at least four consecutive 125/250 seasons:
Mark Barnett (six straight seasons 1978-'83)
Guy Cooper (five 1987-'91)
George Holland (five 1985-'89)
Johnny O'Mara (four 1981-'84)
Erik Kehoe (four 1985-'88)
Broc Glover (four 1977-'80)
Marvin Musquin (four 2012-'15)
Musquin also now has most wins in the saddle of KTM in this division, as Glen Helen marked his sixth career win. We imagine he will be expanding that record soon!
MEANWHILE, OVER IN EUROPE... (DC)
The British Grand Prix went off last weekend without Ryan Villopoto, who is still nursing that back injury and may not be back for some time. His name appears on the pre-entry lists for every round, but there's apparently no actual timetable for his comeback as far as anyone knows.
But there were some Americans at the race at Matterley Basin, and some did quite well. Thomas Covington, who went straight to Europe from racing amateur here in the U.S. two years ago, finished a so-so ninth in MX2. Darren Sanayei, a Kawasaki Team Green rider from Washington, was invited to England to race in the EMX250 race and ended with a solid win in the first moto. Unfortunately, a crash off the start in the second moto left him climbing through the pack and he finished thirteenth in the moto and fourth overall. And in the EMX150 class for Honda CRF150 riders, Slade Tressler, a super-nice kid from Florida we met last month at the Italian GP, placed tenth overall in his group and might have had himself a top-five if not for a couple of small mistakes. He's living in the UK and hoping he can parlay some good finishes in the 150 class for a ride next year on 125s or 250s.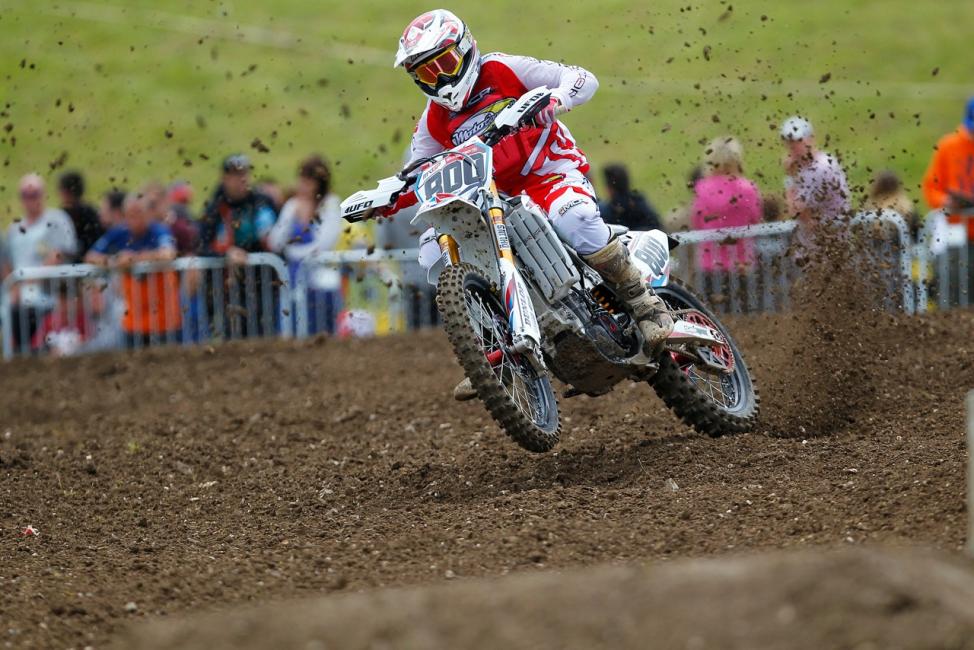 Mike Alessi was also there, skipping his home national race at Glen Helen for the British GP; Alessi has not raced in Lucas Oil Pro Motocross since 2013, having missed the opener last year with food poisoning and then moving to Canada to race on their national circuit. Things didn't go very well in England for #800, as Alessi struggled on the same track where Team USA won the Motocross of Nations in 2006. He only managed a nineteenth-place finish out of twenty-six total entries. Coincidentally, Alessi's Smartop/MotoConcepts teammate Vince Friese scored points in both 450 motos at the FMF Glen Helen National, 18-19. Alessi will try again in France this weekend at Villars-sous-Écot, where Team USA won the Motocross des Nations back in 1988. Here's hoping he starts riding like his old self again soon. The FIM World Championship will be traveling to the States later this year for the finale at Glen Helen. KTM USA and Husqvarna have both confirmed their American teams will participate.
LORD CAIROLI (Andras Hegyi)
The last foreigner to become the Kind of England was William the Conqueror in 1066, but he was from Normandy on what is now the French coast. Well, England has a new conqueror, and he's from an island off the toe of Italy called Sicily. Last Sunday Tony Cairoli became the most successful rider in the history of the British Grand Prix. Cairoli has won now on six times at the British GP. To win there is always hugely prestigious, because England is the cradle of the motocross, having hosted the first back in 1924. So far there have been 106 total British GPs, spread across all of the classifications. There have been seventy different riders to win, some multiple times. Cairoli won in in 2007, '08, '11, '12, '14 and now '15. That allowed him to overtake the two Belgian legends, Stefan Everts and Joel Robert, each of whom won five British GP events.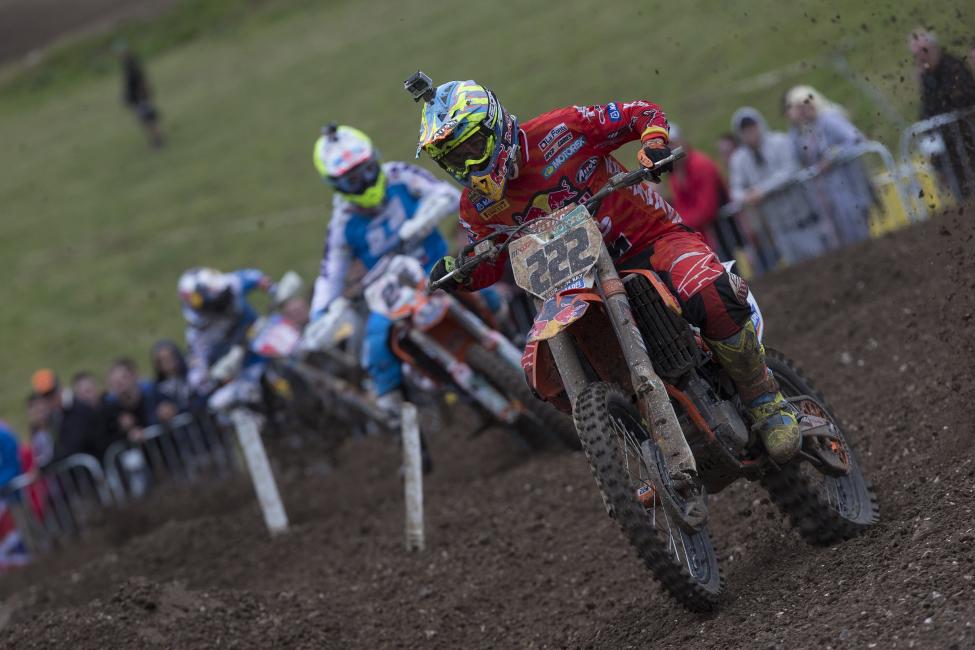 Also, Swiss rider Valentin Guillod quickly added a second win to his career total, beating Red Bull KTM's heavily favored Jeffrey Herlings straight-up in the crucial second moto. Herlings is still the man over there in MX2, with a massive points lead, but he's lost three GPs now, first to the Slovenian Tim Gasjer and now twice to Guillod. Guillod rides a Yamaha YZ250F and is trained by former GP great Yves DeMaria.
MILLSAPS' NEW DEAL (Chase Stallo)
Over the course of the last month, rumors and speculation have swirled that Davi Millsaps was putting together his own deal and would ride a Suzuki in Lucas Oil Pro Motocross. Today it was announced that he's found a landing spot. The former Monster Energy Kawasaki rider will contest the final six rounds of Lucas Oil Pro Motocross on a Suzuki RM-Z450 with help from Mountain Motorsports and other sponsors.
"We are extremely pleased to see Davi back competing in professional motocross, where he belongs," said Dustin Farthing, president and co-owner of Mountain Motorsports. "I could not be more excited to support Davi. He is a proven champion, and I know he is extremely focused to get back to racing and on top of the podium."
In April, Millsaps' contract with Monster Energy Kawasaki was terminated, leaving the 2006 SX Lites East Region Champion without a ride for the remainder of Monster Energy Supercross and Lucas Oil Pro Motocross. Neither Kawasaki, which issued a vague press release in April, nor Millsaps, who later issued his own statement, have been forthcoming in regards to why his contract was terminated.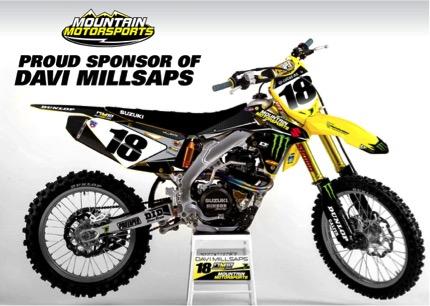 Through various sources, none of which would go on record, Jason Weigandt reported that Millsaps was fired because Kawasaki found a prohibited substance in his locker in the team truck. Millsaps denied he violated any AMA or FIM rule or regulation.
"I am aware that there is much speculation regarding my termination," he said in a statement in April. "While I am not at liberty to discuss details, I can say without equivocation that I have not violated any AMA or FIM rule or regulation. At this point I am evaluating my options, both professional and legal."
Millsaps is expected to return to racing on July 4 at RedBud.
THINGS YOU COULDN'T GET AWAY WITH TODAY
Honda Dirt Track win ad from yesteryear, when the series was called the Winston Pro Series.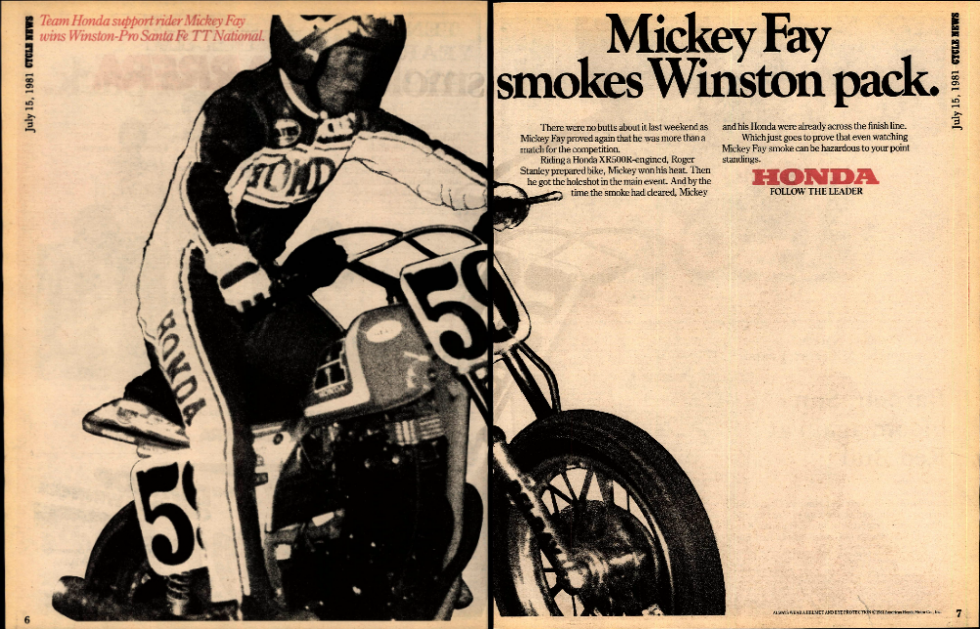 OH CANADA! (Steve Matthes)
It's time for the Canadian Nationals to get up and running, and this weekend in Kamloops, British Columbia, the ten-round series starts. You can listen to myself, Ryan Gauld of Guaranteedmx.com, Newf from Atlas Brace (racing the first few rounds), and Canadian National #8 (but now injured) Dylan Kaelin discuss what we think is going to happen here, but if you're too lazy, here's a primer.
GDR Honda's Colton Facciotti is the defending MX1 Champion and will battle the last two Canadian champions who never lined up to defend their titles in OTSFF Yamaha's Matt Goerke and Monster Kawasaki's Brett Metcalfe. So we have a perfect storm of three recent 450MX champions all duking it out. Add to the mix Canadian Cole Thompson of the KTM Canada team coming off a missed year after ACL surgery, and Husqvarna's Tyler Medaglia and Georke's teammate Bobby Kiniry, and we should have a nice battle for the King of Canada!
In the MX2 class it's KTM's Kaven Benoit trying to defend his title against GDR Honda's Jeremy Medaglia and MX 101's Jimmy Decotis. (And I apologize for anyone that I didn't put in here or missed!) I think both classes should be entertaining. Benoit's on a 250 two-stroke (the Canadians allow this, but the two-stroke can't be modified inside the motor), and for those of you wondering about the MCR team, riders Mike Alessi and Vince Friese are apparently racing the Calgary and Gopher Dunes rounds and that's it. (Go follow @directmx or @guaranteedmx on Twitter and bookmark their sites to find out what's going on in the great white north this summer.)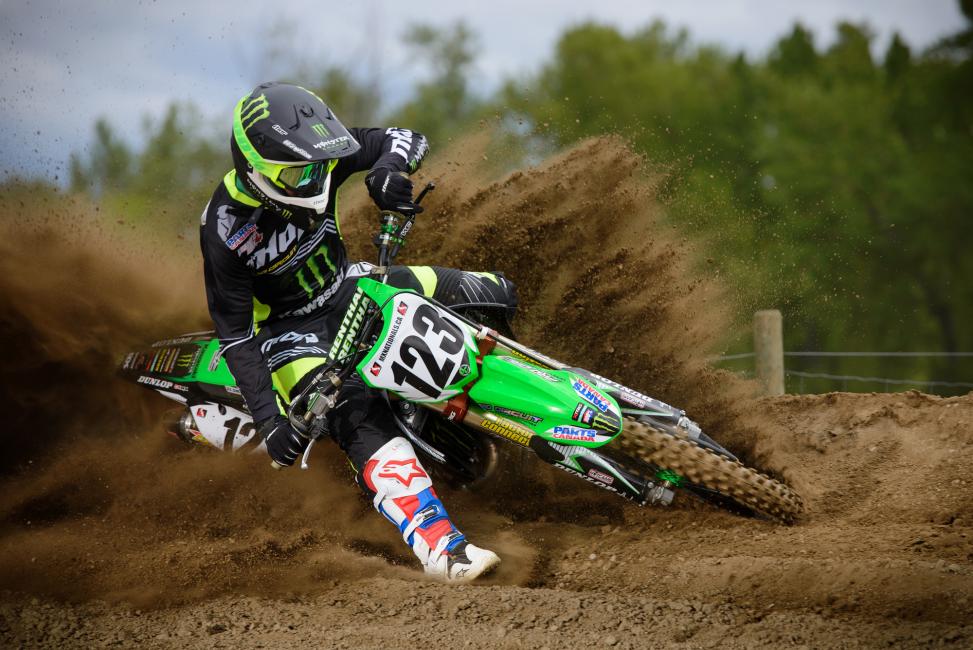 NEAR-TRAGEDY IN FRANCE (Chase Stallo)
Three members of the Team HRC (MXGP factory Honda) hospitality staff were airlifted to different hospitals in Geneva, Lyon, and Strasbourg after suffering from carbon monoxide poisoning while sleeping in the team's hospitality truck yesterday at the MXGP of France. As of today, all three are continuing to receive oxygen treatment and are under medical observation, the team said in a statement, adding, "no prognosis has been given at this time and due to the subjective nature of carbon monoxide poisoning, this timeframe also cannot be specified."
The team is currently investigating the source of the carbon monoxide. Authorities currently posses the truck and are conducting tests. The team will race this weekend at the MXGP of France.
HEY, WATCH IT
Want to feel the raw power of Lucas Oil Pro Motocross? Get close, as Pro Motocross just released Sound of the Nationals: Hangtown. It's raw footage from the opener. Check it out here.
How about something very cool old-school? Yamaha's history of its world-changing Monoshock motocross bikes is an exceptional piece of moto cinema.
Check out Lucas Oil/TLD KTM's Jessy Nelson having a sandy blast on a 150 two-stroke.
How about some Jimmy Talk? Jimmy Albertson breaks down the track at Glen Helen and why guys are finishing where they are, right here.
And for you two-stroke fans out there who missed the FMF Two-Stroke Challenge from Glen Helen, it's all right here, hosted by Little D. himself.
PULPMX LINKS, BRO (Matthes)
Our man Moser does his best text interview with Brett Metcalfe in his Short Comings story here.
Tony Blazier details Damon Bradshaw's lost year of 1993 where he would hang it up in his MX Captured column here.
Grant Langston and Jason Weigandt joined me to talk Lakewood and take your calls on the Fly Racing Moto:60 Show here.
Swizcore wrote about the revelation that is Alex Martin in his weekly column here.
RANDOM NOTES
Check out this deep-dive podcast with Fasthouse's Sean Collier by Brad Gebhardt on all-things-two-stroke.
Marvin Musquin just wrapped up his first career Monster Energy Supercross 250SX East Region title. The new champ is also on the July 2015 cover of Racer X Illustrated. To help him celebrate we are doing a Cover T-Shirt Sub Drive: subscribe now or renew and we will send you a FREE Marvin Musquin cover T-shirt!
The cost for a one-year subscription is just $20, but you have to act now—this offer is available for a limited time only and good only while supplies last. Just click on the banner for more details, then subscribe and get yourself a free Marvin Musquin Cover Tee!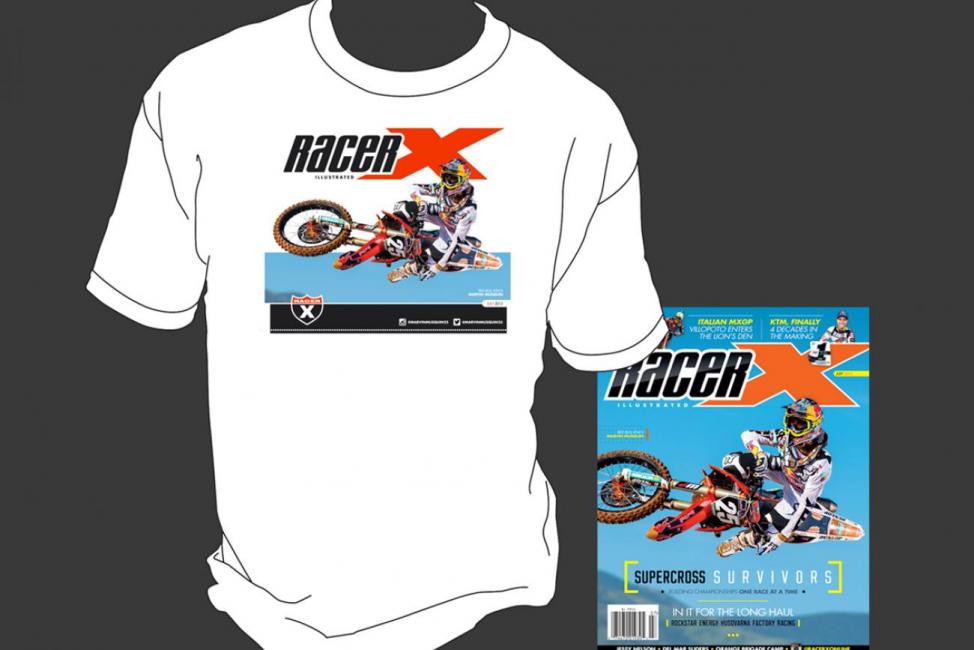 Headed to Thunder Valley? Don't miss your chance to spend all day in the pro pits with the Racer X All-Day Pit Pass!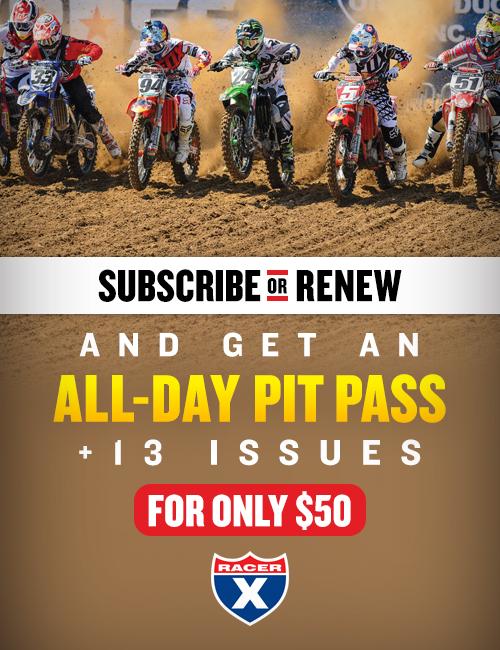 For $50 you get 13 issues of Racer X Illustrated plus an all-day pit pass. If you're buying more than one pass you can get a multi-year subscription, or you can give the subscription as a gift. This offer is good for both new and renewing subscribers.
Quantities are limited, so preorder your Racer X All-Day Pit Pass HERE before they sell out.
Set up your spot in the infield with this 30x60 towel featuring HRC Honda's Trey Canard.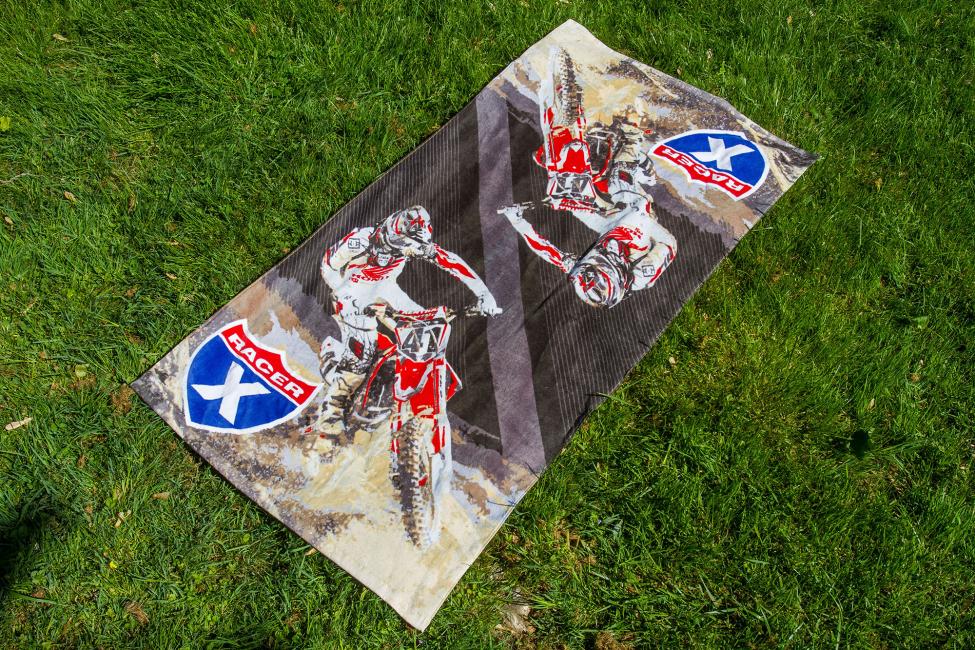 Just stop by the Racer X booth on vendor row to subscribe or renew and get 13 issues of Racer X Illustrated plus a Trey Canard beach towel for just $25!
Don't forget stickers are always free at Racer X! Be sure to stop by and get your 2015 Thunder Valley event sticker.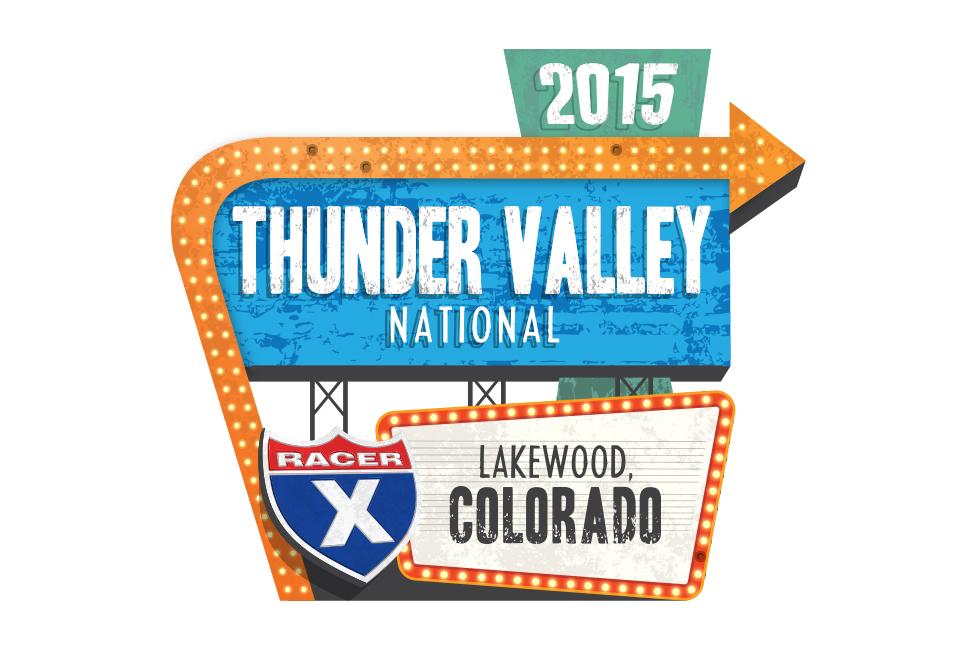 Acerbis is sponsoring the Thunder Valley round of Racer X MotoDynasty Fantasy Motocross and will be giving out prizes to the winners of the 250 and 450 Classes. Click HERE for a chance to win.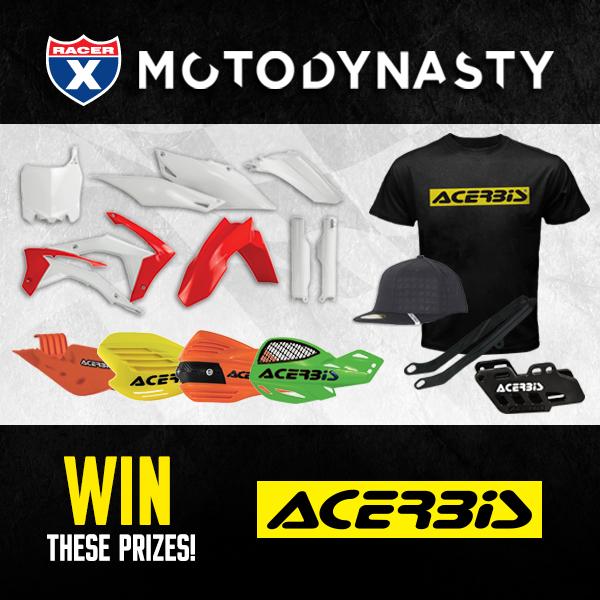 That's it for Racerhead. Thanks for stopping by—see you at the races.