Lakewood, CO
Thunder Valley
Lucas Oil AMA Pro Motocross Championship
Lakewood, Colorado, is host to the third round of the Lucas Oil Pro Motocross Championship. New to the series in 2005, it has been a welcome addition ever since. The Thunder Valley track is located at nearly six thousand feet of elevation, wreaking havoc on both man and machine. Its effects are felt right away, as even walking the track on Friday will leave you wondering about your fitness.
For some reason, I always felt the altitude more when walking around than when I was actually riding. Maybe the adrenaline takes over once you're out there spinning laps? Anyhow, the altitude has much more dire effects on the motorcycles themselves. The first lap on the track is an eye opener, as the engines struggle without the oxygen they are accustomed to. Power is way, way down, and it takes some adjustment from both the technicians and riders. The teams will apply any extra tricks up their sleeves to add torque and horsepower, but they always have to be mindful of reliability as well.
For the riders, the bikes have to be ridden more aggressively than normal, and braking points are sometimes a bit deceiving. Another issue that has occurred over the years has been fuel boiling inside the fuel tanks. This is referred to as "vapor lock," and causes the bike to bog unpredictably and sometimes cause fuel to be pushed out of the overflow hose. I had this happen at times over the years and ran out of fuel, causing a DNF. I don't expect that to happen this year since the high temperature will only hover around seventy degrees, but it's still a significant factor when heading to Colorado every year.
The track itself is actually very fun to ride. I say ride because I don't think it's all that fun to race on. The down-hills get very rough and tricky, as we saw with James Stewart's big crash in 2012. The dirt base is very hard, typical for Colorado. They do haul in a massive amount of sand, which helps soften things up and add some traction where there would be none. This sand often gets blown off by the second moto, and things can get very dicey if they water the track or it rains. The Colorado hard-pack doesn't handle water all that well once it firms up. I can remember riding the first lap of motos in Colorado and thinking it felt more like an ice-skating rink than a motocross track. Keep that in mind if and when it rains this weekend. The riders will be white-knuckled screaming down the hills in unison.
The start at Thunder Valley is unique in that many riders will use first gear for the only time all season. The loss of power makes first gear viable when it would be uncontrollable at sea level. I remember laughing every year in the first practice of the weekend, as so many riders would attempt to use second gear as normal and promptly bog or stall. Second gear can work if the gearing is changed significantly, but most will just shift down when the board goes sideways and roll the throttle on.
Who's Hot
Do I even need to say it? Eli Tomac is white hot. He's four for four this summer and is making it look easy. Ryan Dungey needs to stop this train soon if he wants to contend for this title.
Marvin Musquin is the solo points leader in the 250 Class after sharing that honor at Glen Helen. He controlled the second round pretty convincingly and capitalized on Jeremy Martin's misfortunes. Marvin is better than we have ever seen him.
Justin Barcia is beginning to heat up. After a rough supercross season where he missed multiple rounds due to injury, he has strung together three nice motos in a row. In my opinion he was lacking a bit of confidence and last weekend will do wonders in that department. If he keeps getting good starts, he'll run up front.
Justin Hill was a revelation at Glen Helen. He's had a year he would probably like to forget, but last Saturday he was really, really good. He was near the top in every practice and then backed that up with a second overall. He was the meat in a KTM podium sandwich and probably enjoyed every second of it.
Alex Martin has been better than ever in 2015. He got his first-ever podium in supercross and has backed that up with solid top-five finishes in the first two rounds of the Lucas Oil Pro Motocross Championship. His little brother may have overshadowed him recently, but he's making some noise of his own.
Who's Not
Zach Osborne had a weekend to forget at Glen Helen. He started off the season well but crashes are hard to overcome these days. Hopefully Colorado is nicer to the 16.
Justin Bogle and Cooper Webb both missed Glen Helen due to injuries. Both riders were legitimate threats, so it's a shame to see them on the sidelines. Heal up, boys.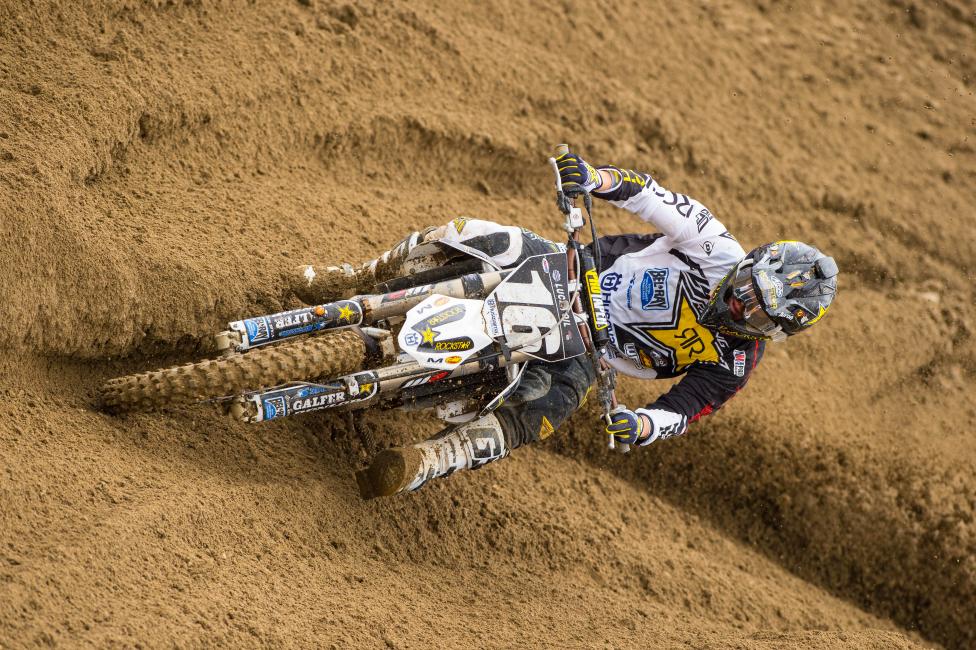 Bold Predictions
Eli Tomac goes 1-1 in his home state and extends his lead to over a moto's worth of points.
Weston Peick's fame reaches new heights as he eases into his "Viking" nickname. After his Glen Helen save, he decides to up the ante. He races Thunder Valley in a custom Fly Racing wooly mammoth fur-skin suit. He attempts to strap ivory tusks onto his 450 frame, but race officials feel that he already scares the living hell out of his fellow riders as it is.
Jeremy Martin gets back on track but is only able to split moto wins with Marvin Musquin.
With Colorado's new drug tolerance, the podium trophies are reimagined. Instead of the typical gold plaque, local growers sponsor the podium. A pound of Maui Wowie is handed to each podium finisher while USADA looks on in horror.
Blake Baggett finishes top-five in both motos.
My Picks
450
Eli Tomac
Ryan Dungey
Ken Roczen
250
Jeremy Martin
Marvin Musquin
Adam Cianciarulo