San Bernardino, CA
Glen Helen
Lucas Oil AMA Pro Motocross Championship
By Steve Matthes, Jason Thomas, and Jason Weigandt
1. Eli Tomac, again. Is it going to change?
Steve Matthes: Nope. Tomac's looking great, and while Ryan Dungey was closer to him at Glen Helen than he was at Hangtown, right now Tomac's just better than everyone else. The tide will turn here at some point, but with this weekend's race in Tomac's home state and with the elevation, I think Tomac will be on a roll for the next few races. He hasn't ridden at Lakewood very much because it's far from his hometown of Cortez, but he'll still be comfortable with the elevation and have plenty of fans cheering him on.
Jason Thomas: Not for this weekend, anyway. Eli is firing on all cylinders, and heading to his home state isn't going to hurt. I know, he hasn't ridden this track much, but there's always a feeling of comfort when the races come closer to home. The real question to me is if Dungey can begin to close the gap any or if Tomac will continue to win by huge margins. For Dungey to actually win a moto, he has to be on the pace first. In the first moto of the year, he actually was on Tomac's pace, but he hasn't been able to manage Eli in any way, shape, or form since. This is a long, long season and far too early to draw conclusions, but Tomac is racking up the points on Dunge, much like Roczen did in 2014.
Jason Weigandt: Dangerous ground for everyone else right now. Tomac might have a rep for crashes and bad starts from supercross, but he's always been consistent outdoors. Plus, he seems to have figured his starts out, and even if he gets a bad one, he has so much speed he probably won't panic and throw it all away if he starts mid-pack. I have no doubt that riders like Dungey and Roczen will get closer and faster and put some pressure on, but there's no reason to think Eli can't keep winning—we've seen him do it before outdoors.
2. Who was the most improved rider between Hangtown and Glen Helen?
Matthes: Chad Reed, the former national champion, was at least top three going into the first turn at Hangtown in both motos and then promptly pooped the bed with 12-15 moto scores. Dudes that he's probably never heard of were catching him and dropping him. It wasn't good at all. So, to see Chad go 4-8 (and the eighth could've been better had he not taken a rock to the lens and been forced to ditch his goggles) was much, much better. He actually looked like Chad Reed out there. Is he going to win this title? No, he was never going to do that, but he can run top five and sign babies every weekend for a ton of fans. Welcome back, Chad!
Thomas: While I could surely agree with Matthes, I'm going to take Justin Barcia here. His first moto of the year was not good, folks. He was headed down the same path we saw in supercross, and for Yamaha's "star" rider, things were looking bleak. In the three moto's since, he has steadily improved. He wasn't on the pace of Eli or Dungey, but he was in the podium mix all day and ended up second overall after Dungey's bike issues. That's a huge improvement over, well, all of the 2015 season really. It seemed to be a relief for Justin more than anything, and I can guarantee that he gained a lot of confidence from it. The road has been bumpy for Bam Bam since joining the AutoTrader.com/Toyota/JGR Yamaha team, and tough times lead to self-doubt. He should be feeling good about himself coming into Colorado, and that's bad news for everyone else.
Weigandt: This one is so obvious it probably gets overlooked: Ken Roczen! Watching him in the first Hangtown moto, I was anticipating the "season over due to back surgery" PR from the RCH/Soaring Eagle/Jimmy John's Suzuki team. Now we know this back injury isn't as severe as it seemed. It's not a herniated disc or anything—just a small stress fracture that acts like a bone spur. It can be painful, but it can also be pain free. Right now Kenny has it under control, and he rode much more like himself, taking fastest-qualifier honors and keeping Dungey honest for most of the second moto. He's once again a threat to win.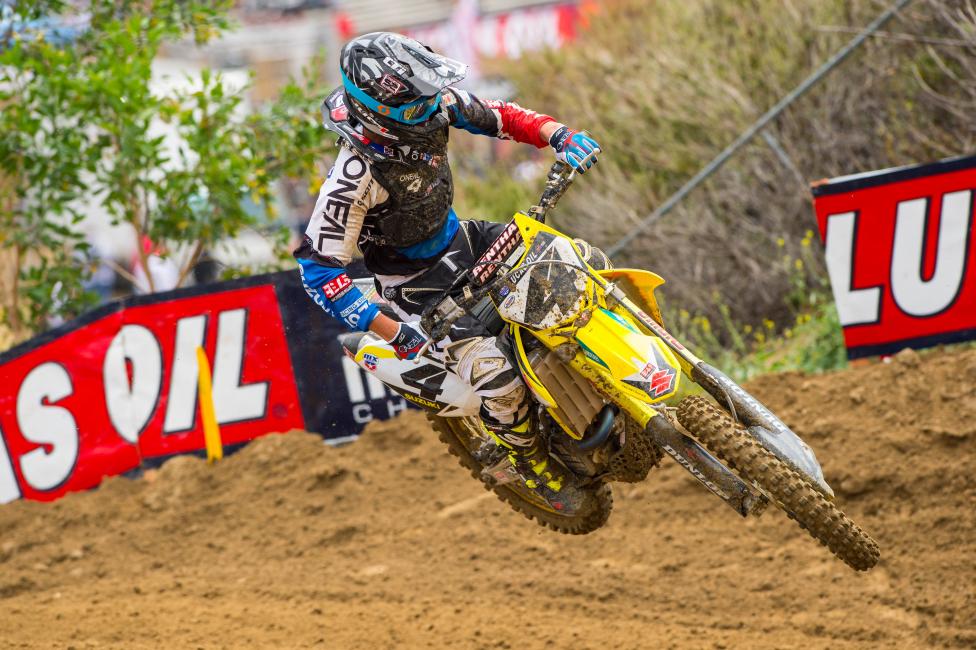 3. Out of the Peick/Baggett/Barcia/Anderson/Reed/ Grant/Tickle/Nicoletti gang, who is, dare we say it, "best of the rest?"
Matthes: Well, the points say Peick's the best of the rest right now, and he's been very good and steady through four motos. But I like Blake Baggett to slowly start emerging as the leader of this group of riders. I don't have any solid reason why; it's just something I feel. He's in shape, he's a great outdoor rider, his team is working on getting his bike better, and he's got Too Hip Rick Johnson in his corner. Is that good enough?
Thomas: This is a great question, and I'm a bit on the fence (see: waffling). I think it's only fair to note that Roczen hasn't yet risen above this group, but going off his past results, we're giving him a pass to podium-ville. Having said that, I could make a good argument for Barcia, as I did above, but I am going to take Peick. He's third in points, and that helps me validate my pick, but I also like how solid he's been. At Hangtown he had one bad moto and one good, but he was more stable at Glen Helen. The biggest difference for 2015 that I can see is his starts. Peick has struggled horribly with starts in the past, and no one can say that for 2015. That JGR Yamaha is a rocket ship, and the bike has been getting good starts regardless of who is on it. Over the last few years Josh Grant, Justin Brayton, Phil Nicoletti, Barcia, and Peick have all proven these bikes can start. As this season rolls on, however, I think there will be a big fight for this "best of the rest" claim. The top three seem to be better than this group (even though Roczen is not 100 percent yet), but if one of them drops out, it will be an all out war for third in the championship.
Weigandt: Love, love, love watching this group. But history shows seven- or eight-rider battles don't last. Some will get better and some will drop off with injuries or other problems. I think it comes down to Barcia versus Peick, which has been a topic all year. Peick has been better so far, but I'm betting that Barcia will improve as the tracks go east and he builds confidence. We all know the talent and potential is there, so I'll give Barcia the edge.