Glen Helen Raceway
San Bernardino

,

CA
Glen Helen
Lucas Oil AMA Pro Motocross Championship
Welcome to Racerhead, coming to you from a very busy Glen Helen Raceway, site of tomorrow afternoon's FMF Glen Helen National. Once again all four motos of Lucas Oil Pro Motocross will air live on television, beginning at 5 p.m. ET on MAVTV, and then 7 p.m. on NBC Sports Network. You can also watch the free live stream of the first motos right here on Racer X Online, as well as www.promotocross.com. And this year, fortunately, a lot of countries are getting to see all four motos live there, thanks to the efforts of NBC and Alli Sports. Here's how it all works.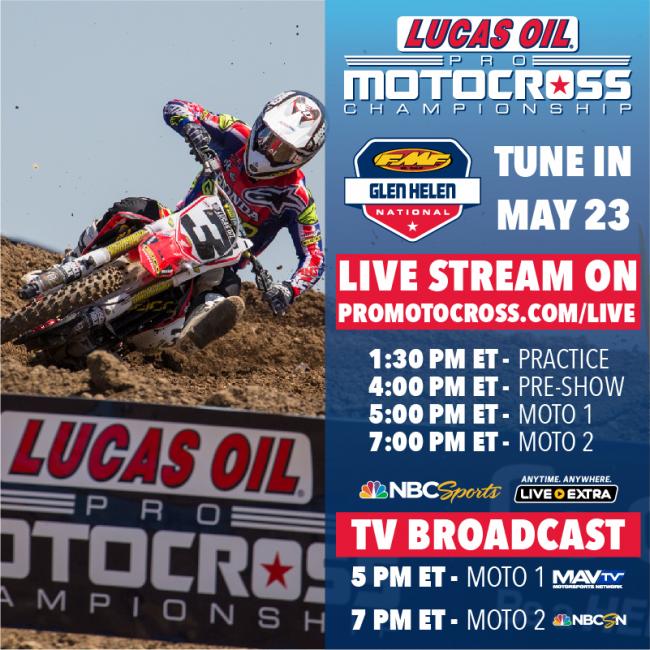 Hangtown is going to be hard to beat, and so will GEICO Honda's Eli Tomac and Yamalube Star Racing Yamaha's Jeremy Martin. Their respective second motos last week were bold statements. Both seemed to just get stronger and faster, even as the Dirt Diggers-prepped Hangtown track got rougher and tougher. There were lots of things going on behind them, including the struggle of defending 450 Class Champion Ken Roczen, the very fast Ryan Dungey and Marvin Musquin, and just a whole bunch of other up-and-down days for the competition. Martin is now working with Johnny O'Mara, alongside his brother Alex (who was a solid fourth overall) and Tomac (renowned for his hard work with his father), and he's in peak form to begin the summer.
But there's no rest for anyone, because we go right into Glen Helen now, in the heart of Southern California. The was track designed Jody Weisel, and the crew of Karl and Judd Scanlon have built what looks like a very fun and likely-to-be-very-rough motocross track. The layout is similar to last year, but it's more technical; with some rain last night (just like Hangtown got last week) it should get nice and bumpy. Check Austin White's press day video right here.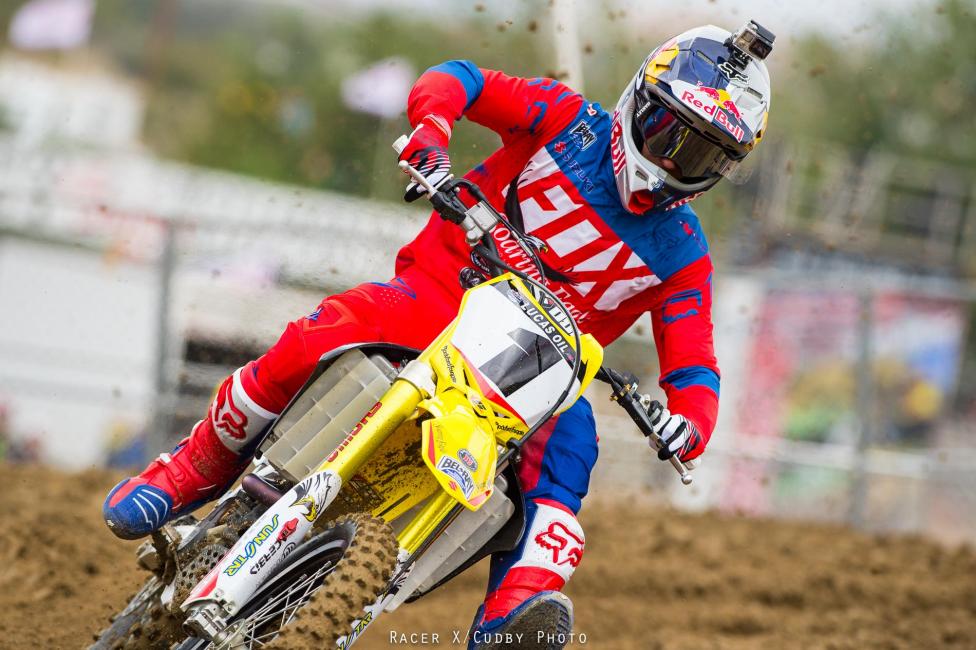 It's been a lot of fun helping out Jody and his crew on the track all week, and there's still a lot of work to do today to get ready for what should be another huge national crowd tomorrow, so I don't really know much of what's been going on in the motocross world, other than what's been happening right here at Glen Helen. But like everyone else I know, I was shocked and very confused by the arrest of Doug Henry near his home in Connecticut, accused of exposing himself to a couple of female construction workers while sitting in his car. Surely there has to be some kind of misunderstanding, and I hope his vindication will be forthcoming. Living with a spinal injury would be an incredibly tough life in and of itself, but the other bad cards dealt Doug's way have been hard to watch and I truly hope and pray this gets sorted and soon.
I hated to even mention that. Here's the rest of Racerhead.
JG RETURNS, AND GLEN HELEN NOTES (Weigandt)
Last year Josh Grant won the opening 450 moto of the Lucas Oil Pro Motocross Championship with a popular triumph at Glen Helen. He missed this year's opener after a big practice crash just a few days before Hangtown, but he was back in the saddle at Glen Helen's press day, planning on racing Saturday no matter what. The big talk for Grant was that he'd lacerated his tongue, but that actually heals quickly and isn't an issue. It's just that everything else hurts. Here's the Discount Tire/TwoTwo Motorsports Kawasaki rider with more.
Racer X: What happened with the crash?
Josh Grant: I don't remember what happened—guess I just went over the bars, hit my head, dislocated my jaw, cracked some ribs … so, had a big one. The tongue was all good. It sucked, but they sewed it up and they told me, "You'll be fine. The tongue is the fastest-healing thing." That's good because I'm used to hurting the slowest-healing things, like knees or shoulders. Everything else is the issue—my jaw, and obviously my ribs. I've never really done that, so it's a little different, riding-wise. I thought about riding last week but the track looked brutal and there's no way I would have made it through the motos. I'm just hoping I can recover even more and feel even better on Saturday.
Are you racing Saturday?
I'm racing Saturday for sure. It's my home race. I want to get out there and salvage some points—that's the ultimate goal.
You don't need me to tell you this, but for the first time in a while, you actually had a decent ending to your supercross season and were coming in with some momentum outdoors.
I still have it. This wasn't that long ago—it's not like I broke a bone and I'm out four to six weeks. I don't think I've lost any fitness or anything, I just need the soreness to kind of go away. I still feel like I have momentum behind me.
How was it going?
Good. Been really good. My lap times were good at the stopwatch nationals.
We've seen you come back from injury before and you'll get a start, you'll rally—all of a sudden a magical moto comes together. Is that a possibility?
There's always that [possibility]. I'm going to roll with the punches, do what I can, rest up for these next forty-eight hours, and hopefully I feel even better on Saturday. I didn't even get out of the house for four or five days after the crash. I rode a little yesterday for the first time and I didn't feel that great, and when I rode today I was still feeling it. We'll see on Saturday—I hope it's good. I probably won't waste myself in practice. I'll save it for the motos. Unfortunately, I'm pretty used to that strategy. But you never know in the motos. Especially if I get a start, you can count on me going for it.
Glen Helen's press day was particularly epic, with a ton of fast riders in attendance (Red Bull and Lucas Oil/Troy Lee Designs KTM, RCH/Soaring Eagle/Jimmy John's Suzuki, Discount Tire/TwoTwo Motorsports, Autotrader.com/Toyota/JGR Yamaha, Monster Energy Kawasaki, Brett Metcalfe, and more) and the track was primo. Freshly prepped, it was smooth as glass, and the weather here is good for riding—even some rain this morning to keep things soft.
Eli Tomac was probably the biggest name not in attendance, so while Ken Roczen is clearly much healthier than he was a week ago, and Ryan Dungey told us he's made what he thinks are some good changes to his bike, no one knows where they stand with Eli, who seriously put on one of the all-time butt-whippings at Hangtown. Dungey continues to maintain he'll get a lot better as they learn the bike, and he admitted that once Tomac had a big lead, he backed it down and just settled for second. I wouldn't expect Tomac to win by quite that much again, but it's going to be tough to stop him from winning some more. Tomac has never raced a national at Glen Helen, though, while Dungey has won the last two times he raced here (last year's 450 race, and on a 250 in 2009). Maybe this race will swing momentum back the other way.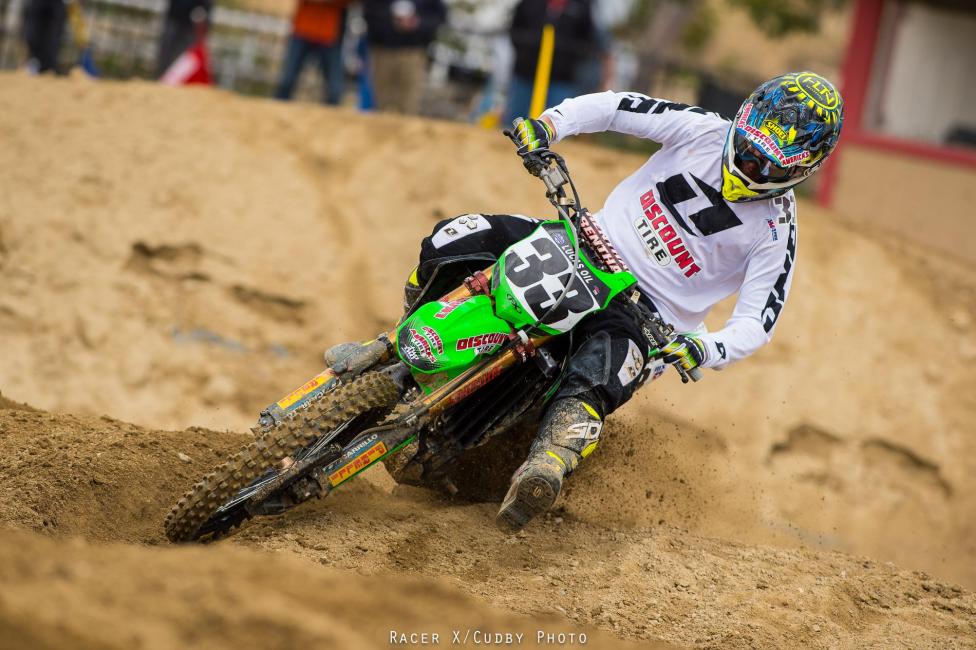 FAST FREDDIE (Steve Matthes)
Earlier this year I was talking to Honda HRC's Trey Canard about his return to the Lucas Oil Pro Motocross Championship, and he figured that he would be back after the break, which is after round five. Well, something's not 100 percent kosher with his recovery, because Honda announced today that Swedish hero "Fast" Fredrik Noren is going to step in for Trey starting next week in Lakewood. Noren's been riding for the MotoSport.com/GPI Honda team and has a good relationship with the Honda guys. Remember, he was picked kind of out of nowhere on a privateer KTM out of a van with his girlfriend Amy to ride the factory bike last summer. So this year Honda has used Freddie as a bit of a test rider for riders Canard and Seely.
Last weekend Noren scored an impressive top-ten finish and will now transition over to the full factory bike. Noren had some of the "good stuff" from Honda on his machine at Crosslands, but he'll now get the full deal. Great to see. This kid has gone from not being able to qualify for a main on a not-so-stacked 250SX East Region last year to running top tens on factory Honda in the 450MX series, and now he has another chance to shine.
PRO PERSPECTIVE (Jason Thomas and David Pingree)
PING: Was Tomac's win last weekend indicative of things to come this summer or just a phenomenal showing by the GEICO Honda rider? I think things will balance out a little bit, and it will take a few rounds until we have a clear picture of where everybody stands. Still, how do you look yourself in the mirror this week and explain to yourself that you have to find five seconds per lap to run with Eli Tomac? Ryan Dungey put a lot of it on bike setup, but nobody else even conceived of the idea of running up front with him. Five seconds per lap is an eternity. I don't know what kind of magic Roger DeCoster will have to work this week to close that gap, but I'm anxious to see how things go down at Glen Helen.
The 250 Class is shaping up to be more of a battle between Musquin, who has been amazing this year, and Jeremy Martin, who seems determined to redeem his lackluster supercross season. Again, this story isn't going to be told in one or two rounds, but Martin's second moto last weekend was impressive and he looked like the Jeremy Martin of last summer. And the gap between him and second place looked a lot like last year as well. It's world champ versus reigning national champ for the next few months. Find a seat, because this could be fun to watch.
JT: Last week was one of the more impressive motos I have ever seen ridden. Ever. Eli was on an entirely different level than anyone in the world for those thirty-five minutes. No one would have beaten him. Having said all that, it was only one moto and Dungey only lost three points. That's the thing—this isn't the Tour de France where that ninety-one-second gap would carry over to Glen Helen. Dungey could have lost by a wheel and still be in the same points position. More importantly, the mental game will be interesting, as that was a big statement by Tomac. If this were any year but 2015, I think that would have bothered Dungey immensely, but with Aldon Baker at his side, I think Dungey is in a different place mentally. He didn't seem deflated at all, really. Honestly, I thought he just looked pissed off. That is a good sign, folks. This summer could be very interesting between those two.
The 250 Class is always good, right? Okay, last year was a bit of a runaway, but this class always brings it. I am anticipating a huge clash between Musquin and Martin all summer long. I think Adam Cianciarulo is going to be in this conversation soon, but he has some fitness to gain before he can beat the two points leaders. Other than those three, the big question is Cooper Webb. As of this second, there has been no decision made on Webb's involvement at Glen Helen. If he's out, he's done as far as championship relevancy goes. That would be a disappointment, as he was expected to be in the mix. Still, this title is going to come down to the top two from Hangtown. I can't find a way around that fact. They are both too experienced and simply too good. If the title doesn't come from one of those two, color me shocked.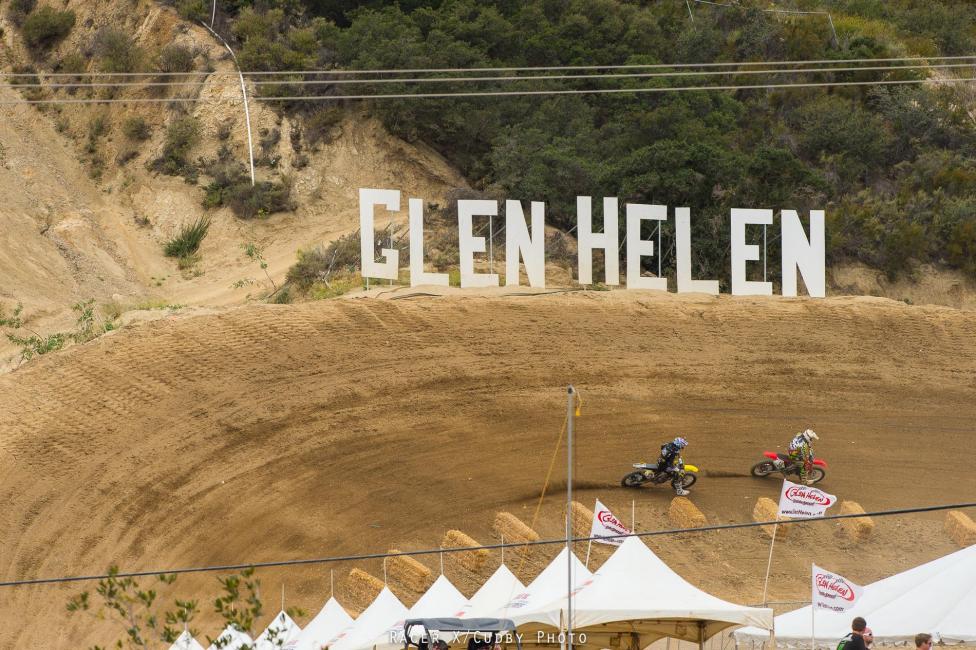 WIN A NEW 450! (Andrew Fredrickson)
Head over to www.wina450.com for your chance to do just that—win a new 450! The grand-prize winner will have the choice of model from any of the six competing manufacturers of the Lucas Oil Pro Motocross Championship—Honda, Husqvarna, Kawasaki, KTM, Suzuki, and Yamaha—and all proceeds go towards the Asterisk Mobile Medical Center. What are you waiting for? It's $10 per ticket, and you can purchase as many tickets as you'd like.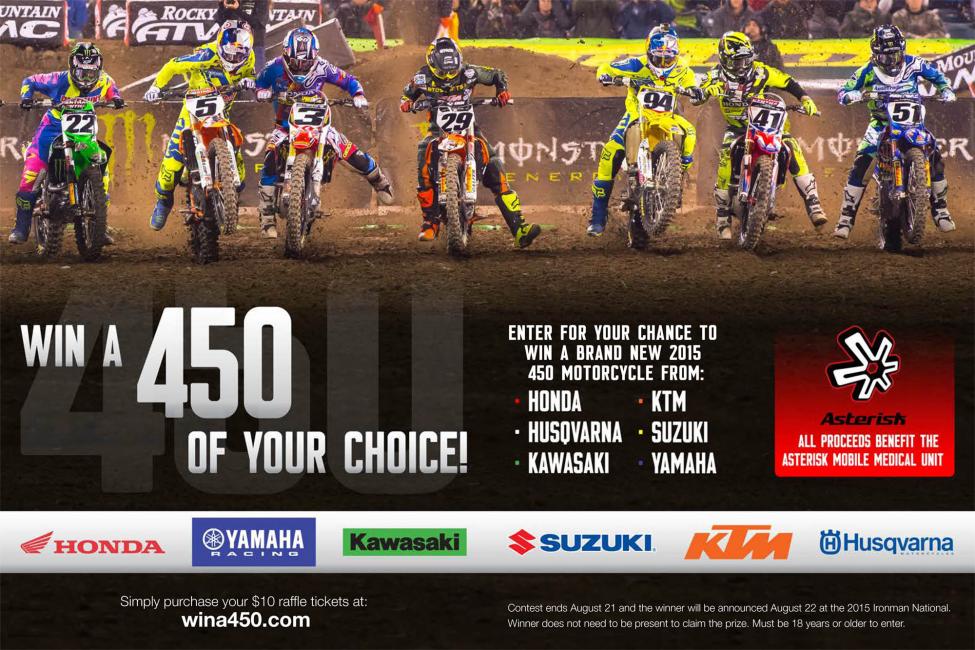 THE HILLS OF HELEN (Matthes)
I'm typing this from the front seat of my Honda Ridgeline (Car and Driver's Truck of the Year in 2007) after hanging out in the pits at Glen Helen. The weather is a bit overcast, which should help the racers and the track looks epically prepared. Discount Tire/TwoTwo Motorsports' Josh Grant is in for the weekend, and it looks like Yamalube/Star Racing Yamaha's Cooper Webb is a race-time decision. I reached out to Cooper yesterday, and he said he honestly didn't know if he'd be able to race or not. If he isn't able to go, that's a huge blow to his title hopes. If I'm Cooper and his team and I can't race Helen at the best of my abilities, I rest up until I'm 100 percent and come back this summer to win and podium a bunch of races. He's got a long career ahead of him and it's not worth it to risk further injury.
Another rider that was on the inured list was RCH/Soaring Eagle/Jimmy John's Suzuki's Kenny Roczen. The Suzuki rider was a different man from one moto to the next due to a back injury. I, along with a lot of others, made a joke about the pain tolerance medication that Roczen received in between motos and making sure that the second-moto dose is used this weekend, because the Roczen's riding level was dramatically different.
I'm told from people close to the team that there was indeed no medication given to Kenny in between motos, and that in fact the epidural that Roczen got earlier in the week (all cleared through MX Sports in accordance with USADA rules) actually didn't kick in until just before the second moto. He was as amazed as anyone that it felt so good because he wasn't going to head out after his big fade in the first moto. I'm no doctor (although I did stay in a Holiday Inn Express last night), but there are quite a few things on the world wide web about epidurals not kicking in right away. Anyway, Roczen rode all this week in SoCal and press day here at the track, and apparently looked great. So, yeah, that's weird, but I would look for a much better Roczen this weekend and going forward.
And to close, it's awesome that Lovely Louella is working the gate here at Glen Helen.
THE NUMBER: 56 (Andras Hegyi)
Dungey got his 56th podium at Hangtown, and now only Ricky Carmichael has more podiums in the 450 Nationals than Dungey, with 84. Dungey is already the second most successful rider on the all-time wins list in the 450 Nationals behind Ricky Carmichael. The GOAT had 76 wins in this division (which was the 250 Class) while Dungey totals 31 wins, and he holds second on that list as well behind Carmichael. Dungey's 56th podium means he has overtaken Kevin Windham, who got 55 podiums during his career in the Nationals' premier class. And both Dungey and Carmichael got their 56th podium in the season opener of their the sixth season of their respective careers in this class. Dungey has 450s raced since 2010, while Carmichael started in 200 and got his 56th podium in 2005—and it happened at the same track: Hangtown!
Also, Chris Alldredge got his first podium as professional rider in 250 National. The Monster Energy/Pro Circuit team member has become the 44th Kawasaki rider able to get podium in this class, and his was the 349th podium in 125/250s for Kawasaki. The green team got their first podium in small-bore National category in 1975 when Doug Raines got second at an extremely muddy Hangtown opener at the old Plymouth track. The Kawasaki rider with most podium finishes is Ricky Carmichael, who was able to collect 32 podiums in the saddle of his Kawasaki KX125. Ryan Villopoto had 31 podiums, James Stewart had 28 (all of them wins!) Jeff Ward racked up 27 and Blake Baggett 26.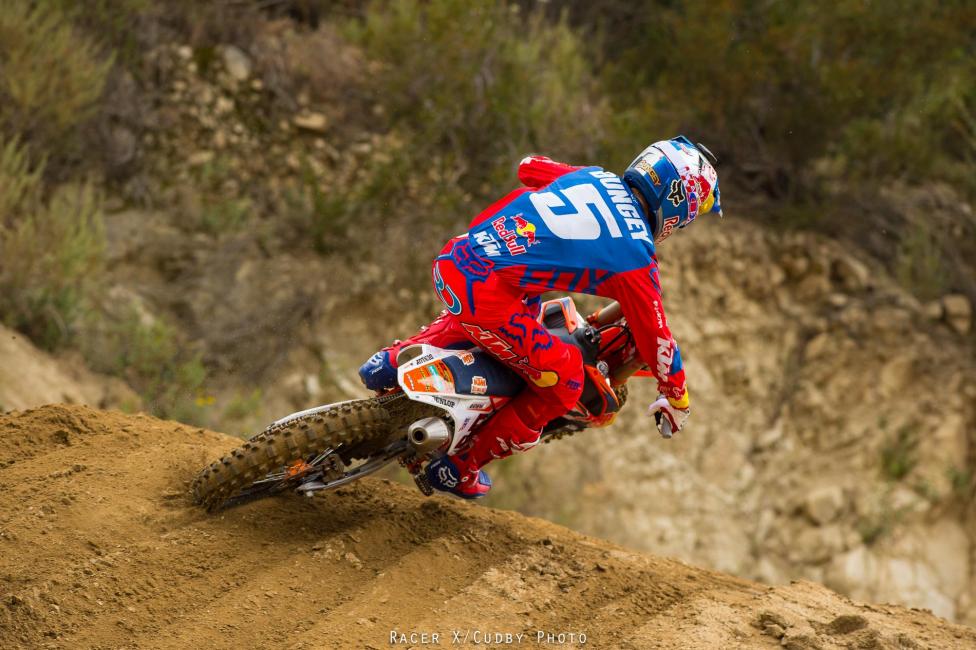 PULPMX LINKS
Weege and JT joined me for the Fly Racing Moto:60 Show HERE.
Troy Boy interviewed Wil Hahn about his return to racing and more HERE.
Moser interviewed his favorite rider Andrew Short over text message HERE.
WATCH IT
Check out AutoTrader.com/Toyota/JGR Yamaha's Weston Peick as he took a lap around the Glen Helen track with the VitalMX.com helmet cam.
Here's our own Racer X Remastered video from Hangtown.
RANDOM NOTES
Headed to Glen Helen? Don't miss your chance to spend all day in the pro pits with the Racer X All-Day Pit Pass!
For $50 you get 13 issues of Racer X Illustrated plus an all-day pit pass. If you're buying more than one pass, you can get a multi-year subscription, or you can give the subscription as a gift. This offer is good for both new and renewing subscribers.
Quantities are limited, so preorder your Racer X All-Day Pit Pass HERE before they sell out.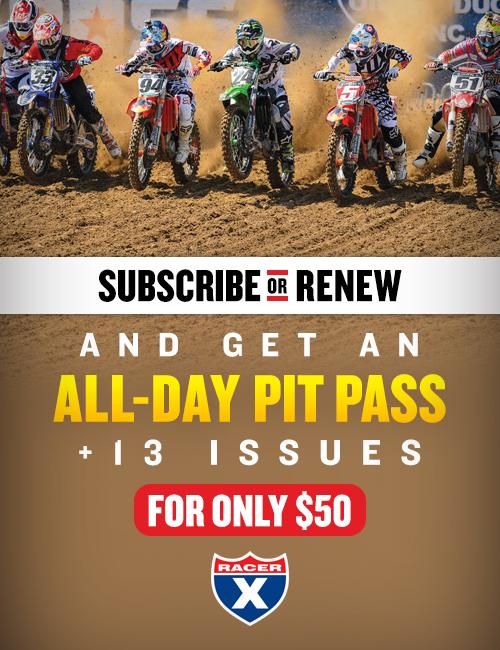 Set up your spot in the infield with this 30x60 towel featuring HRC Honda's Trey Canard.
Just stop by the Racer X booth on vendor row to subscribe or renew and get 13 issues of Racer X Illustrated plus a Trey Canard beach towel for just $25!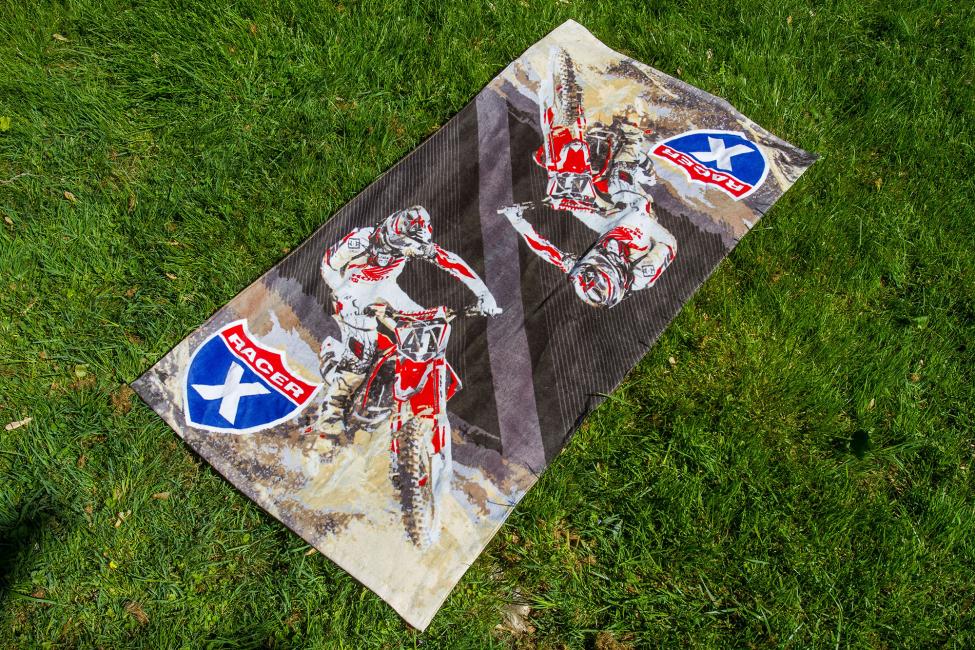 Don't forget, stickers are always free at Racer X! Be sure to stop by and get your 2015 event sticker.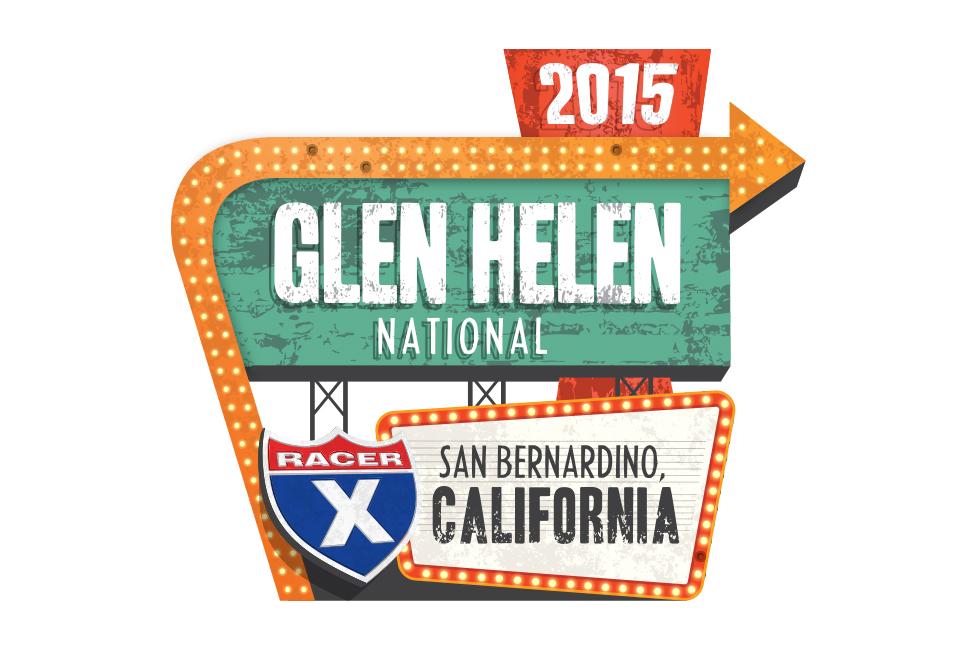 Pro Circuit is sponsoring the Glen Helen round of Racer X MotoDynasty Fantasy Motocross and will be giving out prizes to the winners of both classes. Click HERE for a chance to win.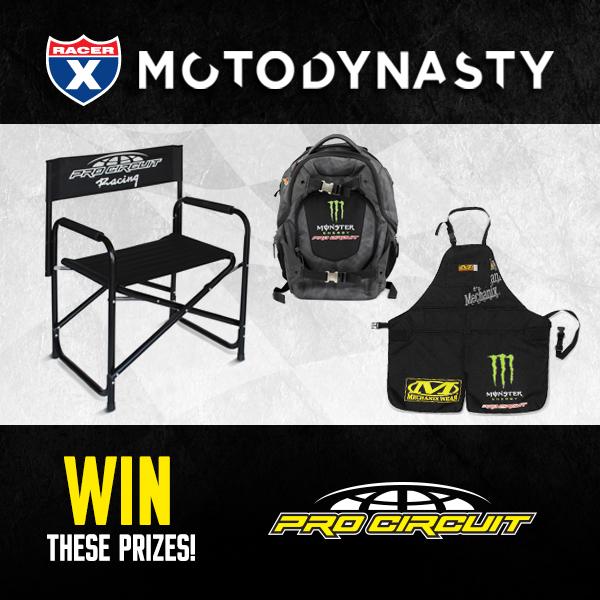 Marvin Musquin just wrapped up his first career Monster Energy Supercross 250SX East Region title. The new champ is also on the July 2015 cover of Racer X Illustrated. To help him celebrate, we are doing a Cover T-Shirt Sub Drive: subscribe now or renew and we will send you a FREE Marvin Musquin cover T-shirt!
The cost for a one-year subscription is just $20, but you have to act now—this offer is available for a limited time only and good only while supplies last. Just click on the banner for more details, then subscribe and get yourself a free Marvin Musquin Cover Tee!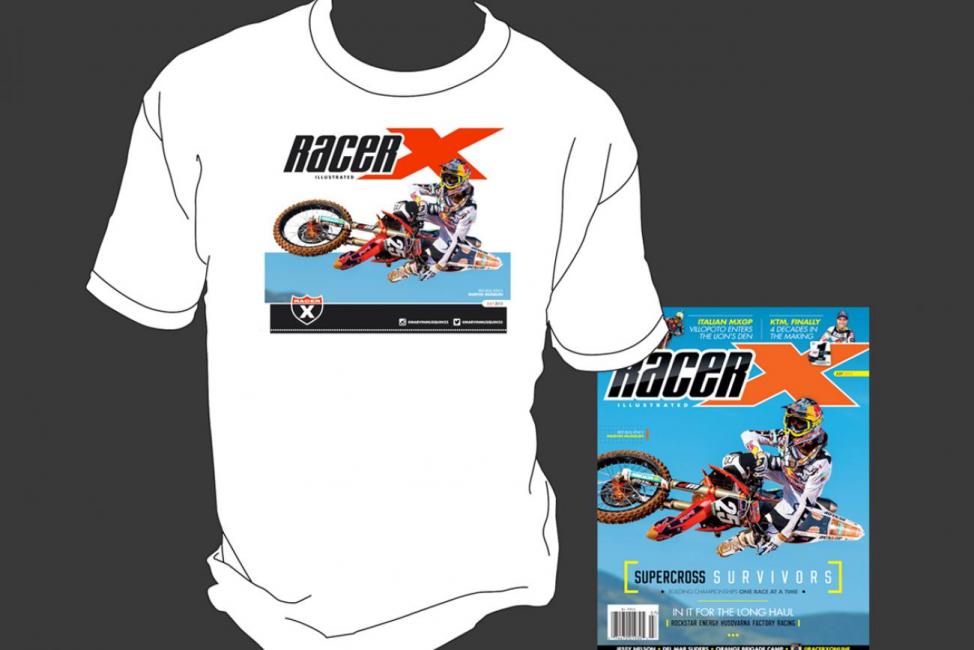 If you read this far, here's a big surprise: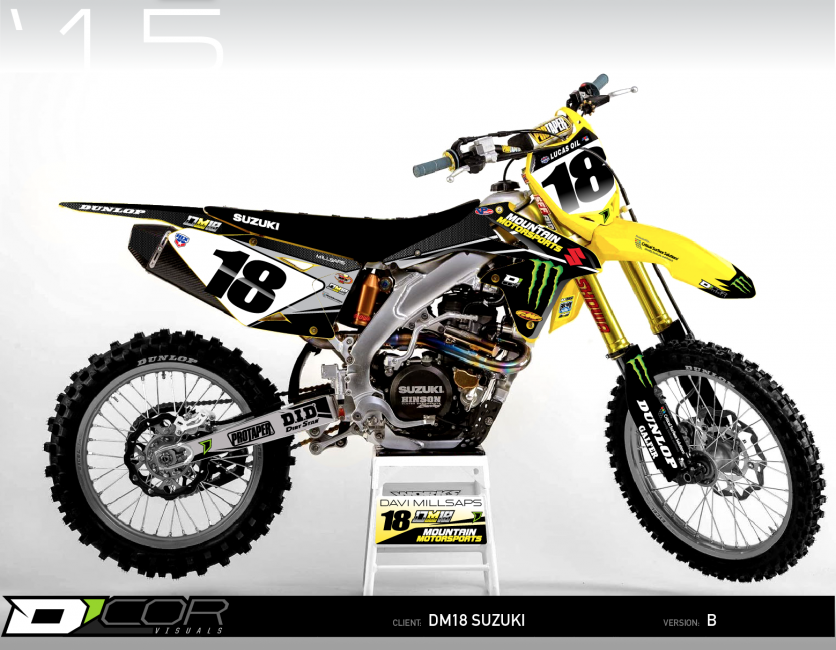 More to come, and soon.
Finally, I also need to take a moment to remember an old friend who passed away last weekend. Charles Raese wrote for the original Racer X Illustrated newspaper, The Racing Paper. In fact, it was his idea to go on our shared search for Evel Knievel, which became quite a funny story that stretched out over a year and ended with us sitting with Evel in the bar next to a driving range/feed store in St. Petersburg, Florida. Charles was from my hometown, we grew up together, went to college together, road-tripped, and just always good friends. He was just one of the funniest, warmest people I've ever known. He was a distant fan of motorcycling in general but a genuine scholar when it came to Evel Knievel, Steve McQueen, and all things Charlton Heston. They had a service for him this afternoon back home in Morgantown, so this is my only way to say farewell. Godspeed, Charles. Tell Evel I said hey.