Hangtown Motocross Classic
Rancho Cordova

,

CA
Hangtown
Lucas Oil AMA Pro Motocross Championship
Every year we come into the GoPro Hangtown Motocross Classic with the anticipation of the questions we've been asking being answered, and every year we seem to leave with more additional questions than actual answers. That wasn't entirely the case this year, as several questions were answered with resounding force. But which ones? Let's dive into Saturday Night Live to find out.
First, the track. Hangtown is traditionally one of the roughest tracks of the circuit, but today, thanks in part to some rain that came through on Thursday and some watering throughout the day, the track was even rougher than it's normal choppy self. How rough? Afterward Zach Osborne, who has logged plenty of time racing overseas, told us some of the sections were in the top five for gnarliest sections in the world. That's crazy rough!
The track also featured a new step-up triple called the Fly 150, which, as the name suggests, was 150 feet in length and was absolutely massive. It was so big that only one 250 rider, Adam Cianciarulo, hit it and less than half of the 450 guys were doing it. It was seriously huge, and the crowd would erupt every time a rider would launch it. It's definitely one of the more spectacular jumps on the circuit.
Eli Tomac had a mind blowing ride today. And mind blowing is an understatement. He beat Ryan Dungey by 22 seconds in the first moto, and by a minute and a half (yes, a minute and a half) in the second. And thanks to a pair of fantastic starts, he led every single lap of the day. Let's see how many movie references we can get in on this. Have you ever seen Happy Gilmore? Remember that part where Happy gets good at putting and looks over and says, "Uh oh, Happy learned to putt!" Well, if Tomac, who is crazy fast but isn't known for good starts, wanted to gloat, he could walk around saying, "Uh oh, Eli learned to start!" Here's another. Tomac is sometimes referred to as The Alien because of his initials, E.T., but today he was an alien because his speed was simply from another world! Okay, that's enough of that.
Second place isn't bad, but if you're Dungey and you got beat by a minute and a half in one of the motos, you can't be happy. Afterward Dungey said his bike was way off for motocross, but thinks they can get much better. "Not to sound cocky, but I think Tomac is as good as he's going to get, and we still have a lot of room to improve." He, and the competition, better hope that's the case.
You can't hope for much of a better 450 motocross debut if you're Jason Anderson, who finished on the podium. Another rookie, Blake Baggett, nearly nabbed the final podium spot, and would have had he been able to get around Roczen at the end of moto two.
Weston Peick's first moto wasn't stellar—he had third for a while but faded. In the second moto it was just the opposite. He came from a ways back to take over third. He credited some big bike adjustments for the difference.
Rumors of Roczen's back injury were finally confirmed after Roczen bounced back in the second moto to take fifth place. In his post-race interview he admitted he'd been off the bike for the last ten days due to a stress fracture at the bottom of his spine. Coming off the couch to race one of the gnarliest tracks of the summer with an injury like that had to be torture.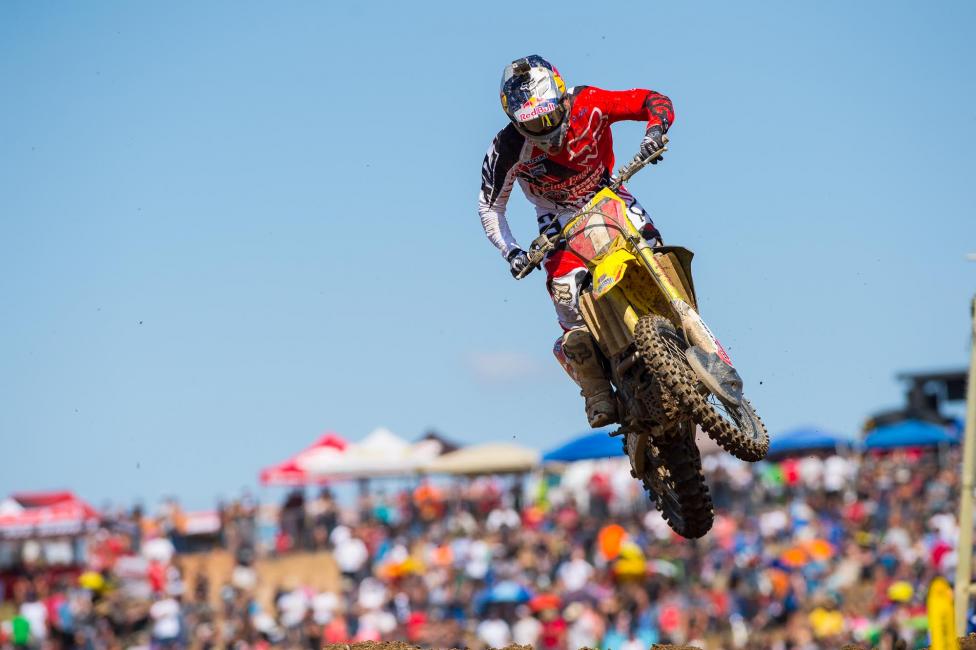 What is it with Justin Barcia and fences? Remember that time at the Motocross of Nations when he got his bike stuck in a fence? It happened again today, which explains his 35th-place finish in the first moto. He was much better in the second moto, taking fourth, but getting passed by his teammate Peick toward the end of the moto probably didn't make him very happy.
Bad day for Cole Seely, who crashed out of the first moto on the first lap and didn't race the second. The team is optimistic about Seely racing next week at Glen Helen.
Not the day Kyle Cunningham was looking to have aboard the 450. Cunningham, who is coming off food poisoning, put together a decent first moto to log fifteenth, but went down hard on the start of the second and was unable to continue on a mangled bike. He was sporting a wrap on his knee after, but said he should be good to go for Glen Helen.
Alex Martin has been training with Johnny O'Mara and riding a lot with his brother, Jeremy, who happens to be the 250 National Champion. Obviously, it's a situation that's working well for him—he ended up fourth overall and would have been third overall had he been able to pick off Chris Alldredge at the end of the second moto.
Speaking of Alldredge, the Monster Energy Pro Circuit Kawasaki rider may have had a rough go of it in supercross, but if his motocross season is going to be anything like the way his day went today, he's in for one hell of a summer. Alldredge went 5-3 for third overall on one of the roughest tracks of the year. Think he's a little better outdoors than in?
Cianciarulo, who said he was surprised that he was able to qualify fastest, had a good race going and, as mentioned above, was the only 250 rider to launch the gigantic Fly 150. After the race he told us he didn't launch the jump to go faster, but because he thought it would earn him some additional fans. "I did it for the fans and for the good of the sport!" Cianciarulo joked. Unfortunately he crashed all by himself a few laps later. A prototype piece of his nose magnets, which help him breath better, came off in the crash and got lodged on the inside of his goggles, and Cianciarulo had to take them off and remove the magnets before continuing. It cost him a ton of time, and he ended up ninth in the moto and eighth overall after an unremarkable eleventh-place second moto.
Jeremy Martin took about half the race in the first moto to get going, and it was obvious once he finally got clicking—he really picked up the pace! The team changed the shock for the second moto, and it made a real difference—Martin grabbed the lead right away and absolutely destroyed the field.
Justin Bogle had a day he'd like to forget. He led part of the first moto before fading and giving up a ton of spots, and got together with Jessy Nelson in the second. He was slow to get up and left the track sitting in the Asterisk Medical Mule. He was spitting up some blood, and the team says he'll get an MRI on his shoulder to determine whether he has a tear or deep tissue bruising.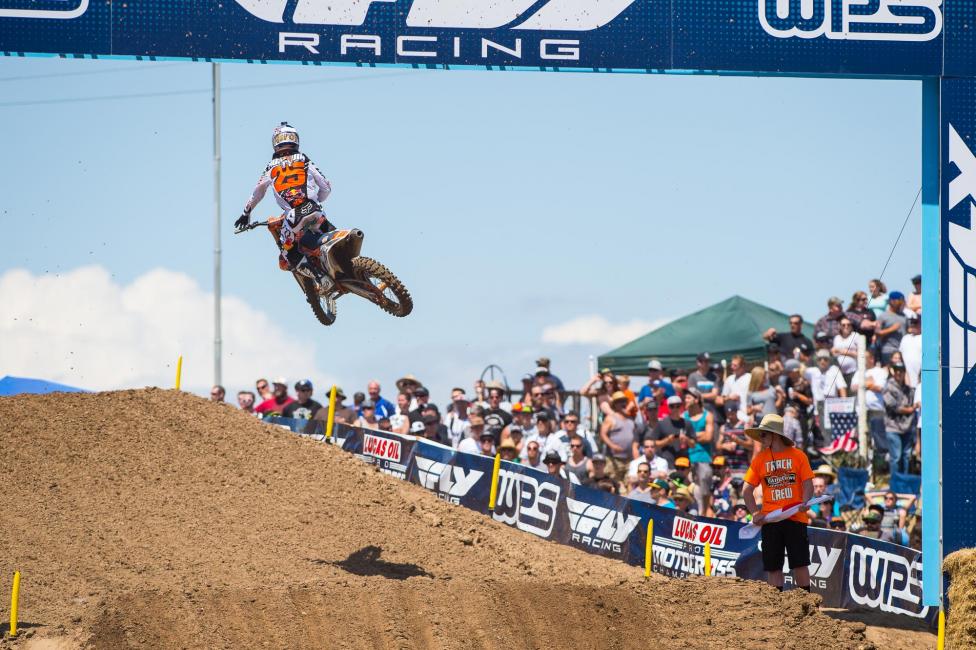 Cooper Webb had a good first moto, especially considering he ditched his goggles early, but his second moto was disastrous. He didn't crash, but he twisted the same ankle he twisted in Las Vegas, and team manager Steve Lamson told us Webb, who was on crutches at the end of the day, said it hurt way worse this time. Lamson said they'll get an MRI and decide whether or not he'll be able to race next week at Glen Helen.