Sam Boyd Stadium
Las Vegas

,

NV
Las Vegas
Monster Energy AMA Supercross Championship
Let's start the last weekend of 2015 Monster Energy Supercross Championship with a look ahead to next season. The new schedule is out, and it's got some very interesting changes: the return of Toronto, a first-time visit to Gillette Stadium (but not a first for Foxboro), switching up San Diego with Phoenix, and also going back to a single Atlanta race. Here's the schedule: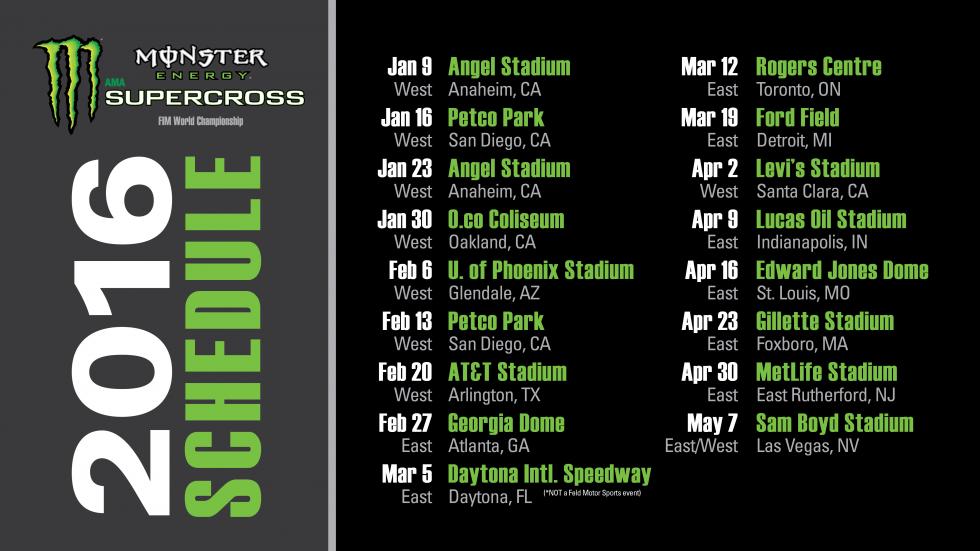 For some, like the many sidelined riders, or even the ones still out there though all of the championships were pretty much over early, the end of the series is a welcome development. Supercross is a tough business, and it can be just as hard on a body as racing outdoors all summer long. But this year seemed especially cruel, not to mention unusual. It's like the NFL Draft that happened last night in Chicago: thirty-two athletes were selected by the various teams that make up the National Football League, and all hope to have great seasons ahead of them. But the very nature of professional football—essentially a game of collisions—does not bode well for them. They all are eager to get started and show that they were a wise choice, but the wear and tear of the game will take its toll. Some won't make it for long; others won't make it all. That's the nature of the game.
Same goes for supercross. Last December when the Monster Energy Supercross program was put together for Feld Motor Sports, the cover featured seven candidates put forth as the main men in the #Whosnext campaign to find a new series champion: Chad Reed, Justin Barcia, Ken Roczen, Davi Millsaps, Ryan Dungey, Trey Canard, and James Stewart.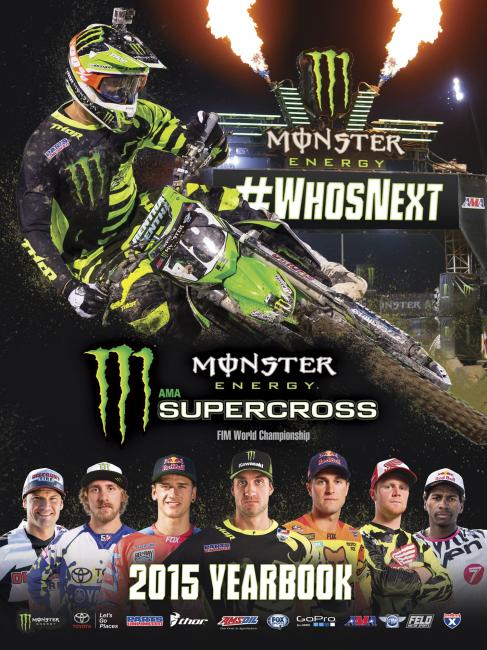 If you were the team with the #1 draft pick, which rider would you have chosen as your #whosnext supercross champ? Would it have been one of the former champions like Reed, Dungey, or Stewart, or a newcomer like Roczen, or Canard? Or would you have gone off the board and picked someone like Eli Tomac or Cole Seely or Jason Anderson?
Obviously, the book went to print before one of these guys was eliminated: James Stewart did not win his anti-doping case with the FIM over his use of Adderall without a prescription last April, so he was out of it before they even started. There was some hope that he might get relief via an appeal to CAS, but that didn't work out either, as we found out this week. Now James is now out for the summer. Here's what he posted on Instagram: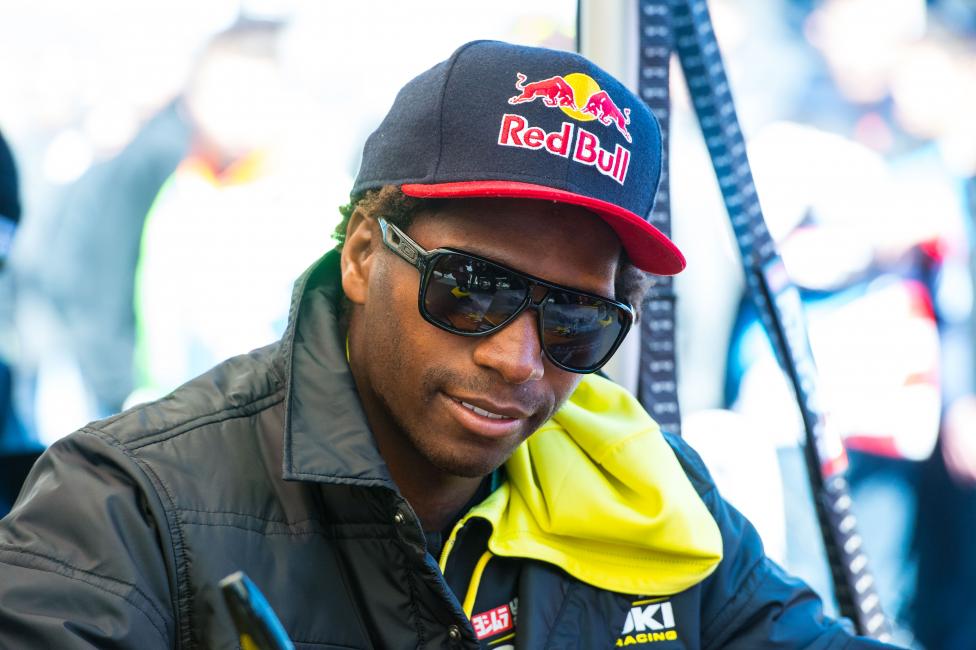 "First off I want to apologize to my family, team, sponsors and my fans for putting them thru this crazy situation this last year. I've waken up these last 9 months not knowing whether I'll be able to do the thing I love the most anytime soon. It's been very disappointing how this whole thing has played out. Not necessarily the outcome "although I'm bummed about that also" but rather in the process. A process that I wouldn't wish on anyone to go thru. But you know, Sometimes it's better to walk barefoot then to run with wet shoes on. I could get into the whole story but honestly there's only one thing you need know... I WILL BE BACK!!! They might've stalled me but they won't Stop me!! I personally want to thank all my fans for the love and support you have showed me. So next year it'll be my opportunity for me to show the love back!!"
The next cover subject down was AutoTrader.com/Toyota/JGR Yamaha's Justin Barcia. After a decade as a Honda rider, Barcia turned blue in the fall with great expectations, but a practice crash injured his hip badly enough that he had to scratch from San Diego. The #51 bike was out of the series before the series was out of California.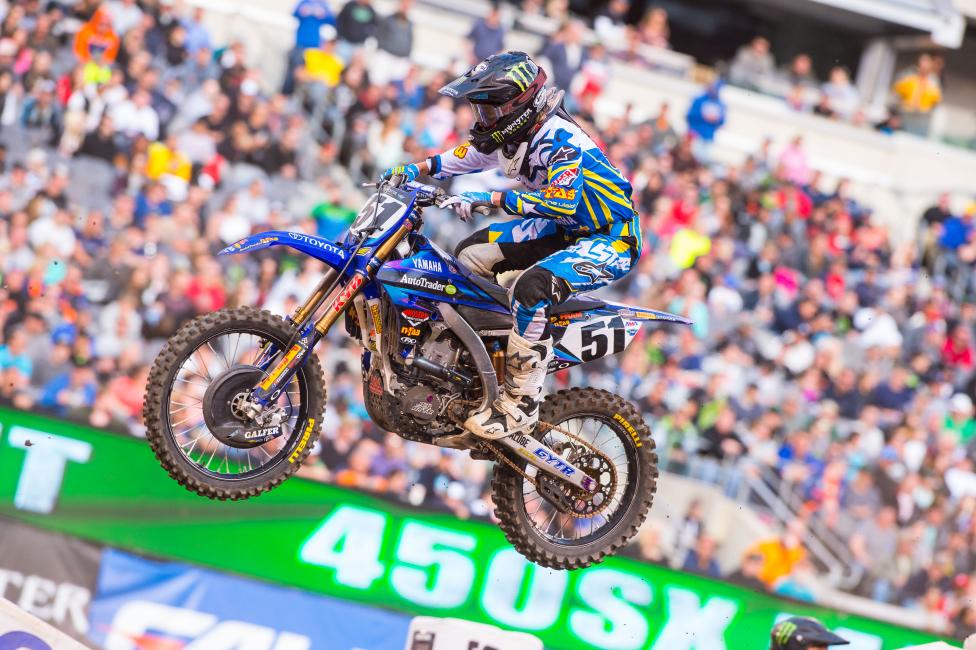 RCH/Soaring Eagle/Jimmy John's Suzuki rider Ken Roczen was probably the top pick for most, as he was coming off a superb rookie year in Monster Energy Supercross, only he had switched from Red Bull KTM to the brand he grew up on. He also had Ricky Carmichael in his camp, which meant five SX titles' worth of knowledge to help him get his first. After three rounds of racing, he sure looked like he was the best bet, with wins in Anaheim 1 and A2. But then he had that unfortunate miscalculation at Oakland that almost cost him both wrists and some teeth. He got it together for the next three rounds, going 4-2-2 to stay fairly close to the points lead.
Then came Atlanta and just a really bad night in the Georgia Dome. He had a crazy crash in practice and a seemingly easier one in the main, and that was all it took to put him practically on crutches. To his credit, K-Roc tried to go at Daytona, but the injured ankle was too painful to even put down—because when he did, he couldn't get back up. Roczen elected to park his bike and wait for the start of the Lucas Oil Pro Motocross Championship.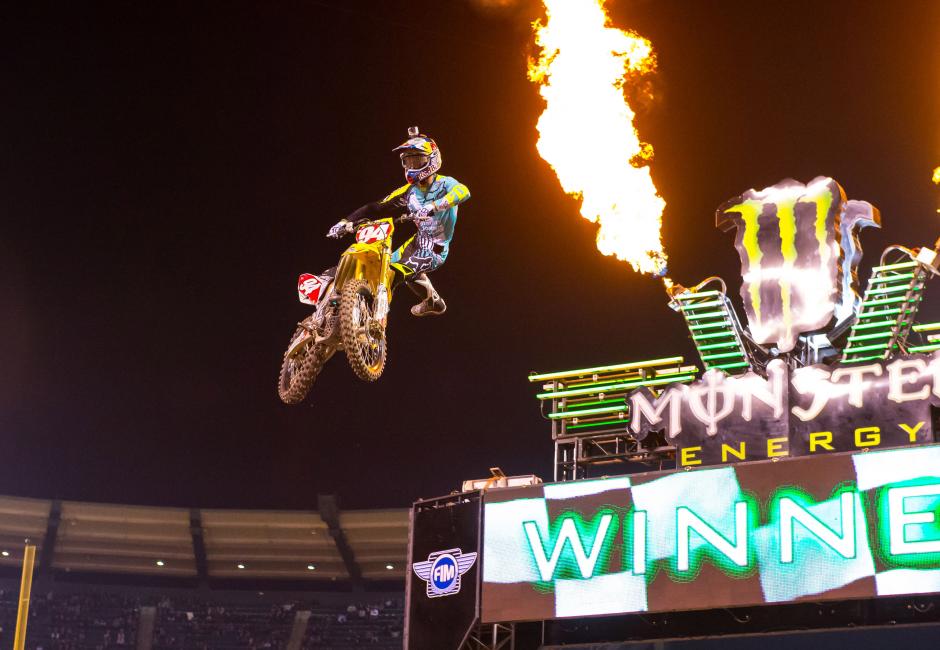 Honda hasn't won the AMA Supercross Championship since 2003, the last year Ricky rode red. Trey Canard was primed to change all that, and while he only won two main events in the first eleven rounds, he was on the podium for seven and still in the hunt when he landed on Jake Weimer's back in traffic at Detroit and knocked them both out of the series. It was a cruel blow not only to Honda and Canard, but also Weimer, who was doing good work with Team Tedder/Monster Kawasaki.
Honda also had GEICO's Eli Tomac and its own Cole Seely out there, and both won races—three so far, in Tomac's case. But the bad nights for Tomac (Anaheim 1, Atlanta 1) left him too far off the points pace. And the class rookie Seely took a couple of rounds to get going, which hurt his distant title hopes, but his speed lately must have everyone at Honda happy about their shared future.
Back to the program cover. It's hard to pin exactly where the veteran Chad Reed fell out of the title chase. There was his controversial black flag at the second Anaheim, followed by a very popular win at the first Atlanta. Maybe it was Daytona, where he seemed like he was getting a head of steam up on the TwoTwo Motorsports/Discount Tire Kawasaki, only to make a simple mistake and lose a shot at a second win on the season. He then hurt his shoulder, forcing him to scratch from the MetLife race last weekend. Supercross neither started nor finished the way Chad wanted, but he showed that he still has some fight left in him—and again, never count him out until he says he's out!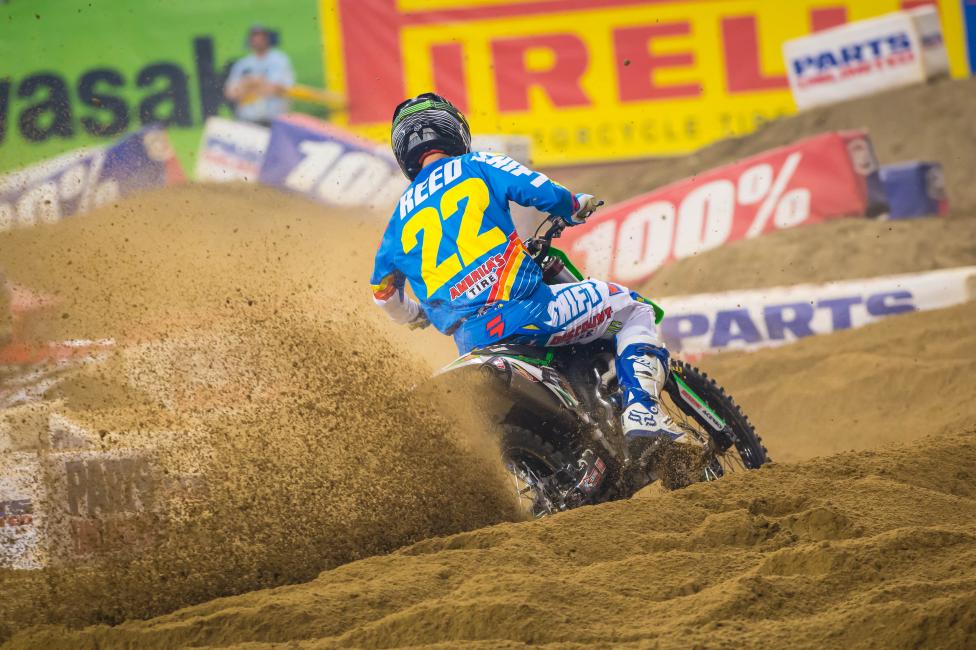 Davi Millsaps was the guy Monster Energy Kawasaki pegged to hold on to the four #1 plates that Ryan Villopoto left behind when he decided to exit the stadiums altogether. The Monster Energy Cup was the first time Millsaps had raced a Kawasaki since he was on 60s, and he proved himself to still be a winner. But that victory in the desert turned out to be something of a mirage. In fourteen races, he never reached the podium, and he had some hellacious mistakes along the way. Then everything went sideways when Monster Energy Kawasaki dismissed him for a having a yet-to-be-publically-acknowledged substance in his locker inside the team rig, which was discovered during a midweek routine cleaning by team personnel. Our guess is that it was an anti-inflammatory steroid for which he lacked the proper paperwork/prescription, but it remains to be seen. With Will Hahn having broken his arm and never actually making it to the starting gate, the Monster Energy Kawasaki rig was parked from Santa Clara on—an unfortunate way for the four-time defending champions to end their run atop Monster Energy Supercross.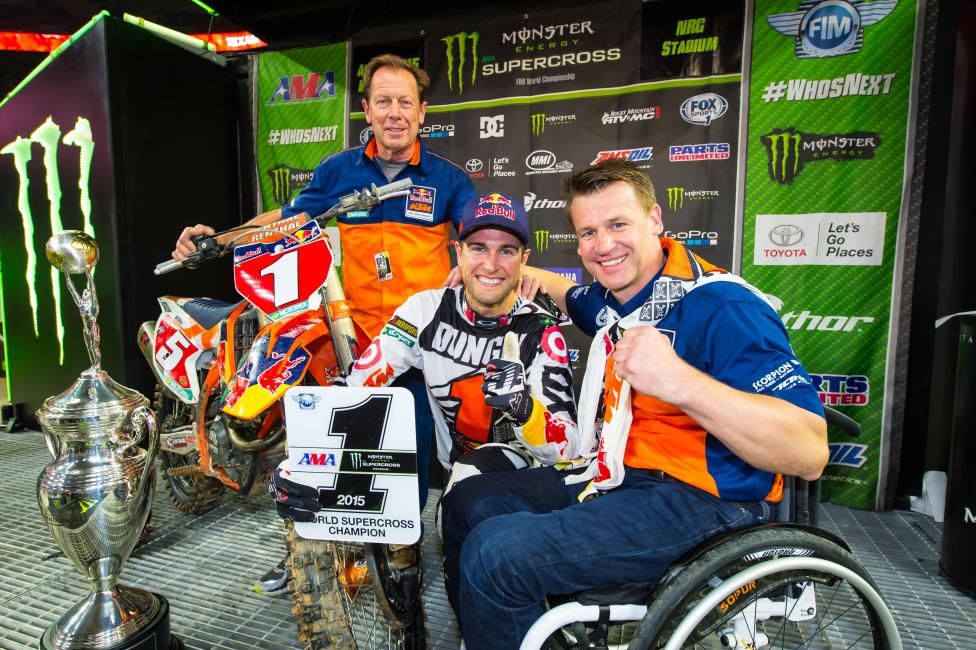 We could say that Ryan Dungey was simply the last man standing from the 2015 Yearbook cover, but that would be totally unfair to Dungey and his team. He may have been the last guy before RV to hold the #1 plate, but not a lot of people would have picked him from this cover last December, when the coming series and its title vacancy promised so much to so many riders and teams. If you did pick RD5—which the original RD did way back in 2005—then you won this draft. Ryan earned this championship from the first night forward, taking fourth at the Anaheim opener (because a fourth was all the night was going to give him) and building on it. His steady, Target-logoed hands held the red plate before they held a first-place trophy, and then he just kept on trucking. He and his mechanic, Carlos Rivera, and everyone involved with Roger DeCoster's Red Bull KTM squad never let up in the march to the brand's first AMA Supercross Championship (not to mention its first 250 SX East Region title, via Marvin Musquin). Turns out Ryan Dungey was #whosnext all along.
With that, let me say thanks to Feld Motor Sports for putting together another fantastic series. Those men and women work harder than most will ever know to make our sport grow, and they have invested countless hours and dollars in upgrades across the board, from what we see online to what we see on TV. They put thought into everything they do: from the music that plays as the riders roll out to the pits maximize every fan's time at the races and every team's presence at the stadium. Producing motorsports on this level is not easy, and the Feld folks don't get the credit they deserve, even though folks can be quick to blame them when anything goes wrong. The series lost some stars along the way, but that's its nature. They will be back, and hopefully better than ever, just like I'm sure Monster Energy Supercross will be in 2016.
Watch the Las Vegas finale live tomorrow night beginning at 10 p.m. ET on Fox Sports 1, or watch it live all afternoon on www.supercrosslive.com. And stay tuned to our gang at Racer X Online and @racerxonline for Simon's photos, Weege and Matthes' insight, and Kelly's bar tab!
RACING WEEKEND (Jason Weigandt)
Something funny happened on the way to the casinos. Las Vegas has morphed into a huge racing weekend for the moto community, and not just because a trip to the Monster Energy Supercross final is an excuse to drive out from California to hit the blackjack tables and the Circle Bar (although that's a big part of it, surely). Probably a dozen years ago, during the heyday of the minibike racing movement, an actual, organized MiniMoto race was held at the Orleans Arena the night before supercross. They even built a scaled-down supercross track for the XR50-based machines. The producers of that event eventually changed the Friday night mini race over to a GEICO EnduroCross date, and that's been a pretty popular event the last few years. Now Amsoil Arenacross is racing on Friday night at Southpoint Casino, but EnduroCross is still racing at the Orleans, so there are two events happening at the same time! That's overload for the moto set—you can only pick one because they're racing at the same time.
Sort of. The AX main ends at about 10 p.m., and the EnduroCross main begins at 11. I'm going to try to catch EX practice, get over to the arenacross for the night show, then race back across town for the EX main. In between, me, Matthes, Jason Thomas, and others will be hosting a live webcast at PulpMX show during the arenacross, so go to www.pulpmx.com; we'll be bench racing, talking to guests, and calling the arenacross action in between. Hmmm, I need to get Jim Holley and Andy Bowyer over there so we can have an all-time webcast mash-up! We'll kick it off at 6 p.m. Pacific.
What's interesting is that both AX and EX have a tie atop the standings. Jacob Hayes and Kyle Regal are in a dead heat for the AX title with just this final night remaining, and Cody Webb and Colton Haaker are tied on top of the EX standings, although this is only round three. So it will be a racing overload before we even get to the actual supercross racing on Saturday.
As for that race, I have one point to make: From 1997 through 2010, the Vegas finals hosted the non-points paying Dave Coombs Sr. East-West Shootout. That was fine and normal, and everyone treated it like a big race. Then we saw points-paying East and West finals added to the show from 2011-2014. Now we've gone back to the old format, but no one seems to remember. I've heard some "Man, why should we race that without points on the line?" the last few weeks. Well, the risks are the same as they were from 2007-2010, and no one stayed away back then. They did often have a Toyota truck or a cash prize on the line, but riders will be getting their big-dollar bonuses anyway, so there is still an incentive—probably one that pays more than a free truck. So not much has changed. Just go race, boys. Soak up the live TV coverage for your sponsors and put on a show. For this year's finals, it's all we've got!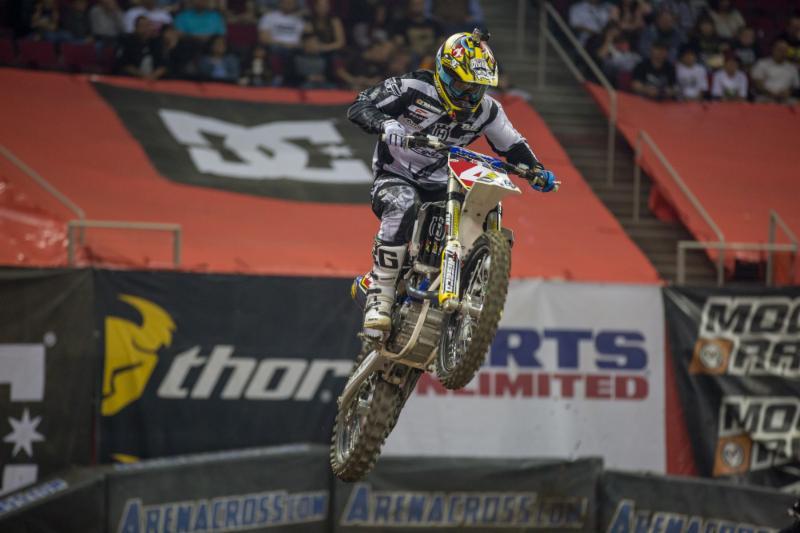 THE NUMBER: 9-9 (Chase Stallo)
Since the Dave Coombs Sr. East-West Shootout began way back in 1997, when a young Kevin Windham upset Ricky Carmichael, the shootout has served as a measuring stick for the best 250SX riders in the world. The aptly named race didn't mark the beginning of these showdowns (back in the day, various stops in the middle of the country and season hosted both East and West entries, but there has been a much larger focus put on it in the Vegas shootout era), but it has become a cornerstone of the series. Let's take a look back at the previous winners. By the way, the series is actually tied right now: nine wins for the East, nine for the West. That's something to watch for tomorrow night!
| | | |
| --- | --- | --- |
| Year | Rider | Region |
| 1997 | Kevin Windham | West |
| 1998 | Ricky Carmichael | East |
| 1999 | Nathan Ramsey | West |
| 2000 | Travis Pastrana | East |
| 2001 | Nathan Ramsey | East |
| 2002 | James Stewart | West |
| 2003 | Andrew Short | West |
| 2004 | James Stewart | East |
| 2005 | Davi Millsaps | East |
| 2006 | Andrew Short | West |
| 2007 | Ryan Dungey | East |
| 2008 | Ryan Dungey | West |
| 2009 | Christophe Pourcel | East |
| 2010 | Jake Weimer | West |
| 2011 | Ryan Sipes | East |
| 2012 | Justin Barcia | East |
| 2013 | Ken Roczen | West |
| 2014 | Justin Hill | West |
—Only four riders—Ramsey, Stewart, Short, and Dungey—have won the shootout more than once.
—Ryan Dungey and Justin Barcia will be the only former shootout winners to line up in 450SX in Vegas. Roczen, Short, Weimer, and Millsaps are all out.
—Dungey is the only rider to win consecutive shootouts (2007-'08).
—The West Region has won two straight.
TAKE OFF, EH? (Steve Matthes)
As we've all seen, the 2016 Monster Energy Supercross schedule was announced today, and it's nice to see that Toronto made it back on the schedule. Yes, I'm incredibly biased because I'm Canadian, but for reals, this race was an under-appreciated jewel of supercross. I admit the first few years the attendance wasn't great, but over the last three or so it had really grown to the point where it was very good.
The dome is nice and right downtown. The dirt problem from the first few years has been resolved. Really, the only negatives I can think of are the cramped area and the pits. But they did a cool Friday night pit party a few years ago where fans were able to meet the riders and get autographs, and hopefully they do that again. I don't know, man, I love it. VIVA CANADA!!!!
THE NUMBER: 3 (Andras Hegyi)
GEICO Honda's Eli Tomac is the twenty-ninth rider to get at least three wins in a season, but he is also the tenth rider who had at least three wins but did not win the Monster Energy AMA Supercross Championship. That distinction for 2015 belongs to Red Bull KTM's Ryan Dungey.
Looking all the way back to 1974, there are two seasons in which no riders got three wins. In 1974, there were only two rounds of the series (Daytona and Houston), and in 1976 there were only five, though both Jimmy Ellis and Marty Smith got a couple of wins each, and the title went to Jammin' Jimmy Weinert!
And there were two seasons when only three wins were sufficient to became champion. In 1983, Team Honda's David Bailey won the championship with three, though his teammate Bob Hannah had five, only to get injured with four rounds to go, breaking his wrist at press day in Orlando. In 1992, another Honda rider, Jeff Stanton, won the Camel AMA Supercross Championship by being much more consistent than the mercurial Yamaha rider Damon Bradshaw. The Beast from the East earned nine wins in 1992 but lost the title in the finale to Stanton. Nine wins and no title is the record for futility. Chad Reed had eight wins in 2003 but lost the title to Team Honda's Ricky Carmichael. James Stewart had eight wins in 2006 but lost the title to Team Suzuki's Ricky Carmichael. Both Reed and Stewart claimed their first AMA Supercross Championships the following year.
Bradshaw has three seasons (1990-'92) where he won at least three events but not the title. Ezra Lusk did it twice (1998, '99), as did David Vuillemin (2000, '02). Beyond that, the following riders got at least three wins one season but no title: Trey Canard (2011), Doug Henry ('97), Mike LaRocco ('94), Ron Lechien ('85), and both Broc Glover (1980) and Kent Howerton ('80).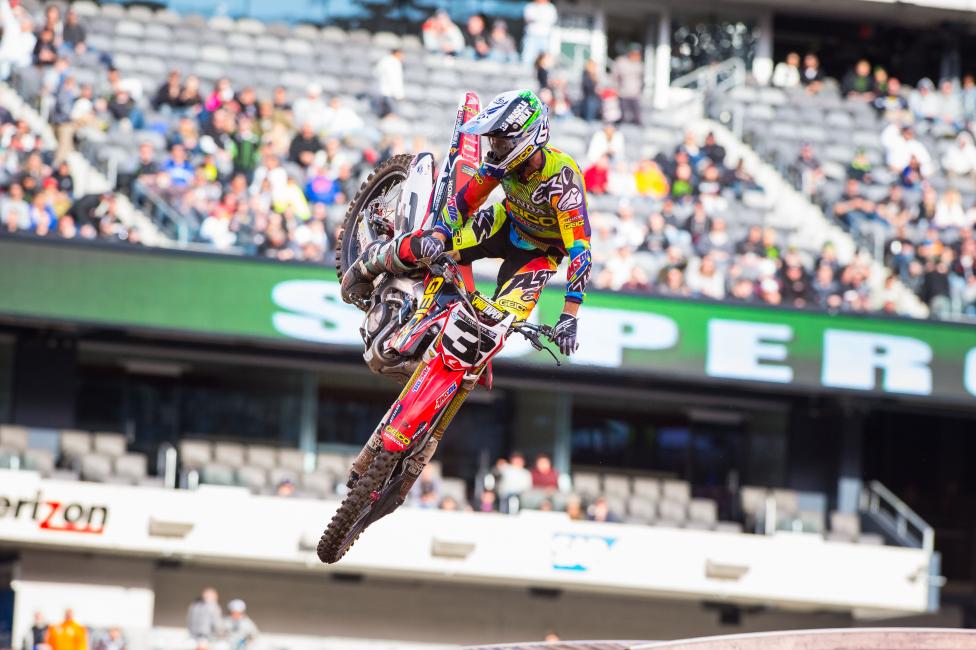 PRO PERSPECTIVE (David Pingree)
Wow, the list of guys NOT racing this weekend just keeps growing. Some, like Bogle and Cunningham, came right out and said they were over it and they wanted to start focusing on outdoor motocross. I respect that. Others offered a vague explanation as to why they wouldn't be competing, and others went out and crashed on their bicycles to get out of it. I'm kidding, folks! Sense the sarcasm.
This is something we see every year and, depending on the championship situation, it can really affect the starting lineup. On one hand, if the championship is already decided, it makes sense to give yourself another week to prepare for the next title run. That just seems like good, common-sense planning. You can use the time to rest, test, get up to speed on the faster MX circuits, and generally switch gears for the summer. On the other hand, there is an obligation to the sponsors and to the fans who paid money to come see these guys race. I imagine a lot of folks would be bummed out on their favorite rider sitting out just because he didn't feel like it was important to him.
I'm torn on this issue, because if your heart and mind aren't in the game, it's very easy to make mistakes and get hurt and you probably aren't going to ride well anyway. I'm sure most of the riders not lining up Saturday will at least be on hand to sign autographs and interact with fans. If they can find a hotel room anywhere in the city, that is.
Oh, and pray for Pacquiao. He may be in for a tough night.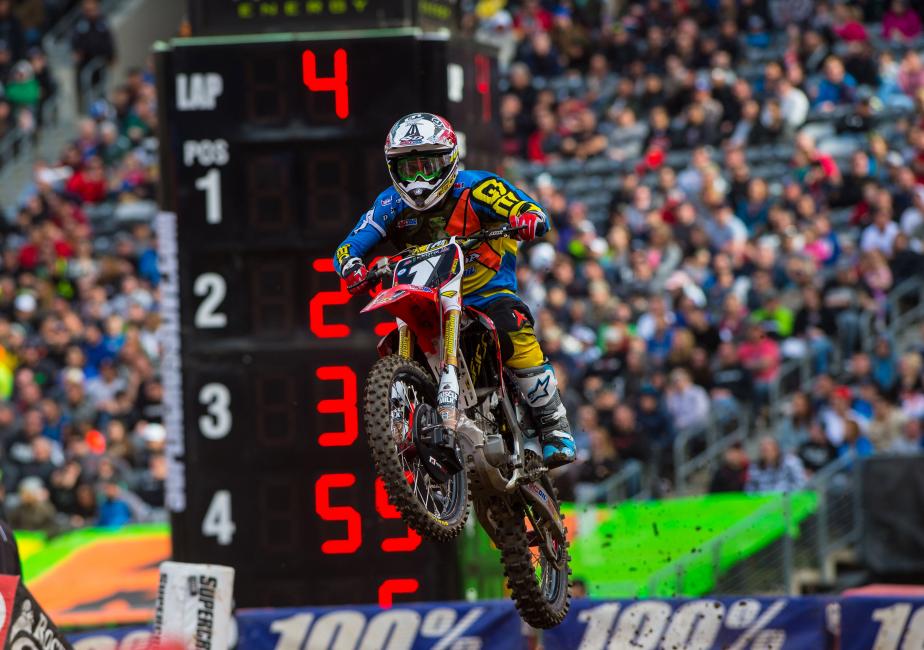 OVER THERE (DC)
American title hopeful Ryan Villopoto ended up not racing the GP of Europe last weekend at Valkenswaard after slamming and injuring his tailbone in Italy. He still went to the race to help teammate Tyla Rattray, and he also dispelled any rumor that he was going to switch back to America and race Hangtown. The hope is that he will be healed up for the next round at Talavera in Spain next weekend. Same goes for Tony Cairoli, who crashed hard when he caught what looked like a rock on the face of a jump, knocking himself out of the first moto. The eight-time champion is now 30 points off leader Max Nagl's pace, the deepest hole Cairoli has ever had to dig out of in the premier class. He has a broken finger now, too, so that should make things even more interesting in Spain.
Meanwhile, Husqvarna rider Nagl has the red plate back, having finished second to the very impressive Gautier Paulin, who swept both motos and gave Honda its first win at Valkenswaard since 2003. Nagl rode very well to take the red plate from Suzuki rider Clement Desalle.
In the MX2 class, as expected, Jeffrey Herlings won again— his sixth straight win at his home track! The Slovenian kid we talked about last week, Tim Gajser, had two insane crashes, the first of which was a high-speed, high-altitude endo on Saturday on a jump that was finally taken out in between motos on Sunday, and then he got knocked into the pond situated on the outside of the first turn with British rider Ben Watson. Here's a clip of what happened.
And Mike Alessi is now headed to England and France at the end of May to race the GPs of those two countries. Not sure if he plans on going back to Canada to try to win the title up there that escaped him last summer, nor are we sure if he will be at Las Vegas this weekend or the Lucas Oil Pro Motocross opener at Hangtown on May 16. No matter, good luck to the #800 and Team Smartop/MotoConcepts wherever they end up racing this summer.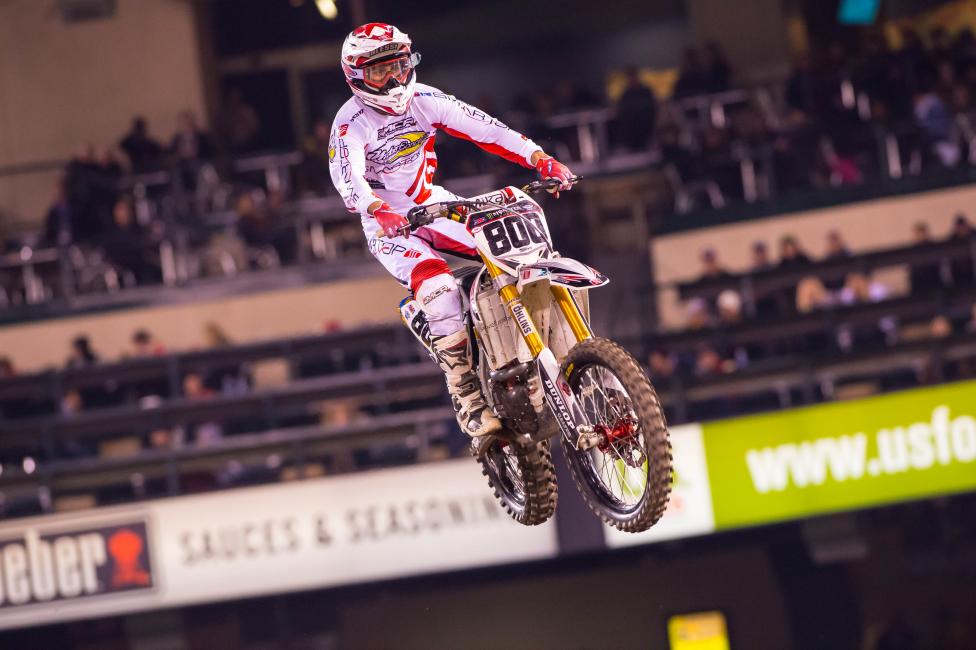 AX SHOWDOWN! (Matthes)
The AMSOIL Arenacross series comes in tonight at the South Point Hotel and Casino, and things are getting intense. Kyle Regal and Jacob Hayes are tied in points, and Hayes's teammate Matt Georke is right there. The action is going to get gnarly tonight, as it seems all these guys have grudges against one another as the series winds down. I look for some heavy contact tonight with some great racing, and at the end, one of these riders will have their first professional title.
If you can't make it down there to watch it for yourself, the Pulpmx Show is going to be doing a live show starting at 6 p.m. PST. The racing starts at 8, and I, The Weege, and Jason Thomas will be joined by some of the series riders and other guests throughout the night. I'm not sure how we're going to pull this off, but we have Weege with us, and he's a real professional. Head to pulpmxshow.com for all the action tonight.
We had a Pulpmx Vegas SX Show with Kyle Chisholm, Big Nasty, and AX regular Bobby Kiniry in-studio HERE, and Kiniry was telling us about some of the AX stories of the contact made throughout the year. I know I'm building the hype here, but in talking to some of the supercross regulars today at press day, everyone is looking forward to tonight.
YET ANOTHER NUMBER: 8 (Andras Hegyi)
In winning the East Region 250SX Championship, Marvin Musquin won six races in eight outings, and had podium finishes in all eight. The Frenchman has repeated what Damon Huffman did in 1995 while riding a Suzuki RM125 on his way to the West Region title: six wins, eight podiums. Musquin is the sixteenth small-bore SX champion who was able to get on the podium in every round of a series. On the West Coast there's been Jeremy McGrath (1992), Jimmy Gaddis ('93), Damon Huffman ('94, '95), John Dowd ('98), James Stewart (2003), Ivan Tedesco ('04), and Ryan Villopoto ('07). On the East Coast, it was Doug Henry (1993), Ezra Lusk ('94), Ricky Carmichael ('98), Ernesto Fonseca ('99), Chad Reed (2002), Davi Millsaps ('06), Justin Barcia ('11), and Wil Hahn ('13) who all got podium in all the rounds.
Team Honda's Doug Henry got the most podiums in a season with ten in 1993 in the East Region, and Splitfire/Pro Circuit Kawasaki's Ricky Carmichael remains the only rider in AMA Supercross history to go undefeated for a whole series. Carmichael did it in 1998 in his pre-GOAT years, winning all eight rounds (Indianapolis, Atlanta, Tampa, Daytona, New Orleans, St. Louis, Pontiac, Charlotte). Then Carmichael avenged his loss to Kevin Windham the previous year by winning the East/West Shootout in Las Vegas.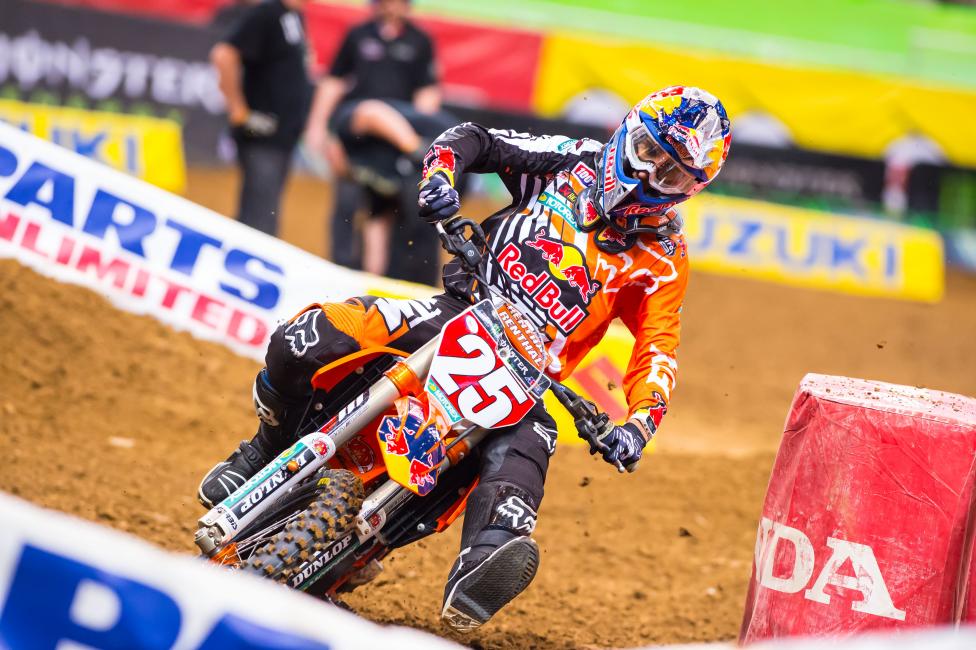 WHAT THE HELL MOMENT OF THE WEEK
Jerry Cabral sent us this.
HEY, WATCH IT!
Back in the early days of Racer X Illustrated, we featured a story on an old stadium race that used to take place in Czechoslovakia called the Great Victory Day Race, commemorating the end of World War II. With the help of Reese Dengler, we were able to tell the story of what were arguably the first "supercross" races, many years before the 1972 Superbowl of Motocross, even though they took place during the day. Well, Reese found some cool video online videos of the event and posted them on Vital MX, and I have to say, they look even more look modern supercross than I ever imagined!
RANDOM NOTES
Lucas Oil Pro Motocross is proud to continue its partnership with Veteran Tickets Foundation (VetTix). Fifty General Admission tickets for each of the twelve rounds of the Nationals will be available to all military veterans two weeks prior to each event through VetTix.org.
Click here for GoPro Hangtown Motocross Classic ticket information.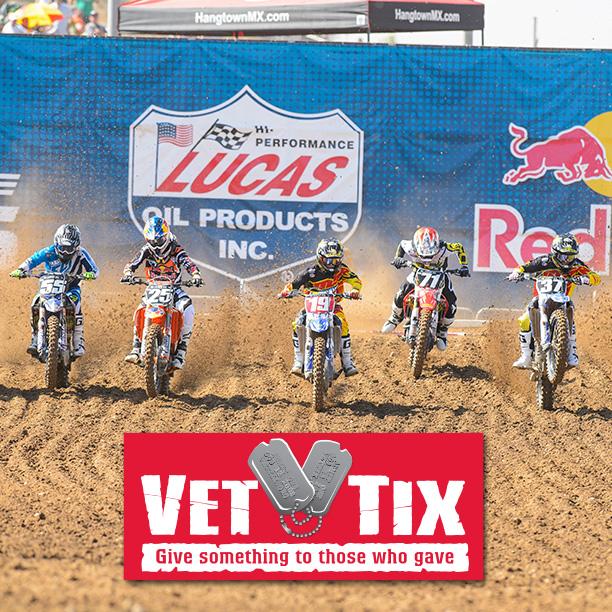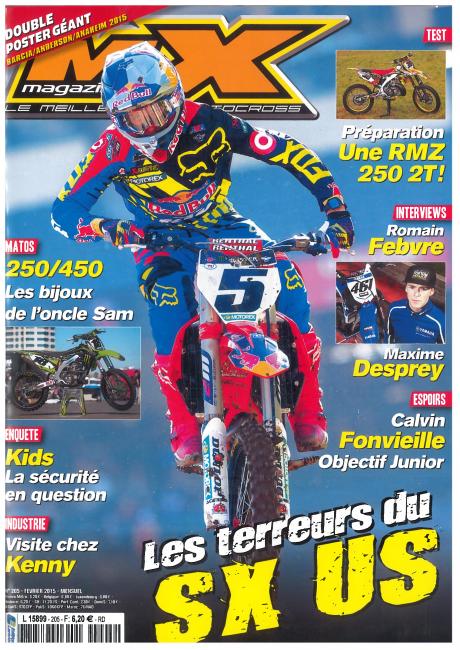 Sports Illustrated sent a photographer to follow Ryan Dungey and his crew on their visit to New York City and New Jersey for last weekend's Monster Energy Supercross at MetLife Stadium. Check out the photos right here.
For the latest from Canada, check out DMX Frid'Eh Update #17.
Acerbis is sponsoring the Las Vegas round of Racer X MotoDynasty Fantasy Supercross and will be giving out prizes to the winners of both classes. Click here for a chance to win.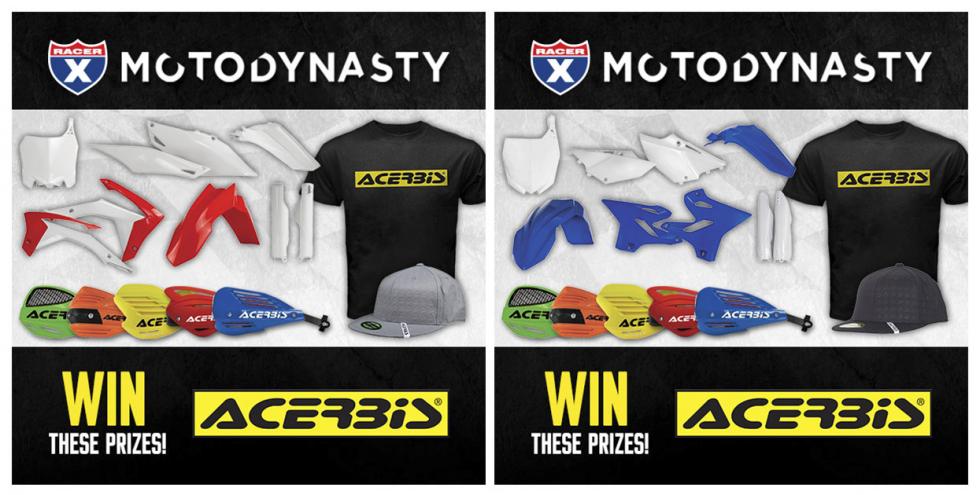 That's it for Racerhead. Enjoy your weekend, thanks for stopping by, and see you at the races.