From the time that all three 2015 Monster Energy AMA Supercross Champions got their hands on the red plate that signifies the points lead, none of the three ever gave it up. Red Bull KTM's Ryan Dungey took over the points lead at the fourth round in Oakland, without having won a single race to that point. He never let it go and clinched the title with a month left in the series! Yamalube/Star Racing Yamaha's Cooper Webb grabbed the red plate from Jessy Nelson at the third round of the 250SX West Region. And, of course, Marvin Musquin won the 250SX East Region opener and then went on to claim his first-ever AMA championship by leading the points throughout the series, finally clinching at MetLife Stadium last Saturday afternoon.
But, in previous years, including those well before the red plate became a part of the program, others have not been so fortunate, somehow losing gigantic points leads along the way. The List deeps dives on a few of those unfortunate episodes.
In 1990, Team Honda's Jean-Michel Bayle, already a two-time FIM World Champion, was closing in on the AMA 125 National Motocross Championship. He went into Washougal, which was the eighth round of the series, with a 14-point lead over Suzuki's Guy Cooper. Unfortunately, JMB crashed in the legendary Washougal whoops before the finish line and suffered a broken arm. Cooper would win the race and take over the points lead, then hold off a charge from defending champion Mike Kiedrowski to take the 1990 AMA 125cc Motocross Championship. As for Bayle, well, he was about to change everything, but that was to come one year later.
We've written many times about the 1992 Los Angeles Superbowl of Motocross, which was the final round of the '92 AMA Camel Supercross Championship. Yamaha's Damon Bradshaw, then 19, had a sizable points lead until he threw it away at Indianapolis, letting Team Honda's Jeff Stanton and Jean-Michel Bayle, the defending champion, back in the chase. Then Bradshaw got the lead back with a sweep of the Pontiac doubleheader, putting him 6 points ahead. One week later, Damon tangled with old nemesis Jeff Matiasevich in Las Vegas and lost the lead again to JMB, who quite honestly didn't seem too interested in winning another title—he already had his heart and mind set of moving into road racing. But then Bradshaw won Dallas and San Jose to take back the points lead, as Bayle crashed and injured his shoulder, finishing ninth. At that point, with one race to go, Bradshaw had a 6-point lead on Stanton, but then the last race in Los Angeles was postponed for one month due to the Rodney King riots in LA (just like the Baltimore Orioles had a couple of baseball games postponed this week due to civil unrest). When the race finally happened, Bradshaw seemed to let the pressure get the better of him, locking up and barely being able to get through the whoops while Stanton ran off and hid with the win and a stunning third AMA Supercross Championship in four years.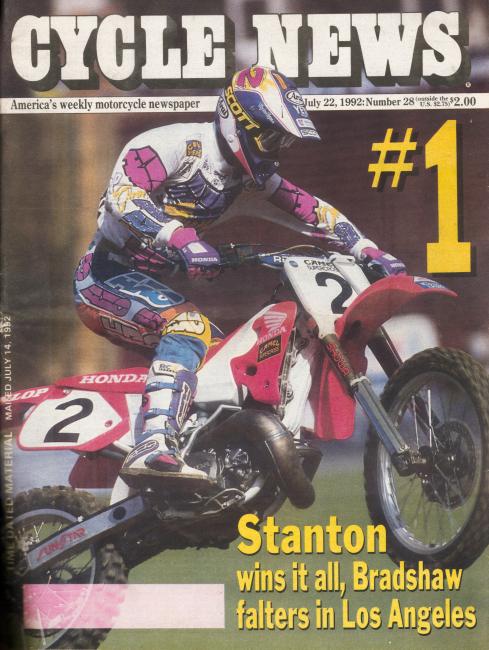 Let's stay in 1992. With two rounds to go in the AMA 125 National Championship, Kawasaki's Mike LaRocco held a 48-point lead on Yamaha's Jeff Emig, who had been even further down in the early stages, only to win eight of twelve motos over the span of six rounds. Then LaRocco had a disastrous day at Steel City, the clutch basket on his KX125 stripped of all the splines on the inner hub with two laps to go in the first moto while running third. Then, in the second moto, halfway through, the carburetor on LaRocco's bike pulled out of the air boot, and he DNF'd again! In one afternoon, Emig knocked 47 points off of The Rock's 48-point lead!
So it all came down to the last muddy race at Budds Creek, where Emig put in one of his best rides ever—he had a thirty-two-second lead on the fourth lap of the first 125 moto—and LaRocco hit a tire barrier on the first lap and bent his shift lever all to hell. Just like that, Emig was a champion for the first time in his professional career.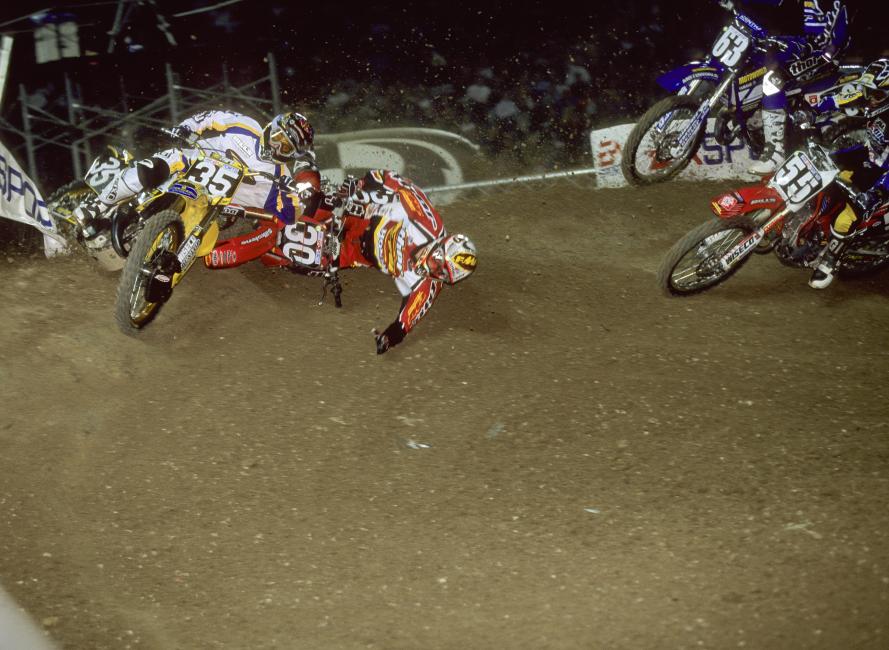 Our own David Pingree, then with Suzuki, was 9 points ahead of Shae Bentley with two rounds to go in the 125 West Region SX Championship in 2000, despite getting caught up in several first-turn crashes along the way. At the penultimate round in Minneapolis, he again got caught up in a first-turn crash, this time bending his front brake rotor. He finished fifteenth, handing a 10-point lead to Splitfire/Pro Circuit Kawasaki's Bentley. Incredibly, Pingree crashed in the first turn again at the series finale in Dallas, only this time Bentley went down too, as did more than half of the entire pack—fifteen all together—in what Cycle News' reporter Dave Deringer described as, "one of the worst first-turn crashes of all time." Then Bentley crashed again, this time with Travis Preston. Ping rode as hard as he could and reached second place, enough to clinch the title had Bentley stayed back in ninth where he was with two laps to go. Bentley dug in, passed Rodrig Thain and Jiri Dostal, and captured the title by 2 points over Ping.
Suzuki's Travis Pastrana won the first moto of the 2001 Unadilla 125 National, giving him a commanding 47-point lead over runner-up Grant Langston, who was on a KTM. Pastrana was hammering everyone in the second moto, too, only to suffer an ugly endo on the last lap, handing the win and 25 points to Langston. Travis suffered a concussion, and he never got fully back on track that season.
As for Langston, he had trouble coming his own way. The reigning FIM 125cc World Champion, who moved to the US from South Africa, held a 6-point lead over Splitfire/Pro Circuit Kawasaki's Mike Brown. Langston had the title in hand with just a couple of laps to go when the rear wheel disintegrated, handing the championship to Brown!
David Vuillemin held a 20-point lead on Ricky Carmichael going into round nine of the 2003 AMA/EA Sports Supercross Championship, but then got himself hurt doing a midweek photo shoot and was forced to skip the Daytona Supercross with a shoulder injury. RC won the race on his Honda CR250, took over the points lead, and was never headed again.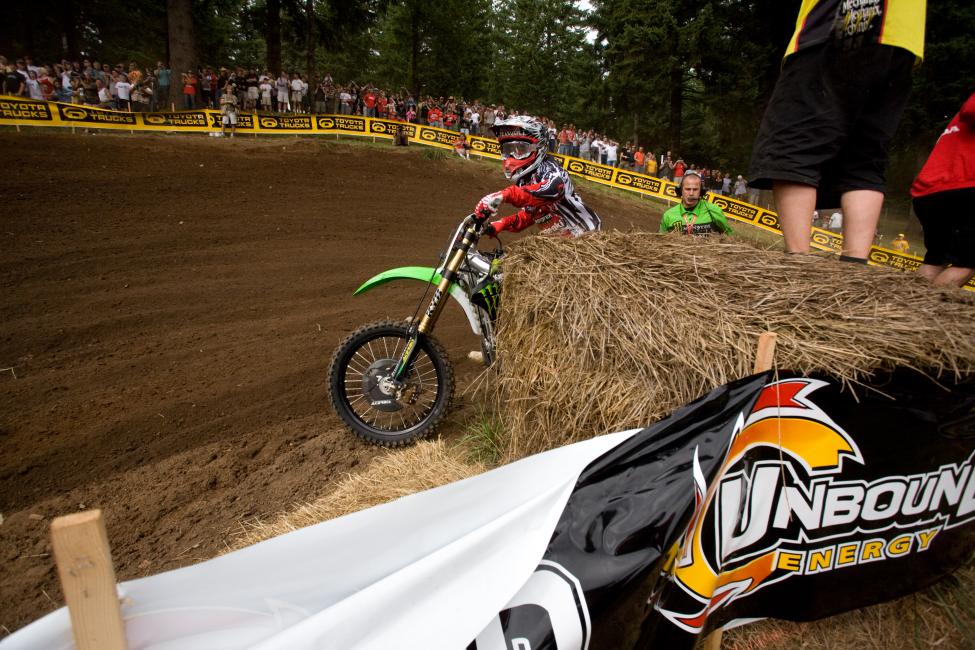 In 1989, Team Honda's Rick Johnson won five of the first six AMA Camel Supercross main events and held a commanding 22-point lead over his young teammate Jeff Stanton when everyone went outdoors for the Gatorback National, which used to be set the week before Daytona. In practice, RJ tangled with Honda support rider Danny Storbeck and suffered a broken wrist. When it was time to get back to SX Stanton immediately stepped up in Johnson's absence, won Daytona to take over the points lead, and went on to claim his first of six SX/MX titles.
Johnson also had the points lead in the 1982 250 Motocross Championship while riding a Yamaha, only to break a wheel at the final round in Colorado and hand the title to Honda's Donnie Hansen. And then in 1987 RJ washed out the front end on his Honda in AMA Supercross and ended up with three broken fingers at the Pontiac Silverdome! Add those three titles to Johnson's career haul, plus what might have been had he not suffered such a damaging wrist injury as his broken navicular in 1989, and he might have had a dozen titles rather than the seven he holds in the records books.
Like David Vuillemin, Bob "Hurricane" Hannah also threw away what seemed to be a sure title shot in 1983 when he was injured during the press day ride at the Orlando SX. Actually, it was two titles shots. Hannah was the points leader in both AMA 250 Motocross and Supercross, which overlapped a lot back then, holding a 25-point lead outdoors over Honda teammate David Bailey and an 18-point lead on Mark Barnett when he snapped his wrist. He ended up losing both titles to Bailey, as well as a shot at the 1983 AMA Grand National Championship, which combined points from both series. Like RJ in 1989, Hannah won some races after his break, but he was never quite the same force, and the injuries eventually took their toll on his career.
James Stewart struggled to beat Ricky Carmichael in 2007 as RC was heading out the door with a limited run of six outdoor nationals, all of which RC won, but by the time RC was ready to quit the series, it was Kawasaki's Stewart who was well ahead of the field. But then at the two of the next three races, none of which Carmichael entered, James had the terrible misfortune of crashing at Unadilla and knocking himself out in practice, and then turning his knee at Washougal and tearing the ligaments. Just like that, he was done, and a mad scramble ensued to claim the 250 Motocross Championship. The ultimate beneficiary was the guy who had been on the losing end of such a turn of fortune once, Yamaha's Grant Langston.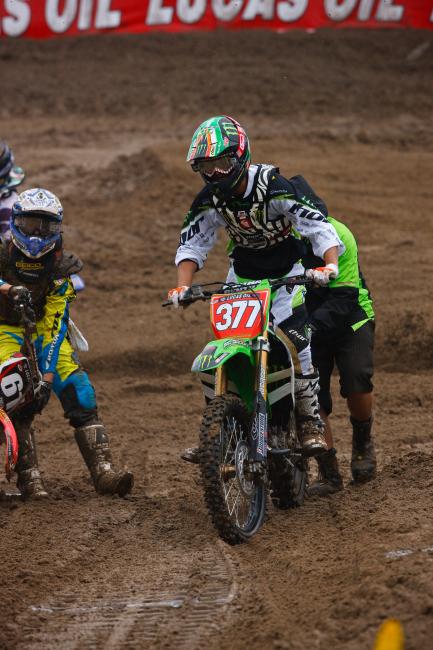 In 2009, Monster Energy/Pro Circuit Kawasaki rider Christophe Pourcel was locked in a battle with Rockstar Energy/Makita Suzuki's Ryan Dungey for the Lites (250F) AMA Motocross Championship. Pourcel, a former MX2 World Champion, held the points lead with two rounds to go, but then sized his motor at the next-to-last round at Southwick in one moto, then crashed in the second moto off the start, basically ruining his chances to stay ahead of Dungey.
One year later, disaster struck the Frenchman again, this time with GEICO Honda's Trey Canard. They were at the last race of the year at Pala when Pourcel, holding a 9-point lead after Canard crashed in the first moto. Trey went on to win, and for the second year in a row Pourcel lost an AMA Motocross Championship in the waning moments.
It's been up and down for Pourcel since then, but now he's back with Rockstar Energy Racing Husqvarna on the 450 racing the outdoors. Who knows, maybe it's #377's turn to be the recipient of some good luck for once!
Even the great Jeremy McGrath is not immune to big mistakes. He was holding a comfortable points lead in 1996 over his then-bitter rival Jeff Emig, trying to defend his AMA 250 Motocross Championship "until Millville, when McGrath tried jumping a massive table-to-table double and cased it, spraining his foot badly," our own Jason Weigandt wrote in the Racer X Online Vault. "He could barely ride and struggled to score top-ten finishes. Emig went 1-1 and began an impressive streak of holeshots and wins—he was coming on strong just as McGrath faltered." With all things even again, it came down to the Steel City finale between Honda's McGrath and Kawasaki's Emig. With everything on the line, it was Emig who rode the better race, going 1-1 to take a very satisfying win over McGrath.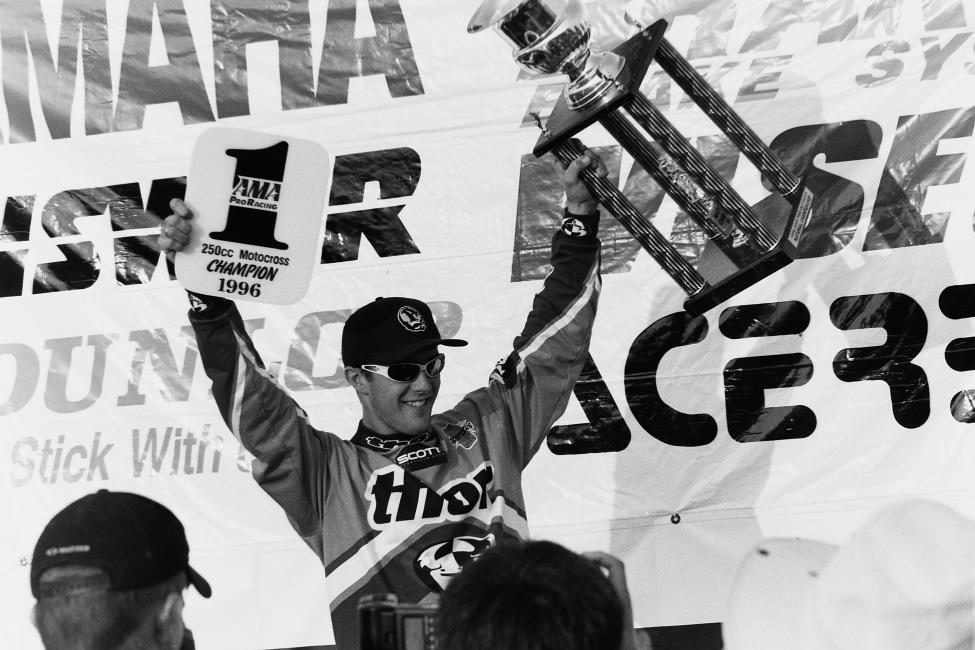 Ironically, in 1998, McGrath switched over to Yamaha and took a title away from Emig, the one Emig took from Jeremy in the 1997 AMA Supercross Series. Jeremy also looked ready to take away Emig's title in the 250 nationals as well, but then he broke his wrist after winning the Hangtown National and was out of the title hunt. If not for those falters in 1996 and '98, the King of Supercross might have had three outdoor titles to boot, rather than the one he won in 1995.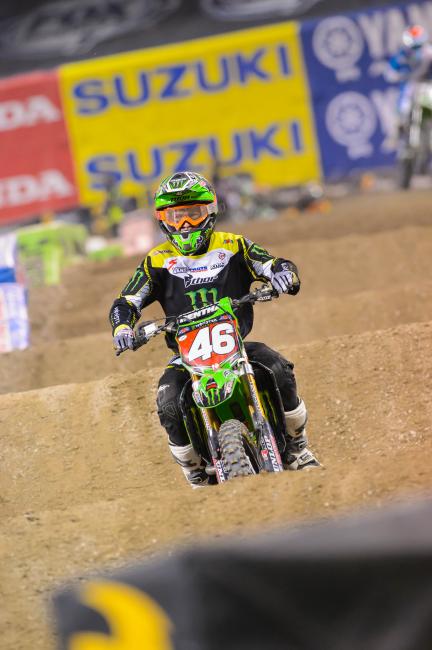 Finally, and maybe most cruelly, there's Mitch Payton's 250 East Region squad in 2014. First, Adam Cianciarulo was well on his way to what would have been his first professional title when he dislocated his shoulder in Toronto, knocking him out of the points lead. Next would have been Blake Baggett, his teammate and already a 250 outdoor champion, but he ended up crashing too in Toronto, and scoring just 1 point. That left the veteran Martin Davalos with the red plate and a straight shot at the championship, which would have been a popular one for the highly respected Davalos, who had never even won a race before 2014. But then, while practicing for the final rounds, he stepped off his bike high over a triple and suffered a pair of snapped ankles. All three of Mitch Payton's riders were out injured by the New Jersey round. Just like that, all three Monster Energy/Pro Circuit riders were out of the hunt, and GEICO Honda's Justin Bogle used his own steady throttle hand to take the championship!