Holland was home to Honda power for the fifth round of eighteen in the 2015 FIM Motocross World Championship, and Gautier Paulin properly righted a stuttering first season in factory HRC colors with an emphatic maiden victory in red across the Valkenswaard sand.
At the same circuit where his tilt toward a championship withered in 2014 with a second moto crash and thumb injury, Paulin buried a ghost and showed the same clean pair of heels that the utterly dominant Jeffrey Herlings dusted off and clicked at his MX2 rivals for the sixth year and twelfth moto in succession. In a turn of fate, it was actually Cairoli who would eat sand at Valkenswaard this time, and his wince-inducing first moto fall bent the 350SX-F enough (bars and cracked radiator) to ensure a DNF and potential fracture of his left hand, as the Sicilian lost all feeling in the body part during the second race and could only manage seventh place.
Much was made of Herlings' extraordinary streak that gives extra emphasis and significance to the idiom of "home turf," but Cairoli was also half a decade unbeaten at Valkenswaard. The turn of events for #222 was unusual—it will take a hefty trawl through the results sheets of the past twelve years to see when he last picked up a tally as low as 14 points in the sand—and if this 2015 title chase does end up going down to a duel between the KTM man and the absent Ryan Villopoto (which, at the current time, looks unlikely considering the strength of others), then the American will have looked on from the side-lines in the Netherlands and might view this fifth fixture and second in Europe as a key moment.
For Paulin, it certainly was another small career milestone among achievements such as winning his first-ever premier class appearance as a wildcard in 2011, victories in two Motocross of Nations before his unbeatable flight for Team France in Latvia last year, and then the high-profile move to Honda that, until last weekend, had seemed to take some time to fire into life. Valkenswaard represented Grand Prix success with a third different manufacturer for the 25 year old and meant that he became the third different winner in MXGP in five races this year.
The man with three GP wins to his name—Red Bull IceOne Husqvarna Racing's Max Nagl—took over control of the series by 5 points from Rockstar Suzuki's Clement Desalle with his fourth visit to the podium and a surprising turnaround from a shaky Saturday.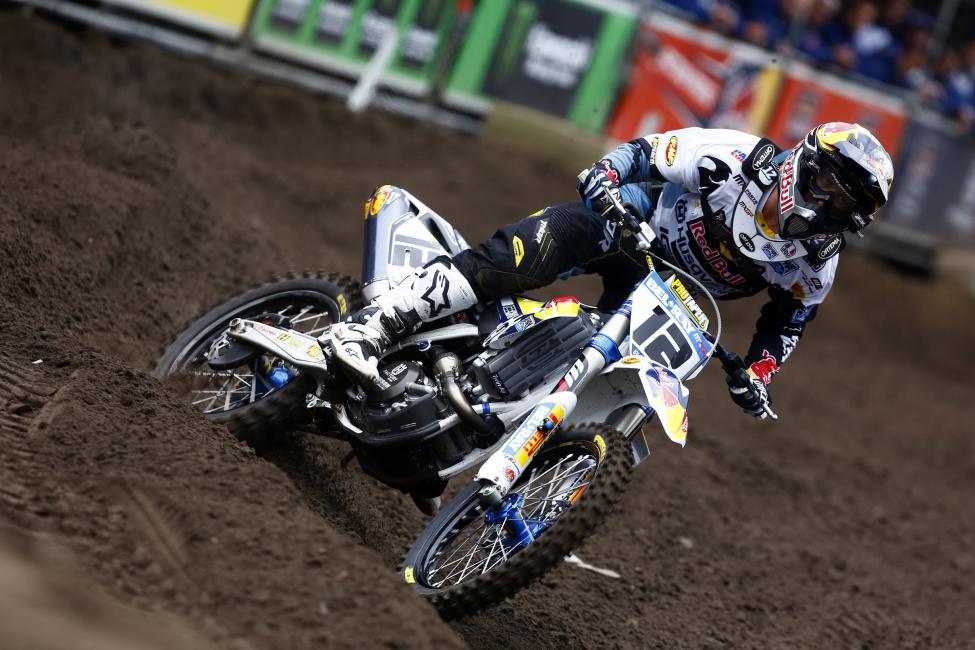 "After yesterday I was not really expecting to be on the podium today," the German admitted. "From when I woke up I didn't really feel good, and you have days like that sometimes. It didn't matter what I changed on the bike; I just didn't like it. I was struggling all day with the track, but I wasn't too worried because I know things can change overnight. And that's what happened. I was fast right away in warm-up and we tried some different tires. We kept working and testing to improve where we could. My plan was to ride smart today and not too hard because the track was quite dangerous in parts."
In 2015, Nagl has won from the front, from a bad start and through passing his peers with relative ease (and swift overtaking was never one of his fortes), and now gained two second-positions after some adversity; only injury is going to stop the former KTM favorite from going the distance this summer. Desalle, third on the podium in Holland, is also steady. Pitched over the bars on Saturday in the same double-triple section of the track that saw crashes by Tim Gajser, David Philippaerts, Pauls Jonass, Davide Guarneri and Cairoli, the Belgian eliminated the mistakes that disturbed his last appearance in Italy and bumped the strong Evgeny Bobryshev away from the box in what could have easily been a 1-3 for Honda. Desalle has yet to miss a bottle of champagne this season, and although he admitted that he is getting impatient for victory, his regularity is setting the pace in this championship's early stages.
Belgian fans rued the absenteeism of their stars on the track and on the rostrum. Kevin Strijbos (wrist) is due back in two weeks, Jeremy Van Horebeek (fractured foot) will return in three, and Ken De Dycker was allegedly nullified due to sickness. Sand skills were on show from British champion Shaun Simpson, who made a hash of both starts, but his season-high 5-6 appeased many of the British spectators at the circuit who had already seen 18-year-old Adam Sterry blast both motos of the European EMX250 class (MX2's feeder competition) and witnessed Dean Wilson wandering around the paddock.
Yamaha's Romain Febvre was also eye-catching. The French rookie on the factory YZ450FM was bitterly disappointed with his first moto, first lap crash that dropped him to the back of the field, but he rallied to eleventh and then holeshotted the second moto.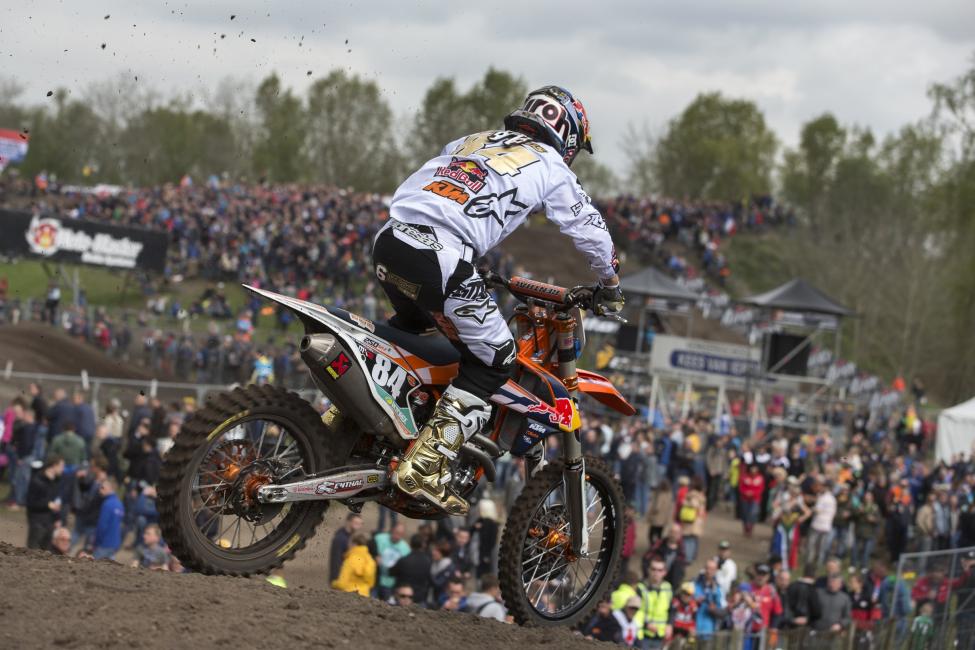 Holland could count on MXGP rookie Glen Coldenhoff to score a career-best in the premier class so far with eighth overall. "There were a lot of classes here and it definitely made it rough," the 24-year-old evaluated in reference to the track's deterioration with EMX125, 250, and 300 series also on the GP program. "I have never seen it like this before. It was not dangerous at all, but the speed was high and it was tough."
For another Dutchman the bumps were part of business, part of life, part of riding a motorcycle. Jeffrey Herlings even had the good grace to start badly and crash on the first lap of the second MX2 moto to inject a little more drama into his virtuoso display of sand riding. His technique, sheer strength, and confidence remain simply irresistible, and Grand Prix journalists have long since exhausted the thesaurus when it comes to adjectives for #84 in the soft stuff. One day Herlings' training schools in sand will be vital for any aspiring pro. It's now almost inevitable that Herlings will get the four more wins needed to surpass the great Joel Robert's haul of fifty, and Herlings won't turn 21 until the the end of this season—surely his last on a 250.
The tussle for second was more complicated. At first it seemed that Monster Energy Kawasaki Dixon Racing Team's Max Anstie would have the superior technique to claim the position, but his second spot in the first race was ruined by an engine problem in the second moto. Wilvo Nestaan Husqvarna's Alex Tonkov completed a set of holeshots on the new 2016 FC250, and those starts and increasing fitness after a shoulder injury put the Russian into contention. World Champion Jordi Tixier was looking to go 3-3, and a frustrated Dylan Ferrandis (issues with suspension set-up) was also in the mix. In the end, Ferrandis' bizarre leg extension to ease himself away from Jonass while looking to take fourth place in the second moto drew the disapproval of the FIM, who penalized the Frenchman ten places for his actions. Tonkov went from second to third, and Tixier slotted from fourth to second, somewhat bemusedly.
"I don't know why I put my leg out like this—for security…and for sure not to push him," offered Ferrandis afterwards. "I knew that he was tired and I was faster. I was just scared to crash and we were close together. I've had a lot of injuries over the years, and I did not want an accident. I don't understand the Federation. When you know the risks we take in this sport, I think this is nothing."
Trentino Grand Prix winner Tim Gajser could not get near Herlings or the chance of completing an HRC double, and his scary crash on Saturday—I've never seen a more mangled motorcycle make it back to the pits—ensured his confidence was duly dented. At the start of the first moto a ripple effect around the first turn kink saw the Slovenian guided into the small pond area with British teenager Ben Watson, who was completely submerged underwater. It was one of the weirdest Grand Prix DNFs in the history of the sport, as Watson almost had to swim his way out of the lagoon. Gajser remounted with his bike, having escaped the submarine treatment, and rode the entire first moto drenched.
There was of course another dampener on proceedings. Valkenswaard missed the "Villopoto Effect" (so called by his Monster Energy Kawasaki Racing Team) and the chance for Grand Prix followers to see how RV could have handled his first event in the sand against such specialists such as Cairoli, Simpson, and co. After his self-confessed "rookie mistake" at the Trentino round in Italy the previous Sunday, the Kawasaki crew decided to slightly dilute the chances of a maiden title in 2015 for the sake of better health and a potentially faster Villopoto at the Spanish GP in two weeks. Ryan hasn't turned a lap of the Eurocircuit, but was shrewd enough to observe that the track would have been hard enough to master "on a good day." The upshot on Sunday evening was that the #2 is now 90 points behind new red-plate runner Nagl, a difference of almost four motos with twenty-six still on the schedule. The only potentially positive stream from the predicament was renewed questions over 2016, and if the season does start turning towards a unsatisfactory closing chapter on a remarkable career, then Villopoto might be tempted to write a few more pages. In the belated 2015 official team presentation at the KRT workshop north of Eindhoven, RV admitted that Kawasaki Motor Europe had already put the 2016 question on the table and he remained so far non-committal to a direction either way.
Some will spend the next week of downtime before the Grand Prix of Spain at hard-packed Talavera de la Reina to test, and the updates on Cairoli and the progress of recovery for Villopoto will be two of the most sought after news in the days ahead and before the paddock sets up south of Madrid.
FIM World Motocross Championship
Round 5 - Valkenswaard, Europe
MXGP Overall
1.
Gautier Paulin
25-25
Hon
2.
Max Nagl
22-22
Hus
3.
Clement Desalle
18-20
Suz
4.
Evgeny Bobryshev
20-18
Hon
5.
Shaun Simpson
16-15
KTM
6.
Tyla Rattray
15-13
Kaw
7.
Romain Febvre
11-16
Yam
8.
Ken de Dycker
13-12
KTM
9.
Glenn Coldenhoff
14-11
Suz
10.
Tommy Searle
9-10
KTM
11.
Antonio Cairoli
0-14
KTM
12.
Dean Ferris
6-8
Hus
13.
Todd Waters
7-7
Hus
14.
Xavier Boog
8-6
Kaw
15.
Filip Bengtsson
12-0
Hon
16.
Steven Frossard
10-0
KTM
17.
David Philippaerts
0-9
Yam
18.
Jose Butron
5-4
KTM
19.
Tanel Leok
3-5
Kaw
20.
Alessandro Lupino
4-2
Hon
MX2 Overall
1.
Jeffrey Herlings
25-25
KTM
2.
Jordi Tixier
20-20
Kaw
3.
Aleksandr Tonkov
16-22
Hus
4.
Brian Bogers
15-16
KTM
5.
Valentin Guillod
10-18
Yam
6.
Jeremy Seewer
12-14
Suz
7.
Dylan Ferrandis
18-8
Kaw
8.
Brent Van doninck
11-12
Yam
9.
Jens Getteman
9-13
Hon
10.
Max Anstie
22-0
Kaw
11.
Julien Lieber
14-6
Yam
12.
Benoit Paturel
5-11
Yam
13.
Thomas Covington
7-9
Kaw
14.
Pauls Jonass
0-15
KTM
15.
Roberts Justs
3-10
KTM
16.
Petar Petrov
13-0
KTM
17.
Tim Gajser
4-7
Hon
18.
Harri Kullas
6-5
Suz
19.
Vsevolod Brylyakov
8-3
Hon
20.
Ivo Monticelli
1-4
KTM
MXGP Series Standings
1.
Max Nagl
214pts
Hus
2.
Clement Desalle
209pts
Suz
3.
Antonio Cairoli
184pts
KTM
4.
Gautier Paulin
178pts
Hon
5.
Romain Febvre
156pts
Yam
6.
Evgeny Bobryshev
138pts
Hon
7.
Ryan Villopoto
124pts
Kaw
8.
Shaun Simpson
98pts
KTM
9.
Todd Waters
92pts
Hus
10.
Glenn Coldenhoff
86pts
Suz
11.
Ken de Dycker
78pts
KTM
12.
Jeremy Van Horebeek
75pts
Yam
13.
Davide Guarneri
70pts
TM
14.
Tyla Rattray
68pts
Kaw
15.
David Philippaerts
68pts
Yam
16.
Kevin Strijbos
55pts
Suz
17.
Dean Ferris
42pts
Hus
18.
Steven Frossard
42pts
KTM
19.
Tommy Searle
39pts
KTM
20.
Jose Butron
38pts
KTM
MX2 Series Standings
1.
Jeffrey Herlings
222pts
KTM
2.
Dylan Ferrandis
185pts
Kaw
3.
Pauls Jonass
148pts
KTM
4.
Tim Gajser
137pts
Hon
5.
Aleksandr Tonkov
133pts
Hus
6.
Valentin Guillod
129pts
Yam
7.
Jeremy Seewer
125pts
Suz
8.
Julien Lieber
121pts
Yam
9.
Jordi Tixier
115pts
Kaw
10.
Thomas Covington
102pts
Kaw
11.
Max Anstie
89pts
Kaw
12.
Brian Bogers
88pts
KTM
13.
Petar Petrov
83pts
KTM
14.
Benoit Paturel
76pts
Yam
15.
Jens Getteman
58pts
Hon
16.
Roberts Justs
57pts
KTM
17.
Brent Van doninck
56pts
Yam
18.
Vsevolod Brylyakov
53pts
Hon
19.
Ivo Monticelli
50pts
KTM
20.
Mel Pocock
36pts
Kaw