MXGP of Trentino Results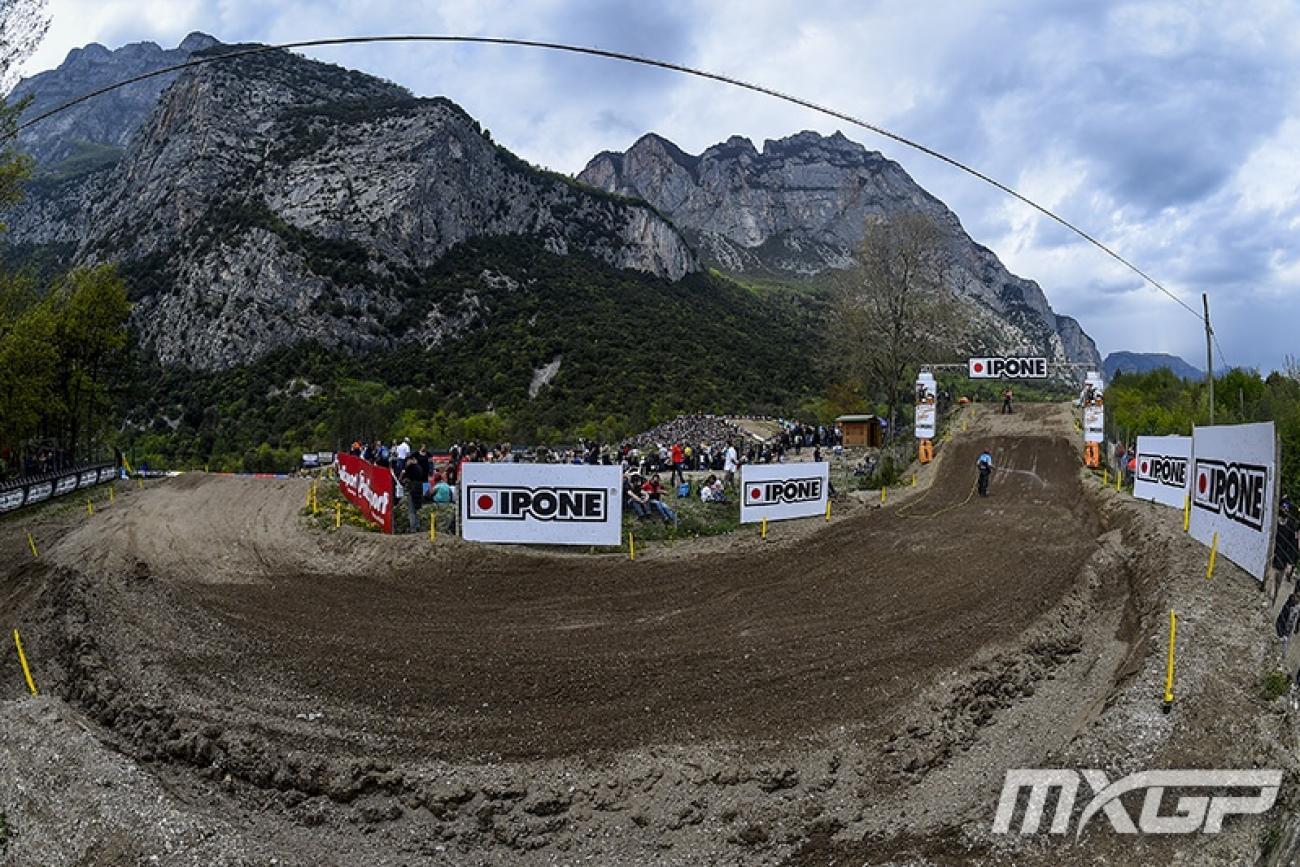 The 2015 FIM World Motocross Championship is back on European soil for the first time this year for Round 4, the MXGP of Trentino in Italy. Evgeny Bobyshev (MXGP) and Jeffrey Herlings (MX2) on the qualifying race on Saturday. Entering the weekend, Clement Desalle held the points lead in MXGP with a five point lead over Antonio Cairoli. Ryan Villopoto entered the weekend fourth in points, twenty-nine behind Desalle. In MX2, Jeffrey Herlings and Dylan Ferrandis entered tied in points.
In the first MX2 moto, Herlings took the win over Tim Gajser and the returning Jordi Tixier. Dylan Ferrandis finished fifth.
In MXGP, Cairoli took the early lead and never looked back, winning on home soil over Max Nagl, Desalle, who took third from RV late, and Villopoto.
In the second MX2 moto, Gajser turned it around and scored the win over Herlings, which also gives him the overall with 2-1 scores to Herling's 1-2. Gajser got out from early while Herlings started around mid pack, and while he closed the gap a bit once into second, he ran out of time.
The second MXGP moto was a huge shakeup for Ryan Villopoto's title hopes. While Nagl took off early and never looked back, first-moto winner Cairoli and Villopoto fought for second, with Desalle also getting into the fight. Then Villopoto looped out and went down hard--ending his race. He was eventually able to walk off.
Nagl also beat Cairoli via tie breaker, 2-1 to 1-2, to earn the overall. Desalle was third overall and now leads the standings by one point, over both Nagl and Cairoli who are tied for second. Three riders separated by just a point! Villopoto has slipped to sixth.
MXGP Moto 2
1. Max Nagl
2. Antonio Cairoli
3. Romain Febvre
4. Clement Desalle
5. Gautier Paulin
6. Evgeny Bobryshev
7. Ken de Dycker
8. David Philippaerts
9. Davide Guarneri
10. Shaun Simpson
MX 2 Moto 2
1. Tim Gajser
2. Jeffrey Herlings
3. Jordi Tixier
4. Dylan Ferrandis
5. Benoit Paturel
6. Jeremy Seewer
7. Max Anstie
8. Valentin Guillod
9. Brian Bogers
10. Brent Van Doninck
MXGP Moto 1
1. Antonio Cairoli
2. Max Nagl
3. Clement Desalle
4. Ryan Villopoto
5. Gautier Paulin
6. Jeremy Van Horebeek
7. Romain Febvre
8. Evgeny Bobryshev
9. Ken de Dycker
10. Glenn Coldenhoff
MX2 Moto 1
1. Jeffrey Herlings
2. Tim Gajser
3. Jordi Tixier
4. Max Anstie
5. Dylan Ferrandis
6. Valentin Guillod
7. Jeremy Seewer
8. Aleksandr Tonkov
9. Pauls Jonass
10. Juilen Lieber