Reliant Stadium
Houston

,

TX
Houston
Monster Energy AMA Supercross Championship
The celebration started early in the Yamalube/Star Racing Yamaha pits. Rubber meeting concrete, smiles and hugs, slaps on the back, trophies, and photos. As the smoke finally cleared from another burn-out, Cooper Webb emerged. The champ was ready to celebrate.
It also started to rain. Hard. But this team and its rider had waited too long for this moment, and they wouldn't let some rain get them down. Webb wants to make the best of all circumstances. Bad start? Whatever. He would bully his way to the front. Some controversy with Tyler Bowers? Whatever. Go win. Title on the line? Whatever. Go out and win the race anyway.
Webb could have cruised to the title in Houston, especially after second-ranked Jessy Nelson had to sit out after a crash while testing for Lucas Oil Pro Motocross. But Webb wanted to win and claim the title.
"For me, it's all about winning," said Webb. "When I know I can, it's all I want to do. I think if you're a real racer you want to win regardless of the circumstances."
For years, wins didn't come easy for Star Racing. One by one, future projects were signed only to be shown the door a year or two later. Martin Davalos. Wil Hahn. Broc Tickle. Darryn Durham. Matt Lemoine. Kyle Peters. Gannon Audette. Nick Paluzzi. Gautier Paulin. All were fed through the Star Racing system, and there was occasional success, but nothing sustained. Then team owner Bobby Reagan found Jeremy Martin and Cooper Webb. Both were successful amateurs, but were still considered minor risks, as they had never quite risen to "it" status. Webb won plenty as an amateur—four titles at Loretta Lynn's and the 2012 Monster Energy Cup Amateur All-Stars race—but always seemed to live in the shadows of Adam Cianciarulo. Webb was once a product of Honda's amateur system, and later had a brief tie up with KTM. But it was Reagan who recruited hardest, signing Webb just as he was about to hit the big bikes.
"Bobby definitely took a risk with me and Jeremy," Webb said after Houston. "At least me. I didn't have really any other options. When I turned pro Bobby came to me and saw a lot in me. For him to kind of take that chance…it's definitely awesome for us to come here and as you said kind of rebuild it."
Webb was expected to contend in his second year in Monster Energy AMA Supercross, an FIM World Championship. He and Justin Hill were considered among the favorites, but nothing was clear-cut. Hill was coming off strong performances at Red Bull Straight Rhythm and the Monster Energy Cup. Injuries and an early season illness derailed him from the start. Jessy Nelson stepped up to win the opener, while Webb finished seventh. Not alarming, but not an indicator that he would run away with the title, either. Then Webb caught fire, winning five of the next six, including four straight, to take control of the championship.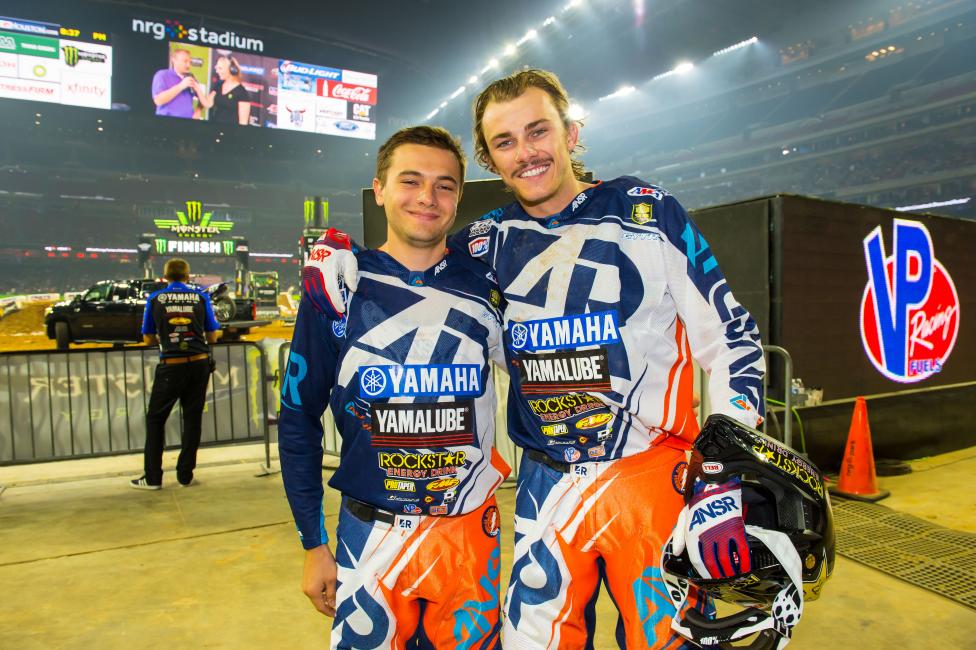 Webb made huge strides in year two. A lot of it can be credited to an intense battle in Lucas Oil Pro Motocross last year with teammate Martin. It was there that Webb got a taste of victory and the taste of a title run. But Webb is quick to turn the attention to Gareth Swanepoel—a former race winner (for Star Racing, in fact), turned trainer.
"I think for me Gareth Swanepoel was a big part of it, honestly," Webb says. "Everybody has to make a sacrifice. It was kind of hard for me. I moved out here [from North Carolina to California] and we did our first season and then it's like, all right, it's time to win. I think just our whole mentality kind of changed for me and the whole team."
Bobby Reagan took a chance a few years back and has now been rewarded with two straight championships (Martin won the 2014 Lucas Oil Pro Motocross Championship) and a team that arguably has the brightest future—especially when you add young guns Aaron Plessinger and Anthony Rodriguez. Even on a rainy night, you can see how bright the future looks for this team.