Houston, TX
Houston
Monster Energy AMA Supercross Championship
Andrew Short, BTOSports.com KTM, Sixth in 450SX
Racer X: First off, these starts—they're stupid at this point. It's ridiculous. I typed in you got the holeshot before the gate had even dropped.
Andrew Short: I was a bit nervous this week too because there was a big hole in front of my gate and they got onto me a few weeks ago because I was angling it a little bit, but not really—it was still straight. The rut was crooked. So I've been like totally square because people complain. So, I got a good start. My gate wasn't even that good, so I was pumped on that. But [Cole] Seely rocking it out. I tried to tuck in behind him but I never really saw him. Then after that, [Chad] Reed…
There was a big battle going on.
Yeah, Reed and [Jason] Anderson took each other out, I think. So, then I was up to second there for a while. I was there for a long time in the race. It was hard for me because I haven't been in that position in a long time, but it was really cool. I tried maybe a little too hard and whatever. At the end I got shuffled back, especially with half a lap to go. [Josh] Grant stuffed me and Reed took... But, overall really good day from practice all the way through the main event. I feel like I'm making progress. The starts are obviously the best part, but the other stuff's coming too.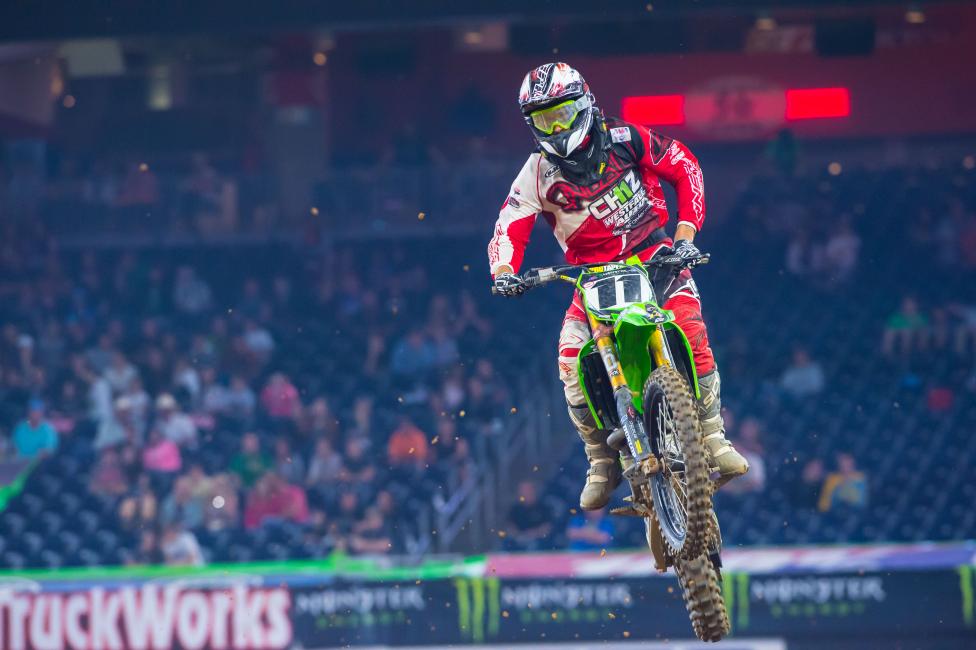 Kyle Chisholm, Team Chizz, Twelfth in 450SX
Racer X: Good news, bad news. Good news is that you didn't get eleventh again; bad news is that you got twelfth, but you were again knocking on that top ten until late in the race.
Kyle Chisholm: Yeah, not what I wanted. Obviously twelfth isn't terrible, but we're trying to get top ten. I know I can. I definitely didn't ride as good in the main tonight as I should to my ability. A little frustrated. We tried a couple things with the bike for the main and it didn't work, but no excuses. Still, regardless of the bike I just didn't ride that good. I felt good all day; I felt good in the heat race, pretty good in the semi. And then in the main I just rode with my head up my butt. Keep working. I haven't ridden supercross since St. Louis because the boss, Chad [Reed], wanted to ride outdoors during the whole break.
So that's what happens?
No, it was good. We rode outdoors the whole break. I hadn't rode supercross since St. Louis until today. It was good though to get…they're just long outdoor motos. The track's all different, changes. It was fun. It was a good break but I'm just disappointed. I rode good all day and then it just didn't happen in the main. Keep working and try to get in the top ten next week.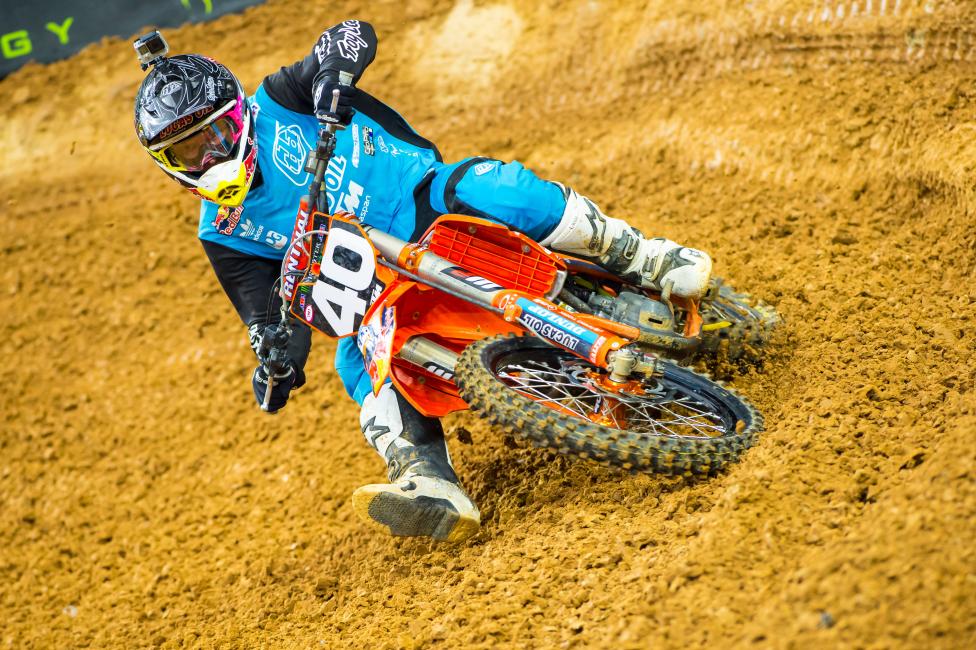 Shane McElrath, Lucas Oil/Troy Lee Designs KTM, Second in 250SX
Racer X: You were on it in the heat and then went down, LCQ. That gate pick for the main, that was boom or bust and you pulled it off. That was a great start.
Shane McElrath: Actually, I told my team manager after the main event that I didn't do any starts over the break at all, no starts. I did a few on the 450 just kind of feeling with the power and stuff, but none whatsoever on the 250. My first one was a little rough in the heat race, but I ended up coming out with the holeshot and just felt good on the gate for the LCQ and the main. Dunlop and Ryan got our motors working good, so it was a good combination.
That's one of those things where you didn't practice so you didn't think too much on the line right about starts?
Yeah, I was just making sure I stayed loose and took deep breaths. The rest just almost seemed like it was second nature. It was good.
Malcolm Stewart, GEICO Honda, Third in 250SX
Racer X: Tough day for you. A lot of crashes, big ones too, and yet through all that it was a great race in the main event to get on the podium.
Malcolm Stewart: Houston whooped me today, man. It got me. My nose, Mike Tyson got all over my nose too. It was rough, but overall we got a third. Definitely that helped out. The start wasn't the best, but coming from where I came, I'm pretty stoked on getting a third. Getting on the podium felt like a win to me just from what all happened.
Some of those crashed would have killed dudes.
Tell me. That one with [Zach] Osborne I felt like I was on death row. But, other than that, definitely hats off to the whole GEICO team. Everybody worked hard. I know I spent a lot of money with the motorcycle today in parts. Probably not too stoked with me on that one. But it was a great night. Definitely congratulate Cooper [Webb]. He deserves it. And Cole Seely got his first win. We're one and one, so it's awesome.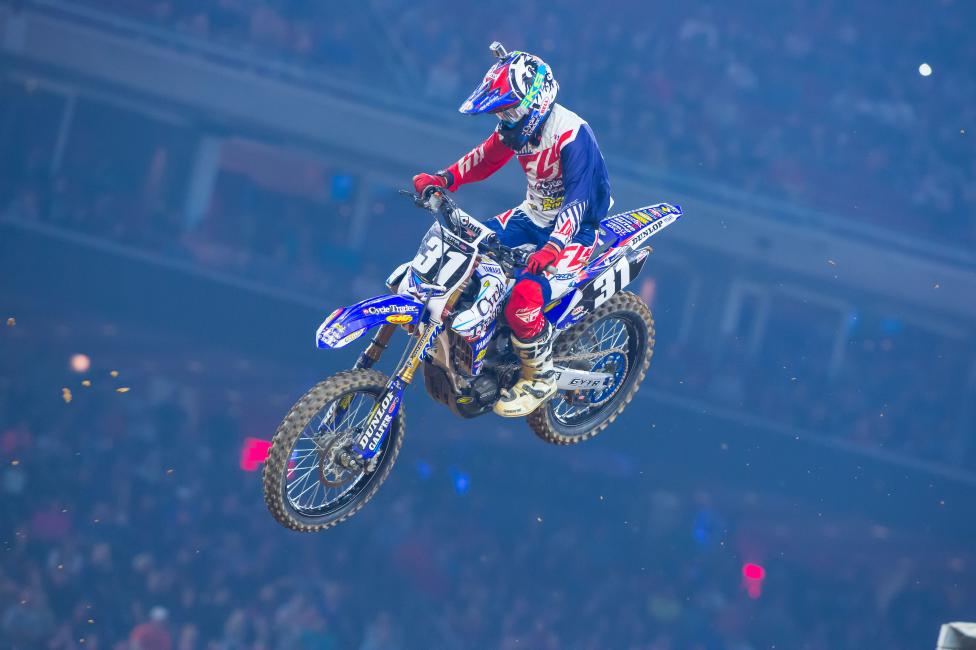 Alex Martin, CycleTrader.com/Rock River Yamaha, Fifth in 250SX
Racer X: Let's talk about your race. Going for podium a little bit there for a bit and ended up fifth. Still, a nice ride.
Alex Martin: Yeah, for sure. I struggled with my start really bad in the heat race so we kind of came up with some ideas and came out with a phenomenal jump off the line in the main. Just wheelied a little too long into the corner, and my wheel was kind of cocked the wrong way, so when I got it down I had a little headshake. But I made it through all right; I think I was top six or seven. Got [Tyler] Bowers and a couple other guys, and just like top-five the whole time. I think I was in third at one point.
You were in fourth and kind of catching Aaron Plessinger a little bit there before Mookie got you.
Thanks for correcting me. My heart rate was 195 when I was out there barely hanging on. It was good. The first four or five laps I just felt phenomenal out there, the best I've felt all year.