Cairoli Wins Qualifying Over Villopoto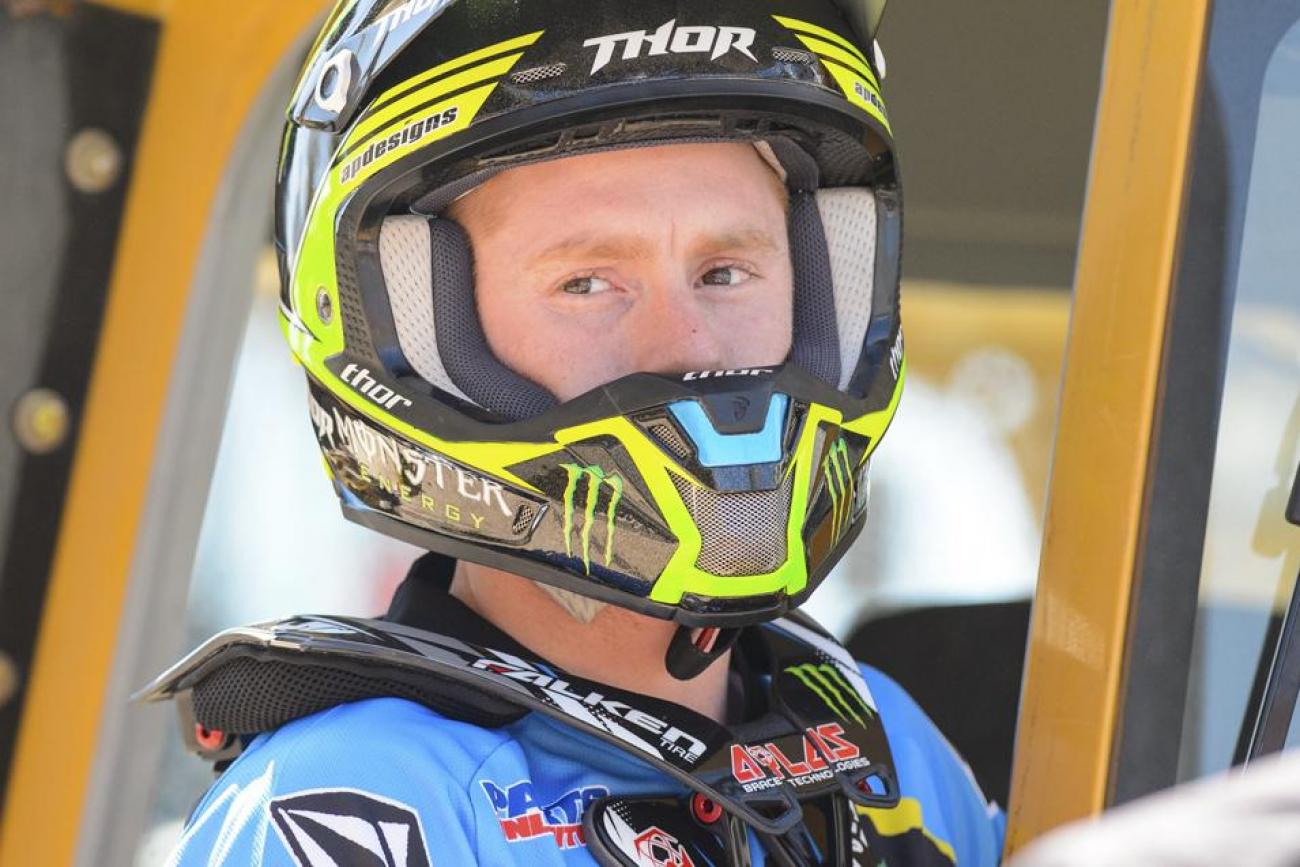 Antonio Cairoli has won the qualifying race at the MXGP of Argentina ahead of Ryan Villopoto and Max Nagl. Cairoli, who finished eighth in timed qualifying earlier in the afternoon, set the second fastest lap time with a 1:46.636. Villopoto set the fastest time with a 1:46.517. Red-plate holder Clement Desalle, who topped timed qualifying, finished fourth.
In MX2, Jeffery Herlings followed up his fastest time in timed practice with a win in the qualifying race. Herlings' 1:46.947 was nearly two seconds quicker than second place finisher Pauls Jonass (1:48.116). Valentin Guillod rounded out the podium. American Thomas Covington was fourth. Although his fastest time—1:49.140 —was over two seconds slower than Herlings'.
Action continues tomorrow with the first MX2 moto kicking off at 11:00 am ET. You can watch live on MXGP-TV.com.
MXGP Qualifying Results
1. Antonio Cairoli
2. Ryan Villopoto
3. Max Nagl
4. Clement Desalle
5. Jeremy Van Horebeek
6. Romain Febvre
7. Gautier Paulin
8. Evgeny Bobryshev
9. Todd Waters
10. Shaun Simpson
MX2 Qualifying Results
1. Jeffery Herlings
2. Pauls Jonass
3. Valentin Guillod
4. Thomas Covington
5. Dylan Ferrandis
6. Jeremy Seewer
7. Max Anstie
8. Brent Van Doninck
9. Aleksandr Tonkov
10. Julien Lieber
Qualifying Recap
Today at the third round of the FIM World Motocross Championship in Argentina, current MXGP points leader Clement Desalle has set the fastest time. A 1:43.317 on lap 3 from Desalle would stand the test of Evgeny Bobryshev (1:43.605) and MXGP rookie Romain Febvre (1:43.817). Ryan Villopoto, fresh off his first career MXGP win in Thailand, was fourth fastest with a 1:44.046. Defending MXGP Champion Antonio Cairoli (1:44.836) was eighth fastest.
In MX2, Jeffery Herlings continued his hot start to the season, topping timed practice with a 1:44.112. Brian Bogers (1:45.010) and Pauls Jonass (1:45.054) were second and third. American Thomas Covington was eleventh with a 1:47.272.
MXGP Timed Practice Results
1. Clement Desalle
2. Evgeny Bobryshev
3. Romain Febvre
4. Ryan Villopoto
5. Jeremy Van Horebeek
6. Gautier Paulin
7. Glenn Coldenhoff
8. Antonio Cairoli
9. Ken de Dycker
10. Max Nagl
MX2 Time Practice Results
1. Jeffery Herlings
2. Brian Bogers
3. Pauls Jonass
4. Valentin Guillod
5. Dylan Ferrandis
6. Julien Lieber
7. Tim Gajser
8. Jeremy Seewer
9. Max Anstie
10. Aleksandr Tonkov