Russell Seeks Third Straight This Weekend
MORGANTOWN, W. Va. - The 2015 AMSOIL Grand National Cross Country Series presented by Maxxis, an AMA National Championship, heads to Morganton, North Carolina this Sunday, March 29, for round three of the 13-race championship series. With two wins behind him already, two-time GNCC National Champion Kailub Russell looks to make it three-in-a-row at this weekend's FMF Steele Creek GNCC, an event that is now considered his home race.
Another North Carolina transplant, Josh Strang, will also attempt to utilize the home turf advantage this Sunday as he looks to capture his first victory of the season. The Rockstar Energy Husqvarna rider, who is also the 2010 GNCC National Champion, currently sits only ten points back in second place, as he remains the closest rider to Russell's recent reign over the XC1 Pro class.
Rocky Mountain ATV/MC KR4/FAR Husqvarna's Thad DuVall sits in the third place position following a podium finish at the last round. DuVall holds a two-point advantage over JCR Honda's Chris Bach, as both riders have maintained consistent top five finishes through the first two rounds.
N-Fab AmPro Yamaha's Jordan Ashburn didn't get the start he was looking for at round one but the Tennessee native bounced back at the second round to capture fourth overall. Ashburn, who holds the no. three rank from 2014, is a tough competitor and will undoubtedly be a podium contender once again this season. Ashburn's AmPro Yamaha teammate and XC1 Pro class rookie, Grant Baylor, sits close behind in the overall standings as he continues to build his career in the premier ranks.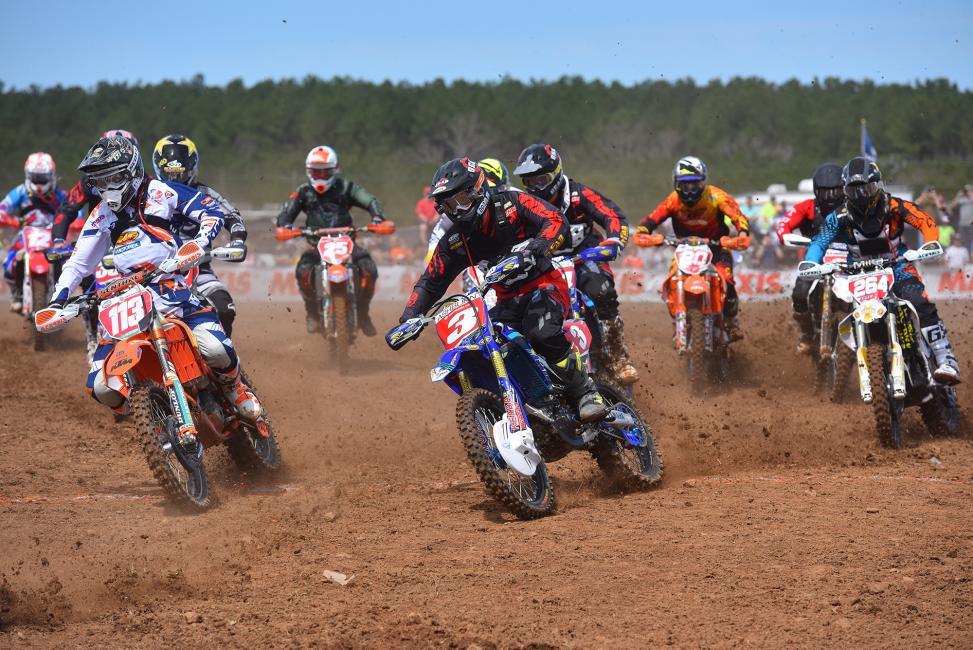 Rocky Mountain ATV/MC KR4/FAR's Nick Davis holds the early lead in the XC2 Pro Lites class with a hard charge from DirtWise/Maxxis/KLIM's Jason Thomas after only two rounds. The pair splits a win each as they head into round three with a four-point difference in the class standings.
XC2 Pro Lites rookie Craig Delong currently holds the third place position, with RideMPS.com/AMSOIL Honda's Layne Michael in fourth and Factory Beta's Cory Buttrick rounds out the top five in the class.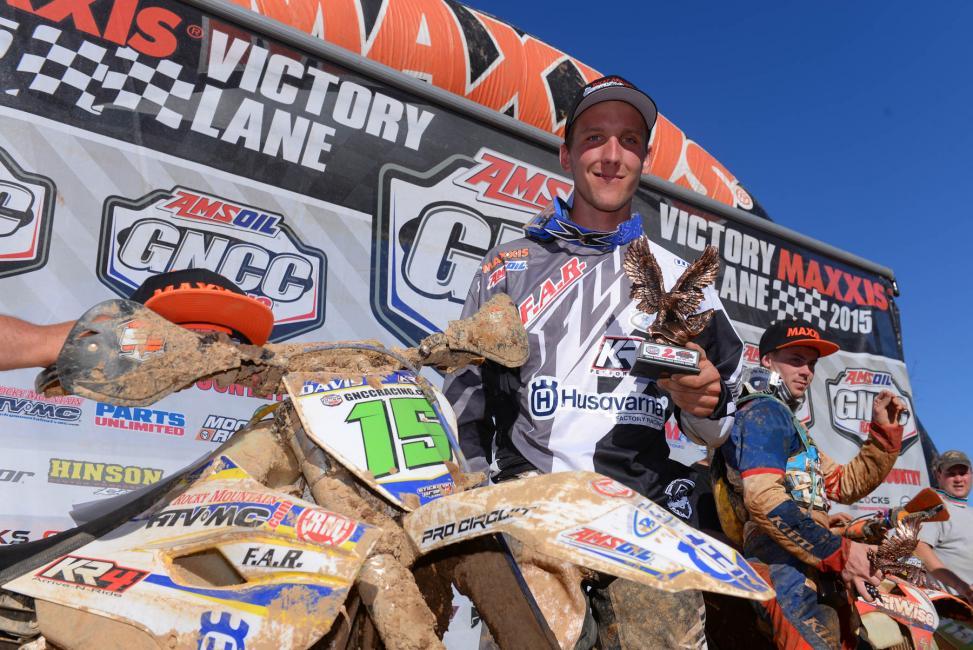 Sunday's race schedule is as follows: Youth Bike racing begins at 8 a.m., followed by amateurs and Women at 10 a.m. and the top amateurs and pros begin at 1 p.m.
Adult (12+) gate admission is $20 for the full weekend and $10 for kids (6-11). Kids five and under are free. All admission includes pro pit access. Local racers are invited to compete at this event, as GNCC Racing offers classes for riders of all skill and experience levels. The amateur racer entry fee is $40 and riders can sign up at the track.
Tune into RacerTV.com on Sunday at 1 p.m. EST to catch LIVE coverage of the Pro Bike race. For more information on GNCC Live coverage, visit www.racertv.com.
The 2015 AMSOIL Grand National Cross Country Series returns to action this weekend, March 28 and 29 for the FMF Steele Creek GNCC in Morganton, North Carolina. For more information on the series, please visit www.gnccracing.com.
Previous Round Results and Point Standings
The Maxxis General GNCC
Washington, Georgia
Round 2 of 13
Sunday, March 15
XC1 Event Results:
Kailub Russell (KTM)
Josh Strang (HSQ)
Thad DuVall (HSQ)
Jordan Ashburn (YAM)
Chris Bach (HON)
Grant Baylor (YAM)
Russell Bobbitt (KTM)
Tyler Medaglia (HSQ)
Adam Bonneur (KTM)
Ryan Sipes (HSQ)
*Overall National Championship Standings:
Kailub Russell (60)
Josh Strang (50)
Thad DuVall (39)
Chris Bach (37)
Nick Davis (28)
Jordan Ashburn (28)
Grant Baylor (26)
Jason Thomas (26)
Tyler Medaglia (26)
Craig DeLong (16)
*Indicates that the Overall National Championship Standings will determine the 2015 National Champion.
XC2 Event Results:
Jason Thomas (KTM)
Nick Davis (HSQ)
Trevor Bollinger (KTM)
Craig Delong (HSQ)
Layne Michael (HON)
Cory Buttrick (BET)
Justin Sode (BET)
Sam Evans (KTM)
Callan May (YAM)
Brad Bakken (YAM)
XC2 Series Standings:
Nick Davis (55)
Jason Thomas (51)
Craig Delong (34)
Layne Michael (31)
Cory Buttrick (29)
Ricky Russell (25)
Brad Bakken (23)
Trevor Bollinger (23)
Tegan Temple (19)
Phillipe Chaine (17)