Detroit, MI
Detroit
Monster Energy AMA Supercross Championship
GEICO Honda's Justin Bogle is back doing what he did last year: coming on strong late in the championship run, staying in the points hunt, and also having fun. He looked like a different rider in Detroit compared to the previous races, and now that he's feeling it, look out. Here's what he told us after the race.
Racer X: Finally, right?
Justin Bogle: It feels good, man. That felt as good as my first win ever—flawless race. My GEICO Honda is incredible. Holeshot. Just put in solid laps the whole time. Just drilled all my lines. I had a good rhythm through this first section here. I was going four-three-two through there. That was pretty clutch. Just felt good. Just rode my own race, didn't focus on anything else. I had fun tonight; that's kind of what changed. I just started having fun and just swagging out. Having fun, that's really all it was. My starts have been good. I've been riding good. I just had to go out there and have fun and remember that I can do this. I have the #1 plate for a reason.
That quad, people were trying it in practice, qualifying and stuff like that. It looked pretty inconsistent early on in the day but it looked like you had it on lock during the race.
Yeah, I actually didn't do it in practice, didn't even know that was an option in practice, to be honest. Jimmy D actually did it over my head on the last lap and I said, okay. Went out in the heat race and I just hit it right off the bat. Kind of struggled with it in the heat race a little bit, but in the main I drilled it every single lap. That was a pretty clutch spot for me, making some time there.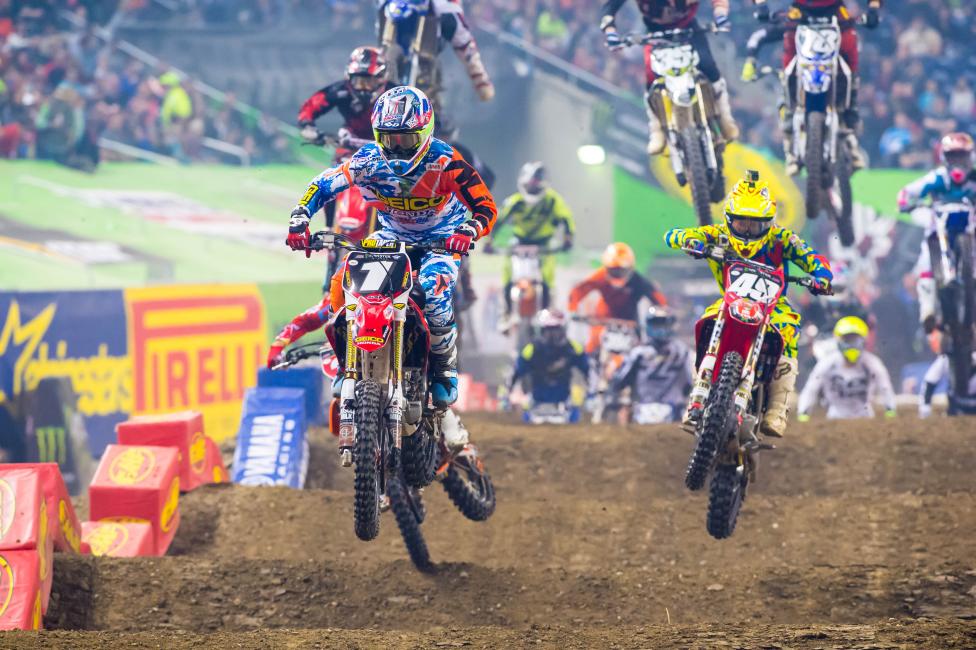 Normally you would try to do those things in practice. Were you guys watching videos back in the truck kind of studying that a little bit?
We watched some film, but for the most part once I saw that someone did it I knew how to do it. Just made it a point to get it out of the way pretty quick in the heat race and from then I knew I had it. It was tough to time every lap, but it was definitely better.
You had a pretty uneventful main event up until you hit lappers. Were there any challenges out there we may not have seen?
Of course. The track was very difficult. There were a couple lappers out there that make it tough on you, but it's all good. Luckily I had a lead by then and could kind of just make my way to the finish. But I felt good all the way to the end—nice and strong. Been doing a lot of work during the week. My trainer Ryan, Doctor G helping out, so it's all good. Can't complain about that.