Jim Gibson's career as a professional motocross racer was short. He raced for only six seasons—1978–'83—but his accomplishments and story are nothing short of remarkable.
Gibson started racing as a complete novice in 1977, and within eighteen months earned himself a full factory ride. And while Jim did not win any major championships, he did spend several years riding for the mighty Factory Team Honda (during the heyday of works bikes) and scored eighteen career podium finishes between outdoor motocross and supercross events.
Gibson was a winning team member of the 1982 American Trophy and Motocross Des Nations team, and also very nearly won the 1983 125cc World Championship while racing a Yamaha in Europe.
Jim Gibson walked away from the sport at the end of the 1983 season under his own terms. Through the help of retired Southern California pro racer Steve Bauer, we tracked Gibson down for a conversation about his life and career.
Racer X: Jim, thanks for chatting with us. What's going on with you these days?
Jim Gibson: Well, the main thing I'm up to as related to motocross, well, I've been doing my schools pretty much full-time. I started doing those back in 1999 at Lake Elsinore. They were going to have a big training facility, like the MTF, but it never really got off the ground. But that got me going, and I started to travel all around the country and world doing my schools. It's mainly one-on-one stuff, but I have also done some camps for the kids, as well as some long-term camps. I've done a lot of work with the guys from Switzerland and the northern Europeans as well.
That's cool. I didn't realize you were in the training world. It seems like there are so many different programs out there; it's hard to choose as each guy does things differently.
Yeah, my program has changed and I have done some different angles over the years. Recently I've been housing and hosting some of the European kids during the winter and taking them to the track. We have work on training and techniques, and even down to helping them get practice bikes and equipment. I've done that for the last couple years. But I recently moved to Arizona and bought a little ranch, so that's slowed that program down a little, since you need to be in California for the training. But my program has had many different facets; sometimes it's for kids, sometimes for vets, sometimes beginners, and sometimes even pro racers. I really enjoy the teaching and instruction, and it's been a good way to get back into the sport that I totally walked away from.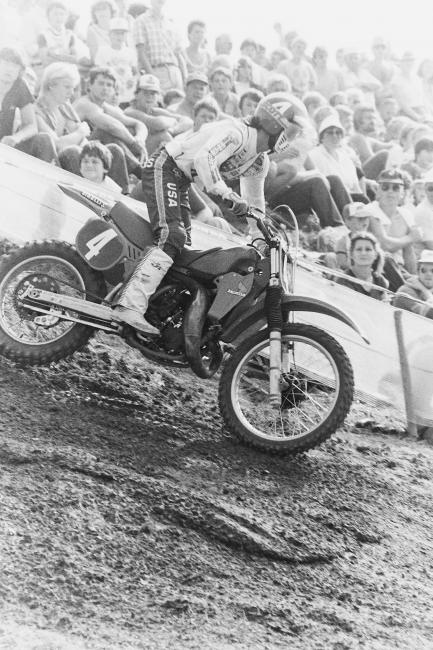 Yeah, I wanted to talk to you about that. When you quit, you totally just disappeared, right?
Yeah. When I quit, I really quit. I got out and away from the sport 100 percent for nearly twenty years. I was addicted to motocross, and like an addict, I couldn't go back, or I knew I would want to start racing again.
So, what did you do after you quit?
I did some different stuff. I went into land surveying with my dad. It was a good union gig and it paid well. I also built my own house in the hills of Murrieta. For a couple of years I was working on the house on weekends and after my day job. After a while I also did some tractor service work as well. It was an off-shoot of the survey work. I understood grading and the like. I had a good eye seeing lines and elevations in soils. It probably all relates back to motocross, but that's what I did. Oh yeah, I also worked for Dan Gurney and his All American Racers. I worked in the composite shop running the Gerber Cutter. It was basically a material textile cutter. But yeah, Honda wanted to hire me for a supercross ride in 1984, but I decided I wanted a career change and became a land surveyor instead.
Wait, you walked away from a factory Team Honda ride in 1984?
Yeah. In 1983 I was racing a Yamaha in the 125cc World Championship. I almost won that title, but ended up getting a third behind Geobors and Rinaldi. I had a two-year deal, but then the economy in Europe was bad and Yamaha broke the contract. And then Cagiva was talking to me, but a bunch of stuff just didn't pan out. Then Honda offered me a ride for supercross for the 1984 season.
Wow. That is pretty crazy; you must have been burned out or injured.
No, actually I wasn't. I decided to leave for religious reasons. I wanted to really study the Bible and focus on my God. During my racing, I kept my body intact and never had that many injuries. I found out early on that when you get hurt, you can't or shouldn't ride at all. So I tried to stay healthy. One thing that helped, when I was young before I raced, I was a gymnast. I learned how to roll and fall. So whenever I do my camps, I do gymnastics. I hope that if my students have a better idea on how to fall and tumble, when they come off the bike, it will help them reduce the risk. I was pretty good in that I crashed like normal people, but I never really got hurt.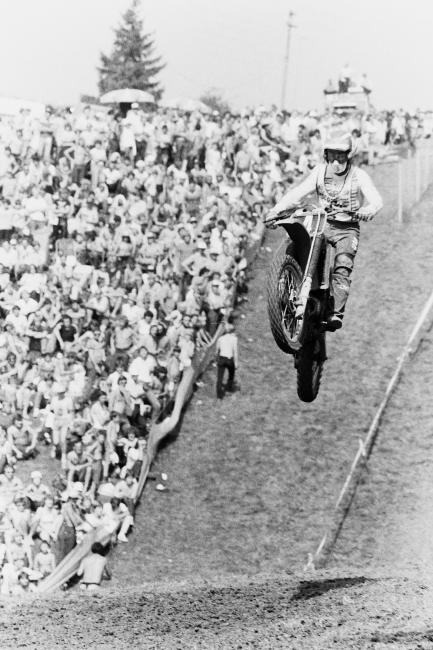 So you quit the sport for religious reasons?
That's correct. I didn't think people would understand, but now I'm 56 years old and it's much clearer for me. It was hard, but it just felt like the right to do. They say hindsight is 20/20, but I don't know, my intentions were good and pure. I still do have a very strong faith still in the bible. The thing is, I started to study the bible at 5 years old, but it wasn't through the family. My parents came in to the study through me, but I was always a very religious guy. But when the Yamaha and Cagiva deals didn't work out in Europe, it just hit me weird. I wanted to go back to where I started and was just kind of over things in motocross. But I was still totally addicted; that's why I had to make a clean break. I think that's why some guys get out hard, guys like myself and Bob Hannah. When you are out, you are out.
Tell me a little about your personal life now?
Well, I have two daughters, but they don't ride or race. They are Alyssa and Shaylee, and they are 20 and 22, and live in the Murrieta area. I was married for thirty-two years, but am recently divorced. That was part of the reason for the move to Arizona, but it's all good.
Tell me about how you ended up going to race in Europe in 1983. That was a part of your career I was not aware of.
Well, when I raced for Team Honda, Bill Buchka was my mechanic around 1978. I was supposed to have a full ride in '79 with Bill as my wrench, but then some new team manager came in, and they made all sorts of changes. So Bill ended up going to Europe and he worked with both Lackey and Weinert. We always got along well, and he had a team manager position over there with Yamaha. So basically, he invited me to Europe to ride for him and to see what we could do. Back then everyone hated Europe, as culturally it was just very different. For me as a person, it opened my eyes and my mind to so many new things. I originally had a two-year deal, but that didn't work out, and then everything changed.
Back in 1983 visiting Europe was much harder—traveling around meant border crossings, passport checks, and different currency. How did you deal with all that?
Well, I shipped over a USA spec motorhome and the plan was to live in that. But when I got it there, I found that it was too wide to get around easily. But we basically lived in Amsterdam at the race shop in that motorhome. We traveled every weekend and usually came back to the shop. Sometimes we went from race to race, like when we did race in Yugoslavia and Russia. But yeah, sometimes those border crossings were sketchy.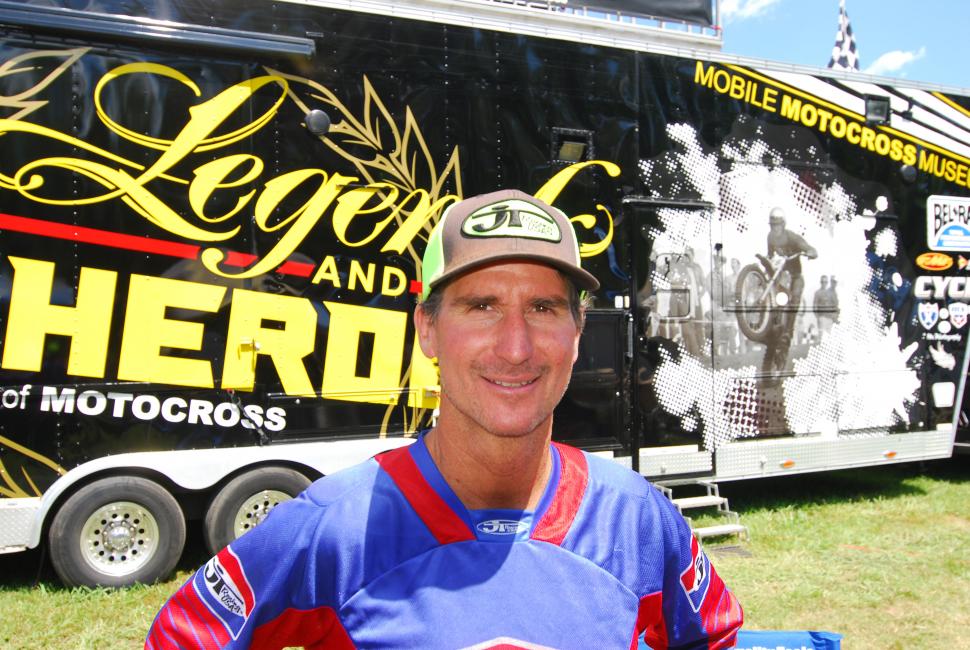 How was racing in Communist Russia? That was long before the Iron Curtain came down. That must have been a real experience.
Honestly, I don't remember a whole lot about it; it must have been stressful. I do remember it was a bit crazy when we were in Leningrad. There was this really strange half-finished construction everywhere. It was all concrete and had rebar sticking out, the roads were strange, the local buses were painted with a paint brush and fence paint—it was just really like culture shock. On the way back, coming into Finland, I got out and kissed the ground—I was so glad to be back. I had a real breakfast with bacon and eggs, and water you could actually drink. I don't know, it was strange there. But Russia was strange and cold. It was a huge crowd at the races, but the people were afraid to interact. Everyone kept their eyes down and didn't look at you. But you know what's cool? Recently, some guys on Facebook found me and sent me some pics from that event. That was really cool and brought back some memories.
What are some of your other memories from Europe?
I really liked Italy. The Italians always treated me well. Well, except for when I was on the track—then they threw rocks at me. But that was only because they wanted Rinaldi win. So I let him win. Everything else was cool; we had seven course meals, and I enjoyed all of the Italian passion for anything to do with sports.
Going back to your time at Team Honda, you had some amazing bikes. How was it to ride those factory works RC bikes?
Well, I thought I had died and gone to heaven. Cliff White was my mechanic—he was awesome. Every time I got it on the bike it looked brand new. He was such a perfectionist and it was just always perfect. Cliff was just a super-good guy, very respectful, and just a real business-minded person. He really made my time there amazing.
How did you start with your racing?
Well, when I was a teenager, I earned $300 and bought my own mini trail. That's what started it. But I always bought my own bikes. I paid $500 for my first truck so I could go ride. I lived on the bike all the time, and I learned by trial and error. When I was 16 years old I stared to get into racing. In my first races, I won something like six in row, and then turned pro in 1978. But I didn't even start racing until 1977. So it took me about eighteen months to go from a novice to a factory ride, and winning Trans Am events. I did it all myself with little to no help. Back then it didn't take a lot of money; it just took knowing how to ride the bike.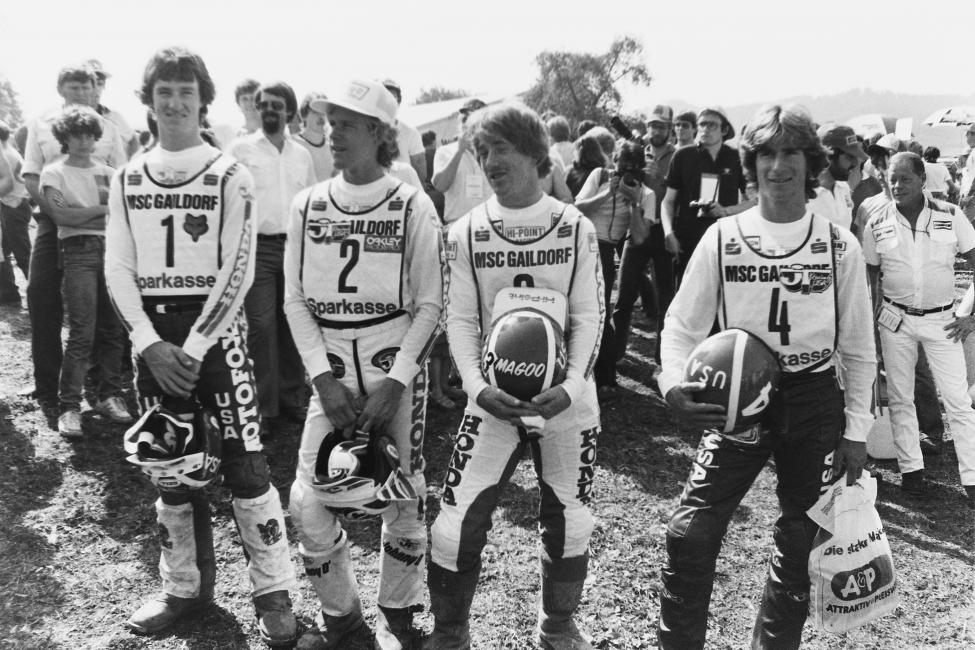 The one question I ask you guys: How was the money during your career?
It was okay. My grandfather taught me to save money, so I was good with the stuff I earned. I kept most all it and didn't spend or blow it. I built my house with my career money, but once I stopped racing I did have to work for a living. But you know, I did alright; I didn't get rich, but it was very fulfilling.
Jim, well thanks for chatting with me, you certainly had a rather remarkable career. If people want to get ahold of you for the training, where can they find you?
Oh, that's easy. Check out my website: www.jgmxt.com