Indianapolis, IN
Indianapolis
Monster Energy AMA Supercross Championship
You could say that being a professional racer isn't easy, and while that's true, it's a gross oversimplification. It can be as demoralizing as it is tiring, the schedule is an absolute grind, and one of the job requirements is risking career-ending injury every time you report for duty. It's a reality that few outsiders understand, yet one that all pro racers face. When things work out it's great, but when they don't, it's punishing. Funny thing is, you never seem to get the reward without first taking some abuse—something Kyle Cunningham knows firsthand.
The AG Motorsports/Gurrnaid Energy rider's season got off to one of the worst starts imaginable in Dallas. After overcoming a bad start, Cunningham was working his way through the pack when he made a mistake, high-sided, and slammed directly into the lip of a jump. It was bad enough that the race was red-flagged, and Cunningham's night was over before the checkers even flew.
"We had a good race going in Dallas before I made a mistake and ended up on the ground," Cunningham says. "I took a jaw shot and I was pretty sore."
Things didn't get any better the next week in Atlanta. Still aching from his big crash in Dallas, Cunningham went down again while running fourth in his heat, and crashed again in the LCQ when he failed to guard the inside. The crashes hurt, but the real pain came from not qualifying for the main. So far he'd only completed seven laps in two races.
"It's tough to push through that stuff, but whether it's a sore wrist, ankle, or whatever, at some point we're all dealing with something. That's the way of the sport," Cunningham says. "It takes away from riding and training, but the only think you can do is just keep moving forward."
Things improved marginally at Atlanta 2 and Daytona, where a dogmatic Cunningham logged fifteenth- and eleventh-place finishes, but it wasn't until Indy when things finally came together.
"Indy was super rutted and difficult, but we put together fifteen solid laps without too many mistakes. I felt better every single lap. My corners felt good and I had the rhythms down, and in the main the aggression was there. There was a battle of about five of us, and we were all just protecting our lines and block passing each other. We were all just fighting while trying to move forward.
"When Jimmy [Decotis] and I came together I didn't even really think we were going to hit. I came in on the inside and tried to cut down, and I didn't expect him to cut that far inside. Luckily neither one of us went down. Before that I'd had a few guys run me high and almost into the Tuff Blocks. That's just the way the track was, and if you messed up in a rut you'd end up having to double through a rhythm section. I didn't even set my fastest time until the twelfth lap, after I was clear of that pack. Overall it was a really fun race."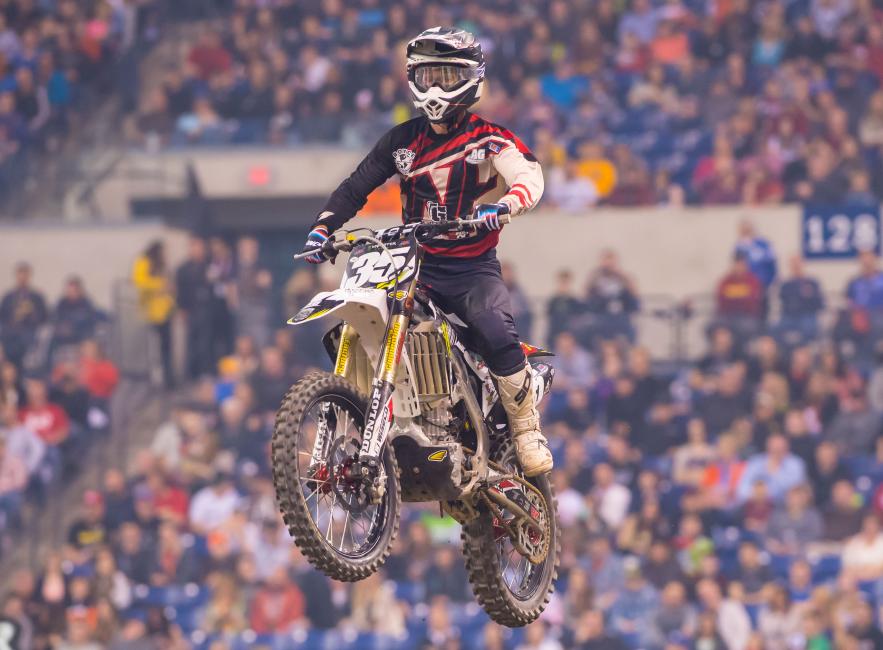 Cunningham's efforts in Indy earned him fifth, his best result of the year by far. And while it's no guarantee of future results, it's a good indicator that his early-season struggles could finally be behind him.
"Being back in the top five is good. It's a lot easier to dig yourself a hole than it is to get out of it, but the past is the past and you can't change what's already done. I just have to keep my head down and focus on doing what we did at Indy. Going down like that at the first round isn't ideal—it's not the way I wanted to start the season—but I just turn a negative into a positive by using it as motivation to keep pushing.
"I'm not one to believe in bad luck—you make your own luck by putting yourself in the right places. I kept working and trying to do the right things, and last week we showed up and put ourselves in the top five. There's a lot of racing left. We have four rounds still and we're going to fight it out."