Daytona, FL
Daytona
Monster Energy AMA Supercross Championship
BTO Sports is your number one source for all of your motocross parts, gear, accessories and apparel. BTOSports.com is a motocross company who is truly dedicated to the sport and to the customer. Proud sponsor of your Racer X Podcasts and the BTO Sports race team.
Yeah, Daytona! Well, to me it's more like "Yup, Daytona." Round ten of Monster Energy AMA Supercross, an FIM World Championship, took place down at the speedway (some kind of Elvis thing) in Florida, or more specifically, Daytona, Florida. The home of stock car racing and a place where Weigandt hopes to one day cover some guy drinking milk after he wins. Or maybe I have my racing series mixed up?
There's perhaps no race in American supercross/motocross that has changed as much over the years as Daytona. The Daytona Supercross by Honda (Honda's really held onto this title sponsorship for a long time, haven't they?) has gone from a long track that crisscrossed the speedway track to a bit of a shorter track. The event was once held in the middle of the day and featured thirty-man main events. In 2004, it was shortened to a more traditional twenty-man main event, and held at night. How exciting! The track was still a little more outdoorsy, but as some new track builders came in, we now have a track that, for TV purposes, follows the other sixteen rounds of supercross, with the exact same format and a more traditional track.
In 2003, the last year the race was held in the middle of the day and had the old-school track, most riders were taking a minute and a half to do a lap (some guy named Carmichael had the best lap time of 1:21, but we're just talking humans here). This past Saturday most riders were in the 1:06 range. In 2003, the main event was a few seconds shy of the thirty-minute mark, and this year it was just over seventeen minutes. A big difference for sure.
I'm not sure how I feel about the change to this race. Part of what made it so unique and so "DAYTONA!" was its roughness and different format. It's like the NASCAR guys going to a road course or an all-star game in stick and ball sports. It was Daytona, and it was going to be a test and going to be weird—a nice break from the cookie-cutter stadium tracks we've seen week in and week out. And while I promise you 2015 Daytona Supercross (by Honda naturally) was very rough, it was just so "supercross."
There used to be far fewer spectators, but moving the race to the nighttime and allowing people to watch from the car track has brought many more people—it was a genius move. The place is jammed with fans now, more so this year, so maybe I should just shut my pie-hole and accept this new Daytona. But I don't have to like it!
I can't believe Ryan Dungey had never won Daytona before. My pick to win the race going into this weekend, Dungey rode a very typical Dungey race. He got a great start, couldn't get by Andrew Short as fast as he needed to (a trademark of Dunge), saw his main challengers make mistakes while he made none, took the lead when it was clear Short was getting tired, and then used his speed, consistency, and fitness to easily take the win. Dungey winning Daytona works. It fits like peanut butter and chocolate.
He has a 40-point lead in the series now and is clearly looking great for this title. You know what? There are more than a few pit "insiders" telling me that Dungey is doing nothing other than being Ryan Dungey, and he wouldn't be winning if Ryan Villopoto and James Stewart were racing. I can't predict whether that would be true (Although why do the Stew fans suddenly believe he'd be consistent and stuff now after years and years of not being able to be? Dungey always finishes ahead of him in points anyway. I bet if he were racing he would have a few wins and a few mistakes—which is what we've seen from him the last few years), but I do think this new bike, his team, and Aldon Baker have all helped Ryan. It adds up to a better Ryan Dungey. Better than RV and Stew? Again, I have no idea, but with him being tied for his most wins in a season (four) since his SX title in 2010 (where he won six races), I'd say with or without some of his challengers, he's an improved rider.
When you look at the riders who have had a lot of success at Daytona in years past—Jeff Stanton, Mike Kiedrowski, and Ricky Carmichael to name a few—they weren't necessarily style kings, but were in great shape, not scared to twist the throttle, and could basically hammer out a moto harder than anyone else. Of course, Jeremy McGrath won a bunch of Daytonas, but he's Jeremy McGrath—he was just so much better than everyone else for so many years that he could basically win anything, anywhere.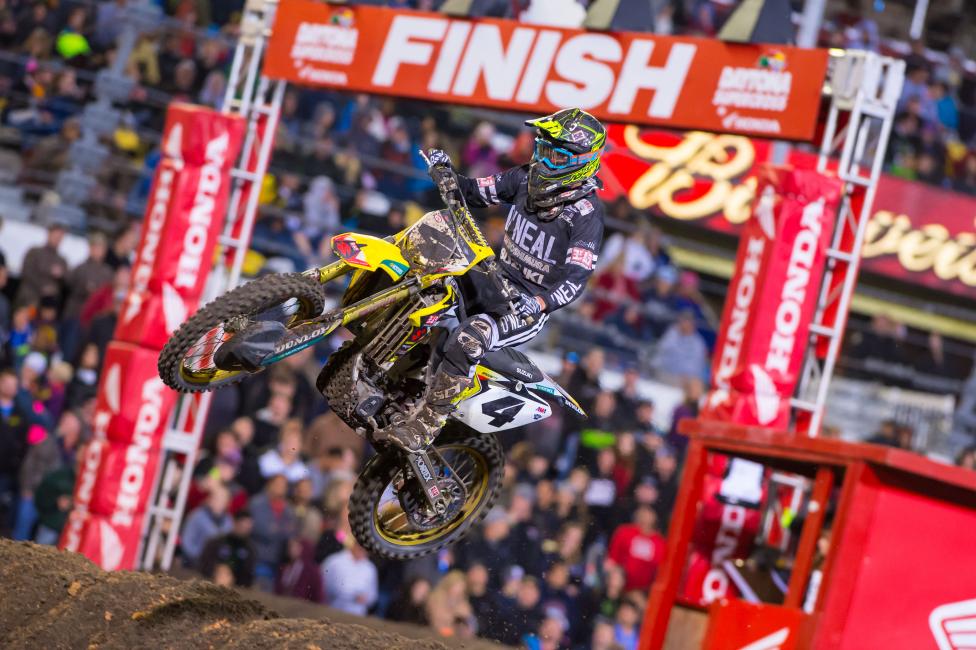 The same types of rider should do well today—riders like Dungey, Jeremy Martin, Blake Baggett. Heck, I got a question on twitter asking me if I thought Mike Alessi could get a top-five at Daytona because he's an outdoor guy. That's my point: We think of guys like that because Daytona is rough and all. But this isn't "that" Daytona anymore.
We're usually not thinking that this rough track would reward technical riders like Marvin Musquin and Cole Seely, but we saw this past weekend that it did. We have to think differently about Daytona now, folks. With the track more technical and supercross-ish, riders like Musquin and Seely can pick good lines, get over the obstacles cleanly, be precise, and make little jumps out of the braking bumps. And let's not be mistaken here, these riders are in great shape—that's first and foremost.
Musquin dominated the 250 race for his third win out of four, and he now has a 12-point lead with four races left. Seely was amazing in Daytona. He pressured Dungey early in the main and went down trying to make the pass. The pass was probably a bit ill advised, but he was on fire and determined to go to the front. Even after dusting himself off and finding himself in eighth, Seely got back on it and made it to fourth!
So, great ride by a couple of riders you might not think are "Daytona tough," but maybe this track is way more technical than we think it is. Riders like Musquin and Seely have tremendous technical skills and are able to think outside the box and put the bike where they want it.
I texted Seely on Monday and this is how the conversation went:
Me: "Bro, You could've won!"
Seely: "Bro. I know!"
Me: "Bro. Wow."
Seely: "Bro. Daytona"
Me: "Who knew?"
Seely: "Nobody, I'm just a K Dub wannabe."
Riveting stuff right? Seriously, Seely was awesome. I was impressed.
Well, Kenny Roczen's SX title chances that were on life support going into Daytona were officially pronounced DOA this weekend as he tweaked his ankle again and pulled out of the weekend. I imagine he'll be missing a few races from here while he tries to get better. I was told no surgery was needed, just a walking boot to help heal an injury that occurred in Oakland when he cased the triple.
If I'm Carey Hart and Ricky Carmichael (I have no tattoos nor AMA SX or MX title in real life, but let's pretend, shall we?) and Roczen is forced to miss three or four races, I'd just park him until the outdoors start. There are seven races left; what's the sense in coming back for three races or so? Just put the boot on him, get him healthy, and start testing motocross before Roczen rolls out the red #1 plate at Hangtown.
Let's take a look at the results, shall we?
250SX Results
1. 25 Marvin Musquin; Corona, CA; KTM 250 SX-F – Marvin made sure to let us know after the race that the new race replica 250F was an awesome bike.
2. 1 Justin Bogle; Cushing, OK; Honda CRF250R – The great side to Bogle's year is that he's been on the podium every single race. The bad part is he never seems to be the best guy on a night. Still, this was a nice ride and I'm sure he's getting stronger each week.
3. 6 Jeremy Martin; Millville, MN; Yamaha YZ250F – What was Martin doing in the opening laps of his heat race? Seriously, it was like he forgot he was actually racing and thought it was a parade lap for the main event. He did a 1:11, a 1:08, a 1:07, another 1:08, and then woke up, realized he was Jeremy Martin, and did two 1:05s to end the thing off. Weird, man.
4. 37 Joey Savatgy; Thomasville, GA; Kawasaki KX 250F – I'd like to see what Joe Dog can do with the top three guys, but he can't get a start right now. So, we just can't really see what he can do.
5. 80 RJ Hampshire; Hudson, FL; Honda CRF250R – Hampshire won a heat race! Yeah! Great ride by him, and a fifth in the main indicates he passed his opening round injuries. Even though the podium has had the same three guys (in some order) in the last three races (and Bogle and Musquin have made the podium in every race), I think it's very conceivable that RJ makes a podium soon.
6. 49 James Decotis; Peabody, MA; Honda CRF250R – That's now two weeks in a row that Jimmy D has been JIMMY D! Nice ride by the privateer Honda kid.
7. 55 Kyle Peters; Greensboro, NC; Honda CRF250R – Great job by Peters. The Motosport.com/GPI/Honda Racing team has a couple of riders on the East—Colt Nichols and Peters—that are probably riding for pretty cheap, and both have skills.
8. 62 Anthony Rodriguez; Cairo, GA; Yamaha YZ250F
9. 52 Mitchell Oldenburg; Alvord, TX; Yamaha YZ250F – Oldenburg is quietly becoming a story. I don't know if some big-time team managers have seen Oldenburg's speed and taken notice of it—and this isn't a slam on the Albertson Arma Energy/Motosport.com Yamaha team—but I think Mitchell could be moving on up in 2016 if he keeps this up. We can work with speed.
10. 47 Martin Davalos; Cairo, GA; Husqvarna FC250 – I thought Martin had changed after last year's almost-title. I thought he'd gotten in shape and stopped making mental mistakes. I was wrong. Davalos faded again this weekend. He was lucky that Jordan Smith fell on his own on the last lap, or he would've been out of the top ten.
11. 35 Kyle Cunningham; Aledo, TX; Honda CRF250R – This was Cunningham's best result of the year so far. It hasn't been a good year for the normally fast kid.
12. 126 Jordon Smith; Belmont, NC; Honda CRF250R – Smith made his first-ever main event and looked to be a sure bet for a top ten before he crashed all by himself on the last lap. He'd come from a first-turn pile-up to this spot, so golf claps for Jordon and his ride.
13. 45 Vince Friese; Cape Girardeau, MO; Honda CRF250R – Friese didn't send me a carrier pigeon like I requested last week, but I did find out from sources that he's been struggling with bronchitis and a rib injury, which explain his recent poor finishes.
14. 343 Luke Renzland; Hewitt, NJ; Yamaha YZ250F – This guy's figuring it out; he's able to move forward when he has to and he's got some skills.
15. 986 Colt Nichols; Muskogee, OK; Honda CRF250R
16. 73 Gannon Audette; Tallahassee, FL; Kawasaki KX 250F – Audette is as under-the-radar as they come, but he's solid. Although he had to go to the LCQ this weekend, I never doubted him.
17. 77 Justin Starling; Deland, FL; Yamaha YZ250F
18. 88 Dakota Alix; Jay, VT; KTM 250 SX-F – Former factory Suzuki mechanic James Coy runs the KTM support team that Dakota rides for. It's sort of a factory-supported team I think—I'm not sure. Weege will have more on this soon.
19. 79 Jace Owen; Mattoon, IL; Honda CRF250R
20. 64 AJ Catanzaro; Portland, CT; Suzuki RM-Z250 – The Cat got into the main event for only the second time this year.
21. 95 Nick Gaines; Ringgold, GA; Kawasaki KX 250F – Gaines looked tired from crashing so much.
22. 337 Nick Desiderio; New Vernon, NJ; Yamaha YZ250F – Nick made his first-ever main event but cased a double and hurt his wrist.
450SX Results
1. 5 Ryan Dungey; Tallahassee, FL; KTM 450 SX-F – I saw Dungey after the race when I was walking out and thanked him for coming on the PulpMX Show last week. He said, "Anytime," to which I replied, "Yeah right, but seriously, thanks," and he said, "I'm serious." This is like Iran and Iraq just deciding to get rid of the border and becoming one single country.
2. 3 Eli Tomac; Cortez, CO; Honda CRF450R – Tomac has scored a second-place two weeks in a row. I feel a win is coming soon. Remember when Reed/Tomac was a "thing"? I don't feel like it's a "thing" anymore. By the way, I know it's been talked about and broken down, but Tomac's fourth gear (maybe third) wheelie through the whoops after the finish in the main event was just amazing. Like, that is the definition of balls out.
3. 4 Blake Baggett; Grand Terrace, CA; Suzuki RM-Z450 – Blake is just gaining confidence each week. This week he got his first-ever 450SX podium. He had the fifth-fastest lap of the main event, but he didn't make mistakes like Reed and Seely did. Nice job by the #4.
4. 14 Cole Seely; Laguna Beach, CA; Honda CRF450R – TLD gear is like dating a stripper. Sometimes it's so off the rails that you want to just get away from it as fast as you can and other times, like this weekend in Daytona, you don't know if you've ever seen something so beautiful.
5. 22 Chad Reed; Dade City, FL; Kawasaki KX 450F – Chad threw away another (in my opinion) podium when he crashed early in the main trying to get around Andrew Short for second. He told me after practice that this was the best Daytona track in years, and then he used the term "balls out" over the PA in opening ceremonies. Eventful night for the #22!
6. 41 Trey Canard; Edmond, OK; Honda CRF450R – Canard crashed in the first turn, but there's little doubt that he could have won the race. He set the fastest qualifying time, was very fast in his heat, and looked great. But he made a mistake, and that's all it takes these days. His charge fromtwenty-first to sixth was very impressive, but after the race he declined an interview from the media, which meant he must have been very angry because the usually-nice-to-a-fault Trey sticks around a long time to talk to press, sign autographs. [Editor's note: But he talked to me, Matthes. #realjournalist – Weege]
7. 21 Jason Anderson; Edgewood, NM; Husqvarna FC450 – Anderson hasn't had that "flash" for a while in terms of leading or running balls out, but he's very solid. Another top ten and a solid sixth in the points are nothing to be ashamed about—that's for sure. Maybe it's just because I've seen the same four colors on the track for twenty years (although the Cannondale-red looked nice as it was being pushed off the track), but I like the Husky's look out there.
8. 23 Weston Peick; Menifee, CA; Yamaha YZ450F – Peick pulled a "Peick," running second for a long time before fading back to this finish. I can't imagine he's riding much during that week with the knee and foot injuries. His speed in the whoops was REE-diculous.
9. 18 David Millsaps; Murrieta, CA; Kawasaki KX 450F – I'm pretty tight with the Kawi guys and visit their truck often. I don't think I've seen Davi hanging out after a race this year. Seems like he changes and gets out of there pretty fast.
10. 20 Broc Tickle; Holly, MI; Suzuki RM-Z450 – Tickle fell in the first turn and roared back to this finish—very solid ride. With Roczen out for at least a few weeks, Tickle's going to be needed to carry the RCH team for a little while. So far he's shown that he's very capable of doing just that.
11. 33 Joshua Grant; Wildomar, CA; Kawasaki KX 450F – Grant had a nice ride in his semi; he came from a ways back to easily put it in the top five.
12. 29 Andrew Short; Smithville, TX; KTM 450 SX-F – Short led seven laps of Daytona, which is pretty awesome, right? This finish was due to a few different factors, but it's very un-Short-like to fade to this far back. Trust me, he won't do that this much going forward.
13. 11 Kyle Chisholm; Valrico, FL; Kawasaki KX 450F – This is Chiz's best result since his second race back and his seventh time getting a thirteenth.
14. 46 Phillip Nicoletti; Bethel, NY; Yamaha YZ450F – Phil and I are friends, so I can say that his fall in the right-hand turn after the whoops was laugh-worthy only for the fact that he was all by himself and just tipped over. I know—I'm going to hell.
15. 27 Nicholas Wey; Dewitt, MI; Kawasaki KX 450F – What a tear "jerper" (PulpMX Show reference) when Nick's dad Terry told me after the race that he started going to the races with Nick when he was a kid, and now, in Nick's last year, he's going to end Nick's career by going to as many races as he can. C'mon, that's pretty awesome, right?
16. 53 Jimmy Albertson; Shawnee, OK; Yamaha YZ450F – Albertson showed me that he's got these contingency credit cards from Honda, KTM, and Yamaha that all still have money on them. So, I look forward to him switching to Suzuki's real soon.
17. 42 Ben Lamay; Austin, TX; Husqvarna FC450 – Lamay is back and riding for Munn Husky out of Texas. Honestly, he wasn't riding that well in the semi race so I didn't think he was going to get into the main event, but he came around and put it into the show.
18. 199 Kyle Partridge; Lake Elsinore, CA; Honda CRF450R – Partridge qualified fourteenth, which is awesome. He's certainly pretty talented, and if he were able to put in twenty laps hard, he could get near the top ten. As it is right now, when I fill in my fantasy SX line-ups, I always put him in the main near the back.
19. 58 Killian Rusk; Temecula, CA; Yamaha YZ450F
20. 12 Jacob Weimer; Wildomar, CA; Kawasaki KX 450F – It's not good right now for the #12. He continues to hit the ground almost every time out.
21. 70 Nicholas Schmidt; Riverside, CA; Suzuki RM-Z450 – Schmidt was not riding well all night long, but he turned it on for the LCQ to make it in.
22. 800 Mike Alessi; Hilliard, FL; Suzuki RM-Z450 – Scary crash for #800 in the main event. I think he was knocked out for a bit before walking off under his own power. Not sure if he'll race this weekend or not.
Some news and notes:
-Mitch Payton is a hell of a guy. I have the utmost respect for him that, after so many wins and titles and so many years of having the team to beat in the 250 class, he still wants more. Losing eats him up. And right now, it's not going well for the Pro Circuit guys. They haven't won a title in a while and even race wins have been rare (save for the 250SX East Region last year, where they had one of three guys who was a lock for the title, and they all got hurt), and this year they have no wins through ten races. And now Swiss import Arnaud Tonus has some sort of blood sugar issue preventing him from staying strong, and he had to pull out of the race after practice. When I asked him about this and made a comment about rough year, he reached up patted me on the shoulder and said, "We've got no choice but to keep trying" and wheeled away.
-I was talking to Zach White, the Pro Circuit team's head engine guy and holder-together-of-all-things, and he mentioned that, for the first time, the team is using the ghosting software to help its riders out with lines and things like that. Zach said that it's been beneficial so far.
-Daytona is a pain in the ass for most of us "regulars" traveling the circuit. The security guards whose median age is somewhere around 76 treat everything like it's NASA (not NASCAR—NASA), and you can't stand here or there or anywhere. The grandstands aren't nearly big enough for all the people who have passes, which kind of sucks. Thankfully, the folks at N-Fab got me a couple of sweet suite passes for the night show and I was able to have a laptop, Wi-Fi, and some catering to watch the race. It's the little things, people.
Thanks for reading. No seriously, thank you. Email me at matthes@racerxonline.com if you want to chat about this column or about anything at all. I'm pretty happy to talk anything and everything not named the Toronto Maple Leafs.