AT&T Stadium
Arlington

,

TX
Arlington (Dallas)
Monster Energy AMA Supercross Championship
BTO Sports is your number one source for all of your motocross parts, gear, accessories and apparel. BTOSports.com is a motocross company who is truly dedicated to the sport and to the customer. Proud sponsor of your Racer X Podcasts and the BTO Sports race team.
Seven rounds down and ten to go in Monster Energy AMA Supercross, an FIM World Championship. We're almost halfway into this thing! Dallas was the site of the most recent race and the opening round of the 250SX East Region. The pre-race buzz was about it for excitement from the race as the mains themselves played out in a predictable and pretty uneventful manner.
AT&T Stadium, where the Dallas Cowboys play, is just an amazing stadium—maybe the nicest one the series visits all year long. It's a great venue and Feld bought new dirt for the track this year, something they do every few years, and the venue badly needed it. I couldn't believe what I was seeing out there—there were ruts and what looked like traction! Traditionally Dallas is concrete hard (although it's been better since the move to AT&T Stadium), so this was weird to see. Lots of riders spoke about the track breaking down and hardening up as the night went on, but it was still a big improvement from the last five years or so.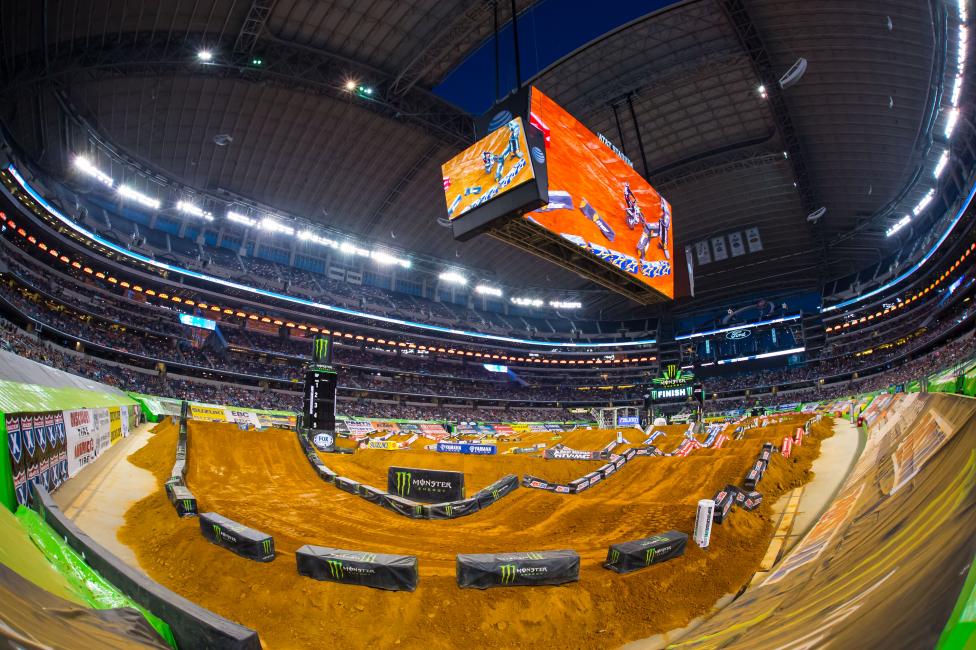 The track was tough to pass on but still offered up some tricky obstacles. There was a long whoop section with a double in the middle (I'd preferred they just left it all whoops, but I don't have to race it either), a pretty big triple out of a turn that was difficult for the 250SX guys, and a rhythm lane that surprisingly no one quadded over the tabletop. I also expected to see someone quad before the left-hand turn onto the start straight. Where have you gone James Stewart? A lonely nation of quad-lovers turns its lonely eye to you.
Ryan Dungey captured his second win of the year in a great ride. He got the holeshot and clicked off twenty laps. In a main event that didn't see much action, it was kind of a routine win for the #5. Dungey's now got more wins after seven races than he did after seventeen last year. The track was tough to pass on and he got through the lappers in the main with ease. Kenny Roczen got into second and poured it on a bit to catch Dunge, but he didn't have anything for Ryan on this night.
If he had managed to catch and pass Dungey it could have been a big turn in this series. But the guys are so close this year and the bikes so good that it's really hard to make up time on someone (ask Eli Tomac) that basically has the same speed. Trey Canard did it last week in San Diego but it's rare. I think the long starts favor the KTMs right now (they used to favor the Hondas a couple of years ago) and Roczen's just a solid starter and a solid rider. It's just tough to beat this combination of guys week in and week out.
I've heard that Dungey's moving down to Clermont, Florida, to ride and train with his trainer Aldon Baker and his crew of speed demons (Jason Anderson, Marvin Musquin, and Adam Cianciarulo), and I think that could be a good thing. It's already obviously working out well, but maybe Ryan getting out of the normal routine of living and training in the somewhat remote location of Tallahassee, Florida, at Carmichael's place will freshen things up a bit and take him further. Lots of people like to talk about RC working with Dungey and helping him, but those days are long gone—RC's not a full-time racer or coach. Ryan's been with Jeremy Martin a lot up there and that's it. Maybe getting with a fresh group of dudes and living in a new area will help Ryan gain even more enthusiasm.
I think Roczen could have won this race with the holeshot, but then again, if I had a money tree in my backyard I wouldn't be typing this while wanting to go mountain bike riding. Bottom line is that he didn't get the start and didn't win. Roczen hasn't won a race in a month, and he lost 3 points to Dungey this week. He needs to win a main soon.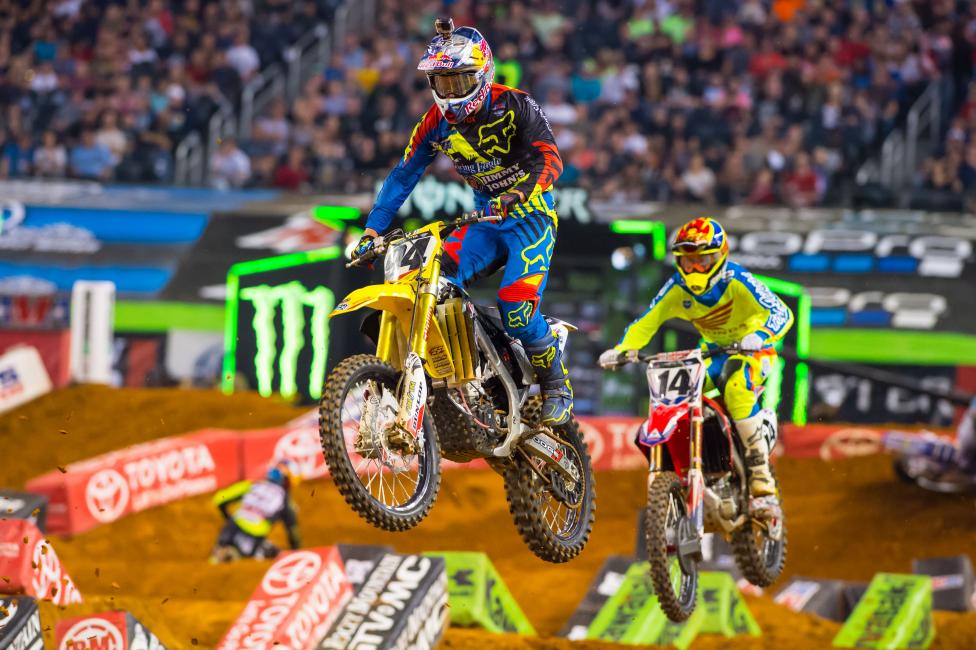 Marvin Musquin showed that he's the man to beat this 250SX East Region with a dominant performance. He was the fastest man in every practice, won his heat with ease, and led every lap of the main event. Even after a red flag (after Kyle Cunningham went down) that let Justin Bogle close back up on Musquin in a staggered restart, Marvin just motored away.
The Frenchman missed supercross last year with an injury and let's face it, he's the favorite to win this thing. He has a fast Justin Bogle to deal with, but he has the experience. Jeremy Martin beat Marvin outdoors, but he's not on Musquin's level indoors. Joey Savatgy has only ten career supercross races under his belt and Arnaud Tonus is a rookie. All signs point to Marvin being the man in this region and he didn't let anyone down. He's also training with Aldon Baker now, so his off-the-bike work and mental outlook will be on point as well. Choo, choo—all aboard the Marvin train!
I've always thought that guys like Matt Lemoine, Kyle Cunningham, etc. should just get on with their lives and get on a 450. These are talented riders that have been in the 250SX Class for way too long and aren't going to get a magical factory ride. Don't shoot the messenger here, but teams will give some kid straight out of Loretta Lynn's multiple shots before they go and hire a "veteran" who hasn't been able to win a race. The "potential" is always valued more than the "steadiness" that a Lemoine or Cunningham gives you.
The purse money is so much better in the 450 class, so a rider can somewhat actually start making money if they can make the mains, and guys like Lemoine and Cunningham can do it. Give up on the dream of 250SX success and be like George Jefferson. That's moving on up, kids. But anyway, maybe the light's gone on for Lemoine and he can step up a level. In Dallas, in front of his home Texas crowd, Matt was in third when the red flag came out for the re-start (ironically the flag was for the veteran Cunningham) and the rules state the restart goes to the running order two laps before the flag, which meant Lemoine was put back in fourth behind Joey Savatgy.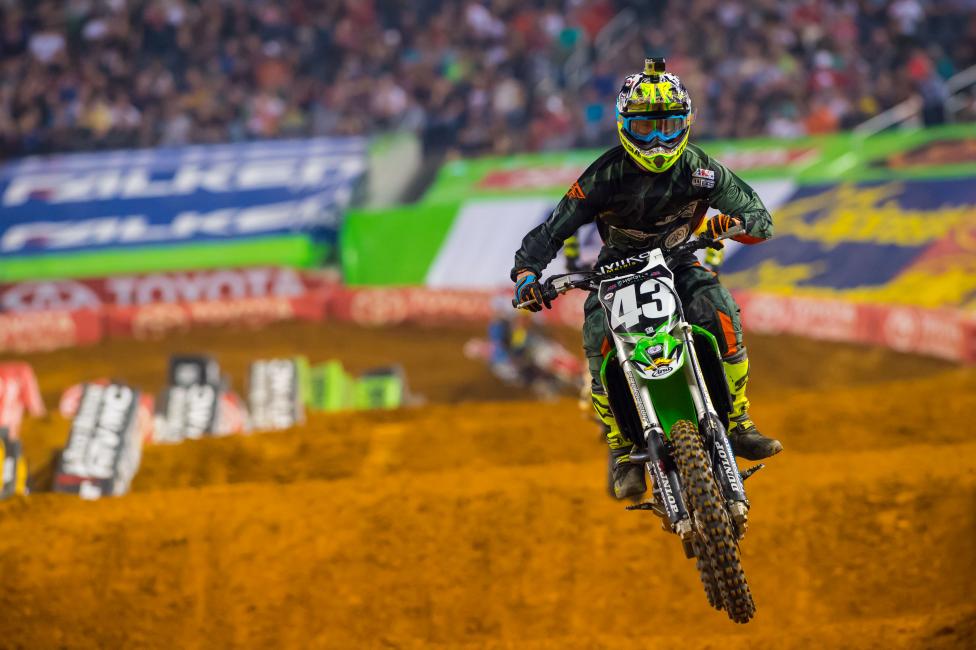 Matt told me after the race that the restart hurt his momentum a bit and he couldn't get it back. Savatgy told me he needed the restart badly and it allowed him to get his momentum back.
So, Lemoine finished fifth, and that's a great ride. Coming off his first career podium last year, maybe Lemoine's going to enjoy a great season and finally be consistent. I guess we'll see in the coming weeks.
I have to admit I thought Blake Baggett moving up to the 450 class was a bad idea. Why move up when he could prove himself and potentially grab two 250 titles and a bunch of money? And he's a smaller guy who doesn't "look" the part of a 450 specialist. Thankfully he didn't listen to me, and took the ride with Yoshimura Suzuki. Surprisingly, the bigger bike has rid him of some crashing. He's always been in great shape and now he's riding great!
In Dallas, he got a no-drama fourth. He continues to impress week in and week out. Great story developing here—stay tuned.
Let's take a look at the results, shall we?
250SX Results
1. 25 Marvin Musquin; Corona, CA; KTM 250 SX-F – We're all going to see a lot more heel clickers in the coming weeks, methinks.
2. 1 Justin Bogle; Cushing, OK; Honda CRF250R- Bogle was just okay in practice, but as he says, he's always just "okay" in practice. He was supposed to race the West until he needed surgery to fix an issue. With the restart, Bogle had a chance to figure out what Marvin was doing, but he was powerless to stop the Frenchman from stretching it back out. Nothing wrong with Bogle's start to the season; last year he got better as the series went on.
3. 37 Joey Savatgy; Thomasville, GA; Kawasaki KX 250F – Savatgy missed the entire supercross series last year and doesn't have a lot of experience racing indoors—or outdoors either, as he's been injured a lot. He's expected to do big things on the Monster Energy/Pro Circuit Kawasaki team. His first ever SX podium is a nice start, right?
4. 6 Jeremy Martin; Millville, MN; Yamaha YZ250F – The good news is that Martin qualified for Dallas, which he had somehow not done in his first two seasons! The bad news is it looks like he's got some work to do if he wants to win the title. Nothing wrong with fourth, but he needs to get a bit faster if he wants to win this title.
5. 43 Matthew Lemoine; Pilot Point, TX; Kawasaki KX 250F
6. 45 Vince Friese; Cape Girardeau, MO; Honda CRF250R- Friese was solid, but he was lucky to even be in this race. He got the holeshot in his heat and then wasn't able to jump the triple, but behind him Nick Gaines did jump the triple and missed landing on Friese by about six inches. Scary!
7. 80 RJ Hampshire; Hudson, FL; Honda CRF250R- Hampshire ate poop in practice; I thought he was done right there. Impressively, he made the top ten in his debut. He's now in the hospital with some serious internal injuries. He works with Tim Ferry, so did you really think this kid would be soft? I would not be surprised to see him miss this weekend.
8. 200 Arnaud Tonus; Switzerland; Kawasaki KX 250F – Tonus was impressive! He was very fast in the timed practices and managed this result with two crashes. He'll be on the podium very soon, maybe even this weekend. I made a bet with an industry guy that he'll win a race this year. What do you guys think?
9. 47 Martin Davalos; Cairo, GA; Husqvarna FC250 – Davalos looked amazing in the first practice, not as good in the second one, and better in the third one. He got a great start in the main but crashed.
10. 55 Kyle Peters; Greensboro, NC; Honda CRF250R – Solid finish for Peters, who finished in the top ten with less help and less money than the guys in front of him.
11. 986 Colt Nichols; Muskogee, OK; Honda CRF250R – I thought Nichols was impressive; he's got skills on a bike—no doubt about it. He raced the full season of Amsoil Arenacross last year, and it looks like the year of pro racing was a good thing for him.
12. 343 Luke Renzland; Hewitt, NJ; Yamaha YZ250F – Renzland's first supercross and he crashed on the first lap of his heat race and went to the LCQ. He rode steady to get into the main. This result is solid and something to build on.
13. 62 Anthony Rodriguez; Cairo, GA; Yamaha YZ250F – A-Rod was up there and doing everything short of setting up an orange barricade to hold Savatgy off. Kudos to him for riding well. He was still impressive even with a crash.
14. 77 Justin Starling; Deland, FL; Yamaha YZ250F
15. 49 James Decotis; Peabody, MA; Honda CRF250R – In general, Jimmy DDDDDDD usually gets some good starts, has some great one-lap speed, and runs up front. Strangely, in Dallas, we didn't see much of any of that, but I think he'll be better this week.
16. 74 Zack Williams; Elko, MN; Honda CRF250R
17. 393 Daniel Herrlein; Bethesda, OH; Honda CRF250R ­– I told someone that Herrlein was a lock for the main, and they looked at me like I had an extra ear growing out of my forehead. I don't know anything about this dude, but I know he's in the mains every week.
18. 73 Gannon Audette; Tallahassee, FL; Kawasaki KX 250F – Gannon's a good dude who's had more than his fair share of injuries over the years. I hope he has a good season.
19. 64 AJ Catanzaro; Portland, CT; Suzuki RM-Z250 – I don't know what I was thinking leaving The Cat out of my MotoDynasty fantasy main event.
20. 88 Dakota Alix; Jay, VT; KTM 250 SX-F
21. 52 Mitchell Oldenburg; Alvord, TX; Yamaha YZ250F – Gregg Albertson, president of the Mitchell Oldenburg fan club, was very excited about #52's skills and, although he crashed out in Dallas, he was indeed fast. Look for Freckle to be top-ten most nights.
22. Kyle Cunningham; Aledo, TX; Honda CRF250R – Kyle had a bad crash in the main event but eventually walked off. It was a scary moment for a guy who has smoothed out and put most of those crashes behind him.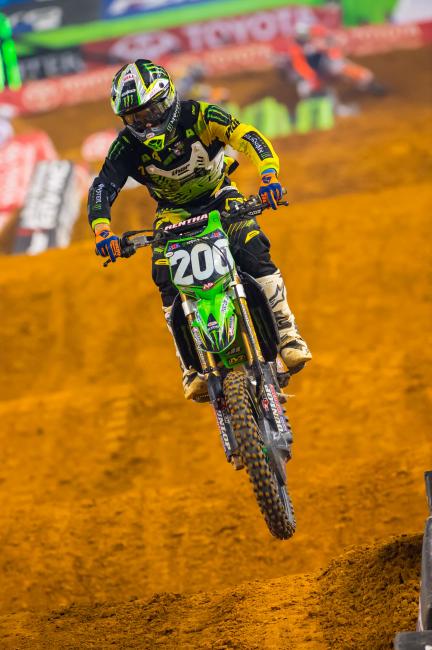 450SX Results
1. 5 Ryan Dungey; Tallahassee, FL; KTM 450 SX-F – A heel clicker for Dungey over the finish line, and I'm sure somewhere out there was a man named "Cobra" tearing up.
2. 94 Ken Roczen; Clermont, FL; Suzuki RM-Z450
3. 41 Trey Canard; Edmond, OK; Honda CRF450R – Steady race for Canard. He almost bought the farm in practice once, but nothing wrong with this finish.
4. 4 Blake Baggett; Grand Terrace, CA; Suzuki RM-Z450
5. 29 Andrew Short; Smithville, TX; KTM 450 SX-F – Shorty is back! After a few off weeks following his crash at Anaheim II, he rebounded this week with a great start and a solid race.
6. 21 Jason Anderson; Edgewood, NM; Husqvarna FC450 – Anderson rebounds with a nice finish to stop his little slide. This was Jason's best finish since Phoenix. I also saw him in full gear with goggles on signing autographs for fans, which was kind of weird.
7. 3 Eli Tomac; Cortez, CO; Honda CRF450R – Tomac didn't get the start (ducking) and made sure he really made the pass on Reed while moving on up through the pack, and Reed went down. Tomac admitted after the race that it was for Reed's words after San Diego when they tangled there and Tomac went down. Anyway, Eli's been better than Reed this year and can't be mucking around with Chad if he wants to win a title. Right after his pass on Chad, Tomac was on the ground again, and I would bet that frustration is high right now as he tries to get back to the top step.
8. 33 Joshua Grant; Wildomar, CA; Kawasaki KX 450F – Grant's best race this year, and it comes off his previous best race that was set last weekend. Looks like he's out of his slump for now. Josh Grant should be fifth through twelfth every weekend.
9. 20 Broc Tickle; Holly, MI; Suzuki RM-Z450 – Tickle's semi race was eventful. He went from fifth to third and back to fifth before climbing up again. It was funny to see him really get busy and zap a couple of guys when he realized that he needed to get on it. He was visibly pushing the pace to get away from the other guys.
10. 14 Cole Seely; Laguna Beach, CA; Honda CRF450R – Rough race for Seely. He had to make it into the main through the LCQ, like Baggett the previous week. And just like Baggett, he salvaged a good finish out for his troubles.
11. 22 Chad Reed; Dade City, FL; Kawasaki KX 450F – All I know is that I hope nothing major happens in Atlanta this weekend. If Reed and Tomac get together, I'll miss any other action because I'll be watching them to reenact the battle scene from Gladiator.
12. 75 Joshua Hill; Yoncalla, OR; Yamaha YZ450F – Hill once again had an incredible practice and qualified inside the top ten, but this doesn't mean he'll be in the main event—Hill's had a weird year and has missed making some mains. In Dallas, he did make it. Josh Hill should never, ever, ever, ever, ever, ever not be in a main event.
13. 46 Phillip Nicoletti; Bethel, NY; Yamaha YZ450F – Filthy was tenth until late in the race when Seely, Reed, and Hill ate him up. Still a good ride. Anderson (accidentally) took him out in the heat race. Then it was red-flagged so Phil got a chance to "discuss" it with Jason, and I heard he was very, very, very heated. #AngryFilthy
14. 12 Jacob Weimer; Wildomar, CA; Kawasaki KX 450F – Weimer was right there coming into the first turn when Weston Peick's crash collected him.
15. 27 Nicholas Wey; Dewitt, MI; Kawasaki KX 450F – Wey was bummed on me and the SX announcers for talking about him holding up Roczen in San Diego while being lapped. You know how the world works now; people (mostly morons) attacked him on social media like he meant to do it. Wey is one of the most professional guys out there, and he knows where he's at right now in his career—his 450SX podium days are over. Yes, he did cost Kenny a few ticks of the watch, but it didn't cost Roczen the race, and he didn't deserve the flack. The sport is better with Nick Wey in it.
16. 53 Jimmy Albertson; Shawnee, OK; Yamaha YZ450F – On track walk I told Jimmy that I thought the whoops were pretty big and difficult with the little double in the middle. He said I was crazy, that I obviously haven't been walking the tracks much, and that they weren't anything special. About ten hours later Albertson stacked it up big time…right in the whoops. He got absolutely run right over and was lucky to get up to even get this finish. After the race my text to Jimmy was: "Told you the whoops were big." And I just can't figure out why people hate me… By the way, Albertson's start from the far outside in the semi after not finishing the heat was marvelous.
17. 199 Kyle Partridge; Canyon Lake, CA; Honda CRF450R – That big, long whoop section meant Partridge having a good night.
18. 800 Mike Alessi; Hilliard, FL; Suzuki RM-Z450 – I think Mike got a bad start or was collected in the Peick crash—I'm not sure looking at photos. But, either way, he got up to thirteenth before crashing. There's no doubt his knee injury has taken away some of the early season flash.
19. 285 Tony Archer; Waldorf, MD; Kawasaki KX 450F – "Hawkeye" made his second career 450SX main event, and he's got Cole Seely to thank for getting in, as the #14 made a mistake late in the semi all by himself to give Tony the last spot. If you had Archer in the main in fantasy moto, you're a hero.
20. 18 David Millsaps; Murrieta, CA; Kawasaki KX 450F – Millsaps has had crap results the last two weeks, but he's been riding better than now than any other point in the season. In Dallas. Canard's front tire clipped his rear while he was in third and sent him flying back onto his head. And that was it; he got Asterisk to help him off the track. If you're a Millsaps' fan, I know you feel like an anvil falls on you each week, but stay strong—he's getting better.
21. 70 Nicholas Schmidt; Riverside, CA; Suzuki RM-Z450 – Schmidt was fast right from the start. He was a lock for the main event in my mind. He's been getting used to the Suzuki the last couple weeks. He crashed twice in the main (that I saw), but he's much better now than he was at the start of the year.
22. 23 Weston Peick; Menifee, CA; Yamaha YZ450F – Peick came back from missing a few weeks and looked great. So great that in the he was second in the third timed practice until the very end when he got pushed back to fourth. Think about that for a second—Weston Peick was technically the second fastest 450SX racer in the world before ending up as the fourth fastest. He's come a long way from the MotoConcepts Honda team. Anyway, in the first turn in the main he went down hard and called it a night after getting up limping. I don't know what was more amazing: that he was the fourth fastest supercross rider, or that something could hurt him.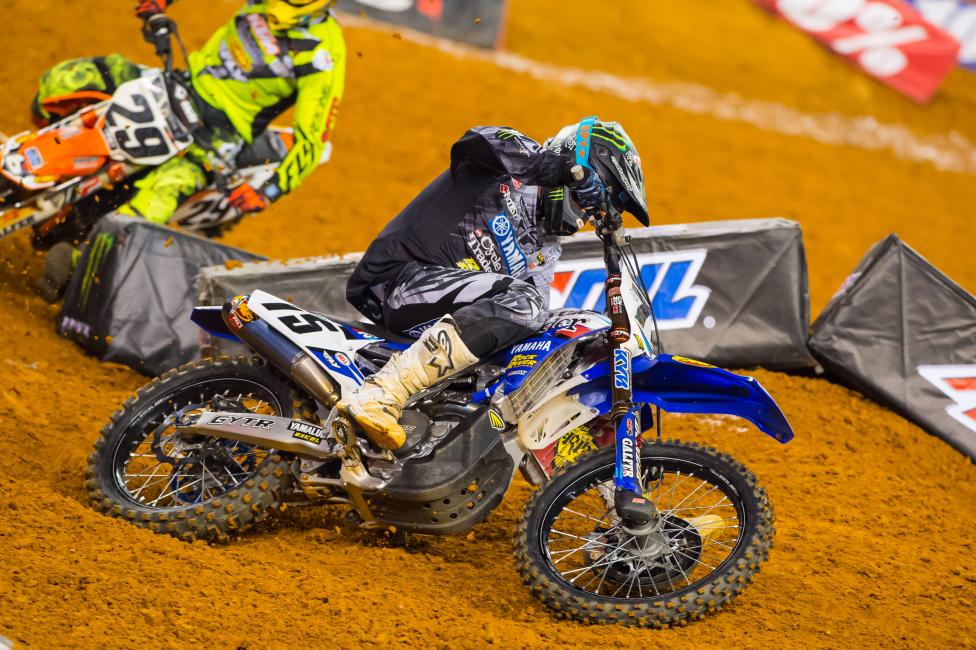 Some other news and notes:
- Usually I don't get to the press box fast enough to see the full opening ceremonies, but I finally did this week and saw Wey's track demo. He rides the track with a mic describing the obstacles for the fans. Then he takes a hot lap jumping all the stuff while still talking. It's pretty cool and something Feld did with RC a year or so ago. It adds to the show in my opinion.
- Vicki Golden, multi-time X Games winner in the women's Moto-X class showed up at Dallas to see what she could do. There were one or two women who tried to qualify years ago, but you wouldn't know it by the press releases out this week. Despite getting more track time than the other racers, Golden failed to make the night show. She's got skills, but I'd rather see her get into the night show and battle for spots before I start heavily promoting her—but that's just me. The great thing about racing dirt bikes is that everyone looks the same with a helmet on, and the stopwatch doesn't lie.
- Privateer Scotty Wennerstrom didn't make the main event, but he did catch my eye when he was on the giant Jumbotron wearing something called Korax gear. RELEASE THE KORAX!
- Honda did up the catering this week with some terrific barbecue, salad, and macaroni salad that was top notch. Weege and I were talking about the different teams and what they serve for dinner, and there's no doubt that Honda is consistently the best. Not always the best, but you know you're getting a solid meal when you head over there. With other teams, sometimes you get Wahoo's or Chipotle one week and serve cold cuts the next week. Honda's doing it right year in and year out, week in and week out. I'm sure this is the reason they've won three out of seven races in 450 class this year.
- The qualifying order in the third 250SX practice was Musquin (France), Tonus (Switzerland), and Davalos (Ecuador), and I'm 1000 percent sure that this was the first time that these three countries had ever been top three in an AMA Supercross qualifying session. Someone go tell Larry Maiers about these "commies."
Thanks for reading this week. I appreciate it. Hit me up at matthes@racerxonline.com if you want to chat and let me know what you think.