AT&T Stadium
Arlington

,

TX
Arlington (Dallas)
Monster Energy AMA Supercross Championship
By Jason Weigandt and Holly Wingler
Ryan Dungey
We know what we know about Red Bull KTM's Ryan Dungey. He's solid. He's fit. He's consistent. But this year, there seems to be something new, an extra spark, extra speed, and extra…something. He showed that by leading every lap at AT&T Stadium in Arlington, Texas, re-extending his points lead in Monster Energy AMA Supercross, an FIM World Championship. He even celebrated the win with a heel clicker, following his teammate from the 250 class, Marvin Musquin.
Racer X: A heel clicker, really?
Ryan Dungey: The night was awesome with being able to lead every lap. I always think to myself I'm not very good at celebrating; I just kind of throw a whip or a little something in. The first thing that popped into my head was Marvin. It goes back a long time, but my hips are so tight I can barely get my feet to click and it looks bad, and he can do them off the littlest jumps. That was the first thing that popped into my head. It was just a little something to add on top of it. I guess for those who know me, that's not my style. Maybe it caught a lot of guys obviously off guard.
Marvin was pretty excited about it.
It's an ongoing thing.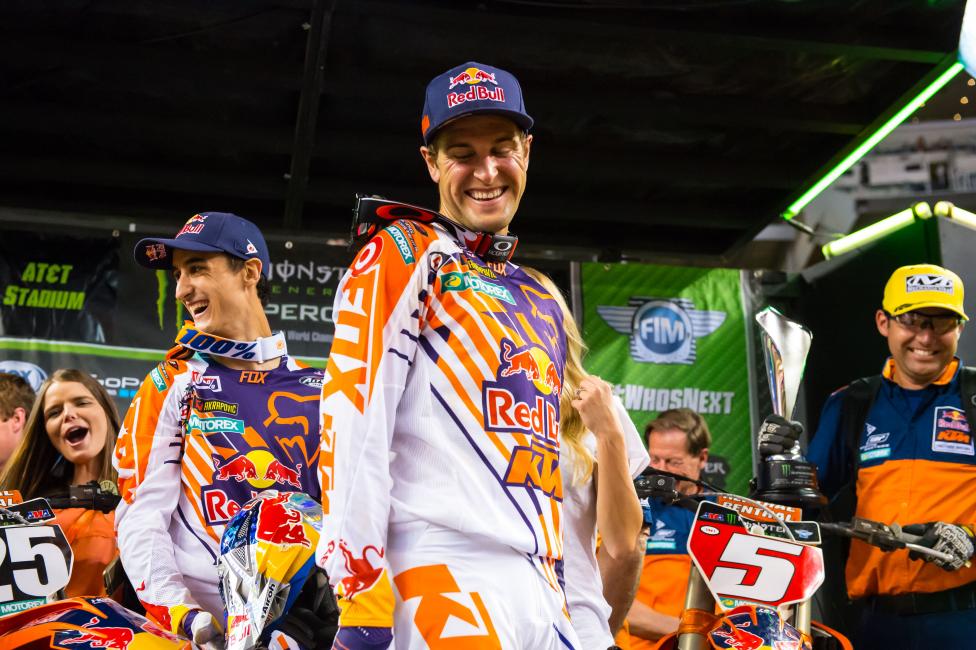 How about the race?
The race was great. Obviously the start really helped us out big time. I got to say, if we weren't in the lead at first it would have been a lot harder to be able to get out front and get away—because I was able to get the holeshot, do all the rhythm lanes the first lap, kind of open up a little bit of a gap. I saw [Davi] Millsaps was behind, and mainly I was just trying to open up that gap as much as I could. As that race gets to the end it gives that second rider less hope to get to you. I was just trying to keep that comfortable pace. I felt like I could kind of control the race a little bit, up the pace if I had to here and there. But the track was super-slippery and it was one of those things where it's like, man, you really had to watch yourself. But the Dunlop tires hooked up great.
New dirt. Improvement or the same?
Hands down better dirt. I was impressed. Especially right now, as we're standing on it you can see it's still somewhat tacky. The only spots that got really hard are the ones that got beat down. I was very impressed, especially seeing past years, how rock-hard that dirt is. This is a more sandier base and the other one was more clay. It's just more fun, I think.
Could you see Roczen moving through the pack?
Yes, I looked at the scoreboard. I could see it was Millsaps and then I could see it was [Ken] Roczen. Obviously Roczen made the pass and I heard the crowd. I could see him on a 180. When I went over the wall I could see him. It wasn't much of a lead, but at that point I was just focusing on myself and the track and putting the laps down as best as I could and trying to bridge that gap if I could.
I heard guys saying that maybe because it was softer, it was getting bumpier, choppier than normal?
Yeah, in practice it got deeper. I think it hardened up a little bit as the night show went on. It got rough and rutted but more slippery, more choppy than normal.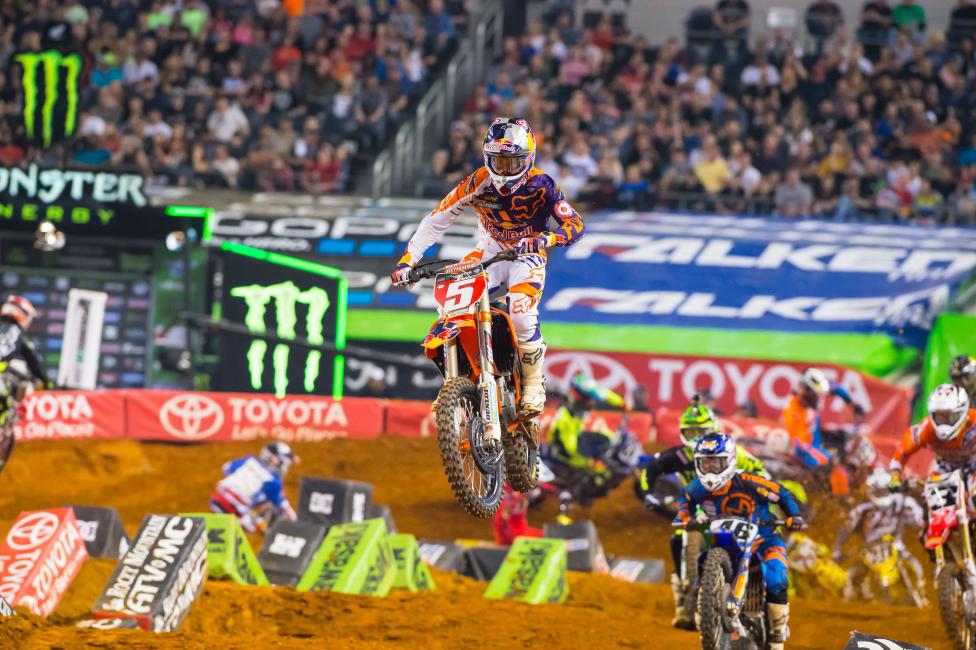 How do you feel about your season? I feel like you're better than ever. Do you feel that way? Is something clicking?
That's the goal. I really got to give it up to everybody who's a part of my program. I feel like obviously with Team Red Bull KTM they're always pushing to get better. This new bike this year, they really did a good job. I'm really happy. I enjoy riding that bike. It's a lot of fun. Testing we seem to come up with some good stuff. That's an ongoing process, but they're always working to make things better. I started with Aldon [Baker, trainer] this year and that fine-tuned the edges of my program. I definitely learned what not to do and what to do. So I trust in that and I can really just focus on my riding. I feel like I got a solid family behind me. So, yeah, I feel like I've got a solid group of people around me. I believe my better days are ahead of me. There's a lot left I would like to accomplish.
Does it kind of reinvigorate you with the new bike and the way things are heading?
Yeah. You kind of find out more and more about yourself and what makes you tick. It's a process, but a process you can't overthink too much either.
How about the double win?
It's awesome. For KTM it's a big step, Marvin getting a win on the 250 and then myself on the 450. I believe as a manufacturer what better could you ask for? But by no means is it something that lets us settle. We've got a long ways to go. Tonight what it was, we've got to enjoy that and celebrate it before the next step. –Jason Weigandt
Marvin Musquin
Marvin Musquin made it a clean sweep for Red Bull KTM Saturday night in Arlington. Sidelined for the 2014 Monster Energy Supercross Championship with a torn ACL, Musquin made an emphatic return—topping qualifying, winning his heat and the main event. Holly Wingler caught up with him following the race.
Racer X: I don't think I even need to ask—you look really happy to be back.
Marvin Musquin: For sure, it's been a long time. My last race was Vegas 2013. It's been a while. I haven't raced supercross. It feels great to be back at the races with the Red Bull KTM team and all those people. It's like family. And obviously I've been training a lot for months and months. I'm just so glad to be here in Dallas and get that win done. It's awesome for the team and everybody that works so hard. Now just get back to work and keep going that way.
The last time you actually trained for supercross was 2013?
Yeah, and then end of 2013 in December I was getting back riding supercross after the break after outdoors and then I tore my ACL in the same knee for the second time. So then I didn't race supercross, but then I raced outdoors. That's why I missed supercross. But now I'm back and feeling great. Everything is going good. Aldon Baker, my trainer, we've been working so hard. My teammate, Ryan Dungey, we've been doing motos together and pushing each other. It's been good. It's only the first race so we've got to do the same every weekend now.
So being off from supercross for so long, how does it feel to be so effortless out there and be doing what these guys have been doing since last year?
For sure, different riders also were dealing with injuries and stuff. It's part of the sport. I've been watching TV and those guys racing West Coast, so it felt like forever. We're finally here and I'm glad to be back. Now we've got to stay focused on the goal.
Was your training just hyper speed or what were you doing?
I've been training with Aldon Baker and I've done a lot of new things with him, and doing motos with Jason Anderson and Ryan Dungey. We push each other and it's been awesome. We've been having so much fun. Ryan is a great teammate. I'm really glad for him that he got the win tonight also. Same gear, Fox KTM gear, and he pulled a heel clicker also on the finish line. That was sweet. I'm really happy for him. Now let's do it again.
The track was slick and a lot of people were having bad luck. What were you doing to make sure you weren't slipping and sliding?
The dirt was so good, but obviously there are so many riders and so many motos and heat races. The track got slick. The whoops were tough. I almost went down in the first few laps. That was sketchy. But I'm so glad we had new dirt here in Dallas—that was huge. I'm pumped. And it was orange dirt so it was KTM colored. –Holly Wingler