O.co Coliseum
Oakland

,

CA
Oakland
Monster Energy AMA Supercross Championship
By Aaron Hansel and Steve Matthes
Ryan Dungey, Red Bull KTM, Second in 450SX
That looked like one of the more intense mains in a while.
Yeah, it really was. I think the reason was because by the time we got out there for the main the track was deteriorated—it was rutted and rough. We're trying to find lines in areas that have slim to none, but overall everything felt good and we all had the same track and had to deal with the same circumstances. I felt good though, and I got a good start. It was really hairy in the first few turns; just getting through that was key. I was hanging in there, but I was struggling on the back rhythm section. I couldn't find a line going into that thing to save me. Finally I picked one up, but it was after the mistake I made and guys passed me. That was a bummer, but I was like, "You gotta make the passes happen as quick as you can." We got up to Chad [Reed] and we were right there with him and he ended up going off the track. I did the same thing in practice. From there I made an attempt to try to catch Trey [Canard]. He had a little bit of a lead, and we ran her in for second. Good night all things considered—things worked out well behind us with the racing there, and I was able to take the points lead, which is a great position to be in. It's early yet, but we're going to capitalize on that and build on it. We're four rounds in, and with everything that's going on—there's a lot of intensity and lots happening right now—having the points lead is a great position to be in. It's where we work hard to be. Really looking for a win here; that's what we're going to be shooting for. We're going to give it our all, but we're not going to do anything stupid. – Aaron Hansel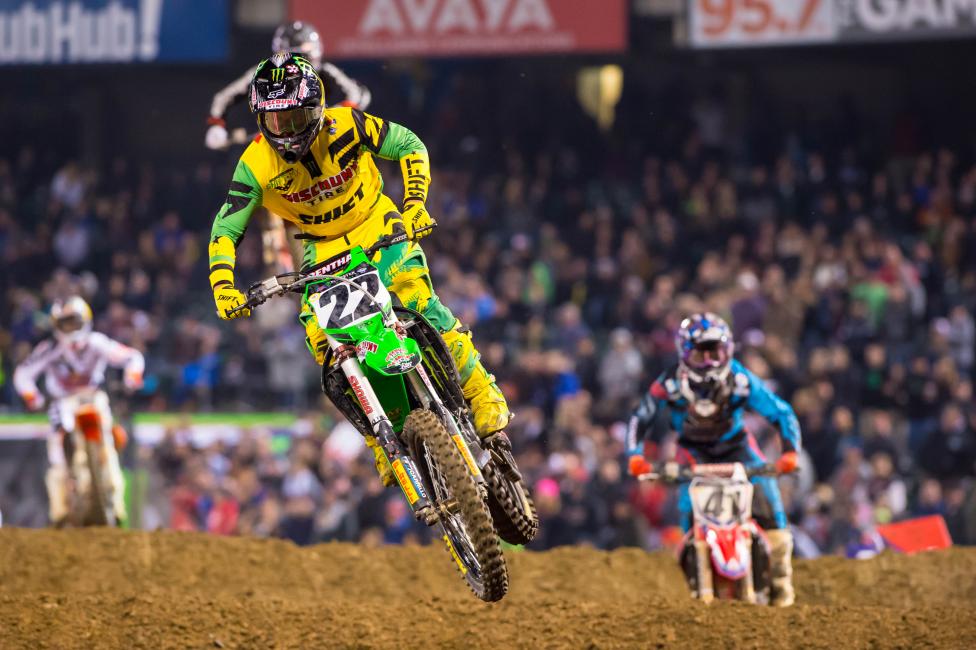 Chad Reed, Discount Tire/TwoTwo Motorsports, Third in 450SX
The race was all right. Decent start, put myself up front and tried to ride a good race. Got out front and made a few little mistakes and Trey [Canard] got me. He was riding really good, and he was really committed on his lines. He knew where he was going and just committed, where I was kind of searching a little bit at the beginning. I picked up a couple lines from him and a couple of my own, and toward the end, with six laps or so to go, I started taking a little bit out of his lead and we were dropping Dunge. I was getting excited, maybe a little too excited, and just got a little cross-rutted and jumped off the side of the track. It was a bummer, just a mistake on my side and I was disappointed in that.
When you and Canard were battling for the lead, did any thoughts of last week enter your mind?
No. That's done and dusted.
What was the change from this week? More traction, maybe? A little more technical track?
Track was definitely better. I think it was a little bit more racy. You had to be smart. It could take you down tonight, I think. Honestly, my changes, we made such a big difference in the bike this week. The first two races, truthfully, I was confused. I wasn't having issues at the house, and then the race bike wasn't really cooperating and feeling and handling the way that I was kind of used to it handling. Watching film from Phoenix, we watched some slow-mo stuff and it kind of led us in an area to look at. Unfortunately we actually had some wrong parts in the forks that we had to modify and make right. Going into last weekend I was a little bit better off. In the main event I was battling for a podium there and then kind of battling with Trey for a top-five. I think last week I was probably a 4-6-place guy. So it was a bummer that that happened last week, but we just continued the progress basically. We kind of went a different direction with setup. – Aaron Hansel and Steve Matthes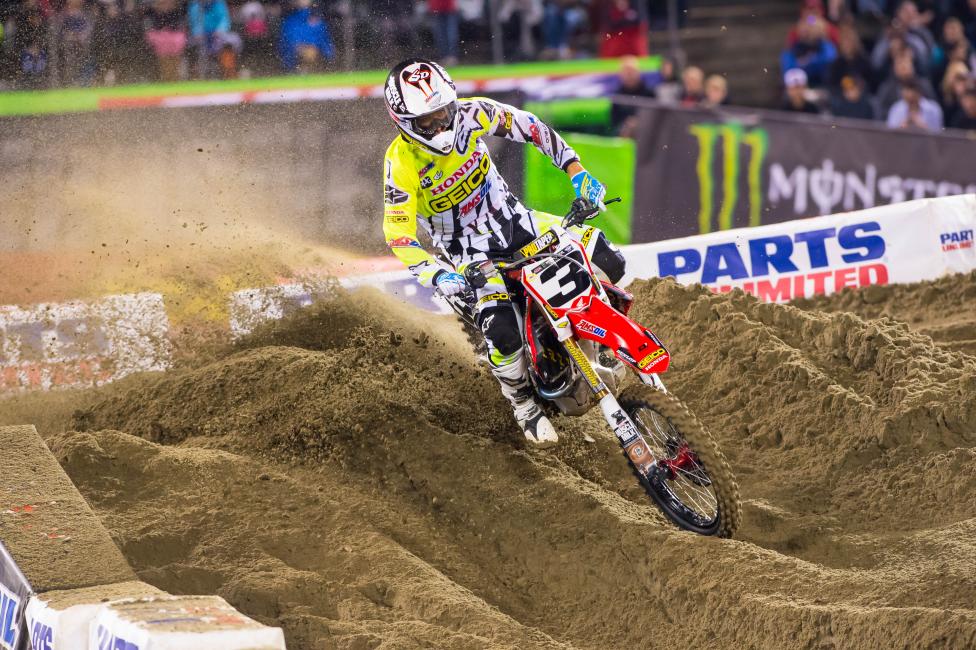 Eli Tomac, GEICO Honda, Fourth in 450SX
I was somewhere around fifth and I was behind [Jason] Anderson in the beginning. He had a big crash and went over the bars; it was pretty gnarly looking. After that I was just where I was. I had a good pace for the first ten laps and just tightened up. Then, honestly, I just kind of rode around. It was disappointing.
How was the track? Did it contribute to you tightening up?
It was technical—there were some ruts in there and actually it wasn't as soft as Oakland normally is. It had a little bit more of a base. A couple of the ramps were jacked up and were making guys go over the bars. I don't know, they were just square all day and kind of messed up. But that's the way it was. – Hansel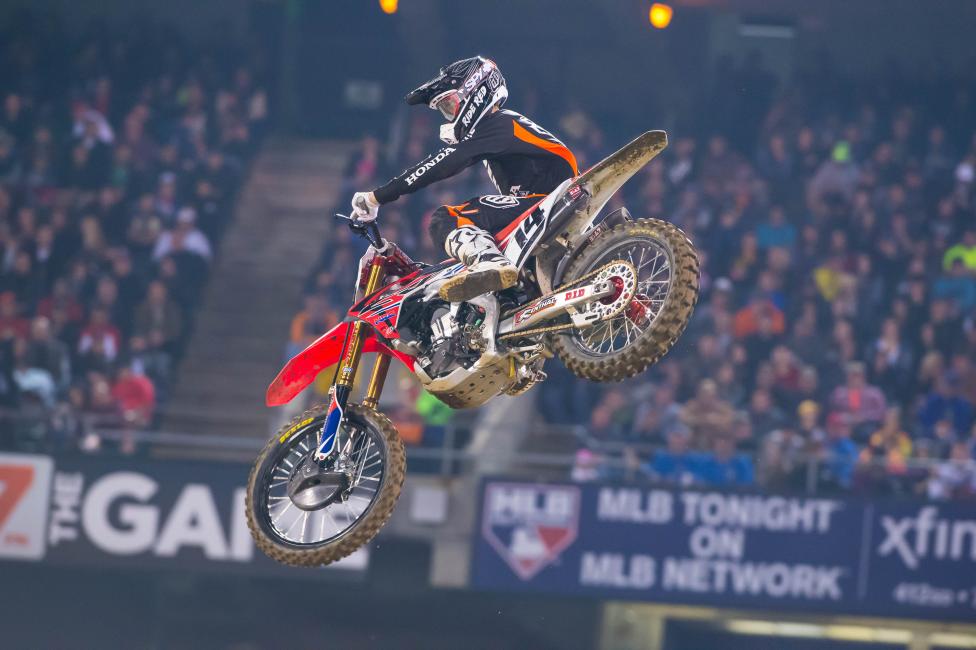 Cole Seely, American Honda, Fifth in 450SX
I'm really happy with it—way better than the first two rounds. Just kind of built off Anaheim 2 and working out all the nerves. Kind of getting adjusted to this 450 class, which is really stacked this year as always. But I'm happy with it. Made my way into second and then Trey passed me.
I didn't see it, but you lost some spots right away.
Yeah, I OJ'd one of the triples, the first triple, and I mean like, OJ, ribs to the bar. And then I almost crashed in the turn and then saved that and then went for the next triple and cased… It was bad, like C-practice bad. I jarred my wrist pretty bad. I thought I broke one of them. Kind of shook that off and got going again. I think Anderson ended up going down and moved me into fifth and I just tried to click away my laps there. At the end me, Reed, and Tomac were all getting pretty tight. I'm happy with the way I rode. I feel like I have my aggression back. I feel like I'm hitting all my marks really well when I'm out there and adjusting to the track as it goes on through the night, so I'm happy.
I used you as an example of this year in the 450 class, how gnarly it is. You won a heat race in Phoenix, but you had some troubles and you got fourteenth in the main event. If you don't get that start and with this field, that's what happens, right?
Yeah, it's deep. It's crazy. It reminds me a lot of cycling. You can try and make a pass, it doesn't work, you get out of the draft, and then somebody passes you. So that's a good example. I remember at Phoenix trying to pass a couple guys and it didn't work, and then two guys got around me in the next turn. It's super stacked and everyone's going so fast and everyone's being pretty aggressive. That's something I had to kind of learn the first two rounds and then figure it out third round, and now here I felt like I rode really well. – Matthes