O.co Coliseum
Oakland

,

CA
Oakland
Monster Energy AMA Supercross Championship
Monster Energy AMA Supercross, an FIM World Championship, is made up of many important components—teams, vendors, the television crew, sponsors, fans, manufacturers—the list goes on. They all come together to create the incredible show that we enjoy each weekend this time of year. But perhaps the most important element of the overall mechanism is the track itself—it's the one constant (that's constantly changing) that always has an effect on how the racing plays out, and today the riders will encounter soil that's much different than the dirt they've seen at the first three rounds.
Oakland's racing surface is comprised of dirt that's softer and loamier than that of Anaheim and Phoenix, and as Dirt Wurx (the company that builds tracks for Monster Energy Supercross) boss Rich Winkler describes, is more like an "East Coast type of dirt than what you typically find out west." This translates into a track that will change more rapidly as the races unfold—expect plenty of ruts and look for riders to be searching for different lines all night.
The different dirt warrants a slightly different build process too.
"If we were to make everything really sharp, abrupt, and close together, like the way we would in say, Indianapolis or St. Louis, it would just blow apart really fast," Winkler explains. "Phoenix, for example, is a little sandier and the obstacles there tend to be bigger, rounder, and farther apart because that's the nature of that dirt. It holds up better as a track when you make everything more full."
Those differences are subtle when compared to what Dirt Wurx used to deal with in Dallas.
"When you get to the extremes, when it's really bad like the dirt we've had in past years in Dallas where it used to be crazy hard clay, you're fighting a battle all week," Winkler says. "It doesn't want to shape and you're just dumping big clay clods and trying to build some transition into it. When it's something that's more in the middle, as far as consistency, you can work on the shapes and the transitions a lot more. Fortunately we were able to replace that dirt in Dallas, which was really the only one that was super bad."
Nasty weather, which is always a threat in northern California in January, can also really complicate the process and add to an already grueling work schedule. Fortunately, things should stay dry this Saturday night.
"In years past, and San Francisco was one of them, there have been times where we built the whole track in seventeen or eighteen hours, and sometimes those weren't even continuous hours. Maybe we'd get four or five hours in at two in the morning, then the same thing the next night while constantly covering and uncovering," Winkler says "We have to keep our ear to the ground and look ahead when we're in the previous city to see if we need to run the race on a skeleton crew and send guys ahead to get started in the next city. You don't have the luxury of waiting out a storm and starting late in the week. In the modern world, with the live broadcast and everything, it just doesn't work like that."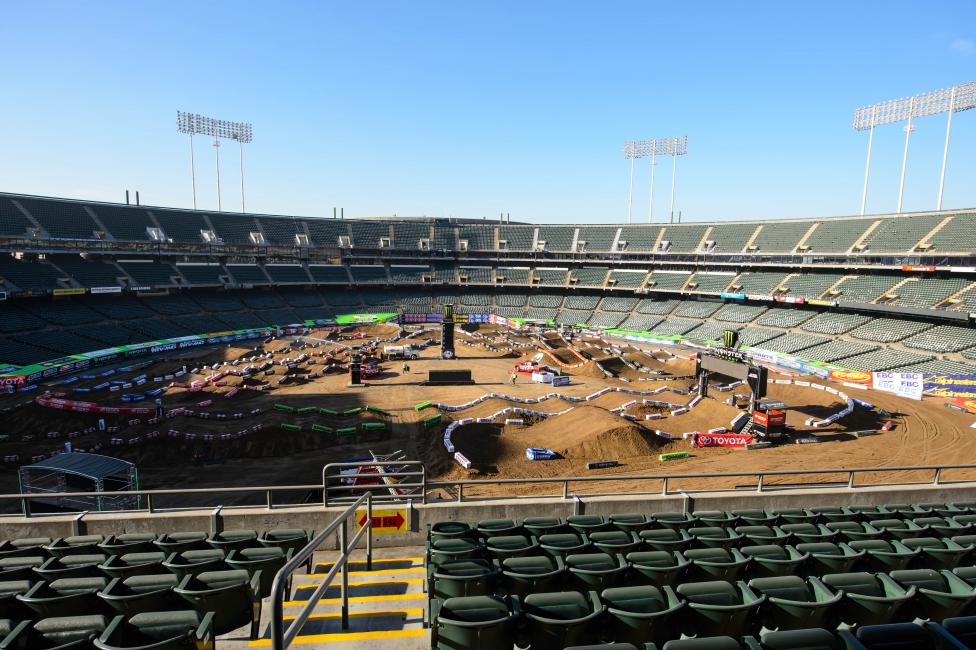 With such heavy demands, Winkler says it's a good thing he and his entire crew are big fans of the sport.
"If you weren't a fan, and thank god everyone on my crew and Feld's crew is, it'd be a tough job. It's nonstop with no days off, other than Easter and Daytona, which we don't do. By the time it's all cleaned up on Sunday afternoon we're eighty-plus hours into the week. Then Monday is a travel day and the whole thing starts all over again on Tuesday." Winkler says. "I've been doing this a long time and we're still enjoying it, especially this year—there's some good stuff going on. I know some fans are disappointed that [Ryan] Villopoto and [James] Stewart aren't there, but I think there's good parity with the guys that are there. I think the racing has been pretty good so far this year. Maybe not epic for every single lap of the main, but there's been some really good races in all three weeks so far."
Of course, not every race produces a highlight reel, but that just makes the greats that much better.
"Sometimes, when you're sixteen laps into the main and nothing is really going on, you kind of want to shoot yourself," Winkler admits. "But when it's good, and it has been good in both classes, it's a super good feeling. We see races over and over, but it's huge for the fans when supercross comes to their city. It's a huge deal in their year, and when you feel that excitement when the riders are going at it and the crowd is lit up… How good is that? Who has a job like that?"