Kyle Partridge has made two of the three main events in the 2015 Monster Energy AMA Supercross, an FIM World Championship, riding for Rocky Mountain ATV/MC. At Anaheim 2 he was involved in an incident when Josh Hill crashed in front of him in his semi, which bent his bike. Partridge raced the LCQ to make sure he was okay, but didn't make the main. We caught up with the new #199 to get his take on the season thus far, his new team, and what it's like to make the main event for a privateer in a stacked field of factory riders.
Racer X: We're about four weeks into the season now, how's it going for you so far?
Kyle Partridge: So far things have gone well. I wouldn't say that it's gone great. I had a pretty bad weekend last week at Anaheim 2. I went down in my semi and I kind of bruised myself up a bit; beat my bike up. I wasn't able to ride to my full potential in the LCQ because I didn't have much time to get the bike ready between the semi and LCQ. I raced the LCQ with some bent bars. Other than that the first two rounds went well. I put it in the main event, which is pretty tough right now for a guy in my position. I am pretty happy to say the least for the first two. Last weekend was kind of a throwaway weekend for me. Hopefully this weekend I can put it back into the main event.
You got a little wheel to the face this past weekend, didn't you?
Yeah, actually [Josh] Hill fell in front of me in the semi right in front of the finish. His back wheel flew up into the air and it smashed me right in my chest and on my shoulder. It ripped my hands off of the bars, and then the bike totally compressed and pogoed me off the front of the bike. It was kind of a crazy crash, but luckily I was able to walk away from it. I really raced the LCQ just to make sure I was okay to ride. I kind of knew going into it that it was going to be hard to make it into the main event because of the way the bike was mangled. I wanted to make sure I was okay to ride after I took that digger.
So you're all good then? You walked away with no injuries from the weekend?
No injuries, I just have a pretty bad road rash across my chest and into my armpit from his back wheel when I hit it. Other than that just I am bruised up, but nothing too severe.
Good deal. How is your team? Talk a little bit about how it works.
The team is great. You know I have a great bike, and for me that's what I am really concerned with. As far as being a privateer, I'm not getting paid a salary—plain and simple. For me, having a good bike behind me and a great group of people to invest in me so I can compete with the factory guys, is something I am very proud to be apart of. Everybody at Rocky Mountain ATV/MC helps me huge. I am happy with everything I would say. It's just tough, you know? Like I said, I don't get a salary and I am one of the only guys in the main event that's not getting one. Hopefully people start noticing that and maybe step up to take care of me better financially.
Who is behind the scenes helping you out that is putting this together for you?
My mechanic's name is Chris. I got together with him about five or six months ago and he worked for me for free for a little over five months. The team decided to put him on as my full-time mechanic and he works his butt off. He comes out to the track with me everyday when I am riding as well as on the weekends at the races. He's going to try to stay on the semi for all of the East Coast rounds, which is awesome. He's actually a pretty good rider himself, so I trust him a lot when he tells me what I need to be doing on the track. He can watch the other guys that are better than me and tell me what I need to get better at. Other than my mechanic I have Matt Jory, who, I think, his representation speaks for himself. He's a great engine builder. My bike is awesome and pretty close to a factory bike, minus the chassis work and things like that. As far as the engine package, it's great. Pro Circuit stepped up huge this year. We did a lot of testing before Anaheim 1 and got my bike to where I feel comfortable. Other than that it's really just Chris and I that are doing a lot of it. Shawn Hall, the owner of the team, has taken care of me like I am one of his own kids for the last four or five years. I am super grateful for that as well.
The team transfers your bike and takes care of a lot of things for you. Do they fly you to the races, or do you have to take care of that yourself?
They basically cover all of my expenses, my hotels, and my travel. Everything from there I just basically get paid from what I make from the races. I also have a guy from Vermont; his name is Ron Feather, and he owns a company called Demolition Services Inc. that helps me a ton financially. I also have a guy from Las Vegas that takes care of me also. His name is Jerry Williams, and he owns a contracting company there. Those are the two people that financially pay my bills for me when I am not living off of what I make at the races, which isn't much. I have those two guys that give me a few thousand dollars each that get me through the preseason of training and riding. It's $65 a day to go riding out here in California everyday, and it adds up. They cover that for me, and my living expenses. Then once I start racing I am on my own.
Let's switch gears here a bit and talk about your goals. Where would you be happy to see yourself finish?
I am more of a realist. I don't like to set goals that are too far out of my reach. I just want to be in the main event and continue getting better. I have invested in a trainer, and hopefully here in the next few weeks we will start seeing that pay off. I go to Icon Sports Fitness with Charles Dao, and again I think his reputation speaks for itself. He's trained a lot of guys who have won races and a couple of championships. I am happy to be working with him. I just want to be better every weekend. The realistic goal for me is that I would like to be a top ten guy. I think that it is feasible for me. A lot of riding is mental, and once I get my fitness up the mental side of it will come around to where I am 100 percent where I should be.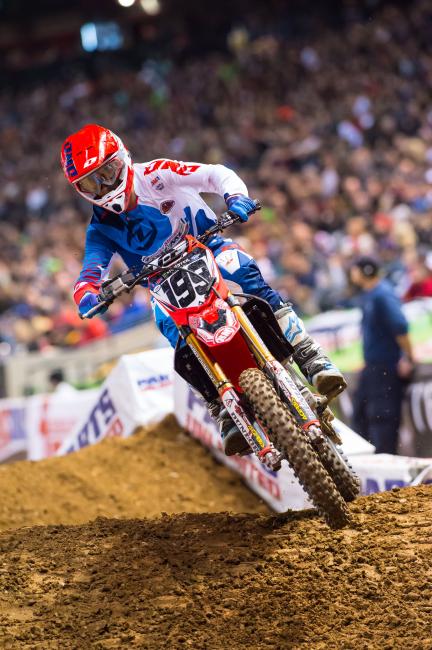 What's the difference this year, other than Villopoto and Stewart not racing? Does the pace seems different.? Is it the fact that so many guys could win on any given weekend?
I think the depth of the 450 field is deeper than what it's been in the prior years. The top ten guys on any weekend, I think, can win a race. You look down the list of guys and there are twenty riders who have a factory bike or getting paid a salary from their team. All they have to worry about is riding their dirt bike. Then you have guys like Jimmy Albertson, AJ Catanzaro, and myself who have to focus their attention on other things during the weekend. One thing that a lot of people probably don't remember about me is that I got hurt at Anaheim 2 last year. I didn't race for eleven months before this season, and on top of that I am a dad to a 5-year-old. I have a lot of stuff on my plate that, whether I want to admit it or not, come before my dirt bike. I go to the races to pay my bills and ride for my kid and put a roof over our heads. At the end of the day I just want to be better. I am over riding around in twentieth place, and I want to get in there and mix it up with those dudes. Like you said, the field is so deep. Nowadays I think the tracks are too easy. There is not much stuff that is separating the guys at the races. Last week, I think seventh-twentieth place in practice were on the same second in practice. That gives you an idea on how basic the track is.
Who would you like to thank for helping you get to the races this season?
Rocky Mountain ATV/MC, One Industries, Tag Metals, Ron Feather, Jerry Williams, Alpinestar Boots, Spy Goggles, Asterisk Knee Braces, MotoSeat, Pro Circuit, Rekluse Clutches, Dubya USA, Galfer, Ride Engineering, and Dunlop are the people that help me out the most.