"You need to go see Mickael; he's back in the shop," said Mitch Payton to me on Thursday evening. Sure enough, there in the far back of Pro Circuit Racing in Corona, California, was Mickael Pichon, talking to a few young French riders who were looking over a selection of motorcycles. For those who may not know, Pichon, a two-time AMA East Region Supercross Champion (1995 and 1996) and two-time FIM Motocross World Champion (2001 and 2002), was one of the most talented and unique motocross racers of the last two decades. The first rider to follow the great revolutionary Jean-Michel Bayle out of Europe, Pichon, who didn't even speak English at the time, won his first race here as a 16-year-old, and then moved here full-time in 1995. A perennial threat to win both races and championships, the young man from Le Mans, France, would ride for Payton's Kawasaki-backed satellite team as well as both factory Suzuki and Honda before heading back to Europe to become a World Champion. Always sincere and straightforward—and often times charming—it was always a pleasure to work with Mickael when it came time to fetch a quote for Cycle News or put together a story for Racer X. And while I hadn't seen the man in more than a few years, it was a lot of fun to sit down with him and bench race about the past, present and future of the sport.
Racer X Mickael, man, it's great to see you. What are you doing here in the back of the Pro Circuit race shop?
Mickael Pichon: My son Zachary placed second in 85cc in the French Championship this year. I've never pushed him, but now he is taking it very seriously. So we are here in California for training, to see my friends, to watch Anaheim, and to enjoy the weather, because in France we always ride in the mud and the sand. It's good to come to the US. I came to see Mitch [Payton]. This was my first team in the US and I get along with Mitch really good. Every time I come here I come to see him. With Mitch, he was like my father in the US when I came here, and my dad always loved the work that Mitch did. That's why I come over here.
It's kind of crazy to run into you because just the other day I was leafing through an old issue of Cycle News and came across the story of when you won your first supercross here in 1993. It was at Jack Murphy Stadium, and you were on the #112 Elf/Pro Circuit Honda. I was up in the stands that night and was totally impressed by your riding. Do you remember that night?
Of course. The first thing I remember was that my bike was working awesome. Actually, I think my bike was working better than the PC Kawasaki bikes. It was something new for me. I was 16 and winning in San Diego in front of such a big crowd. I was not speaking any English then. It was a new life, you know? It's all good memories. My wife Stephanie and I talk about it all the time. It was a good time living here.
And then Mitch hired you on to race for him in 1995 and 1996. Good memories there as well?
Yeah, yeah. I stayed five years here in America and I had good times also at Suzuki with Roger [DeCoster], but for sure my two years with Mitch were the best because I think everybody got along really good and the bikes were really good and I loved testing and spending a lot of time trying to get the bike the best we could. And I won two championships on the East Coast. And of course those five years were good training for me when I went back to Europe and the world championship.
Were you happy with what you accomplished here in America in the 1990s?
I was happy, but you know, when I got back to Europe I started doing things differently, like the training. After that I felt like I made a mistake. I felt like I could have done better. I think that with my approach and my training and stuff like that was maybe amateur. I was good with racing, but not with training. To me it was always about riding and riding. I wasn't so good about training and that routine. When I went back to Europe to ride for the Geboers team I started to understand those things better. I'm sure if I would done this when I in the US, I'm sure I could have done much better. I was happy with my result here and living here in California, but as far as my results, I'm sure I could have done better with the training. But it's in the past, so there is nothing you can change. I think I made one mistake. When I moved from Suzuki to Honda in 1999, that was a mistake for me. I had the Honda dream, you know? I wanted to ride for American Honda. It was a mistake for different reasons. I think the bike with the aluminum chassis was not that good and there were too many good guys in the team at that time and it was not so easy. [Note: Ezra Lusk, Kevin Windham, and Sebastien Tortelli all rode for Team Honda in 1999.] I think that with Suzuki, when I was with Tony Berluti [mechanic] and Roger, if I would have stayed with Suzuki I might have stayed in American one or two years more. Then again, I went back to Europe and was world champion, so maybe that was the good choice. I don't know?
All things considered, when you look back, are you pleased with what you accomplished in your career?
Yeah. Nothing is perfect. I know I made many mistakes, and the way I acted sometimes wasn't good. Everybody is different. When you think about it, you think, "I should have done this or that." For me, I did the best I could. With my dad we started as mini guys from nothing. We did the best we could. I'm pretty pleased with my career, actually. When I went back to Europe I was 24 years old. When you get to be 23 or 24 you see things differently because you're getting older and you want to do it more seriously. I think I could have done much better because I think I had good talent and technique. However, the way I did it, I was able to have a long career. I stopped two years ago—when I was 36.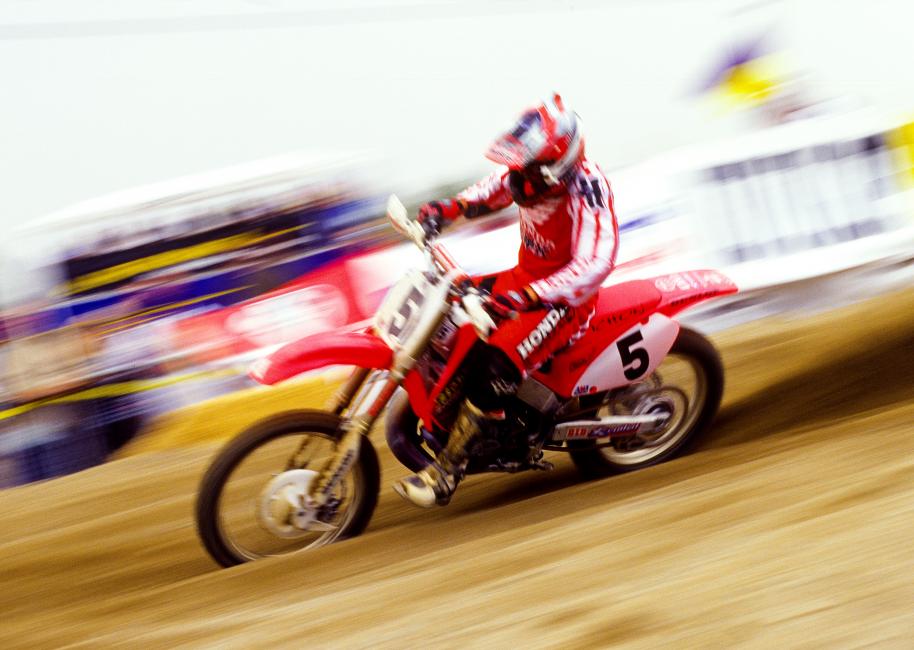 What do you think about supercross in 2015?
It is unbelievable. When I came here last year I was in the stands and I was watching and I was like a kid. They are going so fast, and the four-strokes make it all look really fast, especially in the corners. It's magic to watch. It's unbelievable to watch. Everybody is so close together.
Which riders stand out to you this year?
I like [Ken] Roczen a lot. I like that kid because I think he has a lot of everything. To me, he has pretty much all the talents of all the best riders. When you watch him, he's clever and he has good talent and technique. He's also a nice guy. [Eli] Tomac is also really good. He doesn't have the same technique of Roczen, but he's fast. He's fast in the corners. He's strong. Tomac reminds me of Ricky Johnson. I was a big fan of Ricky Johnson when I was a kid, and for me, Tomac has the same style. He never gives up and he's always pushing. You can see that in his riding style. He always has his head down. I like that a lot.
I have to ask the question: What do you think about Ryan Villopoto leaving supercross to race the FIM Motocross World Championship?
It's pretty impressive to see a top guy like that coming to Europe. It's hard to understand because I don't know what's behind this. We have a Villopoto or a [Ricky] Carmichael in Europe with [Tony] Cairoli winning everything every year. I think that's going to be a good competition. I'm surprised, though. It's a little bit unreal.
If you had to bet a lot of money, who do you think will win?
I think Cairoli.
How come Antonio?
To me, I think Villopoto is better than Cairoli, but the problem is the tracks. It would be the same if Cairoli came to the US. In Europe, at least for the last six or seven years, they always ride the same tracks. The ground is always changing in Europe. That will be the part that is tough for Ryan. Maybe not. Maybe I'm wrong. Tire choice is different sometimes. He's going to be helped by the team because they have good experience. Sometimes it is not so easy. I remember in America you could ride with the suspension setting and the tire setting and the engine setting always the same. In Europe every two or three weekends you have to change some stuff because traction, sand, mud, rocks, stones are always different. The experience Cairoli has is going to help him. I know that Ryan will not give up and Cairolli makes mistakes sometimes. He hasn't had one guy close behind him for the whole year in a long time. When he had adversity he made mistakes and got hurt. Ryan can fight and maybe make Cairoli make mistakes. Then there is the sand; Cairoli goes really fast in the sand.
How about Jeffrey Herlings? How good is he, and should he be in the big class?
I think his goal is to beat Stefan [Everts] on the titles. He's young and he has time. He lost one this year from a stupid mistake, but I think that when he jumps to the 450 he is going to be tough for the other guys. He's really fast. Most of the time he is faster on the 250 than the other guys are on the 450s. He's so fast.
And how about French motocross? There are certainly a number of great racers coming out of your home nation now.
We have many guys. It's always the same. French guys have good technique and good talent and they work hard. All the guys we have now, it's a little bit like when I was racing. We were like five or six guys like Demaria, Bolley, Tortelli, Roncada, and Vuillemin. Now we have another wave of good French guys.
Last question: Who are the three best, strongest racers you've competed against?
I raced against Stefan Everts. I beat him sometimes, but not in the championship. I rode with Ricky, but only one year—it was 1999 and he was not at his best. But for sure he was the best of all-time. These two are not a surprise. One guy who did well—but he could have done much better—was Kevin Windham. He had so much talent. I spent one year with him at Honda. He was always a pleasure to watch. He was really good. He didn't have the big resume with the titles, but to me, he was one of the best as far as talent.